Are you always on the go, relying heavily on your smartphone to stay connected? If yes, you know how frustrating it can be to have your phone run out of charge. That's where power banks come in – portable chargers that can keep your devices powered up no matter where you are.
But with so many options flooding the market, it can be overwhelming to decide the one. That's why we've put together this blog to help you find the best power banks in India. So, let's dive into the world of the best power banks in India and ensure your smartphone never dies on you again.
Key Factors to Consider When Looking For Your Next Power Bank
In reality, deciding on something as small and simple as a power bank is not as easy as it seems. To simplify things, here are a few points to note while choosing the right power bank for you:
Capacity: This is probably the most important point to consider. The capacity of a power bank will determine if it can hold enough charge to power your devices based on your usage patterns. If you are on your phone throughout the day, look for a power bank with a higher battery capacity.
Output Ports: Always check if the power bank has the correct ports to charge all your devices. Older models will have micro-USB ports that are no longer found on most devices. Type C ports are the standard today. Also, check if the number of output ports on the power bank is sufficient to charge all your devices simultaneously.
Input Ports: The input port charges the power bank itself. Look for a power bank with a USB-C input port, as it's faster and more efficient than a micro-USB input port. Also, check whether the power bank supports fast Charging, which can significantly reduce its charging time.
Size and Weight: Power banks come in different sizes and weights. If you're someone who travels frequently, you might want a power bank that's compact and lightweight, so it's easy to carry around.
Brand and Price: Finally, choose a power bank from a reputable brand that offers good customer support and warranty. When it comes to electronics, for the most part, the cheapest is not always the best option. They might not be reliable or provide all the features you may need. Look for a power bank that offers a good balance of features, performance, and value for money.
Keeping the above points in mind, let's look at the best power banks in India today.
Top 5 Power Banks in India
Here is a carefully curated list of the best power banks in India today.
Mi Power Bank 3i
Mi Pocket Pro
Ambrane 2000 mAh Power Bank
URBN 10000 mAh Ultra Compact Power Bank
Duracell Power Bank
1. Mi Power Bank 3i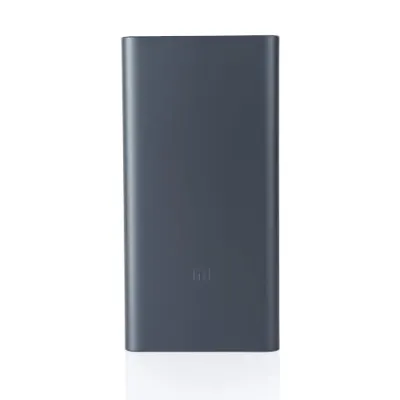 Mi is a popular technology brand that has made a name for itself in recent years, particularly in India. The brand is known for its high-quality tech products offering good performance and value.
The Mi 3i power bank is available in 10,00, 20,000, and 30,000 mAh capacities and has a host of impressive features, including twelve layers of advanced circuit protection to prevent your device from overheating and short circuits and a low-power charging feature for devices that do not support fast charging.
What's Great?
An aluminium alloy case that makes it strong yet light.
Two-way 18W fast charging.
Ability to charge multiple devices simultaneously.
2. Mi Pocket Pro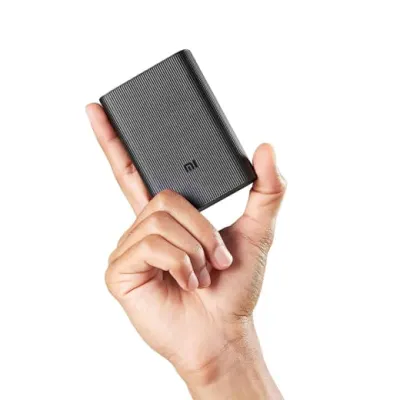 The Mi Pocket Pro is one of the most powerful power banks from Mi and is possibly one of the Best Power Banks in India for its compact form factor. This super light power bank comes with an anti-skid and matte finish that lets you easily carry it anywhere.
What's Great?
The Pocket Pro comes with 22.5 watts of fast charging.
Dual input ports – USB Type C and Micro USB for convenience of charging with whatever cable is available.
Three Output Ports – 2 x USB A and 1 USB Type C
Twelve layers of advanced chip protection.
3. Ambrane 2000 mAh Power Bank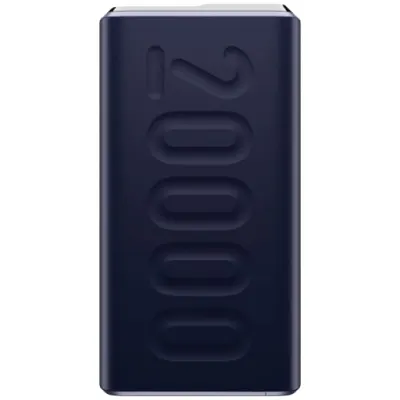 Ambrane, founded in 2012, specialises in power banks, chargers, and other mobile accessories. Over the years, it has since become one of the leading players in the mobile accessories market. Ambrane has built a reputation for making good quality, affordable and reliable products, making them an excellent choice for affordable and reliable mobile accessories.
What's Great?
Heavy duty Lithium Polymer Battery
LED indicators to show the SOC of the power bank.
Dedicated PD Led Indicator to indicate fast charging.
Pass through charging feature
4. URBN 10000 mAh Ultra Compact Power Bank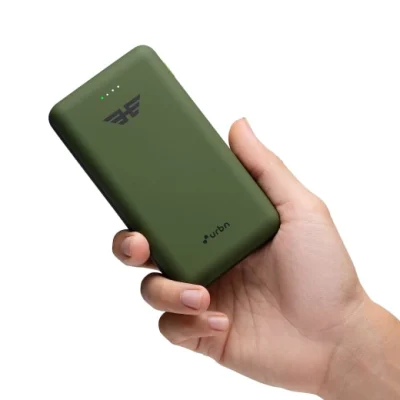 URBN is an Indian brand that manufactures a multitude of functional yet funky tech products. The brand prides itself on innovative products and stylish designs. URBN's product portfolio includes power banks, chargers, data cables, earphones, and speakers. The brand has garnered a reputation for its eye-catching designs that stand out from the crowd and is an excellent choice for those who want to add a touch of style and innovation to their tech accessories collection.
What's Great?
20000 mAh charge capacity
Soft-touch finish.
Support for two-way fast charging and super fast charging.
5. Duracell Power Bank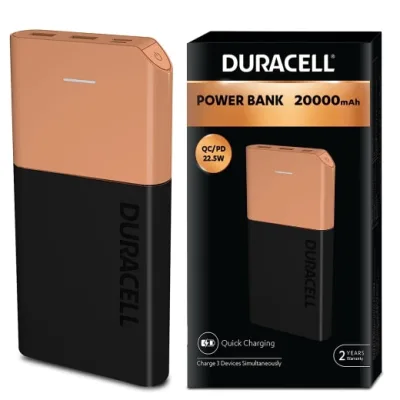 Duracell is a brand that needs no reputation in the Indian Market. Although the globally renowned brand is synonymous with high-quality batteries, Duracell has expanded its product portfolio to include other electronic accessories such as chargers, power banks, and flashlights. When it comes to quality and reliability, Duracell is a brand you can trust anytime.
What's Great?
A charging capacity of 20000 mAh/
Charge 3 devices simultaneously.
22.5 W fast charging.
USB-A and USB-C support.
Conclusion
Choosing the right power bank can make a big difference in keeping your devices charged and ready to go. Whether you're looking for a high-capacity power bank for travel or a slim and portable one for everyday use, plenty of options are available to suit your needs. Hope this list of the Best Power Banks in India will help you narrow down the best power bank for your needs.
FAQs
1. What are the key factors to consider when choosing a power bank?
The capacity, output ports, charging speed, overall build quality, and safety features are some of the factors you should consider when choosing your next power bank.
2. Can I charge my laptop with a power bank?
Yes, you can charge some laptops with a power bank, but it depends on the type of laptop and the power bank's capacity. Make sure to check the power requirements of your laptop and the power bank's output specifications before your try to do so.
3. Are all power banks compatible with all devices?
All power banks are compatible with most devices today. However, some devices may require specific charging cables or connectors. Verify this before purchasing a new power bank.