India is a country with a rapidly growing population and a significant increase in two-wheelers. A large part of the population relies on two-wheelers for everyday commute.
The affordability and cost-effectiveness of two-wheelers have made it an indispensable mode of transportation. As a result, the Indian Government is always striving to ensure road safety and promote responsible driving. Road safety laws mandate the wearing of helmets while riding a two-wheeler.
Regular awareness campaigns and initiatives are launched by the government to educate the riders about the importance of wearing helmets. As a responsible two-wheeler driver, you must abide by the law and wear a helmet for your safety.
For your convenience, we have curated a list of the best helmets in India under 5000 INR. All you have to do is sit back, relax, and choose the best option.
How to Choose the Best Helmet?
While choosing a helmet brand, it is mandatory to look at the quality and safety standards. Apart from these two important requirements, here are some factors you should keep in mind:
Fit and Comfort: The helmet should fit the rider properly for optimal protection. It should not be very tight or very loose when properly fastened. There should be enough ventilation to ensure comfort while wearing it for an extended duration.
Shield and Visor: The shield and the visor should be scratch resistant to ensure optimal visibility. A good quality visor ensures visibility in adverse weather conditions like heavy rain, fog, etc.
Material: It is advisable to buy helmets made with durable materials like polycarbonate, fibreglass, or carbon fibre. These materials are impact resistant, along with being lightweight.
Safety requirements: The helmet you select must comply with the safety requirements and compliance regulations set by organizations like the Bureau of Indian Standards (BIS), Safety Helmet Assessment and Rating Program (SHARP), Indian Standards Institute (ISI), etc.
Warranty: While it is important to compare the price range of multiple helmet brands, it is also recommended to check if the helmet comes with a warranty. Under warranty, you can get the helmet replaced in case of potential defects or issues.
The Best Helmet Brands in India
Now that you know how to select a helmet, let us look at the brands which provide the best helmets under 5000 INR:
1. Steelbird
2. Vega
3. SMK
4. Studds
5. Ignyte
6. LS2
1. Steelbird – Terminator Helmet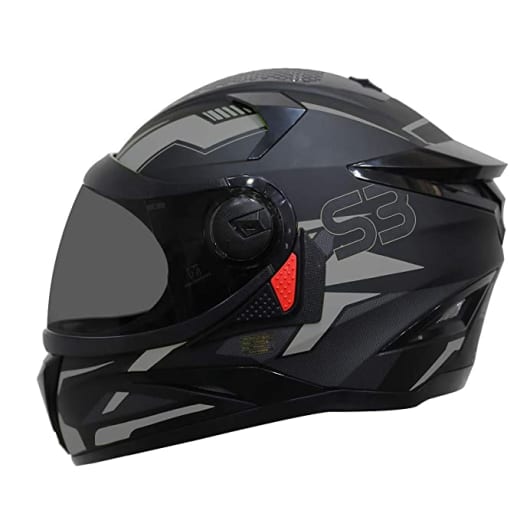 Steelbird is a very famous brand for helmets which has been dominating the Indian market for decades now. It is a highly affordable brand with innovative features like removable inner linings, anti-scratch visors, enhanced ventilation, and much more.
The Steelbird Terminator helmet is no exception and is made with an impact-resistance material called ABS (Acrylonitrile Butadiene Styrene). It is available in the Indian market in various colours and design options.
What's so great about it?
Quick-release buckle
Removable and washable inner lining
Snug and secure fit
Internal padding and cushioning
Compliance with international safety standards
Shop from Amazon
Shop from Flipkart
2. Vega Bolt Black Helmet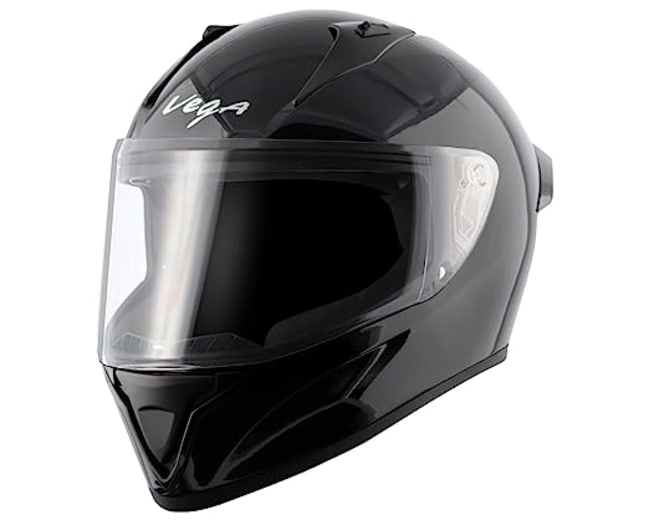 This scientifically designed helmet, with thermoplastic ABS material, will provide you with unparalleled safety and unlimited style. The inner fabric of the helmet is detachable and waterproof.
It is appropriate for both women and men and available in 8 attractive shades like dull battle green, dull desert storm, gloss black, neon yellow, etc. Overall, vega bolt is a sturdy helmet and will provide you with great safety, enhanced comfort, and style.
What's so great about it?
Aerodynamic design
Scratch resistant
Back exhaust vent
Quick and silent release micrometric buckle
DOT and ISI certified
Collarbone safe helmet
Washable inner fabric
Shop from Amazon
Shop from Flipkart
3. SMK Typhoon GL200 Helmet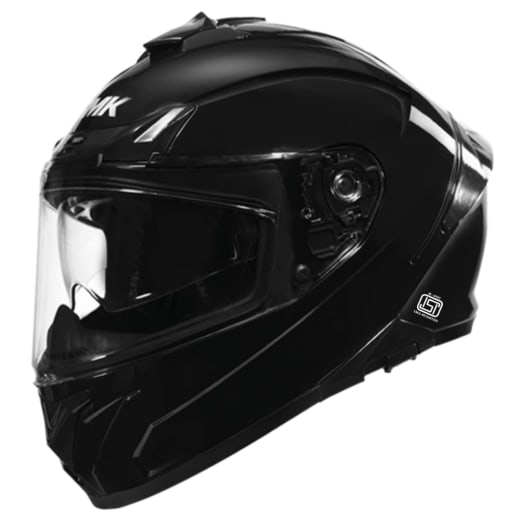 If style and design are your major factors of consideration along with safety, then SMK Typhoon is highly recommended for you. Its impact and wind resistance material will offer you a comfortable riding experience and meet all your expectations.
The ventilation system of the helmet is strategically designed, providing the rider with proper airflow. With SMK Typhoon, you will be able to fight excessive sweat and moisture buildup in hot weather.
What's so great about it?
Scratch resistant visor
UV resistant visor
Anti-fog
ISI certified
Quick-release buckle
Breathable inner liner
Moisture-controlled inner fabric
Shop from Amazon
Shop from Flipkart
4. Studds Thunder Full Face D4 Helmet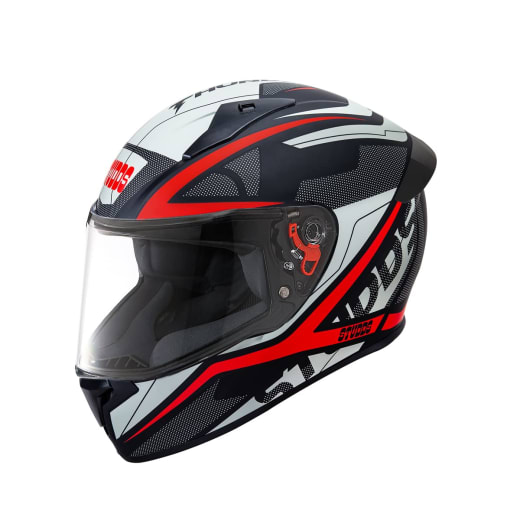 In the list of best helmets under 5000 INR, the Studds Thunder Helmet has rightfully earned its place. Studds has made a reputation in the Indian helmet industry for manufacturing reliable and durable helmets. It is widely known for its vibrant and stylish colour options.
With a smart aerodynamic and assertive design, a thunder full-face helmet will ensure safety and ease of riding. The visor is hard coated, scratch resistant, and available in clear, smoke tint, mirror, and rainbow options. It is extremely lightweight, along with being impact resistant.
What's so great about it?
Scratch resistant
Multiple visor tint options
Wind and dust resistant
Quick buckle release
Washable liner and cheek pads
Shop from Amazon
Shop from Flipkart
5. Ignyte IGN-4 Double Visor Helmet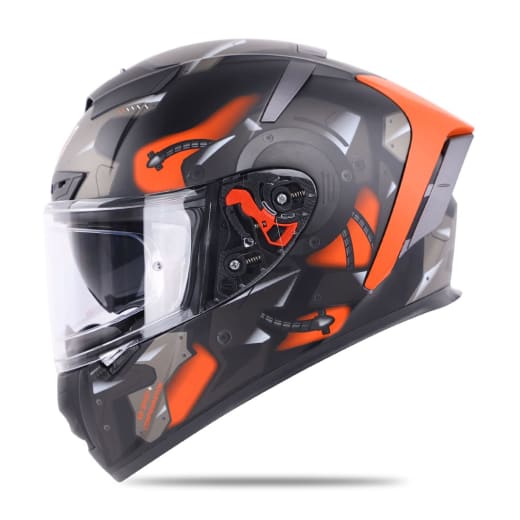 When it comes to the best helmets in India under 5000 INR, Ignyte helmets will not disappoint you. The company offers a wide range of helmets which are safe, high quality, and budget-friendly. If you are looking for a stylish full-face helmet, then Ignyte IGN-4 has a lot to offer.
The anti-fog and scratch-resistant visor will allow you great visibility and comfort. The compact and lightweight design due to the multi-density EPS material will make your long rides comfortable and hassle-free.
What's so great about it?
Double D-ring fastener
Visor locking mechanism
Thermocol absorption impact material
Neck protector
Breathable padding
Inner smoke sun shield
Shop from Amazon
Shop from Flipkart
6. LS2 FF352 Rookie Chaser Helmet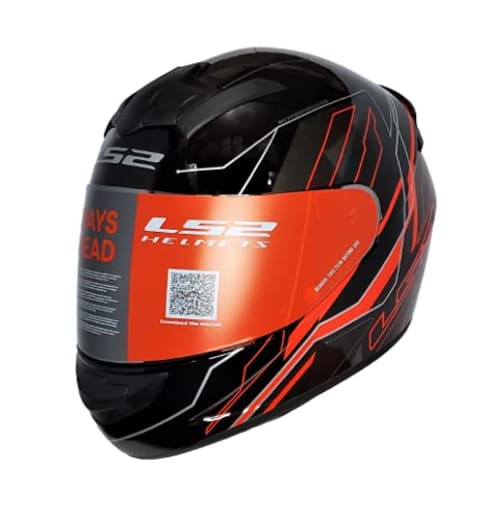 Unlike its competitors in the market, LS2 helmets are highly popular for being lightweight due to their wide-weave carbon fibre technology. The material can handle big impacts and provide the rider with high safety and comfort.
The LS2 rookie chaser is a long oval-shaped helmet which will take your two-wheeler riding experience to the next level. The high-quality visor will offer maximum visibility along with being fog resistant and scratch-proof. The reinforced chin strap ensures a comfortable and snug fit.
What's so great about it?
Quick release strap
Top air vent
Neck roll protection
High-pressure thermoplastic technology
UV resistant
Washable and breathable liners
Shop from Amazon
Shop from Flipkart
Conclusion
In this article, we have carefully curated a well-researched list of safe and affordable helmets in India. The above-mentioned brands are continually working hard to launch new products which are more secure and safe. However, depending on some common requirements and preferences of riders, this list of the best helmets in India (under 5000) should serve your purpose. Now you can go ahead and pick the best you like from the lot!
FAQs
Q1. How to choose the best helmet in India under 5000 INR?
Some things you should keep in mind while selecting a helmet in India are safety standards, manufacturing material, warranty, comfort and fit.
Q2. Which helmet brand is most popular in India?
Steelbird is a very popular brand in India due to its good quality manufacturing, affordability, and style options.
Q3. Which helmet brand is best known for safety?
Steelbird and Yamaha are deemed to be the best brands for safe and high-protection helmets. Some other reliable brands are Royal Enfield, TVS, Axor, and SMK.
Q4. Which is the best shape for a helmet?
Some riders are comfortable with a round fit, whereas some are comfortable with an oval fit. It is a personal choice depending on the rider's head shape and pressure points.