Cooking can be an intricate and exhausting task for you. You need to do a lot of preparation ranging from chopping, grinding, and mixing ingredients, which is generally a lot more time-consuming.
That is why a mixer grinder is a blessing for anyone who is a novice or a professional chef. Let's move on to learn more about the best mixer grinders in India.
How to Choose the Best Mixer Grinder in India?
A mixer grinder is one of the handiest appliances in the kitchen that makes your cooking time-saving and fun activity. From making crispy batter for dosa to milling spices into powder, you can use it for everything. But before that, you need to know some basic facts to choose the best for you.
Power: You should remember the power of the motor while buying a mixer grinder. For kitchen use, you can buy a mixer grinder of 500W to 750W.
Jars: You might not need more than 2-3 jars for one mixer grinder. You can use a small jar of 250ml for grinding spices.
Blades: While selecting mixer grinders for your kitchen use, blades are very crucial. You should always pick high-quality blades.
Warranty: Good mixer grinder must come with a warranty period of 1-3 years for the safer side.
Top 8 Best Mixer Grinder
Finding the best mixer grinder for commercial use that suits your needs is difficult due to the different types and brands available in the market. We have curated a list of the top 10 Mixer Grinders for your kitchen to enhance your cooking.
1. Bajaj Rex 500 W Mixer Grinder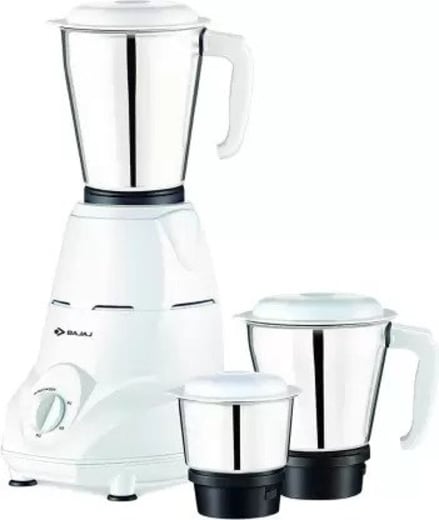 Bajaj is the most well-known and trustworthy company in India for obvious reasons. Developed by Bajaj, it is the best mixer grinder for commercial use and the budget-friendly.
The 500 W motor provides you with 20,000 RPM and offers efficient service in culinary activities. Rust-free and abs plastic body ensure a long lifespan. Anti-slid vacuum feet prevent it from sliding, and 3-speeds and a momentary operation knob safeguard against overloading the motor.
What's Great
Best Design and Multifunctional blades
Comes with a 1-year warranty
3-stainless steel jars and 3-speeds setting knob
Shop from Flipkart
Shop from Amazon
Shop from Tata Croma
2. Sujata Dynamix DX 900-W Mixer Grinder
Add convenience to your daily cooking with the Sujata Dynamix mixer grinder. Sujata is India's most trusted brand for kitchen appliances and is known for its excellence.
The product has three multipurpose stainless steel jars for wet grinding, dry grinding, and chutneys. With the powerful 900 watts of motor and two years of warranty, this appliance will win your trust and gives a quick grinding experience.
What's Great
Powerful 900 watts of motor for quick and efficient grinding
Vibration-free operation for stability
Shockproof, safe design, and overheat protection feature
Shop from Flipkart
Shop from Amazon
Shop from Pepperfry
3. Bajaj GX1 500W Mixer Grinder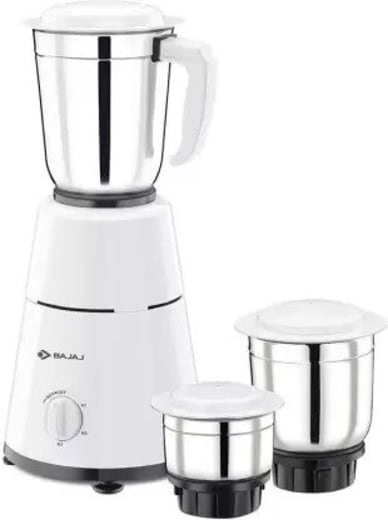 Another elite product by Bajaj is here to provide you with convenience. This elegant and classic build mixer grinder comes with three high-grade stainless steel jars for fulfilling a myriad of cooking needs.
It has features like a 3-speed control knob, a multifunctional super sharp blade system, easy grip handles, and a motor overload protector for quick and effective grinding.
What's Great
Heavy Duty Motor with 1-year Bajaj India Warranty
3-stainless steel jars with a 3-speed control knob
Nutri Pro, Rust Proof Body, Overload Protector
Shop from Flipkart
Shop from Amazon
Shop from Snapdeal
4. Philips HL 7756/00 750W Mixer Grinder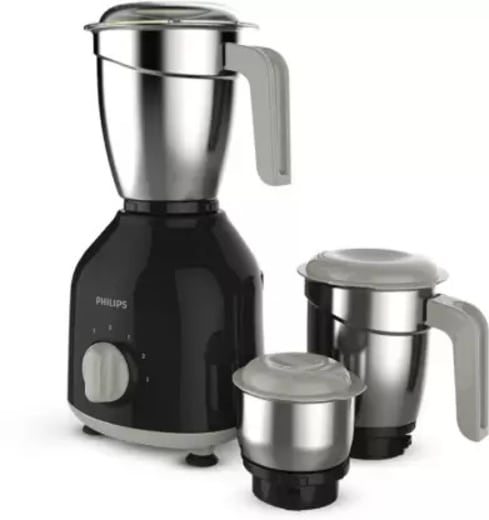 Philips India Limited is a subsidiary of Royal Philips of Netherlands, a leading health company known for its innovative technology and for making lives better. Packed with a 750W powerful turbo motor, this Philips product comes with 3-stainless steel jars with specialized blades for smooth grinding.
Leakproof jars and triangular body designs facilitate easy cleaning and maintenance, making it the best mixer grinder for commercial use.
What's Great
750W turbo motor
2-Year Philips Warranty
Durable coupler and triangular body design
Shop from Flipkart
Shop from Amazon
Shop from Reliance Digital
5. Maharaja Whiteline JX1-157 Odacio Plus Mixer Grinder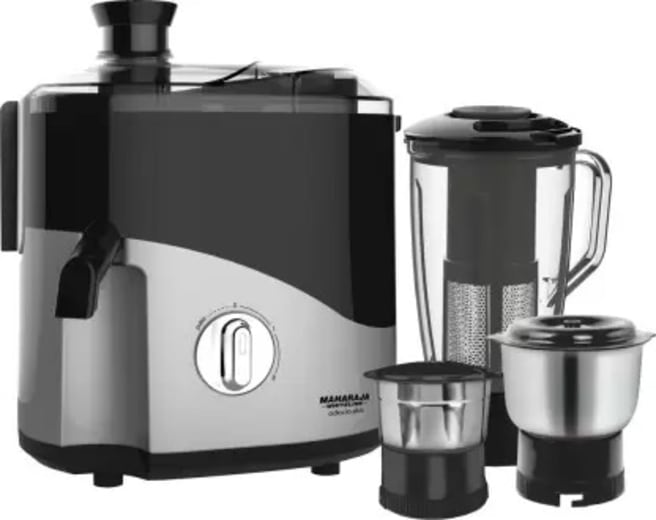 Maharaja, the 2nd most known and distributed brand in India leading, is offering the best mixer grinder in India. Extract maximum juices from a 1.5 l blender jar with an inbuilt fruit filter.
This mixer grinder helps perform various cooking activities with its two multipurpose grinding jars of different capacities. The detachable anti-drip spout cover prevents accidental liquid spills and makes cleaning easier after use.
What's Great
550 W high-performance motor helps do cooking tasks in an instant
Provides continuous operation of 30 minutes for consistent results
Overload Protector protects any damage from power overloads
Shop from Flipkart
Shop from Amazon
Shop from Tata Croma
6. Wonderchef Sumo Mixer Grinder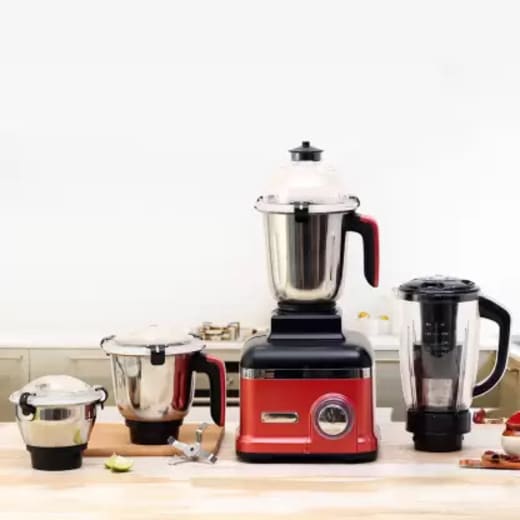 Founded by well-known Indian chef Mr Sanjeev Kappor, Wonderchef has provided the best kitchen appliances for over ten years. This Mixer grinder comes with 1000 W of a super powerful motor that makes it easier to grind harder ingredients and gives you the best results.
Its unique cuboid design provides extra stability and strength. This mixer grinder also comes with an advanced air ventilation feature that provides faster cooling to the appliance.
What's Great
1000 Watts Motor with a 5-year warranty
Unique cuboid shape with 4-stainless steel jars
Overload protection switch and air ventilation system
Shop from Flipkart
Shop from Amazon
7. Lifelong Power Pro-LLMG200 500 W Mixer Grinder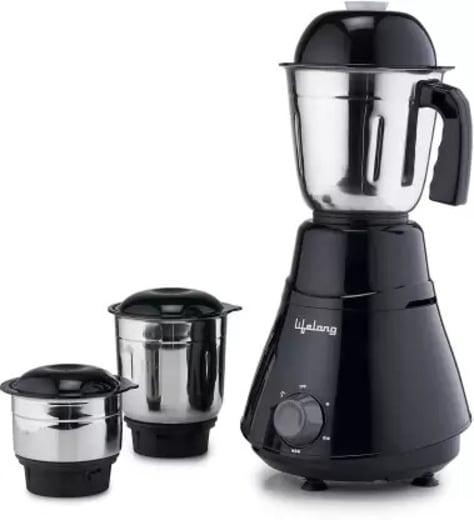 Lifelong has developed over 100 products ranging from kitchen appliances to lifestyle, grooming fitness and smart homes in just 5years. The company has designed the best mixer grinder in India for ease and comfort.
Make spicy chutneys for your snacks or healthy smoothies at your home with three durable stainless steel jars. The grinder comes with the feature of anti-slip vacuum feet to prevent it from sliding while in use.
What's Great
Powerful 500 W Turbo Motor and 3-speed Operation
Mess-free and anti-slip vacuum feet feature
Easy to maintain and affordable
Shop from Flipkart
Shop from Amazon
Shop from Snapdeal
8. Wonderchef Nutri blend 22000 RPM Mixer Grinder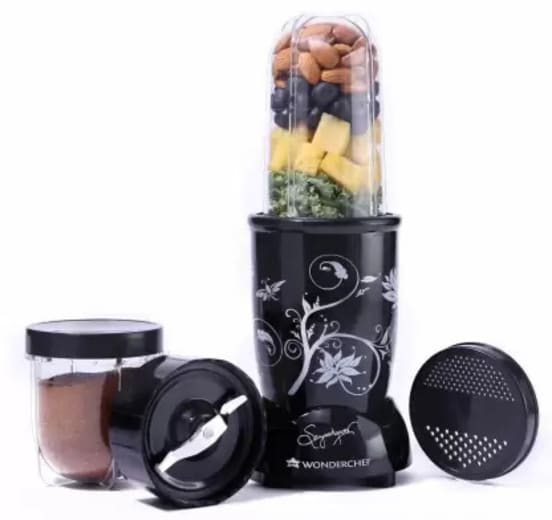 Featuring a high-speed motor, this extra sleek mixer grinder suits modern kitchens. Transparent polycarbonate jars with extra cover lids and sprinkler caps fulfil all your cooking needs.
Anti-skid feet make cooking hassle-free. It is ideal for preparing everything from smoothies to fine masalas.
What's Great
Transparent & Unbreakable jars
2year Wonderchef Warranty
Complimentary Recipe book
Shop from Flipkart
Shop from Amazon
Shop from Reliance Digital
Concluding Remarks
We hope this article has proved to be helpful in your mixer grinder hunt. If you are unsure which one to buy, the above list can help you find the right one per your budget and requirements.
Buying the best mixer grinder in India for your kitchen needs is not an easy task. But if you have a list with specifications and descriptions of top mixer grinders, you can find one in significantly less time.
FAQs
Q1. What Factors Should I Consider Before Buying a Mixer Grinder?
Ans. Factors that should be considered before buying mixer grinders are Price range, type of motor, power, warranty period, number of jars, etc.
Q2. Which Brands Are Best for Mixer Grinders?
Ans. Budget-friendly brands like Bajaj, Philips, Wonderchef, and lifelong are good. If Your budget is high, you can opt for brands like Sujata, Maharaja, Prestige, etc.
Q3. How Many Watts Is Suitable for Using a Mixer Grinder for Household Purposes?
Ans. If you have a small family of 4-5 members, then a 500W mixer-grinder is enough, or you can even opt for 750W if you are a heavy user.
Q4. What Is the Starting Price of a Mixer Grinder in India?
Ans. You can find a variety of mixer grinders in different price ranges. A basic mixer grinder with the most needed features can come within the range of Rs1500.