Staying hydrated is vital for good health. While plain tap water is an excellent choice, many people prefer bottled waters for their convenience, taste, or health benefits. With so many options on the market, it can be tricky to know which are the best water to drink.
What is the Best Water to Drink?
When it comes to drinking water, people often ask – what is the best water to drink for my health and hydration needs? Here are some top options:
Spring water – Sourced straight from natural springs, spring water retains healthy minerals like calcium, magnesium, and potassium. Top brands like Evian, Fiji, and Crystal Geyser Alpine Spring Water offer the refreshing taste of untreated mountain spring water bottled at the source.
Alkaline water – With an alkaline pH between 7.5 and 9.5, these waters help neutralize acidity in your body. Brands like Essentia, Waiakea, and Alkaline88 ionize the water and add electrolytes for proper hydration.
Fluoride-added water – Municipal tap waters with added fluoride can promote dental health. But check your local water report, as fluoride levels can vary greatly by region.
Electrolyte water – Waters like Smart Water, Life WTR, and Propel add electrolyte salts back in for faster hydration. Great for exercise and illness recovery.
Filtered tap water – An economical choice, filtered tap water removes chlorine and contaminants while retaining healthy minerals. Use a home filtering pitcher from Brita, PUR, or ZeroWater.
This comprehensive guide compares the best bottled water across various categories to help you find your perfect match. We examine factors like taste, price, health benefits, sustainability, and more so you can make an informed decision. Whether you're looking for still or sparkling, favor purified or mineral, there's a bottled water out there for everyone.
Best Overall Bottled Water: FIJI Natural Artesian Water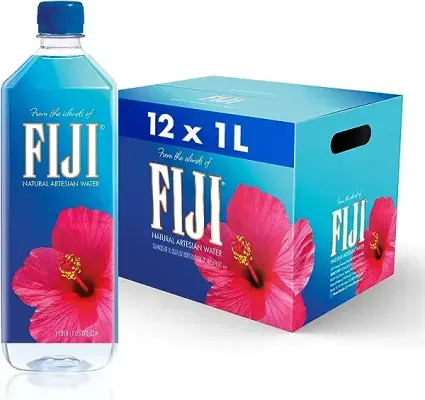 Ratings: 4.8 out of 5 stars
Reviews: "Clean, crisp taste. My favorite bottled water."
With its high 4.8-star rating across over 68,000 reviews, FIJI Natural Artesian Water stands out as the best bottled water. Sourced from a protected artesian aquifer in Fiji, this water has a naturally high pH and soft, smooth taste. The eco-friendly square bottles are BPA-free. While one of the pricier options at $1 per bottle, FIJI is worth it for the exceptional purity and taste.
Best Purified Bottled Water: Essentia Ionized Alkaline Water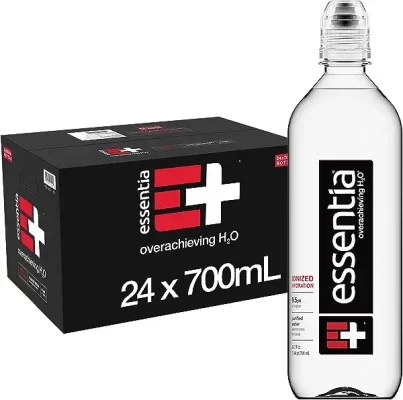 Ratings: 4.8 out of 5 stars
Reviews: "This water has been a game changer! It has a clean, refreshing taste."
For those seeking a purified water with added health benefits, Essentia Ionized Alkaline Water is the way to go. With a near-perfect 4.8-star rating, customers rave about the clean, smooth taste. Using a proprietary ionization process, Essentia filters out impurities and adds electrolytes for a pH of 9.5 or higher. The higher pH promotes hydration and neutralizes acidity in your body. At around $1.30 per bottle, it's moderately priced for the ionization process.
Best Spring Water: evian Natural Spring Water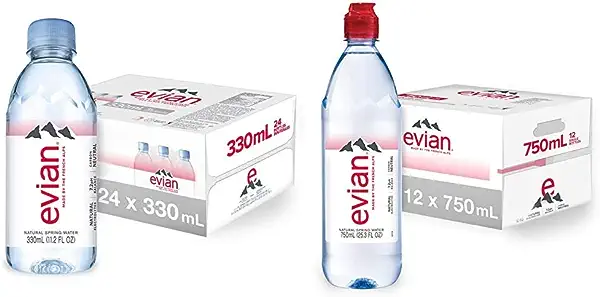 Ratings: 4.7 out of 5 stars
Reviews: "evian tastes so fresh – it's my favorite brand of spring water."
When it comes to spring water, the French classic evian stands unmatched with 4.7 stars. Sourced from a protected spring in the French Alps, evian contains naturally occurring electrolytes and minerals for a crisp, refreshing taste. The premium plastic bottles are BPA-free and designed for easy gripping. At $1.50-$2 per bottle, it sits on the pricier end but delivers that pure, mountain spring water taste.
Best Alkaline: Waiakea Hawaiian Volcanic Water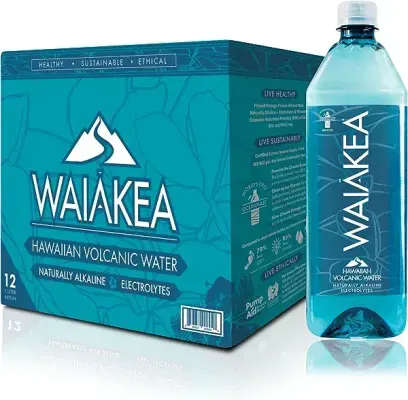 Ratings: 4.7 out of 5 stars
Reviews: "This alkaline water has a velvety mouthfeel and truly hydrates."
For high-pH alkaline water sourced from a sustainable volcanic spring, Waiakea is the best choice with a 4.7-star rating. Filtered through thousands of feet of volcanic rock, Waiakea comes out packed with electrolytes and minerals and has a natural 8.8 pH. The refreshing taste has a silky smoothness to it. The bottles are 100% recyclable and use low-emission transportation. At around $1.60 per liter, it's very reasonably priced for natural alkaline water.
Best Flavored Sparkling: Liquid Death Berry It Alive Sparkling Water
Ratings: 4.5 out of 5 stars
Reviews: "This sparkling water legitimately tastes like berries – so delicious!"
If flavored fizzy water is your jam, Liquid Death Berry It Alive sparkling water earns top marks for taste with a 4.5-star rating. With vivid berry flavors like raspberry, blackberry, and strawberry, it tastes just like drinking a fruit soda without any sweeteners or junk. The 16.9oz tallboy cans provide bonus hydration in a portable format. Priced at around $1.50 per can, they're on the moderately expensive side but deliver a truly delicious bubbly treat.
Best Mineral Water: Topo Chico Mineral Water

Ratings: 4.8 out of 5 stars
Reviews: "This mineral water from Mexico has the perfect amount of fizziness and refreshing mineral taste."
Originating from an ancient mineral spring in Mexico, Topo Chico earns rave 4.8-star reviews for its lightly carbonated, thirst-quenching taste. With a natural mineral composition high in electrolytes, Topo Chico provides a satisfying drinking experience and hydration. The iconic glass bottle adds to the appeal, though plastic is also available. At about $1.50-$2 per bottle, it comes at a premium cost but provides an authentic mineral water geared for refreshment.
Best Bulk Case: Member's Mark Purified Water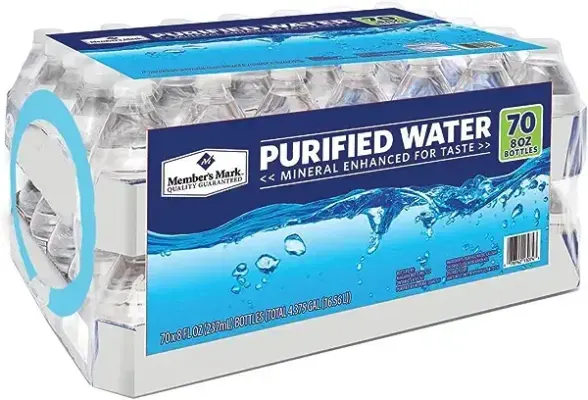 Ratings: 4.1 out of 5 stars
Reviews: "A good amount of water for a good price – tastes like most purified bottled waters."
For shoppers buying in bulk, Member's Mark Purified Water offers an unbeatable value at 4.1 stars. You can purchase a pallet with 48 cases of 40 bottles each – 1,920 bottles total! While not the most exciting flavor, customers say it tastes like most average purified bottled waters. Each 16.9oz bottle comes out to a mere 25 cents – an incredible bargain for stocking up. The bulk format also cuts down on plastic waste compared to single-serve bottles.
Best Glass Bottle: Mountain Valley Spring Water

Ratings: 4.3 out of 5 stars
Reviews: "This spring water tastes so fresh out of a glass bottle – very refreshing!"
When it comes to bottled water, many people prefer glass over plastic due to taste and health reasons. Of the glass options, Mountain Valley Spring Water is a standout with a 4.3-star rating. Sourced from natural springs in the Ouachita Mountains of Arkansas, Mountain Valley has a crisp, clean taste. The iconic glass bottle with its 1970's-inspired design adds retro appeal. At $35 for 12 bottles, it comes at a premium but provides a nostalgic drinking experience.
Best Sustainable Packaging: Boxed Water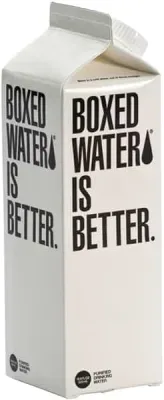 Ratings: 4.3 out of 5 stars
Reviews: "I love these cartons over plastic bottles – they're much better for the environment."
Eco-conscious consumers should check out Boxed Water, which packages its purified water in 92% plant-based cartons. With 4.3 stars, reviewers love the sustainability, visual appeal, and crisp taste. The paper cartons fully biodegrade after 24 months versus 450 years for plastic bottles. At around $2 per carton, it's fairly expensive but you pay for the eco-friendly factor. The minimalist, millennial-approved branding also looks cool.
Comparison Chart: Best Bottled Waters
Product
Type
Ratings
Price per Bottle
Key Features
FIJI Natural Artesian Water
Natural Artesian
4.8 stars
$1
– Naturally high pH
– Crisp, smooth taste
– Square eco-friendly bottles
Essentia Ionized Alkaline Water
Ionized Purified
4.8 stars
$1.30
– pH of 9.5 or higher
– Added electrolytes
– Purifying ionization process
evian Natural Spring Water
Spring
4.7 stars
$1.50-$2
– Sourced in French Alps
– Naturally occurring minerals
– Premium taste
Waiakea Hawaiian Volcanic Water
Alkaline Spring
4.7 stars
$1.60
– Naturally alkaline pH 8.8+
– Sustainable sourcing
– Silky taste
Liquid Death Berry It Alive Sparkling Water
Flavored Sparkling
4.5 stars
$1.50
– Real berry flavors
– Zero sugar or sweeteners
– Tallboy cans
Topo Chico Mineral Water
Mineral
4.8 stars
$1.50-$2
– Natural mineral composition
– Light carbonation
– Glass bottle options
Member's Mark Purified Water
Purified
4.1 stars
$0.25
– Bulk cases of 40
– Inexpensive
– Good for stocking up
Mountain Valley Spring Water
Spring
4.3 stars
$35 (12 bottles)
– Glass bottle
– Crisp, fresh taste
– Vintage styling
Boxed Water
Purified
4.3 stars
$2
– Sustainable packaging
– 92% plant-based cartons
– Eco-friendly
Best Spring Water to Drink
For fans of the crisp, untreated taste of mountain spring water, these are some of the best brands to drink:
Evian – Ultra-premium spring water sourced from the French Alps. Earns rave reviews for its clean taste.
Fiji – From a protected artesian spring in Fiji, with naturally smooth, soft taste. One of the highest rated.
Crystal Geyser – Alpine spring water from Mt. Shasta praised for freshness. Comes in easy-to-handle smaller bottles.
Arrowhead Mountain Spring Water – Sourced from protected mountain springs in California. Has a light mineral taste.
Deer Park – From natural springs in the Allegheny Mountains, Deer Park has balanced light mineralization.
Poland Spring – A Maine favorite, Poland Spring has a classic spring water taste and affordable price point.
Best Drinking Water for pH Balance
Your body maintains a tightly regulated pH around 7.4. Here are some bottled waters that can help promote an alkaline pH for overall balance:
Essentia Alkaline Water – Ionization process boosts pH to 9.5 or higher. Tastes smooth.
Waiakea Hawaiian Volcanic – Naturally alkaline with minerals for 8.8 pH. Silky mouthfeel.
Evamor Artesian Water – From Texas springs, with pH between 8.1 and 8.5. Lightly sweet taste.
Alkaline88 – Adds Himalayan rock salts for a pH of 8.8. Electrolytes for smooth flavor.
Perfect Hydration – Balances purified water to a pH of 9.5. Crisp taste.
Fiji – Artesian water with naturally high 7.8 pH level. Smooth and soft.
Best Time to Drink Water
Most guidelines recommend drinking water at consistent intervals throughout the day. But here are the optimal times to drink water:
First thing in the morning – Helps rehydrate after sleep. Drink 1-2 glasses as soon as you wake up.
Before meals – Allows water to fill you up so you eat less. Drink 1-2 glasses 30 minutes before eating.
During or after exercise – Replaces fluids lost while working out to prevent dehydration.
Before bed – Being hydrated while you sleep aids muscle recovery and energy levels the next day.
When thirsty – Don't ignore feelings of thirst! It's your body's signal to replenish fluids.
With medications – Water aids absorption and prevents medication side effects.
Frequently Asked Questions About Best Bottled Water
What is the healthiest bottled water to drink?
Alkaline and electrolyte-enhanced waters are generally considered the healthiest, as they help neutralize acidity and promote hydration. Top choices are Essentia Ionized Alkaline Water, Waiakea Volcanic Water, and FIJI Natural Artesian Water.
What is the safest bottled water brand?
Purified water undergoes rigorous multi-step filtration so it is very safe. Top purified brands like Essentia, Boxed Water, and Member's Mark Purified Water use hygienic bottling processes. Natural spring and mineral waters are also considered safe, as they are bottled straight from the source.
What is the best tasting bottled water?
evian, FIJI, and Essentia consistently earn top ratings for their crisp, clean tastes. Liquid Death also wins points for their flavored sparkling waters that taste like fruit soda.
Which is better – spring or purified water?
This often comes down to personal preference. Spring water retains naturally occurring minerals for a distinctive, refreshing taste. Purified water has minerals removed for a more neutral, crisp taste. Both are clean, safe options.
Is plastic or glass bottled water better?
Glass is considered healthier, as plastic can leach chemicals over time. But plastic is much more portable and convenient. For the best of both worlds, brands like Topo Chico offer multi-packs with plastic and convenient glass options.
Is bottled water worth the cost?
While bottled water is far more expensive per ounce than tap, many feel the convenience, taste and health benefits justify the cost. To save money, buy larger sizes or bulk cases which can bring the per-bottle cost down significantly.
What's the most eco-friendly bottled water?
Boxed Water's plant-based cartons fully biodegrade much faster than plastic. Brands like Waiakea use recycled plastic or carbon-neutral shipping. But the greenest option is still reusable water bottles filled with tap.
In Summary
When it comes to bottled water, there's an option for everyone – whether you prioritize taste, value, sustainability or health benefits. By reviewing top-rated waters across categories like spring, purified, alkaline and mineral, we've highlighted the stand-out choices based on customer reviews. Just think about your preferences, use this guide for an informed buying decision, and stay hydrated with the best bottled water for your needs.