Gone are the days of heavy office chairs that provided minimal portability and lack of comfort. In contemporary times of increased awareness about health and correct posture, a comfortable office chair is a significant part of one's everyday life. May it be working for long hours in the office or keeping your back straight while working from home, a good office chair comes with well-planned ergonomics. There are a wide number of brands that offer sleek and well-designed office chairs for long hours of work.
This article outlines a well-curated list of the best office chair brands in India. Read on to choose one that best suits your needs and budget.
How to Choose the Best Brand of Office Chair?
Choosing the right office chair is crucial to your long-term health and often impacts your work productivity. You can avoid a sore back ache by opting for a high-quality ergonomic chair. However, here are some vital factors you need to consider to ensure you spend the right amount on the perfect fit for you.
Material: If you are somebody who spends long hours working, you need to ensure the quality of the chair material. In the case of cushioning, you can look for a chair material that is breathable and light.
Design: Choosing the right design is the most significant requisite while selecting an office chair. You should look for a chair with excellent back support and an ergonomic design that perfectly fits your requirements. Make sure it has wide, comfortable armrests and the ability to adjust the height with ease.
Durability: While you are investing in an office chair, you need to look out for a brand that adds value for money. Some of the best office chair brands range between Rs.3000 to Rs.15,000. While you can purchase as per your budget, make sure you opt for material which is durable and resistant to wear and tear.
Best Office Chair Brands in India
Here is a list of the top 5 best office chair brands in India that ensure the utmost comfort.
Cellbell
Sleep Company
Solimo
AB Designs
Green Soul
1. CellBell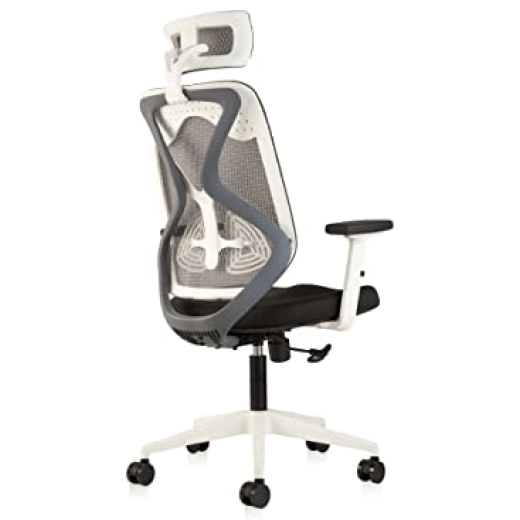 CellBell is a well-known furniture and electronics business that was established in 2016. It is renowned for producing eye-catching, incredibly cosy office chairs that are adored by customers. From this brand, you can choose from a wide range of chairs for absolute comfort and back assistance.
Cellbell office chairs come with plush padding and excellent cushioning. These chairs are designed to accommodate people of different weights. They are summer-friendly with a mesh back and wide armrests that prevent sweating and keep you relaxed.
What's Great
Equipped with wheels and highly portable
Foam cushioning for an elevated, quality experience
Hassle-free height adjustment is available
Shop from Amazon
Shop from Flipkart
Shop from Jiomart
2. Sleep Company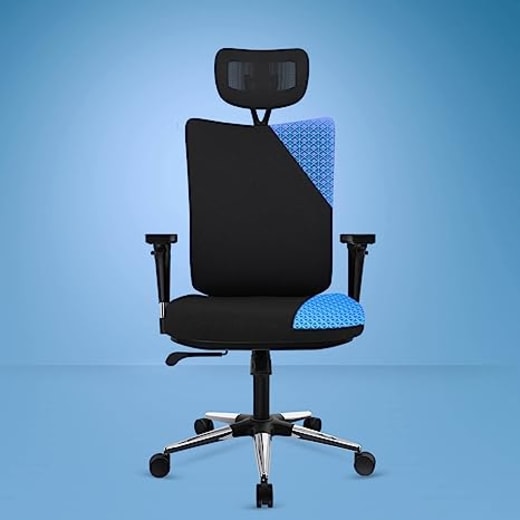 The Sleep Company was established with the goal of improving an individual's sleep conditions. One of the cutting-edge technologies that have transformed the mattress industry in the past two years is their trademarked SmartGRID system. However, apart from mattresses, the Sleep Company manufactures top-rated office chairs of fine quality. The no-pressure support of these chairs has made them customer's favourite.
Being one of the best office chair brands, Sleep Company chairs come with advanced orthopaedic support. They have a 2D adjustment armrest and a smart grid with excellent elastic properties.
What's Great
Highly durable and does not sag for a long time
DIY installation and easy to use
Adjustable headrest for support
Shop from Amazon
Shop from Flipkart
Shop from Indiamart
3. Solimo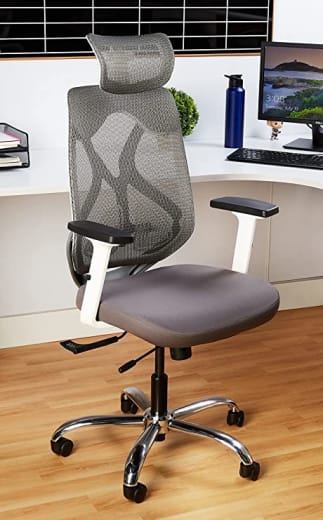 Solimo is an Amazon brand that deals with kitchen appliances and daily furniture goods. The company has a loyal customer base in India and has gradually become one of the best office chair brands.
Solimo office chairs are equipped with back support that is comfortable and arms that are universal and fastened to the seat with a soft pad. The chairs have a versatile headrest that allows for front, back, up, and down movement to enhance your level of relaxation. These chairs are made from textiles of the highest quality and are resilient to abrasion.
What's Great
Highly functional and durable
Abrasion resistant
Sleek and functionally designed chairs for utmost comfort
Shop from Amazon
Shop from IndiaMART
4. AB Designs
AB Designs is a well-known brand in the office furniture sector. The company manufactures couch sets and high-quality office chairs that are ideal for big halls and offices. It is situated in Mumbai, Maharashtra, and was launched in 2015. Its products are also available online on its own website as school supplies, study tables, and waiting room furniture. AB Designs is one of the best office chair brands that provides foam padding and height adjustment.
What's Great
Sturdy nylon wheels ensure portability
Quality fabric cushioning to avoid sweating
Hassle-free assembling
Shop from Amazon
Shop from Flipkart
Shop from IndiaMART
5. Green Soul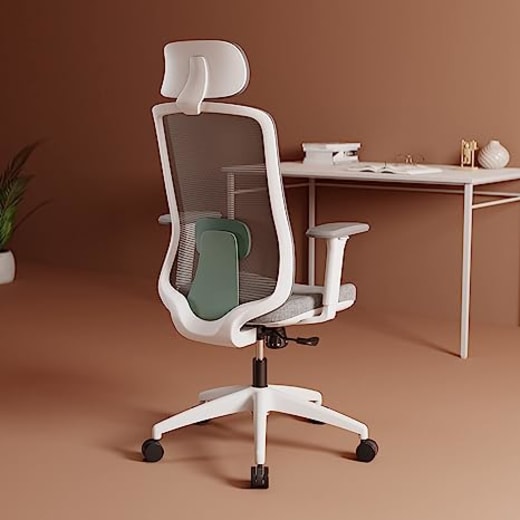 Green Soul is a recently established company that specialises in making office furniture which is both comfortable and ergonomic. It was established by Ravi Khushwani in 2016 and is based in Mumbai, India. Green Soul, one of the best office chair brands, is also available on various E-commerce websites.
Green Soul office chairs have high-quality prominent features like the breathable mesh back, foam cushioning, comfortable seat and adjustable height. It manufactures a wide variety of designs and colours when it comes to office chairs.
What's Great
Hydraulic piston for height adjustment
Cushioning is perfect for long hours
Complete back support while working
Shop from Amazon
Shop from Flipkart
Shop from JioMart
Wrapping Up
The above-mentioned best office chair brands are some of the leading manufacturers that ensure high durability, value for money, best designs and improved functionality. These brands offer office chairs in a wide range of colours, designs and prices. You can increase your work efficiency and take care of your body posture by opting for a comfortable office chair from these brands.
FAQs
Q. What are some of the best office chair brands in India?
You can correct your body posture and increase your work efficiency by opting for the best office chair brands in India, like Savya, Cellbell and Sleep Comfort.
Q. How to know which office chair is best for me?
You can make an informed choice by taking into consideration the design, height, armrest style, cushioning, backrest and portability of the office chair, which goes best with your working style and hours of use.
Q. What is the maximum durability of a good office chair?
A good office chair made from high-quality material should last around 7 to 8 years.
Q. How to maintain an office chair?
You can maintain an office chair by regular cleaning and avoiding harsh cleaning agents that can cause damage to the material.