Are you a motorcycle enthusiast searching for the best riding jackets in India? Look no further. Check out this thorough riding jacket list that combines style, comfort, and safety.
Whether you are a seasoned rider or a beginner, these jackets will elevate your riding experience to new heights. So why wait? Let's explore the world of riding jackets and find your perfect match today!
How to Choose the Best Riding Jacket in India?
Riding jackets are essential protective gear for any biker, but choosing the right one can be difficult. Here are some key factors to keep in mind:
Material
The riding jacket's material is crucial as it decides the level of protection it can offer. There are three types of materials in jackets – leather, textile, and mesh.
Leather is durable and abrasion-resistant, offering excellent protection. However, it can be heavy and unsuitable for hot weather.
Textile jackets are lightweight, breathable, and comfortable.
Mesh jackets provide the most airflow, making them ideal for hot weather but may have lower abrasion resistance.
Fit and Style
A well-fitted riding jacket is crucial for maximum protection while riding. It should not be too tight and allow for comfortable movement, with armour and padding in the right place.
For a personalized fit, look for jackets with adjustable cuffs, collars, and waistbands. You can choose sport or street-fit jackets for speedy thrills and snug jackets for long hauls.
Liners and Armor
Before buying a riding jacket, check if it has detachable liners for all-weather riding and built-in armour for protection against impacts. It should also cover critical areas like the elbows, shoulders, and back.
Visibility and Ventilation
Look for jackets with reflective panels or bright colours to enhance visibility on the road. Opt for jackets with vents for airflow and keep you cool during long rides.
Best Riding Jackets in India
Now that you know what to look for, let's dive into the best riding jackets in India. These jackets have been carefully selected based on their safety features, comfort, and overall style.
Rynox Tornado Pro 4 Jacket
Raida TourBine Riding Jacket
Alpinestars T-GP Plus R V3 Air Jacket
Venom Asphalt Riding Jacket
MOTOTECH Trailblazer TourPro Jacket – Level 2
Biking Brotherhood Xplorer
1. Rynox Tornado Pro 4 Jacket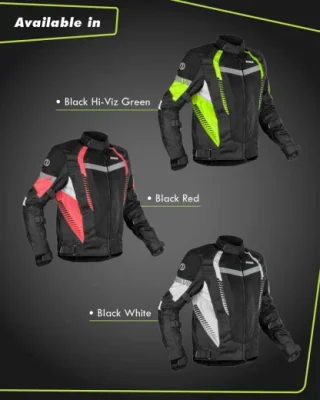 Rynox is a renowned brand committed to rider safety and comfort. This riding jacket is a rider favourite for its superior protection and stylish design. It is made from high-density polyester and thus, offers excellent abrasion resistance.
It has CE-certified shoulder, elbows, and back armour, providing impact protection. The jacket also features multiple ventilation panels and a removable thermal liner, making it suitable for all weather conditions.
What's Great?
Durable and weather resistant
Features CE Level 2 protectors for safety
Optimal abrasion resistance and ventilation
Reflective panels and a winter liner
Stylish and functional design that fits well
2. Raida TourBine Riding Jacket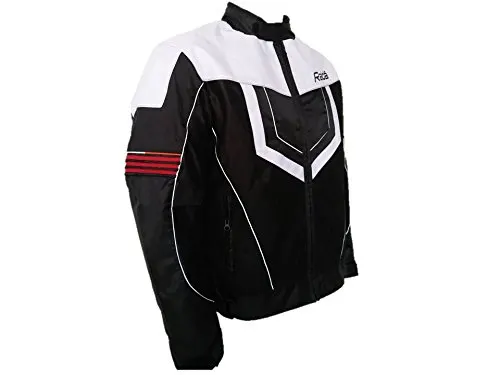 Do you want a jacket that's not only stylish but also packed with features? For riders seeking a high-performance jacket suitable for adventures, it is one of the best riding jackets in India.
It features a reflective coating all around, an outer mesh layer for ventilation, and sturdy material for durability. The protectors at the elbows and shoulders provide excellent impact protection.
And the cherry on top – the reversible inner liner. Wear it with the waterproof side on rainy days, or flip it and use the thermal side for chilly winter rides.
What's Great?
All-season adaptability
CE Level 2 SasTech protectors for superior impact protection
Reflective panels for enhanced visibility
Lucrative design for style-conscious riders
3. Alpinestars T-GP Plus R V3 Air Jacket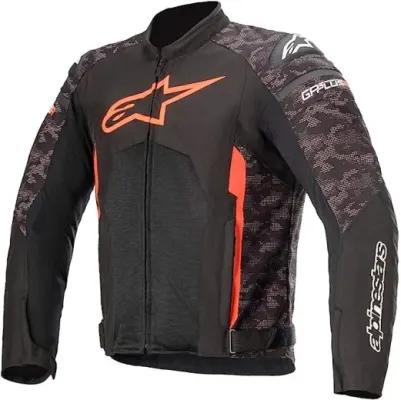 If you're looking for a jacket designed for hot-weather riding, this is the leading contender amongst riding jackets in India. With their commitment to design, performance, and innovation with excellence, Alpinestars are the pioneers.
This jacket is made from a durable combination of poly-fabric and mesh to provide airflow, keeping you cool and comfortable. It features CE-certified armour and has stretch panels for a customized fit.
What's Great?
High-quality ventilation, durable material, and convenient features
Waterproof liner for unexpected rain
Features CE Level 1 armour for high-quality impact protection
4. Venom Asphalt Riding Jacket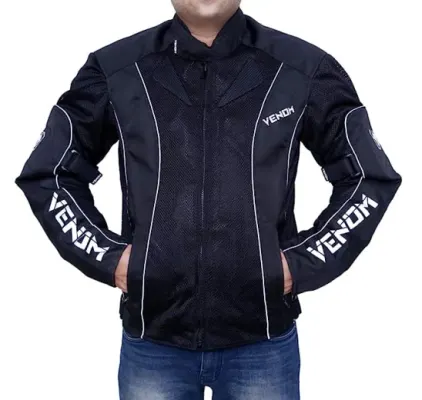 This jacket is a testament to Venom's commitment to providing riders with reliable, versatile, and functional products. It boasts CE-approved armour, ensuring optimal safety.
The heavy-duty air mesh and 800D Polyester Cordura Fabric construction provide durability and abrasion resistance. The waterproof pockets and detachable rain liner suit all weather conditions.
What's Great?
Adjustable straps for a customizable fit
Detachable REISSA breathable and waterproof rain liner
All-season usability and waterproof pockets
Reflective panels for enhanced visibility
5. MOTOTECH Trailblazer TourPro Jacket – Level 2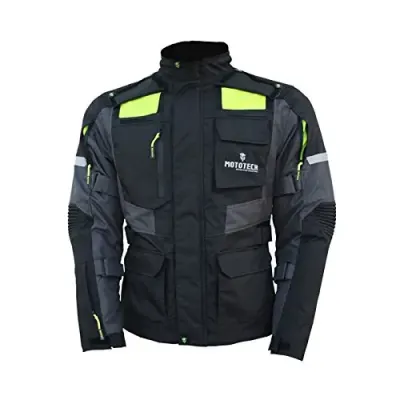 MOTOTECH has a strong reputation for producing high-quality products suitable for extreme conditions. This jacket embodies their commitment to functionality, durability, and style.
This jacket can be your perfect companion if you're an off-roading enthusiast or an adventurous tourer exploring uncharted roads.
What's Great?
Optimal airflow with a 6-Port Air Ventilation System for hot and humid rides
Reflective fluorescent branding for enhanced visibility
High-quality material for long-lasting durability
Trendy design suitable for off-roading
Versatile and fully equipped
6. Biking Brotherhood Xplorer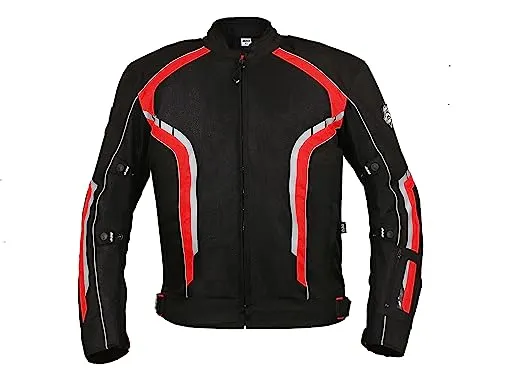 Biking Brotherhood is a trusted brand in the motorcycle community, known for offering high-quality riding jackets in India. The Xplorer riding jacket provides great value for money and is a favourite choice among Indian riders.
This jacket is crafted with premium materials, offering a sturdy build and a mix of mesh and corduroy panels, making it suitable for all seasons. It provides adequate protection, visibility and comes with adjustment straps to ensure a snug fit.
What's Great?
Budget-friendly and high quality
CE Level 1 protector for added safety
Includes rain liner and inner removable thermal liner
Suitable for all seasons
Reflective piping for enhanced visibility
Wrapping Up
Riding jackets are an essential piece to any bike enthusiast's wardrobe. They protect you, reduce drag, and keep you comfortable while cruising the machine. On top of all that, the right jacket will complete your biking outfit and give it a fresh look.
This is why we've picked the best riding jackets in India, and you can choose the one that suits your style and riding needs. Consider quality, performance, and customer reviews when selecting a brand.
Now, gear up, wear a protective riding jacket, and enjoy the exhilaration of the open road!
Frequently Asked Questions
1. Why do I need a riding jacket?
A riding jacket is not just a fashion statement but an essential protective gear. It provides impact protection and abrasion resistance in case of an accident, helping to minimize injuries.
2. How much protection should I look for in a riding jacket?
The level of protection you need depends on your riding style and preferences. Level 1 protectors work for daily commutes, while level 2 armour provides enhanced safety for long rides and harsh weather conditions.
3. How can I make sure my riding jacket fits right?
Refer to the brand's size chart and measure yourself to ensure a perfect fit. A snug fit that doesn't restrict movement is ideal, and the jacket should cover your torso and arms with sleeves that reach your wrists.
4. How often should I replace my riding jacket?
Replace your riding jacket every 3-5 years or sooner if it shows wear and tear. Inspect it for any damage, and replace it if necessary to maintain optimal safety.