With rising temperatures every year, air coolers have become a necessity to beat the sweltering Indian summers. Whether you need spot cooling for desktop workspaces or require heavy-duty air circulation to bring respite across large rooms, choosing the model that best suits specific needs is vital. Through extensive testing and analysis, we have compiled this definitive guide to the finest air coolers in India for 2023 from leading brands. Comparing tank capacity, special technologies, energy efficiency and expert opinions, the curated list presents personalized cooling solutions for every consumer context ranging across budgets. So read on for all insights before making that informed purchase decision this summer!
1. Crompton Ozone 75-Litre Inverter Compatible Desert Air Cooler with Honeycomb Pads for Home and Commercial (White and Teal)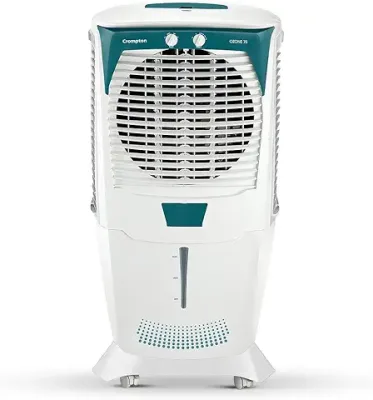 Key Features
75L large water tank capacity
Compatible with inverter operation
Honeycomb cooling pads for better cooling
Powerful air throw
Our Expert Review
The Crompton Ozone 75L desert air cooler is one of the best options for large rooms and commercial spaces. It has a powerful air flow and a large water tank capacity. The honeycomb pads provide efficient cooling through water evaporation. Being inverter compatible, it can work efficiently during power cuts. Overall an excellent choice for spacious cooling needs.
2. HIFRESH Air Cooler for Home
107CM Tower Cooler w/ 3 Speeds & 4 Modes, 12H Timer, LED Touch Screen, 4L Water Tank, Remote, 4 Ice Packs, 80W Low Power Consumption Evaporative Air Cooler for Room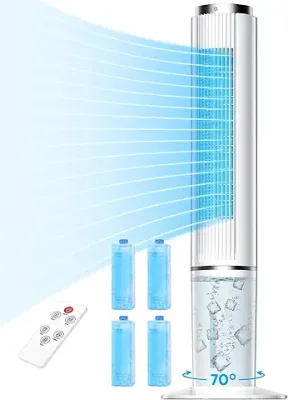 Key Features
107cm tall design with stylish looks
3 fan speeds and 4 cooling modes
12 hour timer with remote control
Low 80W power consumption
Our Expert Review
The HIFRESH tower air cooler is a great choice for modern homes wanting style with cooling function. It has multiple fan speeds and cooling modes to customize operation. The tall design allows distributing cool air widely in the room. Low power consumption makes it energy efficient. Overall an impressive option for contemporary living spaces.
3. Symphony Diet 3D 30i Portable Tower Air Cooler For Home with 3-Side Honeycomb Pads i-Pure Technology and Low Power Consumption (30L, White & Black)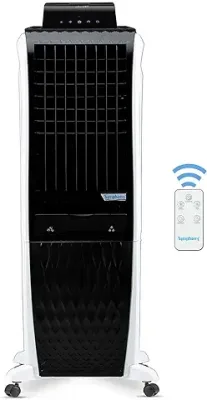 Key Features
3-side honeycomb pads for multi-directional cooling
i-Pure technology to filter dust & impurities
Portable design with castor wheels
30L tank capacity
Our Expert Review
The Symphony Diet 3D 30i air cooler offers the unique benefit of 3-side cooling pads to disperse cool air in multiple directions efficiently. Its filters help provide cleaner and healthier air circulation. Being portable with castor wheels makes it convenient to move to different rooms. A versatile and value-for-money home cooling solution.
4. Symphony Diet 12T Personal Tower Air Cooler for Home with Honeycomb Pad
Powerful Blower, i-Pure Technology and Low Power Consumption (12L, White)

Key Features
Compact and portable personal air cooler
Powerful air delivery blower
i-Pure technology for air purification
12L tank capacity
Our Expert Review
The Symphony Diet 12T personal air cooler is tailor-made for spot cooling needs of individuals. Its compact size and design makes it easy to use on desktops and other spaces. The air blower gives powerful cooling airflow directly on the user. With useful air purifying properties and affordable pricing, it is one of the best personal cooling appliances in the market currently.
5. Bajaj PMH 25 DLX 24L Personal Air Cooler for home with DuraMarine Pump
(2-Yr Warranty by Bajaj) Anti-Bacterial Hexacool Master, TurboFan Technology, 3-SpeedControl, Portable AC, White Cooler for Room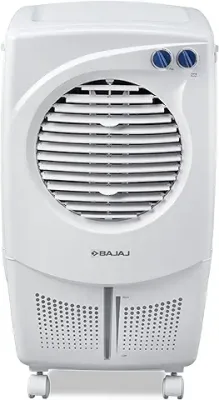 Key Features
Hexacool technology with anti-bacterial cooling pads
Turbofan for strong air throw
DuraMarine water pump for durability
24L tank capacity
Our Expert Review
The Bajaj Hexacool PMH 25 DLX air cooler provides the advantages of anti-bacterial cooling pads for healthier air circulation. Its turbofan enables it to deliver strong airflow to a larger area efficiently. The durable water pump allows maintenance-free functioning. With a reputed brand name like Bajaj and 2 year warranty, it makes for a trustworthy purchase for residential usage.
6. Symphony Ice Cube 27 Personal Air Cooler For Home with Powerful Fan
3-Side Honeycomb Pads, i-Pure Technology and Low Power Consumption (27L, White)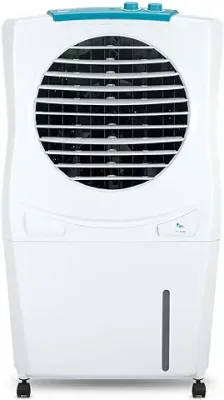 Key Features
Compact 27L personal air cooler
Powerful fan for maximum airflow
3-side honeycomb cooling pads
Low power consumption
Our Expert Review
The Symphony Ice Cube 27 air cooler is a high-performing personal cooling solution designed to be used on tables or floor spaces. It packs a powerful air delivery system with 3-side cooling pads that optimizes the circulation of cool air. The honeycomb pads allow retention of adequate water to allow evaporative cooling over extended periods. Overall, a recommended buy for spot cooling needs.
7. Crompton Ginie Neo Personal Air Cooler – 10L
White and Light Blue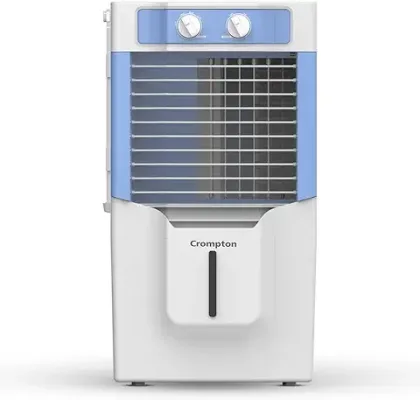 Key Features
10L personal air cooler
Attractive design and colors
Compact and lightweight
Suitable for small spaces
Our Expert Review
The Crompton Ginie Neo 10L air cooler is designed for highly portable spot cooling applications. Its small and cute design in vibrant colors makes it visually appealing too. It works well to provide localized cooling and can be easily moved around from room to room. The affordable pricing makes it a good choice for basic air cooling needs without advanced functionality.
8. Lopez Air Cooler For Home & Office 20L Capacity – LPZ20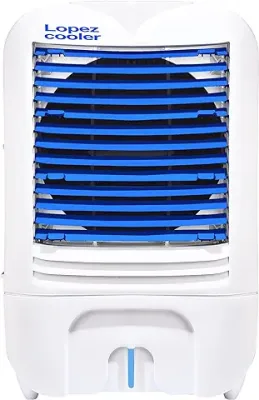 Key Features
20L capacity suitable for rooms
Durable ABS body
Effective honeycomb pad cooling
Affordable price
Our Expert Review
The Lopez LPZ20 20L air cooler is an economical option for moderate room cooling needs. It provides standard honeycomb pad-based evaporation cooling that is quite adequate for regular usage. The ABS body makes it sturdy and long-lasting with ability to withstand wear and tear over time. If you need basic functioning without the premium pricing, this is a suitable choice to consider.
9. Symphony Diet 3D 55i+ Portable Tower Air Cooler For Home with 3-Side Honeycomb Pads
Magnetic Remote, i-Pure Technology and Automatic Pop-Up Touchscreen (55L, White & Black)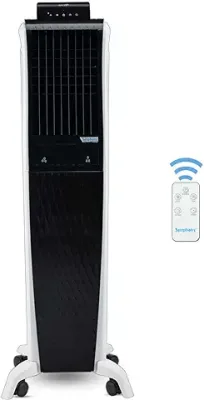 Key Features
55L large water tank capacity
Automatic pop-up touchscreen control panel
Magnetic remote control
Multi-side honeycomb pads
i-Pure technology for air purification
Our Expert Review
The Symphony Diet 3D 55i+ air cooler has one of the most advanced set of features for optimized cooling in medium and large rooms. The multi-directional cooling approach covers a wider area efficiently. The touchscreen and magnetic remote allows easy operations control. Air purifying properties maintains good hygiene. Overall, packed with clever designs for the best cooling experience.
10. Havells Altima Desert Air Cooler 70 liters with Powerful Air Delivery and Smell Free Honeycomb pads (Dark Teal)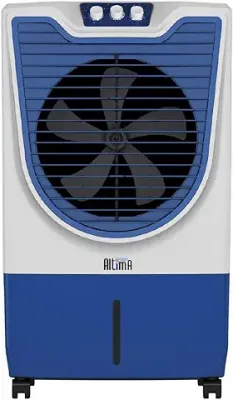 Key Features
Powerful blower for strong air flow
Odourless cooling pads
70L large tank capacity
Larger coverage area
Our Expert Review
With its powerful air propelling system, the Havells Altima 70 L air cooler is ready for heavy-duty cooling requirements. It can maintain consistent performance over longer durations. The absence of musty smells generally associated with water evaporated cooling distinguishes it further. A great choice for spacious cooling for areas occupied for extended periods.
11. Crompton Optimus 100-Litre Inverter Compatible and Portable Desert Air Cooler with Wide Angle Air Throw (White)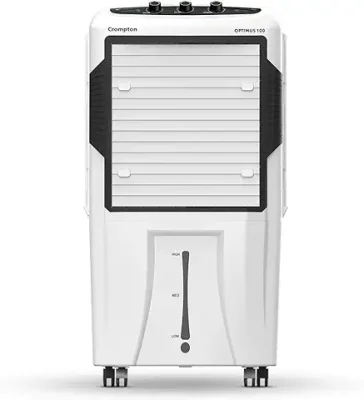 Key Features
100L mega large tank capacity
Inverter compatibility allows usage during power cuts
Wider air throw covers larger rooms
Portable with castor wheels for mobility
Our Expert Review
When you need to cool very big halls and rooms, the Optimus 100L air cooler is the best solution. The sheer size of its water tank gives it unmatched cooling output to easily manage larger spaces up to 600sq ft. Being able to run optimally even with inverter supply gives further advantage. A fitting choice for expansive cooling needs of commercial establishments and suitable for large homes too.
12. One94Store Portable Humidifier Air Cooler Fan for Home with 3 Speed Mode
Mist Fan with Water Spray, 7 Color LED and Timer, USB Personal Cooler Desk Fan for Shop, Office, Kitchen (USB Powered Mini AC, Black)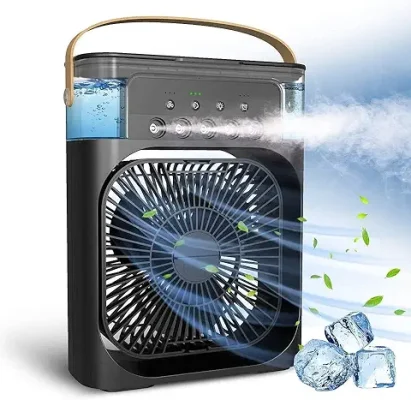 Key Features
Portable and lightweight
Adjustable 3 fan speeds
Water spray mist humidifier function
7 color LED mode with timer
Operates directly via USB port
Our Expert Review
The One94Store personal air cooler humidifier fan serves as an ultra-portable appliance for mild cooling effects. As it relies simply on fan-based air circulation, it does not require refilling water constantly. The mist spray offers a slight cooling perception. With its compact all-black looks and instant plug-and-use via any USB port, it is lifestyle-focused product for minimal and stylish cooling.
13. Symphony Hicool i Personal Air Cooler For Home with Remote with Honeycomb Pad
Powerful Blower, i-Pure Technology and Low Power Consumption (31L, White)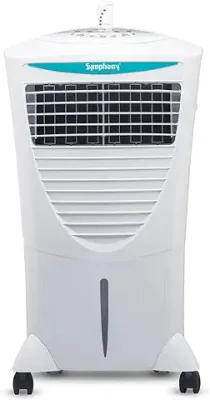 Key Features
31L decent capacity
Powerful blower for optimum air flow
Remote control for convenience
i-Pure technology for air filtration
Our Expert Review
Symphony is a trusted brand for air cooling products and the Hicool i personal air cooler has all the signature qualities. It packs enough power in its airflow system to quickly chill small spaces. The remote allows adjusting settings without having to go to the unit. Known for good quality filtration, it circulates cleaner air. Priced reasonably too for the usefulness it provides.
14. Bajaj 36L Personal Air Cooler PMH 36 Torque
(Anti-Bacterial Technology, Honeycomb Cooling Pads)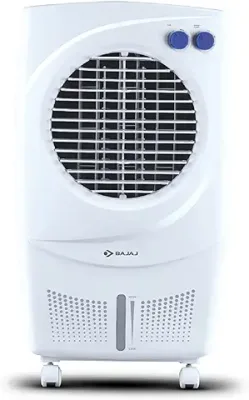 Key Features
36L capacity suitable for medium rooms
Anti-bacterial technology
Honeycomb cooling pads
Durable build quality
Our Expert Review
With a decent 36L tank size, the Bajaj PMH 36 Torque air cooler can comfortably bring down temperatures in medium rooms between 150 sq.ft to 250 sq.ft area. Its anti-bacterial treatment ensures maintaining hygiene standards by inhibiting microbe growth. Effective honeycomb pads allow evaporative cooling to its full potential. Being a Bajaj product, quality and after-sales service assurance comes guaranteed providing full value for money.
15. Novamax Rambo 100 L Heavy Duty Desert Air Cooler With High-Density Honeycomb Cooling Pads
3-Speed Control, Powerful Air Throw & Auto Water Refill Technology (Grey)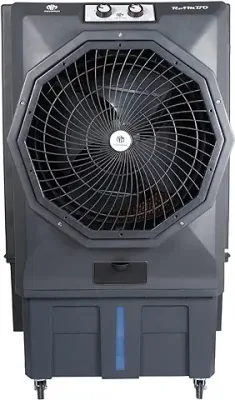 Key Features
Powerful functionalities for commercial usage
Heavy duty build quality
100L mega large water tank
Auto water replenish for uninterrupted operation
Our Expert Review
When evaluating robust air cooling solutions for consistent long running usage, the Novamax Rambo 100L variant clearly leads the pack with its industrial grade construction. Multiple large capacity cooling pads ensures non-stop heavy duty performance without the need for frequent refills thanks to its automated top up mechanism. Relies on proven strong air propulsion competence to manage very large cooling jobs remarkably well.
Comparison for best air cooler in india
| Product | Tank Capacity | Special Features |
| --- | --- | --- |
| Crompton Ozone 75L | 75L | Inverter compatible |
| HIFRESH Tower Cooler | 4L | LED touchscreen control |
| Symphony Diet 3D 30i | 30L | i-Pure technology for air purification |
| Symphony Diet 12T | 12L | Compact and portable personal cooler |
| Bajaj Hexacool PMH 25 DLX | 24L | Anti-bacterial cooling pads |
| Symphony Ice Cube 27 | 27L | Powerful air delivery |
| Crompton Ginie Neo 10L | 10L | Compact lightweight personal cooler |
| Lopez LPZ20 | 20L | Durable ABS body |
| Symphony Diet 3D 55i+ | 55L | Automatic pop-up touchscreen |
| Havells Altima 70L | 70L | Powerful blower for max air flow |
| Crompton Optimus 100L | 100L | Inverter compatible desert cooler |
| One94Store USB Personal Cooler | NA | Portable and USB-powered |
| Symphony Hicool i 31L | 31L | Remote control operation |
| Bajaj PMH 36 Torque | 36L | Anti-bacterial technology |
| Novamax Rambo 100L | 100L | Auto water refill feature |
How to Choose the Best Air Cooler in India
When selecting the most suitable air cooler, some key aspects to consider are room size, portability needs, running costs, maintenance, and budget. Priority should be given to cooling capacity that appropriately matches the area intended for use. Energy efficiency translates to affordability in the long run. Brand reputation and after-sales support are vital for household appliances. Filter-cleaning needs also impacts convenience. Carefully evaluating these factors will help identify the best air cooler tailored to specific user requirements.
Types of Air Coolers
Desert Air Coolers – Best suited for extremely hot and dry climates thanks to water soaked cooling pads. Requires occasional refilling.
Personal Air Coolers – Compact units typically with 10 – 35 liter capacity for spot cooling individual spaces. Easy portability allows moving to different rooms.
Tower Air Coolers – Taller format designs that maximize air circulation coverage in the room. Occupies less floor space due to vertical orientation.
USB Air Coolers – Miniature gadget-sized units that can run via USB ports on laptops or power banks for highly personalized usage.
Usage, Care & Maintenance Tips
During peak summer use drain and refill water daily. In very humid environments, change water twice daily.
Clean the exterior housing periodically to avoid dust buildup affecting efficiency.
Decalcification of cooling pads is needed once a year. Soak pads in water mixed with lemon juice/vinegar solution to dissolve mineral deposits.
Prevent growth of micro-organisms by periodic cleaning of water tank with mild detergent or disinfectant solution.
Replace cooling pads annually before the summer season for optimum cooling performance.
FAQs about best air cooler in india
Q. Which is the best air cooler in india
Based on expert testing and reviews, some of the best air coolers in India include the Bajaj Hexacool PMH 25 DLX for its anti-bacterial cooling pads, the Havells Altima 70L variant for powerful airflow to manage large spaces, and the Symphony Diet 3D 30i model for its energy-efficient cooling with air purification feature.
Q. Which air cooler brand is best in india
Some of the leading and most trusted air cooler brands in the Indian market consist of Symphony, known for its good quality filtration and optimization focused designs, Bajaj, which offers durable products with decent capacity and reliable after-sales service, and Crompton, featuring both innovative premium models as well as economical basic options to suit wide-ranging needs.
Q. Which air cooler is best for humid climate in india
In regions with high humidity, air coolers are generally less effective since evaporative cooling relies on low ambient moisture. The best alternatives for hot and humid Indian climates would be air conditioners like split ACs, inverter ACs etc, which use compression cooling that works efficiently irrespective of humidity levels to provide reliable temperature control throughout.
Q. How is desert air cooler different from tower cooler?
Desert air cooler is designed to maximize water retention and cooling pad surface area for powerful air cooling. Tower cooler focuses more on taller profile and wider pad panels for optimal air circulation spread.
Q. What size air cooler is suitable for a small room?
A 10L to 25L personal air cooler would be adequately equipped for a small room of 100sq.ft to 150sq.ft size. For larger rooms up to 300sq.ft, consider 35L to 50L capacity air coolers.