Becoming a new parent is an exciting yet overwhelming experience. With so many baby products on the market, how do you know which ones are actually worth buying?
As first-time parents ourselves, we completely understand the struggle of creating the perfect nursery and choosing the right items for your little one. That's why we've researched and tested over 100 top-rated baby products to come up with this ultimate list of the 15 best baby products of 2023.
From strollers and baby monitors to skincare and feeding essentials, we'll walk you through the best of the best to help you confidently check items off your baby registry. Keep reading for reviews of each product, plus tips on how to select the best baby gear for your needs.
How We Chose the Best Baby Products
With so many products to choose from, how did we decide which ones made the cut for the "best" list? Here are the criteria we used for selections:
Reviews & Ratings: We looked closely at reviews and ratings on Amazon and other major retailers. Products with consistently high reviews were given priority.
Safety: All of the products met current safety standards and contained no harsh chemicals.
Value: We chose quality products that give you the most bang for your buck.
Purpose & Functionality: Every item serves a clear purpose and performs well for its intended use.
Ease of Use: Items are intuitive and easy to use, especially for sleep-deprived new parents.
Quality & Durability: Products are well-made with durable materials built to last.
Brand Reputation: We gave preference to established brands with a reputation for making high quality baby items.
By using these criteria, we're confident this list contains the very best baby products that will make parenting a little bit easier!
Different Types of Baby Products
There are so many essential baby items, it can be tough to figure out exactly what you need. Here's a quick overview of the major categories:
Gear: Strollers, carriers, play mats, swings, cribs, changing tables, monitors, safety gates, toys
Clothing: Bodysuits, pajamas, socks, hats, mittens
Feeding: Bottles, bottle brushes, bibs, bowls, spoons, bottle sterilizer
Bathing: Tubs, towels, washcloths, baby bath, shampoo, lotions, creams
Healthcare: Nail clippers, nasal aspirator, thermometer, medicine dispenser
Diapering: Diapers, wipes, diaper cream
Nursery: Crib sheets, mattress pads, blankets, night light, humidifier, sound machine
Travel: Car seat, car seat covers, stroller, baby carrier, diaper bag
Knowing the main categories will help you create your baby registry! We've included top products across all of these essentials.
15 Best Baby Products
1. Fisher-Price Infant-to-Toddler Rocker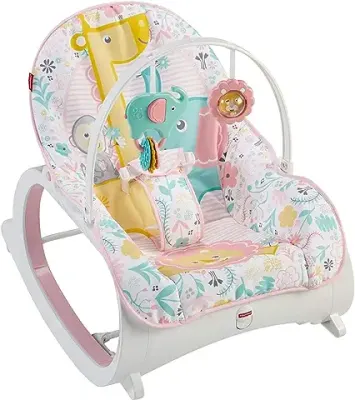 Rating: 4.6 out of 5
Reviews: 9,000+ on Amazon
The Fisher-Price Infant-to-Toddler Rocker is a convertible baby rocker suitable from newborn until toddlerhood. It has two modes – a gentle vibration setting to soothe babies, and a rocking function for interactive play as baby grows.
The seat can recline in two positions for optimal comfort. It also features a detachable overhead toy bar with bat-at toys to entertain baby. The frame is lightweight yet sturdy.
This rocker supports up to 25 lbs in the vibration mode or 50 lbs for rocking. The restraint system and wide base help keep baby secure. Parents love how the fabric insert is machine washable, making messes easy to clean.
This versatile rocker offers great value by accommodating both infants and toddlers. It provides a soothing place for baby to relax or play while staying cozy and comfortable. The affordable price point makes it very budget-friendly compared to higher-end baby swings.
Why it's the best: The Fisher-Price Infant-to-Toddler Rocker grows with your child from a soothing vibratory infant seat to an interactive toddler rocker.
2. UPPAbaby VISTA V2 Stroller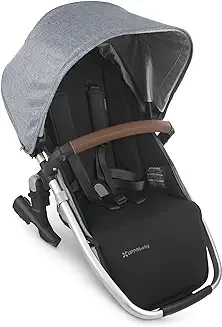 Rating: 4.7 out of 5
Reviews: 19,000+ on Amazon
The UPPAbaby VISTA is a luxury stroller with all the bells and whistles. It has a smart design that allows it to adapt as your family grows.
The VISTA can be used as a single stroller for one kid, then converted to a double with add-ons for a second child. It has a convenient under-seat basket and one-step fold. Other highlights include all-wheel suspension, adjustable handlebar, and leatherette accents.
While pricey, this stroller will last through multiple kids thanks to its durable materials and convertibility. If you want a high-end stroller to fit your growing family, the UPPAbaby VISTA is easily the best of the best.
Why it's the best: The VISTA can truly grow with your family and last for years. Its smart modular design, seamless maneuverability, and luxe features make it stand out.
3. Ergobaby Omni 360 Baby Carrier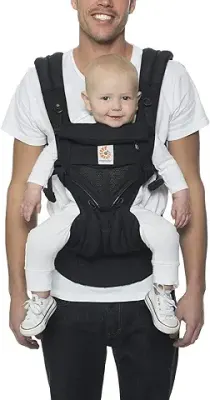 Rating: 4.7 out of 5
Reviews: 8,600+ on Amazon
The Ergobaby Omni 360 is a top-rated soft structured baby carrier loved by parents. It's very comfortable for both baby and parent. The carrier is suitable for newborns (with infant insert) up to 45 lbs.
It can be worn on the front, back or side in multiple positions. We like the padded shoulder straps and waistband. The fabric is soft, breathable mesh. It has handy zippered pockets and is machine washable.
The Omni 360 makes baby wearing effortless, even for long periods. It distributes weight evenly and won't strain your back. The easy on/off design also prevents waking your sleeping baby.
Why it's the best: The Ergo Omni 360 outshines other carriers regarding comfort, versatility, and convenience. The quality materials also ensure longevity.
4. Owlet Smart Sock Baby Monitor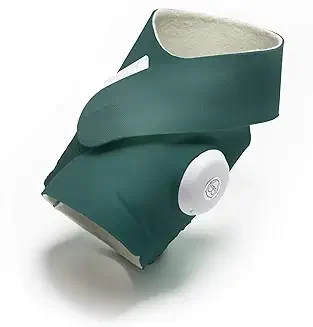 Rating: 4.4 out of 5
Reviews: 21,000+ on Amazon
The Owlet Smart Sock is a high-tech baby monitor that tracks your infant's heart rate and oxygen levels. It slides onto your baby's foot to monitor their wellbeing round-the-clock.
The sock connects to your phone so you can view real-time readings. It also alerts you if levels fall outside preset zones. We love the peace of mind this innovative product provides to parents.
Just note the Owlet has some limitations – it can struggle to get accurate readings on very active or agitated babies. It also needs to charge every 24 hours. But overall, it's a worthwhile investment for tech-savvy parents.
Why it's the best: The Owlet Sock uses innovative technology to monitor babies' vital signs and alert parents to any irregularities.
5. BabyBjorn Bouncer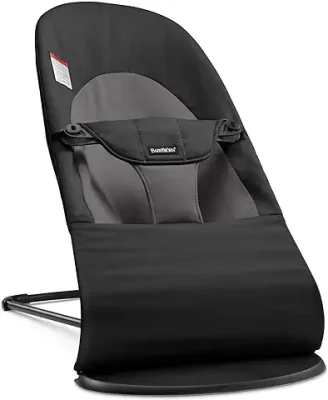 Rating: 4.8 out of 5
Reviews: 13,000+ on Amazon
The BabyBjorn bouncer is an essential for keeping baby entertained and contained. It has a lightweight frame and snug ergonomic design that supports proper head and back positioning.
The fabric seat is soft, breathable mesh that molds comfortably to baby. The bouncer is easy to transport around the house so you can keep baby nearby. It has a gentle rocking motion with 3 adjustable positions. There's also a detachable toy bar with removable toys.
While not as elaborate as a swing, the BabyBjorn bouncer is perfect for smaller spaces. It's simple, durable, and keeps babies content. There's a reason it's a parent and pediatrician favorite.
Why it's the best: The BabyBjorn bouncer has an ergonomic design specially made to cradle and soothe babies. It provides a safe place for your little one to hang out.
6. Graco Pack 'n Play Playard
Rating: 4.6 out of 5
Reviews: 36,000+ on Amazon
Graco's Pack 'n Play Playard is the ultimate portable crib, play space, and diaper changing station. We love how versatile and practical this product is.
The playard sets up easily and folds into a compact travel bag. The quilted mattress pad provides a comfy napping spot for baby. It also has an attachable bassinet and changer. Large organizers and toy bar make it easy to keep baby's essentials on hand.
This is an affordable playard that can be used at home or on-the-go. Graco offers plenty of additional attachments like a canopy and rocking seat to expand its functionality. It will get tons of use as baby grows.
Why it's the best: Graco's Pack 'n Play Playard adapts to multiple uses while being portable enough for travel and small living spaces.
7. Nanit Pro Baby Monitor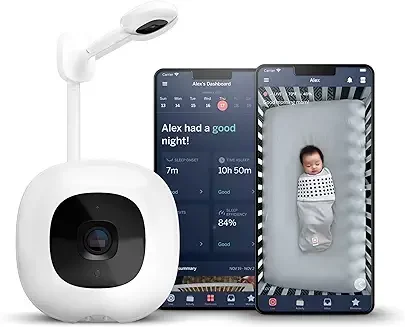 Rating: 4.6 out of 5
Reviews: 6,700 on Amazon
The Nanit Pro is a smart HD baby monitor that tracks sleep patterns and monitors the safety of your baby's sleep environment. It uses computer vision technology to give you meaningful insights.
The sleek camera mounts directly over the crib. It tracks sleep progress, movements, and milestones in the Nanit app. The monitor even gives sleep tips to help baby sleep longer.
We love the crystal clear bird's eye view and ability to zoom and pan. Night vision, temperature monitoring, humidity tracking, and two-way audio are also great features. If you want a monitor that goes beyond video to analyze your baby's sleep, the Nanit Pro is the best.
Why it's the best: The Nanit uses advanced technology like computer vision to provide data and insights on your baby's sleep that other monitors simply don't offer.
8. Hatch Baby Rest Sound Machine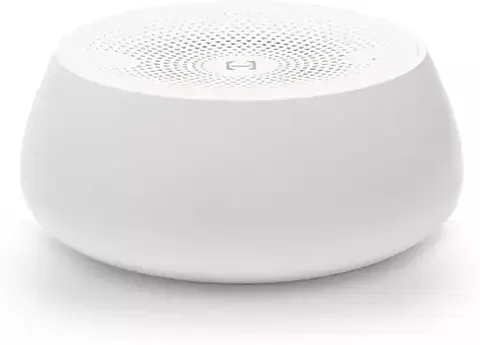 Rating: 4.6 out of 5
Reviews: 18,000+ on Amazon
The Hatch Baby Rest is more than just a sound machine – it's a nursery command center! We love how it combines sound, light, and time functions in one device you can personalize and control from your smartphone.
There are 30 colors and brightness levels for the soft nightlight. It has a library of soothing sounds from white noise to lullabies that you can customize and mix. The time display can also be used as an OK to Wake clock.
While the Rest is a splurge, parents say it's been a total game changer for their baby's sleep. The flexibility and smart features make it worth the cost.
Why it's the best: The Hatch Baby Rest revolutionizes bedtime by allowing parents to completely customize sound, light and schedules.
9. Zutano Newborn Cozy Fleece Booties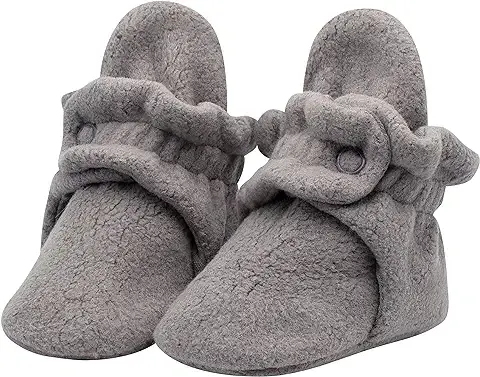 Rating: 4.7 out of 5
Reviews: 3,400+ on Amazon
These cozy fleece booties from Zutano are essential for keeping newborns' feet warm and comfy. Made of soft 100% cotton fleece, they have an adjustable cuff with Velcro closures.
The booties are available in 21 cute colors and patterns. They stay on without slipping off. Parents love dressing their babies in these delicate little booties that are perfect for sensitive newborn skin.
Why it's the best: Zutano's fleece booties are incredibly soft and high quality. They check all the boxes for fit, comfort, warmth and style.
10. Burt's Bees Baby Bee Getting Started Gift Set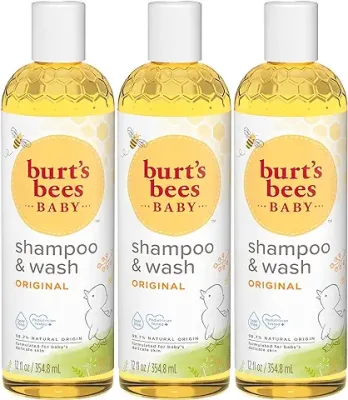 Rating: 4.7 out of 5
Reviews: 9,300+ on Amazon
This baby gift set from Burt's Bees Baby contains 6 top-selling natural baby products. The set is pediatrician-tested and formulated with ingredients like shea, cocoa butter, vitamin E, and aloe.
It includes baby wash and shampoo, lotion, massage oil, diaper cream, baby oil, and non-toxic wipes. The products cleanse gently, nourish skin, and provide soothing relief from diaper rash without harsh chemicals.
This gift set bundles all the essentials you need to care for your newborn's delicate skin. It's a great baby shower gift or starter kit for new parents looking for safe, effective products. The affordable price tag makes it a great value too!
Why it's the best: Burt's Bees gift set provides a complete system of natural baby products designed to nourish skin. The trusted brand and safe ingredients really make it stand out.
11. Baby Banana Infant Training Toothbrush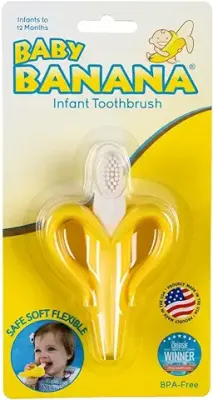 Rating: 4.7 out of 5
Reviews: 134,000+ on Amazon
The Baby Banana training toothbrush is a genius design that makes brushing your infant's teeth simple. The silicone brush has soft bristles that gently massage gums and emerging teeth.
Its small handle size promotes grasping. But the best part? It's dishwasher safe for easy cleaning between uses. Parents say its texture also provides soothing teething relief.
Starting good oral care habits early is essential. The playful, effective Baby Banana brush makes it easy to brush baby's teeth. It can be used from birth through 24 months.
Why it's the best: The Baby Banana toothbrush allows even young babies to practice brushing. Its dishwasher-safe silicone design is super hygienic and easy to clean.
12. FridaBaby NasalFrida Nasal Aspirator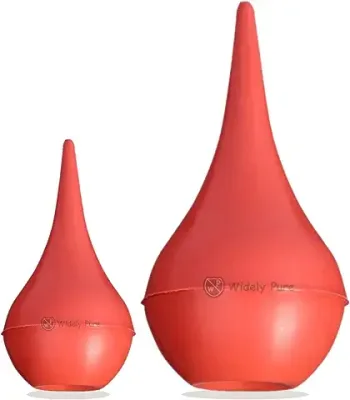 Rating: 4.5 out of 5
Reviews: 25,000+ on Amazon
The FridaBaby NasalFrida is the #1 best-selling nasal aspirator for babies. It uses suction to safely clear mucus so baby can breathe easily. What sets it apart is the ergonomic design.
Rather than bulbs, it uses hypoallergenic silicone tubing that comfortably fits inside the nostril. You simply put the other end in your mouth and gently suck out mucus. It comes with disposable hygiene filters too.
We like that the NasalFrida doesn't hurt or irritate delicate noses. Reviewers say it's much more effective and sanitary than bulb aspirators. This is a must-have for cold and allergy season!
Why it's the best: The innovative FridaBaby NasalFrida makes nasal aspiration easier and more hygienic. Parents swear by its effectiveness and comfort.
13. Qubo Baby Cam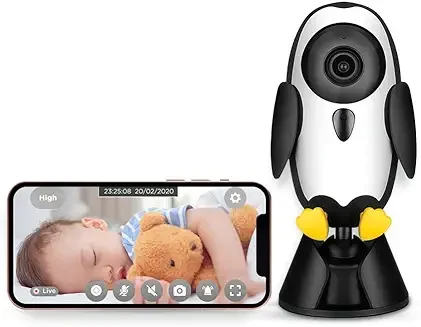 Rating: 4.6 out of 5
Reviews: 19,000+ on Amazon
The Qubo Baby Monitor from Eufy is an affordable smart baby monitor with advanced features. It uses AI and computer vision technology to track everything happening in the crib.
The monitor analyzes sleep patterns, movements, growth and developmental milestones. It also has real-time alerts, two-way audio, automatic night vision and HD video.
We like the 30-day event summary reports that show how your baby slept and grew. The Qubo also integrates with Alexa and Google Home for voice control and connectivity.
For the price, this monitor packs a ton of smart, innovative features to provide insight into your baby's safety and development. It's an excellent value compared to more expensive smart monitors.
Why it's the best: The budget-friendly Qubo Baby Monitor uses AI technology to provide detailed reports and alerts that help parents understand and connect with their baby's needs.
14. Crane Ultrasonic Cool Mist Humidifier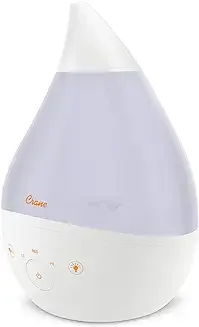 Rating: 4.6 out of 5
Reviews: 55,000+ on Amazon
Crane's 1 gallon humidifier uses ultrasonic cool mist technology to provide up to 24 hours of hydration and congestion relief. It's an essential for any nursery.
The quiet unit helps restore moisture to dry air, soothing coughs and colds. It has an adjustable mist output and automatic shut off when water runs low. We also like the built-in antimicrobial material to inhibit mold growth.
While small, this humidifier performs just as well as more expensive models. It's also easy to fill, clean and refill. The affordable price makes it a perfect choice for babies' rooms.
Why it's the best: Crane's ultrasonic humidifier has the performance of a top-tier model at a fraction of the typical cost. It humidifies nurseries efficiently while remaining easy to use and clean.
15. Dr. Brown's Options+ Baby Bottles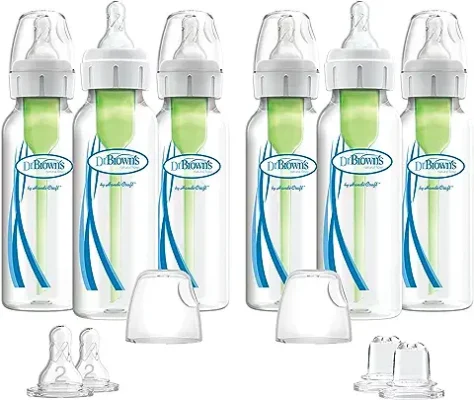 Rating: 4.7 out of 5
Reviews: 45,000+ on Amazon
These baby bottles from Dr. Brown's have an ingenious internal vent system that reduces unwanted air bubbles and colic. The vented design makes for positive-pressure flow so baby gets a comfortable feeding experience.
The bottles come in both plastic and glass options. All parts are interchangeable between sizes. We like the narrow nipple options that mimic breastfeeding. These are very high quality bottles that grow with your baby.
Why it's the best: Dr. Brown's Options+ bottles stand out for their innovative internal vent system designed to limit colic and gassiness.
How to Choose the Best Baby Products
Choosing the best baby items starts with making your own list of needs and top priorities:
Consider which products would be most useful during the stage of infancy your baby is entering. Focus first on necessities like safe sleep essentials.
Decide which features are non-negotiable. If you'll use a stroller daily, prioritize maneuverability and adequate storage.
Choose versatile, multifunctional products when possible. Items like playards save space and allow for extended use.
Figure out your budget upfront. Setting a spending limit will help guide your registry. You can splurge on a few big items and economize on others.
Read baby gear guides and reviews. Experts and other real parents can provide insight into top brands and products.
Make sure any safety certifications are up to date. Only consider products that meet current safety standards.
Compare options by testing them out in store. This can give you a sense of quality and ease of use before buying.
Doing the legwork before creating your registry means you'll add products that best suit your family's needs and lifestyle!
Baby Product Care & Usage Tips
Follow these tips to properly care for and use your new baby gear:
Read instructions fully: Thoroughly read manuals and instruction booklets to understand product guidelines.
Clean regularly: Many baby items like bottles, toys and pacifiers require regular cleaning and sanitizing to prevent mold and bacteria buildup. Use baby-safe cleansers and disinfectants.
Inspect for damage: Check items like cribs, swings, and carriers thoroughly for any loose parts, torn fabric or other damage before each use. Discontinue use of anything broken to prevent injuries.
Limit sun exposure: Don't leave baby items like car seats out in direct sunlight which can cause cracking and fading. Use sun shades or blankets to protect when outdoors.
Follow weight limits: Be sure to abide by all weight and height limits for items like strollers, carriers, and cribs as baby grows. Move to the next size when appropriate.
Store properly: Follow guidelines for safe storage like keeping liquids capped and pacifiers covered. Use bags/organizers to prevent losing small parts.
Travel smart: When transporting gear, use protective covers, secure straps and compressible organizers to prevent damage.
Clean up messes: Whether it's spit up, blown out diapers or pureed peas, keep baby items fresh by cleaning messes quickly before stains set.
Wash bedding weekly: Use gentle detergent and fully dry crib sheets and blankets weekly to lower exposure to bugs, germs and allergens.
Disinfect toys: Use non-toxic baby wipes or dishsoap and water to wipe down bath toys, teethers and plastic toys frequently.
FAQs for the Best Baby Products
Q. How do I register for baby products I really need?
A. Make a list of essentials like safe sleep items, feeding supplies, and postpartum care then add extras based on your lifestyle. Consult guides to see top recommendations.
Q. What safety certifications should I look for?
A. Look for JPMA, ASTM, and CPSC certifications. These labels indicate products meet safety standards for materials, design, and testing.
Q. Should I only buy new products for baby?
A. New is ideal for items babies sleep on like mattresses. But you can save on gear like strollers and toys through resale sites if gently used. Check for recalls and damage.
Q. How often should I sanitize baby bottles?
A. Bottle parts touching milk should be cleaned after each use. Sterilize bottles at least once daily by washing on sanitize cycle, steaming or boiling.
Q. What's the best way to wash baby clothes?
A. Choose a gentle, perfume-free detergent and wash in cold water on a delicate or hand wash cycle. Hang or lay flat to dry to avoid shrinking.
Q. How do I clean stained or smelly bibs?
A. If stained, try soaking in oxyclean and hot water before washing. For odors, soak in a mixture of baking soda, vinegar, and water. Then wash as normal.
Q. Should I disinfect baby toys?
A. Yes, since babies tend to put toys in their mouths. Use a baby-safe disinfecting spray or soap and hot water to wipe hard surfaces weekly.
Q. What are signs a crib or product is worn out?
A. Look for fraying, tearing, loose joints, or missing pieces. Any visible damage means a product should be properly disposed of and replaced.