There is no doubt that sleep is one of the most important things to keep healthy. Not only does it help us to recharge our batteries, but it also improves our mood and makes us more alert during the day. Because of this, choosing the right bed sheets is essential. Whether you're looking for a soft and comfortable sleep or want to keep your bedroom clean, we've got you covered. In this article, we'll look at some of the Best Bedsheet Brand in India and recommend which ones you should buy.
How to Choose the Best Bed Sheets in India?
When shopping for Best Bed Sheets in India, it's important to consider these tips to find the perfect set that suits your needs:
Material: The most common materials in best bedsheet brands are cotton and polyester. Cotton is a natural fibre and is soft and comfortable to sleep on, but it can absorb sweat and cause allergies if it's not machine-washed regularly. Polyester is a synthetic fibre less likely to cause allergies, but it doesn't usually feel as soft as cotton.
Breathable quality: When choosing bed sheets, ensure they're breathable, so you don't get too hot or too cold at night. A good rule of thumb is to choose sheets at least halfway between the two temperatures.
Designs: Bed sheets come in various patterns and designs, including checked patterns, plaids, damasks, satin stripes, polka dots, chevron stripes, ascots, bow ties, geometric designs or flowers. There's a pattern that's perfect for every person!
Weave: Bed sheets are normally woven in one of three styles: plain weave (the most popular), twill weave (a sort of twill in which the threads are interlaced), or satin weave (a type of weave in which the threads are organised in a Jacquard pattern).
Thread counts: The thread count is one of the most important factors, as higher thread counts mean softer sheets that will be more comfortable to sleep on.
Perfect size and fit: Many bed sheets in India come in too small or too large, and it can be difficult to find something that fits correctly. Ensure they fit snugly around your body and aren't too tight or loose.
Comparison of the Best Bedsheet Brand in India
| Brand | Average Rating | Key Features | Price Range |
| --- | --- | --- | --- |
| Wakefit | 4.4/5 | Modern prints, elastic fitted, 100% cotton | ₹900-1200 |
| Portico | 4.1/5 | Geometric and floral prints | ₹600-1200 |
| Cloth Fusion | 4.1/5 | Elastic fitted cotton bedsheets | ₹700-800 |
| Huesland | 4.1/5 | Cotton bedsheets, variety of solids and prints | ₹450-1000 |
| Sheetkart | 4.1/5 | Vibrant jaipuri prints, cotton | ₹600-700 |
| Spaces | 4.2/5 | Modern prints, percale cotton | ₹800-1200 |
| Divine Casa | 4.0/5 | Vibrant mix and match prints, 100% cotton | ₹450-700 |
| RD Trend | 4.0/5 | Cotton rich fitted bedsheets | ₹650-750 |
| The Home Style | 3.9/5 | Fitted and elastic bedsheets, cotton feel | ₹400-700 |
| Fresh From Loom | 3.9/5 | Microfiber and hypoallergenic | ₹450-600 |
| Vomzer | 3.9/5 | Cotton rich, elastic fitted | ₹450-500 |
| Raymond Home | 3.8/5 | Subtle textures and prints | ₹1000-2000 |
| Bombay Dyeing | 3.7/5 | Classic solids and prints, cotton and cotton blends | ₹700-1500 |
| IVAZA | 3.7/5 | Brushed cotton, wrinkle-free | ₹175-225 |
| BSB Home | 3.5/5 | Variety of prints and colors, microfiber and cotton options | ₹200-800 |
| RajasthaniKart | 3.5-3.8/5 | Handmade prints, 100% cotton | ₹300-500 |
As you can see, Wakefit, Spaces and Portico emerges as the best bedsheet brand in India due to its combination of value, variety and consistently decent ratings. However, premium cotton brands like Raymond Home, ClothFusion and Stoa Paris are great options if budget is not a constraint. RajasthaniKart and Solimo offer fabulous printed cotton bedsheets on a budget.
Top Bedsheet Recommendations
After considering all the key factors that determine bedsheet quality, these emerge as the top recommendations in three popular categories.
1. Best Cotton Bedsheet Brand In India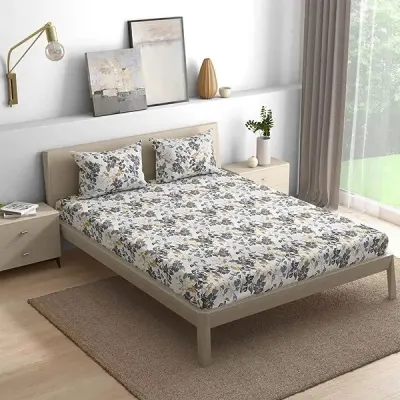 Wakefit Cotton Printed Bedsheets are our top pick among cotton bedsheets. Made of 100% high quality long staple cotton in 144 thread count, these bedsheets are soft on the skin and keep you cool. The elastic fitted sheet stays in place neatly. Gorgeous modern prints like geometric patterns and floral designs are available. These bedsheets are durable, easy to maintain and get rave reviews for their luxurious comfort.
Price: ₹990
Ratings: 4.4/5
Features: 100% cotton, printed, elastic fitted
2. Best Printed Bedsheets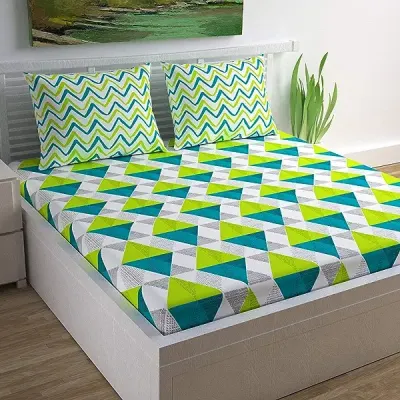 For gorgeous prints, Divine Casa reigns supreme. Their mix and match printed bedsheet sets are made of 100% cotton and come in a variety of vibrant traditional Indian prints like Ikat, Kalamkari and Ajrakh. The double bedsheets include a flat sheet, fitted sheet and two pillow covers that can be combined to create a stylish, colorful ensemble. Easy to wash and maintain, these bedsheets inject life into your bedroom.
Price: ₹699
Ratings: 4/5
Features: Cotton, mix and match prints
3. Best Flannel Bedsheets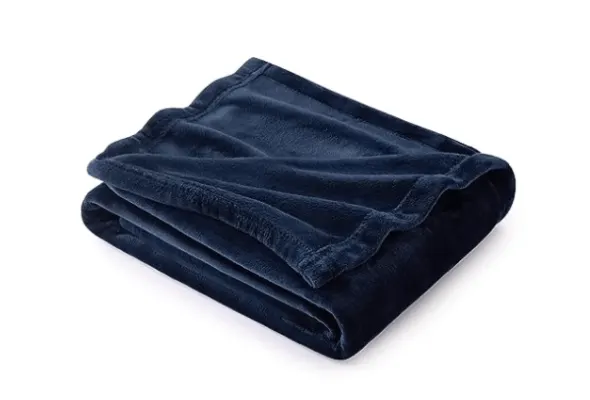 When it gets cold, snuggle into the luxurious softness of Bedsure Flannel Fleece Bedsheets. Made of 100% microfiber polyester fleece, these bedsheets provide incredible warmth and insulation for winter. One side has a flannel texture while the reverse is sherpa fleece for added coziness. Durable, wrinkle-resistant and machine washable, these affordable bedsheets will be your new favorite for chilly nights.
Price: ₹799
Ratings: 4.3/5
Features: Microfiber flannel fleece, warm and cozy
Best Bedsheet Brands in India – Overall
Take a look at the best selling bedsheets to spot popular trends and user favorites.
1. Divine Casa Cotton Print Mix and Match Bedsheets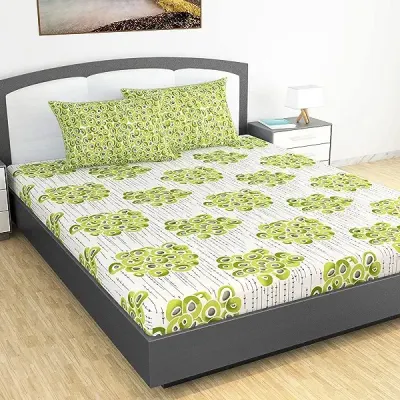 The top bestseller, these Divine Casa printed cotton bedsheet sets are a hit for their vibrant mix and match prints, soft 100% cotton, all season comfort and great value. Available in floral, paisley and traditional prints, customers love the quality, color vibrancy and design. Easy to wash and maintain, these bedsheets don't pill or fade with multiple washes. They are suitable for all weather and keep you cool in summer and warm in winter.
Price: ₹699
Ratings: 4/5
Features: Cotton, mix and match prints
2. BSB Home Microfiber Double Bedsheets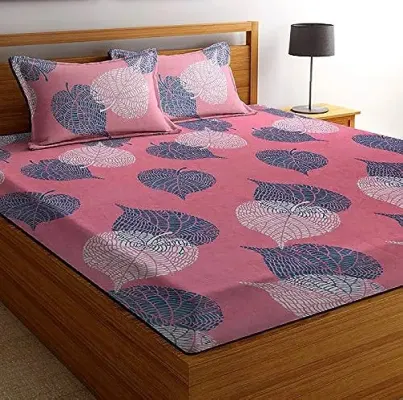 For those looking for a more budget-friendly option, BSB Home Microfiber bedsheets deliver decent durability and breathability at an affordable price point. Made from high-quality microfiber, these machine washable bedsheets are resistant to shrinking and wrinkles. Available in a range of vibrant prints, these bedsheets have silky soft finish. A value for money option for Hostel rooms, PG accommodation and guest houses.
Price: ₹209
Ratings: 3.3/5
Features: Microfiber, variety of prints
3. Wakefit Elastic Fitted Cotton Bedsheets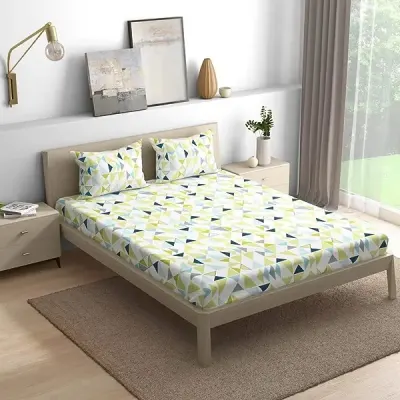 Wakefit strikes the perfect balance between quality and value with their signature elastic cotton fitted bedsheets. The stretchable fitted sheet with elastic all around snugly fits mattresses up to 14 inches depth. Made of premium 100% cotton yarn in 144 GSM for durability and breathability. Chic prints like geometric patterns and botanical motifs add a designer touch. Easy to maintain and wash. Wakefit bedsheets garner rave reviews for their luxurious comfort and minimal pricing.
Price: ₹990
Ratings: 4.4/5
Features: Cotton fitted sheet, printed
4. Amazon Brand – Solimo Bedsheets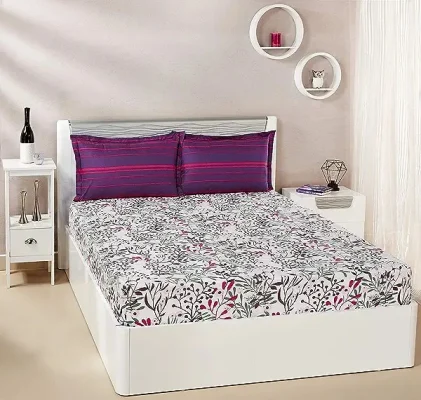 Amazon Solimo bedsheets prove that even budget bedsheets can be comfortable and stylish. The polycotton and microfiber bedsheets are available in a variety of pastel prints and colors, and garner consistently positive reviews. The polycotton is smooth, breathable and ideal for hot Indian summers while the microfibre offers a soft, cosy feel. Easy to wash and maintain, these value-for-money bedsheets provide an affordable way to revamp your bedroom.
Price: ₹150-500
Ratings: 3.6-4.8/5
Features: Cotton, microfiber, prints
5. Bombay Dyeing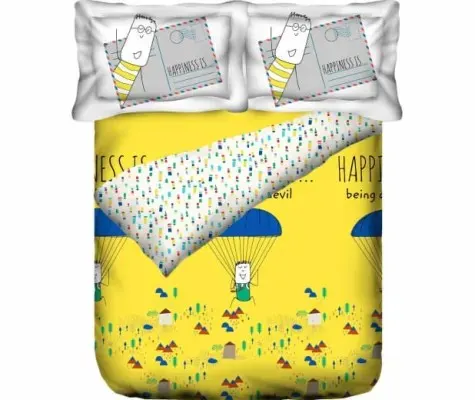 If you're looking for the best bed sheets in India, you'll want to check out Bombay Dyeing. These sheets are made from high-quality cotton and keep you warm all night. Plus, they're available in various colours and patterns that suit your every need.
What's great?
Wide range of colours and prints
Durable fabric and high-quality construction
Fast and easy washing
Money-back satisfaction guarantee
Highly recommended by consumers
6. Portico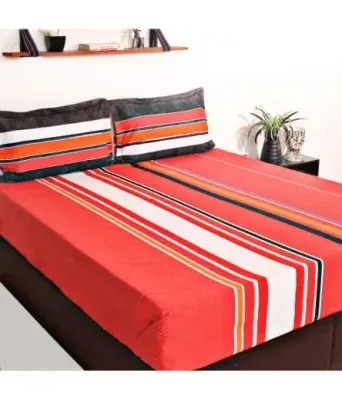 This chic bed sheet is perfect for a modern bedroom. Made of 100% cotton, it features a print design that looks amazing on any bed frame or mattress.
What's great?
Superior quality cotton fabric
Tailored fit
Wrinkle-free
Machine-washable
Variety of colours and styles
7. Raymond Home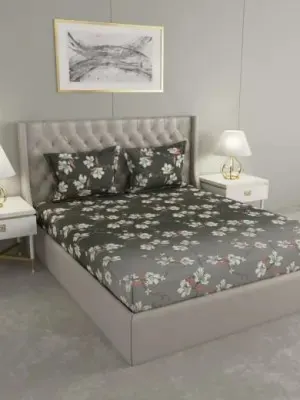 Raymond Home offers some of the best bed sheets you can buy in India. Whether you're looking for a new bedsheet or want to improve your existing one, Raymond Home is worth considering.
What's great?
Variety of sizes and colours
Made from 100% cotton
Wrinkle-free
Come with a lifetime warranty
Affordable and easy to care for
8. SheetKart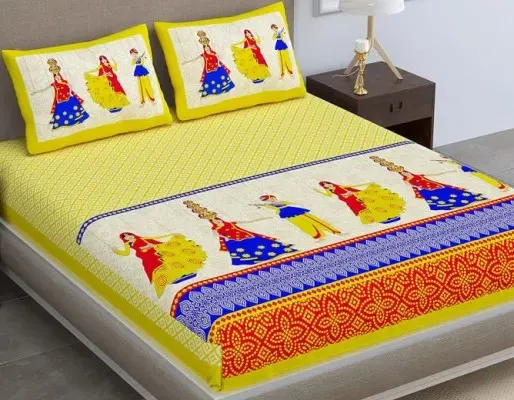 Sheetkart is one of the most popular bedsheet brands in India. They offer a wide range of bedsheets, including silk and cotton sheets, designed to keep you cool during summer and warm during winter.
What's great?
Wide variety of sheets
Low prices
Quick delivery
High-quality fabrics
Customisable designs
9. Spaces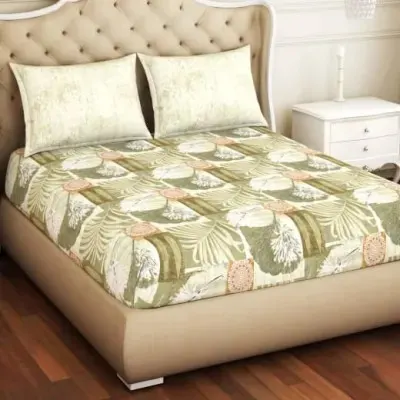 Spaces bedsheet is a great choice for people who want to sleep on a comfortable surface. The cotton and polyester blend makes this sheet soft and breathable. It's also wrinkle-resistant, so it will keep your sheets looking fresh even after repeated washes.
What's great?
Comfortable and affordable
Versatile
Machine-washable
Great-looking
Conclusion
The best bedsheet brand are made of high-quality materials and come with various features that make them perfect for comfort. Whether you need a set of sheets that will keep you cool in the summer or warm in the winter, or you want something versatile enough to be used as both a top sheet and a bottom sheet, there is a set of bed sheets out there for you.
Additionally, many of the best bed sheets in India come with antimicrobial properties that help to keep your mattress clean and free from bacteria.
FAQs about best bedsheet brand in India
Q. What is the best quality bedsheet?
A. Look for a minimum of 180 thread count pure cotton or cotton blend for the best quality. Percale weave is lightweight and breathable while sateen is silky smooth.
Q. Which is better cotton or microfiber bedsheets?
A. 100% cotton sheets are more premium, breathable and suitable for Indian weather. Microfiber polyester is budget-friendly and wrinkle-resistant but can be less breathable.
Q. How do I choose the right bedsheet size?
A. Measure your mattress length, width and height correctly. Add 14-18 inches for overhang on sides. Buy twin, queen, king size as per mattress dimensions.
Q. How often should bedsheets be changed?
A. Change bedsheets every 1-2 weeks in summer, 2-3 weeks in winter for good hygiene. Wash before changing to remove dead skin cells, sweat and oils.
Q. What thread count is best for bed sheets?
A. Look for a minimum of 180 thread count for both durability and comfort. Go higher upto 300-500 thread count for more luxurious hotel style bedsheets.
Q.How many threads per square inch do high-end sheets have?
Thread count refers to the number of threads per square inch in a sheet. High-end sheets typically have a thread count of 300 or higher. Each sheet has 300 or more individual threads running through it. This makes for a smoother, more comfortable bed mattress because the threads are spread out more evenly.
Q.How soft are bedsheets with a thread count of 1500?
Ans. thread count of 1500 means the sheet has a higher-quality weave. Sheet sets with a 1500 thread count are typically very soft and comfortable to sleep on.
Q. Can you recommend a good material for sheets?
Cotton, linen, cotton-polyester blends, microfiber, bamboo and flannel are some good materials for bedsheets. Cotton offers breathability, softness and durability. Linen is lightweight and gets softer over time. Blends provide benefits of both materials at an affordable price. Microfiber is soft, affordable and wrinkle-free. Bamboo is exceptionally soft and temperature regulating. Flannel provides extra warmth in winters. Focus on high thread count, quality processing and weave for the best bedsheets.
Q. What is a good bombay dyeing bedsheet?
Bombay Dyeing makes high quality cotton and cotton blend bedsheets known for their classic solids and prints. Their percale cotton sheets with 200+ thread count are smooth, crisp and airy for summer. Sateen cotton blended sheets provide silky softness in winters. Popular prints include floral, paisley and geometric patterns in colors like red, pink, green and blue. Bombay Dyeing cotton-polyester blended bedsheets are durable, easy to maintain and more affordable.
Q. What is the standard king size bedsheet size?
The standard king size bedsheet size is 108 x 108 inches or 275 x 275 cm. This fits king size mattresses of standard dimensions 80 x 76 inches comfortably. For overhang, you can go up to 110 x 110 inches king size bedsheets. The fitted king size bedsheets would be 108 x 102 inches to fit upto 14 inch depth mattresses snugly. King size bedsheets with deep pockets accommodate thicker mattresses.
Q. What are the benefits of cotton bedsheets?
100% cotton bedsheets are breathable, soft, cool and ideal for Indian weather. Cotton allows airflow to disperse body heat and moisture. It is hypoallergenic and less likely to irritate sensitive skin. High thread counts of 200+ make cotton sheets very smooth and long-lasting. Cotton bedsheets are easy to clean and sanitize. The more you wash them, the softer they become. Cotton bed linen feels comfortable against the skin and provides sound, restful sleep.
Q. How do elastic bedsheets stay in place?
Elastic bedsheets have elastic sewn into the edges, corners and sides for a snug fit. This elastic band goes all around the perimeter and sometimes along the sides too. It fits tightly over the mattress up to 18 inches depth without slipping. No more untucking, wrinkling or realigning. Elastic bedsheets stay smoothly in place all night. They are easy to put on and remove. Fitted cotton sheets with elastic give a tidy hotel style bed.
Q. What are some good bridal bed sheet designs?
Some popular bridal bedsheet designs include red silk or satin sheets with elaborate embroidered patterns, sequins, beads and zari work. Floral motifs like roses, peacocks, vines and paisleys are widely used. Geometric patterns and bold prints are also suitable bridal bedsheet designs. Bright colors like red, maroon, pink and purple are commonly preferred. Mirror work, cutdana, ari and kashida embroidery can ornament bridal bed linen stunningly. Theatrical bedspread canopy effect is also widely used in Indian weddings.
Q. How to select the perfect woollen bedsheet for winters?
Choose woollen bedsheets with a high wool percentage like 90-100% for warmth. Wool regulates temperature and is suitable for Indian winters. Look for tight weave twill wool that is thick and durable yet breathable. Woollen flannel bedsheets have a soft brushed surface. Pure wool bedsheets can be pricey – wool blends with cotton, acrylic or polyester are affordable. Pick dark, muted solids to conceal stains. Check the fabric weight – heavier 12-15mm woollen bedsheets provide more insulation.
Q. What are the characteristics of velvet bedsheets?
Velvet bedsheets have a plush, ornate look that lends bedrooms a royal feel. The plush, knitted velvet fabric has a smooth soft texture that feels luxurious against the skin. Velvet reflects light uniquely and shimmers as you move. It is woven from silk, cotton, viscose or synthetic yarns. Velvet bedsheets are delicate – dry clean only. They retain body heat so are better suited for winters than summer. Dark colored velvet bedsheets hide stains well. Use a mattress topper as velvet bedsheets can snag on zippers.
Q. Are trident bedsheets good quality?
Trident is a well-known Indian brand that makes good quality cotton bedsheets. They use long staple cotton like Egyptian and American grown cotton. Trident bedsheets have 180+ thread counts for softness and durability. Popular weaves are sateen and percale. Trident cotton sheets are breathable and suitable for Indian weather. They have OEKO-TEX certification for being free of harmful chemicals. Trident offers classic stripes and checks along with solid dyed bedsheets at reasonable price points. Overall, they make comfortable, durable and affordable cotton bed linen.
Q. What are the pros and cons of meesho bedsheets?
Meesho provides a platform for sellers to list a variety of bedsheets at low prices. Pros of Meesho bedsheets:
Affordable pricing
Wide variety of prints and colors
Cotton and microfiber options
Cons of Meesho bedsheets:
Questionable quality control
Thread count and material may be dubious
Can pill or fade faster
Needs close inspection before purchase
On Meesho, focus on positive reviews, realistic images and organic cotton claims when selecting bedsheets. Installment payments can make high thread count cotton sheets more accessible.
Q. Why are Jaipuri bedsheets so popular?
Jaipuri bedsheets are hand block printed using traditional techniques by skilled artisans. The vibrant pigments create colorful floral and mandala prints on soft cotton fabric. Jaipuri prints involve meticulous handwork and elaborate processes. Each bedsheet is unique. The natural dyes and non-toxic pigments make Jaipuri bedsheets safe. They retain color despite repeated washing. The appealing artwork and feel-good factor of supporting local artisans drive the popularity of Jaipuri bed linen.
Q. How to select the best bedsheets for winters?
For winter bedding, choose flannel, fleece, woolen, velvet or sateen cotton fabrics that provide insulation and retain body heat. Flannel cotton with brushed nap traps air and is softly warmer. Fleece and wool bedsheets offer lightweight warmth. Sateen cotton feels silky smooth while velvet looks ornately luxurious. Darker shades help retain heat. Look for at least 200 thread count cotton for softness. Polyester fills offer warmth at a budget price. Flannel, wool, velvet and heavier cotton fabrics work best for cold winter nights.
Q. What are the key features of Wakefit bedsheets?
Wakefit specializes in bed and bath linen made from high quality natural materials. Their cotton bedsheets are made of 100% long staple cotton in 144 GSM for strength and breathability. The highlight is the elastic fitted sheet with elastic all around that fits mattresses up to 14 inch depth snugly. No more untucked, messy sheets! They offer modern prints like geometric, ikat and floral in colors that don't bleed or fade. Premium quality, minimal pricing and chic designs make Wakefit one of the most popular bedsheet brands.
Q. What are the benefits of white bedsheets?
White bedsheets have an appealing clean, crisp look that creates a relaxing oasis. The color white reflects light, making the room look airier and more spacious. White linen has a classic hotel style feel. White sheets allow you to accessorize with colorful quilts and pillows. Bleach can be used to thoroughly clean and disinfect white bedsheets. They give a minimalist, light look to the bedroom. The downside is that stains can be more visible on white, requiring more frequent washing.
Q. What is the size of king bedsheets in cm?
The standard king size bedsheet dimensions in cm are:
Flat king sheet width – 275 cm
Flat king sheet length – 275 cm
Fitted king sheet width – 275 cm
Fitted king sheet length – 260 cm
Fitted king sheet pocket depth – 25 cm
So a fitted king size bedsheet would be approximately 275 x 260 x 25 cm. Add 10-20 cm for overhang on all sides. Super king size bedsheets are wider at 300 cm.
Q. What thread count is best for bedsheets?
180-200 thread count – Decent quality cotton sheets that are budget friendly
200-400 thread count – Good quality soft and durable cotton bedsheets
400-600 thread count – High quality ultra soft luxury cotton sheets
Aim for at least 180 thread count cotton sheets for good comfort and longevity. Don't go for extremely high 1000+ thread counts as they are usually misleading. Focus on quality of cotton, length of fiber and weave instead for true luxury sheets.