Imagine waking up to the aroma of freshly brewed coffee that fills your soul with comfort and peace. Sounds heavenly, right? As a coffee lover, you know that the perfect cup of coffee isn't just a caffeine fix; it's a daily ritual and a moment of indulgence.
However, brewing that perfect cup can be a task, especially if you are busy every day. But that shouldn't deter you from enjoying coffee. With a wide range of top-notch coffee machines available, you can elevate your at-home coffee experience while saving money in the long run.
To help you get the perfect coffee experience, we've compiled a list of the best coffee machines for your home in India.
How to Select the Best Coffee Machine for Your Home?
Here are the factors you should consider while choosing the best coffee machine in India.
Maintenance: All coffee machines require appropriate maintenance, including auto-clean models. Therefore, buy a model that is easy to clean. A coffee machine with detachable parts and a removable dripping tray can be cleaned easily.
Type of Coffee Maker: Many coffee makers are available in the market, from espresso machines to drip coffee machines. Choose the one that makes your favourite coffee.
Capacity: The price of coffee machines differs significantly with their capacity. A smaller unit will do if you plan on brewing coffee for just one person. However, if you are buying for your family, consider choosing a larger unit.
Filtration: Consider getting a coffee machine with a water filter. It will automatically remove impurities, smell, and chlorine from your water and ensure its flavour doesn't affect your coffee.
Budget: One of the most significant factors while selecting the best coffee machine for your home is your budget. Coffee machines are available in a wide price range, starting from thousands and going up to tens of thousands. So, determine your budget before beginning the search.
6 Best Coffee Machines in India
Nespresso Essenza Mini Espresso Machine By De'Longhi
Instacuppa French Press Coffee Maker
Morphy Richards New Europa Coffee Maker
Preethi Drip Coffee Maker
Philips Drip Coffee Maker
Wonderchef Regalia Espresso Coffee Maker
Nespresso Essenza Mini Espresso Machine By De'Longhi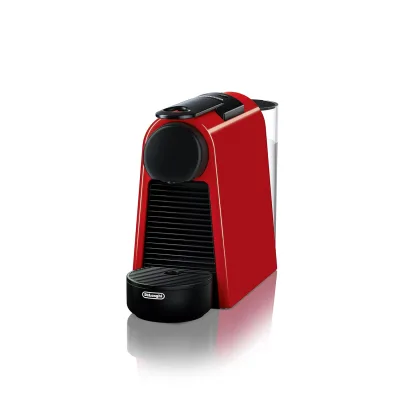 This small portable coffee maker by De'Longhi makes a barista-style coffee to give your mornings a perfect start. It has a one-touch operation and takes less than 30 seconds to heat the water.
The product also saves energy by automatically switching on energy-saving mode after 9 minutes. Moreover, you can save precious counter space and even take it camping due to its small size.
What's great?
Fully automatic
Easy to use and clean
Compact and sleek design
Offers two programmable cup sizes
Comes with a range of Nespresso capsules
Instacuppa French Press Coffee Maker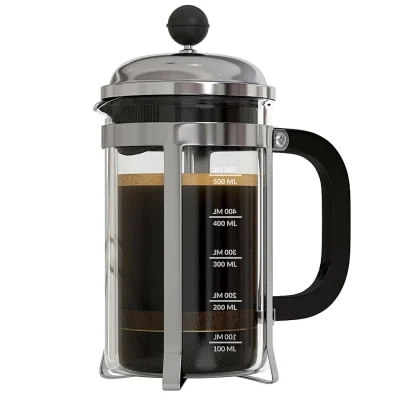 The Instacuppa French Press Coffee Maker is easily the best coffee machine in India. It is aesthetically pleasing and does what it says incredibly well. Its 4 section miniature filtration framework delivers smooth and delicious coffee.
And that's not all. It is durable, has two mesh filters, and has a capacity of 600 ml, which makes it perfect for caffeine lovers. You can see the measurements on the carafe, which helps you decide the right amount of coffee.
What's great?
Lightweight and durable
Made of stainless steel, keeping it rust-free
Comes with a cleaning brush
Portable
One year warranty
Borosilicate glass carafe
Morphy Richards New Europa Coffee Maker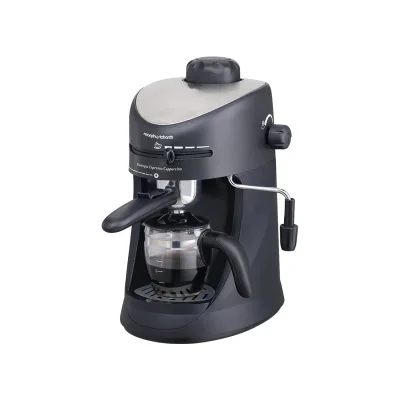 Morphy Richard offers the best coffee machine for homes in India. Its New Europa Coffee Maker can make three coffee types: cappuccino, espresso, and latte. It is speedy, energy-efficient, and powerful and readies your coffee in seconds.
The glass carafe is heat resistant and allows you to choose the required amount of coffee. You can also select the strength of your espresso through the strength selector. Moreover, it comes with a super cappuccino nozzle to add creamy foam to your cappuccino.
What's great?
Removable drip tray
Two years warranty
Can brew four servings in one go
Temperature indicator
Sophisticated look with matte black colour and silver details
Preethi Drip Coffee Maker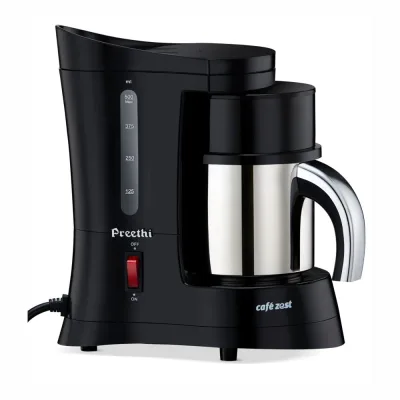 The Preethi Coffee Maker is perfect if you are looking for a quick drip coffee maker. It has a classy design and is made from a heat-resistant high-grade plastic. It has an anti-drip system that keeps it clean and fresh. Moreover, the coffee machine keeps your coffee warm for one hour to ensure you get tasty and warm coffee.
What's great?
One year warranty
Anti-drip system
Value for money
Ergonomically designed handle
Transparent water level indicator
Philips Drip Coffee Maker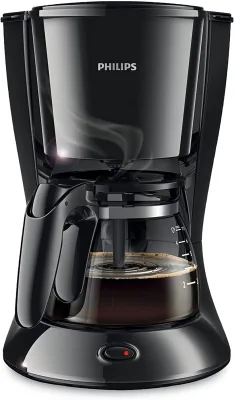 Philips is a household name in India. Therefore, it is no surprise that its Drip Coffee Maker is among the best coffee machines in India. With a compact and shiny design, the coffee maker serves delicious aromatic 2-7 cups of coffee within 10 minutes. It also has a drip stop feature, which allows you to pause brewing whenever necessary.
What's great?
Heat-resistant carafe
Dishwasher safe with detachable filter holder
Anti-drip system
Two years warranty
High-quality filters
Can brew up to 7 cups in 10 minutes
Has a water level indicator
Wonderchef Regalia Espresso Coffee Maker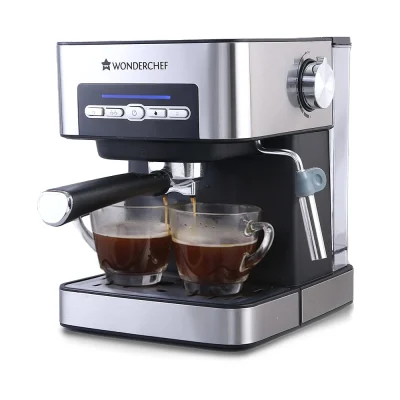 Looking to enjoy cafe-quality espresso, cappuccino, latte, macchiato, or ristretto at home? Then Wonderchef Regalia Espresso Coffee Maker won't disappoint. The coffee maker is highly durable with a stainless steel body and die-cast aluminium alloy boiler. It has a transparent water tank and metal porta filter for thin-grind coffee powder.
What's great?
Easy to clean and maintain
Special steam tubes to add froth
Wide variety of coffee
Metal porta filter that ensures smooth coffee
Removable spill tray
Conclusion
Finding the best coffee machine in India is not as hard as it seems if you know exactly where and what to look for. A machine that is easy to use and maintain and comes with a filter that can serve you a delicious cup of coffee in a matter of minutes.
We hope you find the right coffee maker choices with this guide. So go ahead and pick the one that suits your needs the best and liven up your mornings (or afternoons and evenings).
FAQs
1. What are some of the best coffee machine brands in India?
Some of India's best coffee machine brands include Instacuppa, Wonderchef, Philips, and Morphy Richards. You can check their offerings to find the best coffee maker for yourself.
2. Is an espresso machine better than a drip coffee machine?
It depends on your preference. An espresso machine offers more customization and is better for smaller kitchens. But they are also pricier. On the other hand, a drip coffee machine is better for large families or if you want to brew coffee in large quantities. They are also more budget-friendly.
3. What features should I consider while buying a coffee maker?
When buying a coffee maker, you should consider features like ease of use, maintenance and cleaning, thermal carafe, frothing capabilities, capacity, size, and brewing time.
4. How frequently should I clean my coffee machine?
This depends on how frequently you use your coffee machine. However, cleaning the coffee pot or cup holder after every use is best. You should also deep clean it by removing all the removable parts at least once a month.
5. Are expensive coffee machines better?
Expensive coffee machines offer a range of advanced features, better build quality and customization options. But it ultimately depends on your needs and requirements.