Kitchens can't function properly without crockery. It must be safe for the dishwasher but also attractive and long-lasting. Some dinnerware manufacturers have become household names in India. All of these products have certain qualities that make them ideal for use in Indian cooking.
This article will provide a rundown of the top Indian crockery manufacturers. You may be familiar with some of these names and unfamiliar with others. This essay was written in the hopes that it may assist you in locating the best possible dinnerware for your home.
Some of the best crockery brands in India manufacturers are included here!
How to Choose the Best Crockery Brands Online?
Crockery is an important part of any kitchen, and there are a lot of brands to choose from. Here's how to select the best crockery brands in India:
Material:
The material of a crockery brand is important because it will determine its durability and how well it holds up to cooking and cleaning. Some popular materials for crockery include stainless steel, aluminium, and porcelain.
Warranty:
Every brand offers a warranty on its products, so make sure to read the details carefully before making your purchase. Some warranties offer lifetime replacements or repairs, while others only cover manufacturer defects for a certain period.
Durability:
Crockery is heavy and can be damaged easily if not handled correctly. Make sure that the brand you're considering has a good reputation for quality products that stand up to rigorous use.
Affordability:
Choosing an affordable crockery brand isn't always easy, but it's worth it in the long run. Look for brands that offer good value for money without sacrificing quality or durability.
Listing of the 6 Best Crockery Brands in India
1. Corelle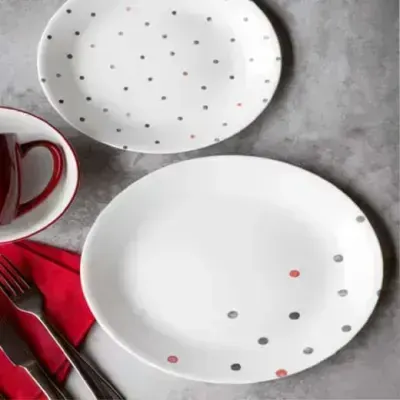 Corelle is one of the best crockery brands in India. This brand has a wide range of dishes, serving plates, and bowls that can be used for various occasions. Corelle also offers a variety of patterns and colours to choose from.
Key Features:
Durable
Budget-friendly options
Variety of sizes and colours
Offers a lifetime warranty
Pros:
Made with Vitrelle glass for lightweight durability
Huge range of colors and patterns
Budget-friendly pricing for daily use
Lifetime warranty against breaks
Cons:
Not as elegant as premium porcelain brands
Price range: ₹300 – ₹1500
Rating: 4.3/5
2. Borosil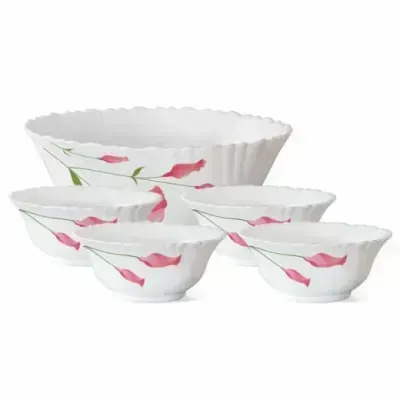 Borosil is a premium range of crockery made by the renowned Indian manufacturer Godrej. It offers an exquisite selection of dishes for food and table settings. The pieces are handmade with exquisite attention to detail and are designed to last.
Key Features:
Excellent craftsmanship
Dishware safe
High-quality porcelain pieces
Stylish and durable
Pros:
Exquisitely crafted porcelain with excellent durability
Safe for use in ovens, dishwashers, and microwaves
Sophisticated and elegant designs
Perfect for gifting or special occasions
Cons:
Premium pricing puts some pieces out of budget for everyday use
Price range: ₹500 – ₹5000
Rating: 4.5/5
3. Milton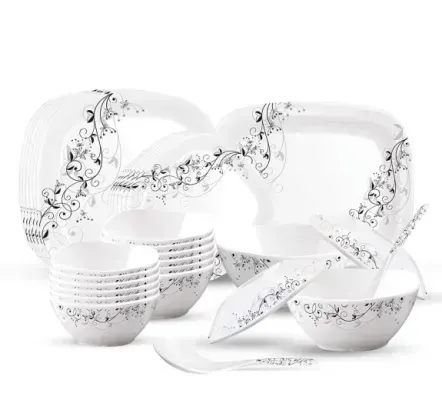 There is no doubt that Milton is a luxurious brand regarding crockery. Milton is perfect for any occasion with a range of beautiful pieces, from everyday plates and bowls to extravagant vessels. From classic white to sleek black, a Milton piece suits every taste, being one of the best crockery brands in India .
Key Features:
High-quality pieces of kitchenware
Prices are unbeatable
Versatile pieces
Long-lasting
Pros:
Luxurious materials and aesthetic
Durable construction
Wide range of classic and modern pieces
Affordable pricing for the quality
Cons:
Premium ranges can get pricey
Price range: ₹250 – ₹1200
Rating: 4.0/5
4. LaOpala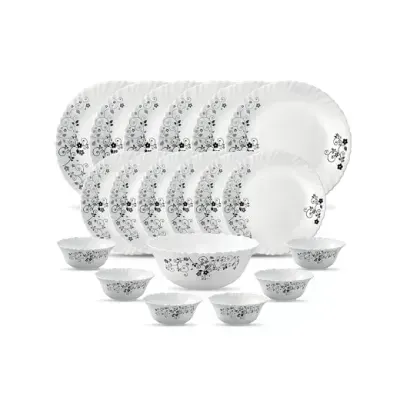 LaOpala is a household name in Indian crockery circles. The company has become synonymous with restaurants, hotels, and households. In India, the company's products are sold through retail outlets and online shopping platforms. The range includes dinnerware, lunch boxes, tea sets and other kitchen accessories.
Key Features:
High-quality and durable products
Oven-, microwave-, dishwasher- and freezer-safe
Beautiful, functional products
Innovative and stylish designs
Pros:
Contemporary patterns and colors
Lightweight and durable
Oven, microwave, and dishwasher safe
Good quality at reasonable prices
Cons:
Smaller product range than some brands
Price range: ₹800 – ₹3500
Rating: 4.2/5
5. Cello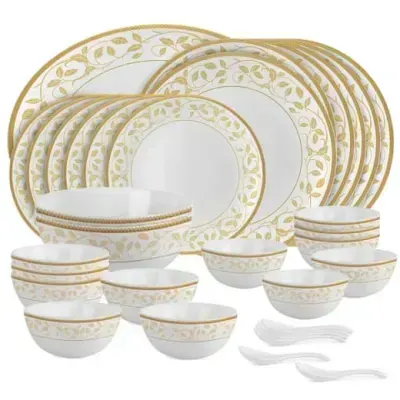 Cello is a major distributor of several international brands and a top-tier fine china and crystal manufacturer, making it one of the best crockery brands in India. Cello has an excellent variety of fine tableware, perfect for everyday use or showcasing at your next formal dinner.
Key Features:
High-quality china
Patterns and colours to match every event theme
Both dishwasher-safe and microwaveable
Riveted construction for durability
Pros:
High-grade porcelain
Lovely patterns and motifs
Durable riveted construction prevents cracks
Oven and microwave safe
Cons:
Limited contemporary or modern designs
Price range: ₹400 – ₹2500
Rating: 3.8/5
6. Treo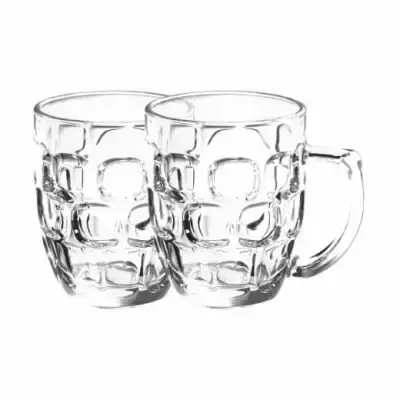 Every piece of dinnerware made by Treo displays its dedication to excellence, being one of the best crockery brands in India. Treo is stocked with kitchenware for every need, from tea sets to plates and bowls. They come in many different colours and patterns, so you may choose one that complements your taste.
Key Features:
Offers crockeries for every requirement
High-quality products
Affordable price
Light-weight
Perfect for all occasions
Pros:
Highly affordable prices
Durable for daily use
Simple, classic designs
Lightweight construction
Cons:
Smaller product selection
Not as stylish as premium brands
Price range: ₹200 – ₹800
Rating: 3.5/5
Conclusion
When selecting the best crockery brands in India, carefully evaluate your priorities – whether luxury and style, extreme durability, or budget value. Leading brands like Borosil, Corelle, LaOpala and Milton deliver across these criteria. Investing in quality crockery can serve your family for years or even decades.
FAQs
Q. Which crockery brand is the most used in the world?
Ans. Crockery is an essential part of any kitchen, and the best brands in the world are used by many people all over the world. Some of the most popular crockery brands across different countries are Miele, Alessi, Rosenthal, Staub, Tefal and Le Creuset. These brands have a long, trusted history and are known for their quality and style.
Q. Why is Borosil better than Milton?
Ans. Borosil is a better choice than Milton for several reasons. First, Borosil is made with more durable glazes that can last longer. Second, Borosil's porcelain is non-toxic, so it's safe to use in the kitchen. Finally, Borosil's colours are more vibrant and true-to-life than Milton's.
Q. Which crockery brand is popular in India?
Ans. There are several popular crockery brands in India, with many people preferring to buy domestic brands over international ones. Some of the most well-known Indian brands include Borosil, LaOpala, Treo, Clay Craft and Corelle.
Q. Which crockery brand has the best scratch-resistant quality?
Ans. There are many popular crockery brands in India that are known for their scratch-resistant quality. Some of the top brands include Le Creuset, Staub, and All-Clad. These brands are known for their high-quality materials and durable products. They are also generally affordable, making them a great option for those on a budget.
Q. Which is the best brand for premium and luxurious crockery?
Borosil is renowned for its exquisite craftsmanship and premium quality when it comes to luxurious and elegant crockery. Their fine porcelain collections are perfect for enhancing formal table settings and special occasions. The durability also makes Borosil an ideal investment for long-term use.
Q. Which brand offers the most modern and contemporary designs in crockery?
LaOpala is an excellent choice for modern kitchens and contemporary design aesthetics. Their stylish collections come in vibrant colors and innovative patterns that can make everyday dinnerware feel updated and fresh. The quality and versatility make LaOpala a smart option.
Q. What are some top ceramic crockery brands available in India?
Some of the best ceramic crockery brands available in the Indian market include Kutahya, Jaipur Pottery, Neeru's, Golden Crafts, Clay Craft, and Regency Ceramics. These brands craft excellent quality ceramic crockery combining durability with artisanal style and designs.
Q. Which brand provides the best value for money on crockery essentials?
For shoppers looking for quality crockery on a budget, Treo offers excellent value for money. Their well-constructed dinnerware and serveware collections come at very affordable pricing, providing savings on kitchen essentials without sacrificing durability and performance.
Q. What should you look for when choosing a crockery set?
Key factors to consider are durability of the material, design aesthetic that complements your kitchen, versatility to serve different needs from formal dining to daily use, brand reputation for quality, affordable pricing that suits your budget, safety for oven and dishwasher, and warranties against manufacturing defects.
Q. How does porcelain crockery compare to bone china?
Porcelain crockery offers very similar aesthetics and durability as high-quality bone china but it is made from slightly different raw materials that may vary across brands. Both make excellent choices for fine dinnerware. Bone china is regarded as more premium.
Q. Are pricier crockery brands worth the investment?
Paying more for reputable crockery brands often translates into better durability that saves replacement costs over time. Higher-end porcelain and bone china also gives a more elegant, sophisticated look for special occasions. That said, excellent crockery is also available at lower price points from trusted brands.
Q. How often should you replace crockery sets?
With regular care, quality crockery can potentially last for many years, even decades. However, chipping and wear often leads families to replace dinnerware sets every 5-10 years. Higher use means more frequent replacement, while premium brands extend lifespan.
Q. What are some crockery care tips to maximize lifespan?
Avoid very hot water or harsh scrubbing when washing crockery. Use soft-bristle brushes and mild detergent instead. Stack plates and bowls carefully to prevent scratching. Allow oven-safe pieces to cool before washing. Use dishwasher cycles designed for delicate items. Store crockery securely.