Choosing a hair colour that complements your skin tone is a tried and tested method to enhance one's natural features without expensive cosmetic treatments. From striking scarlet or cerulean shades to subtle copper-toned highlights, the sky is the limit as you step into the world of hair colours. Recently, easy-to-use, at-home box dyes have made hair colouring a rather quick and inexpensive process. Next time you book a hair colouring appointment at a high-end salon, consider doing it yourself.
This blog will provide a comprehensive list of the best hair colour brands currently available in the Indian market.
How to Choose a Hair Colour Suitable for You?
A lot goes into choosing that perfect shade for hair colours. One must consider many factors, such as the skin's undertone, eye colour, and personal preferences. While a stunning burgundy might suit those with warm undertones, some might find it risqué. Further, there are other decisions to ponder, such as whether you want to choose a permanent or temporary dye and if you are open to bleaching your hair. While hair colouring can sometimes cause hair damage, choosing the best hair colour formulation and regular hair treatment can avert potential side effects.
However, do not be discouraged by all the hard work in choosing the best hair colour for women in india, for we have done everything for you. From determining a shade that suits your complexion to gauging the pros and cons of the best hair colours in the market, we have done it all in this article.
Important factors to consider while choosing a hair colour are:
Skin Complexion: Here, complexion doesn't merely refer to the colour of your skin. Rather, it signifies nuances such as your skin's undertone. Generally, there are three different types of undertones- warm, cool and neutral. On the other hand, skin tone can vary between light, medium and dark.
Type: There are different types of hair dyes available in the market, such as permanent, demi-permanent and semi-permanent. You can make a long-term or short-term commitment to your new hair colour based on your preferences.
Ingredients: Harmful ingredients in box dyes can exacerbate existing hair fall concerns. So, when choosing an at-home hair colour, ensure it is devoid of toxic ingredients. As a general rule, try to avoid hair colours with Ammonia.
List of Best Hair Colour Brands in India
The decision to change your hair colour does require a bit of pondering. However, if you have decided to take the plunge, our list of the best hair colour brands in India could help you make the right decision.
1. L'Oréal Paris Casting Crème Gloss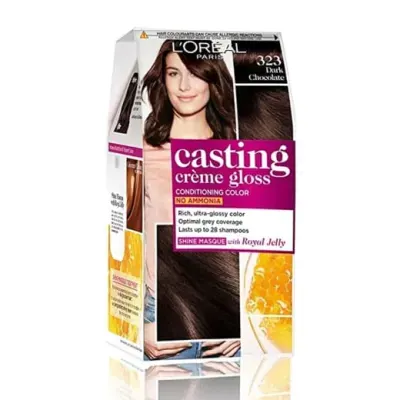 Since it entered the Indian market almost three decades ago, L'oreal Paris has consistently proved itself as a pioneer in the hair products segment. Hair colour enthusiasts universally love the casting crème gloss hair colour. Its ammonia-free formula, enriched with honey, promises a glossy salon-like finish. It is also available in many shades, so pick yours today! All these factors make L'oreal one of India's best hair colour brands.
What's so great about it?
Claims to provide a stunning glossy shine
Comes with a royal jelly-infused shine masque
Nutrition-infused formula
A long-lasting formulation that sustains the coverage of upto 28 washes
2. Godrej Expert Rich Creme Hair Color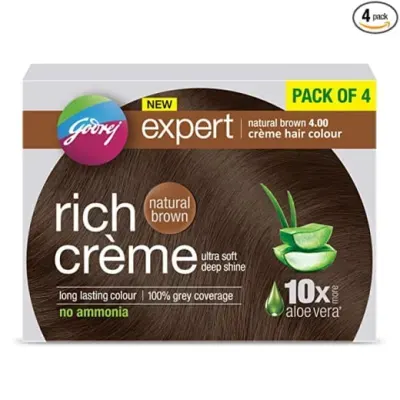 Godrej is a brand that consumers trust across the length and breadth of India. This is why many swear by this aloe vera-infused Godrej hair dye formulation. It is easy on the pocket and Ammonia free. What's not love? Though it is unisex, this is also touted as one of the best hair colours for men in India.
What's so great about it?
Gives complete coverage
Contains milk protein that makes hair soft and frizz-free
Easy application with pre-measured sachets
Leave on time is only thirty minutes
3. BBLUNT Salon Secret High Shine Crème Hair Colour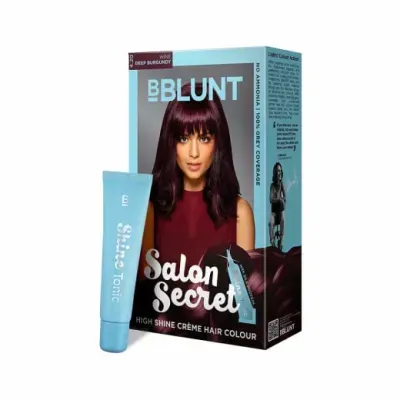 BBlunt is an Indian hair care brand that has established itself as one of the top contenders in the market within a very short period. This product is formulated to provide a lasting glossy finish and comes with a potent shine tonic. This is one of the best hair colours for women, currently available in the Indian market.
What's so great about it?
Specially formulated for Indian hair
Enriched with silk protein
Claims to lock in moisture into hair strands
Reduces frizz
Easy and quick 30-minute application
4. Garnier Hair Colouring Crème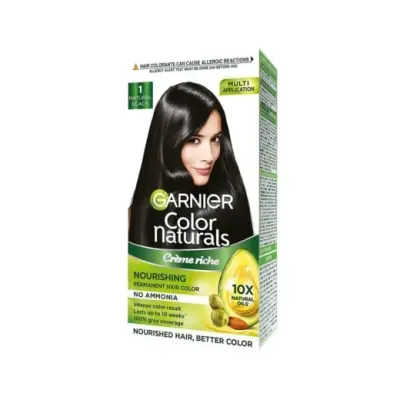 At an exceptional price of about Rs. 150 for each pack, this product by Garnier is a must-try if you do at-home hair colouring for the first time. This formula is enriched with eight natural oil, beneficial to hair growth and shine.
What's so great about it?
Infused with the goodness of almond oil, avocado oil and olive oil
Offers complete coverage
Quick and easy 30-minute leave on formula
5. Biotique Bio Herbcolor Conditioning Hair Color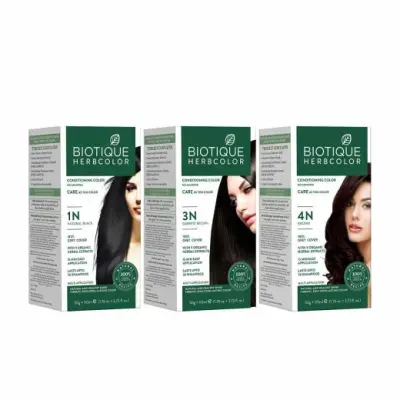 This herbally formulated dye by Biotique could be a perfect choice if you aim only to achieve grey hair coverage. It nourishes hair with the goodness of 9 medicinal herbs to provide natural coverage. The toxin-free formulation makes it one of the best hair colour for women in india.
What's so great about it?
Ideal for chemically treated damaged hair
Natural formulation promises fewer side effects
6. Revlon Top Speed Hair Color for Women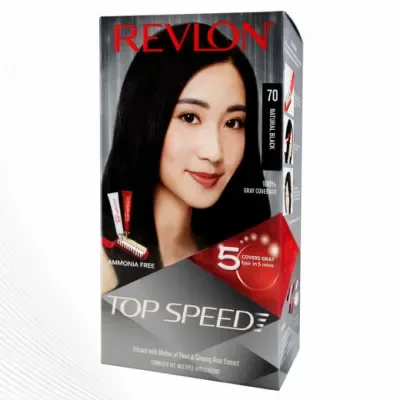 This quick and easy hair dye formulation by the internationally renowned hair care brand Revlon is a must-try for multiple reasons. It is also infused with the mother of pearl and Ginseng for improving hair health.
What's so great about it?
Comes with a comb for easy application
Requires only five minutes of leave on time
Formulation to improve hair shine
7. Streax Cream Hair Color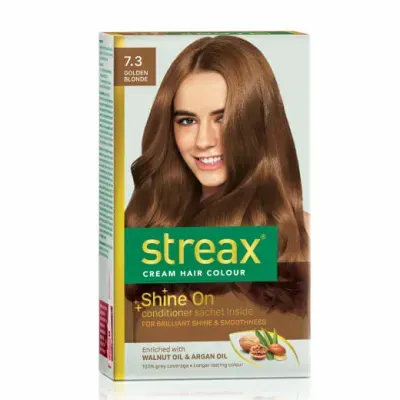 Streax is another Indian brand known for its innovative and high-quality hair products. This hair colour by Streax is formulated with walnut and argan oil to provide a glossy finish. The pack comes with a conditioner that treats hair after hair colouring to reduce hair damage. Streax is undoubtedly one of the most trusted and best hair colour brands in India.
What's so great about it?
Makes hair soft, silky and manageable
Available in 15 different shades
Provides complete hair coverage
8. Clairol Natural Instincts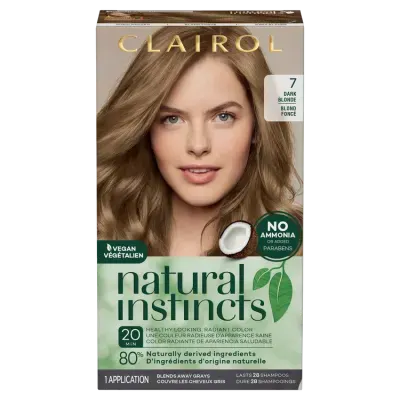 Pros:
100% vegan and ammonia-free
Infused with aloe vera and collagen
Conditions hair while colouring
Long lasting results upto 28 washes
Cons:
Limited shade options
May cause dryness for some hair types
Clairol is an American hair colour brand that has made its mark in the Indian market as well. The Natural Instincts range is free of ammonia and other harsh chemicals. It is enriched with aloe vera and collagen to condition hair while colouring.
9. Indus Valley Bio Organic Hair Color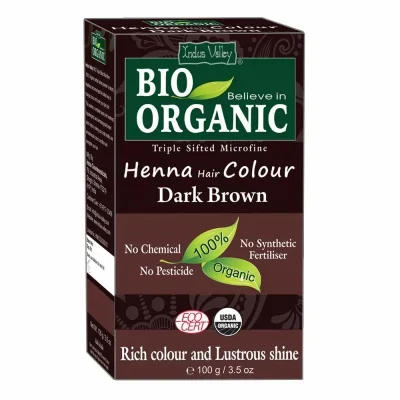 Pros:
100% certified organic formula
Free of PPD, ammonia, peroxide & parabens
Infused with botanical extracts
No animal testing
Cons:
Expensive
Limited availability online
Indus Valley offers 100% organic hair colours made using certified organic ingredients like henna, hibiscus, amla etc. It is cruelty and toxin-free. Ideal for those looking for natural hair colouring.
10. Matrix Opti Care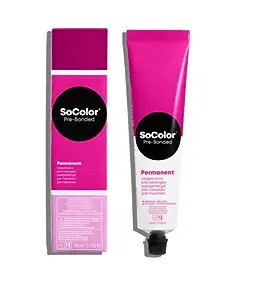 Pros:
Salon-like hair colour at home
Uses soy protein and active botanicals
Ammonia-free, non-drip cream formula
Shine enhancing smooth plex system
Cons:
Matrix Opti Care is a premium salon quality hair colour from the house of L'Oreal. It provides vibrant, luminous colour with shine enhancing botanicals.
11. Schwarzkopf Simply Color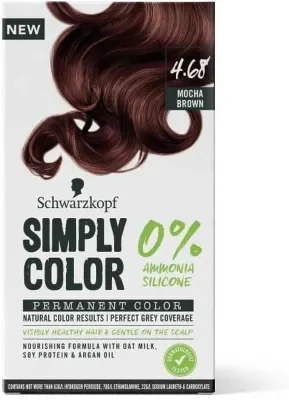 Pros:
Conditions hair while colouring
100% grey coverage
Ammonia-free gel-cream formula
Nourishes with shea butter & vitamin E
Cons:
Expensive
Needs regular touch-ups
Schwarzkopf provides intense conditioning along with 100% grey coverage. The ammonia-free gel-cream formula glides smoothly through hair.
12. Wella Color Charm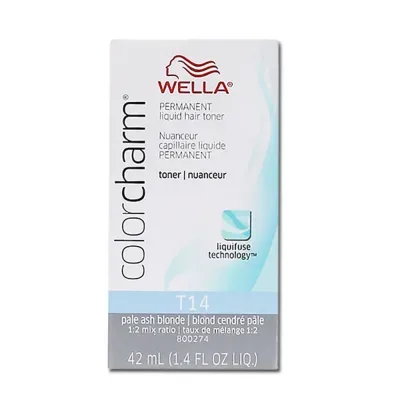 Pros:
Salon quality hair color
Provides multi-dimensional colour
Rich cream formula with liquid sensoring
Up to 100% grey coverage
Cons:
Expensive
Strong ammonia odour
Wella Color Charm offers salon-style hair coloring results at home. The liquid sensoring helps customize colour intensity. Provides luminous colour results.
Conclusion
There are many reasons you might have found yourself scrolling through this article. Maybe you want to change your hair colour to switch things up a bit, or you don't want to go through the hassle of visiting a hair salon to cover those stray greys. Whatever the reason, you can confidently choose a hair colour product from the top hair colour brands we have listed.
We have provided comprehensive information on each of the best hair colour brands in India. Compared their ratings, reviews, pricing, top features and best offers available to make an informed decision. Make sure to consider your skin tone, undertone, hair texture when choosing a shade. With the best hair colour and regular care you can get gorgeous coloured hair sitting at home!
FAQs on Best Hair Colour Brands in India
Q1. What are the ingredients to avoid in a hair colour brand?
Ans. Stay wary of hair colour brands with Ammonia. All the best hair colour brands in India that we have listed are free from Ammonia.
Q2. Which are the best hair colour brands in India?
Ans. L'oreal Paris, Streax, Bblunt, Revlon, Garnier and Godrej are some of India's top trusted hair colour brands.
Q3. What is the price range of the best hair colour brands in India?
Ans. You can get a good hair colour in India from one of the top brands by spending between Rs. 140 – Rs. 850.
Q4. How long does the at-home colour last?
Ans. At-home colours generally, on average, last anywhere between 4-6 weeks.
Q5. Should I choose at-home hair colouring or salon hair colouring?
Ans. This decision is completely up to you. If you want to alter your hair colour temporarily, go for at-home hair colours from the top brands we have listed. You might have to go to the salon for more permanent, long-lasting results.
Q6. Which is the most affordable hair colour brand in India?
Ans. Garnier is one of the most affordable and best hair colour brands in India, with prices starting at just Rs. 150 per pack.
Q7. How do I choose the right shade for my skin tone?
Ans. Go for warm copper, golden brown and auburn shades if you have warm undertones. Cool undertones suit icy blondes, platinum and ash browns. Neutral undertones can carry both warm and cool shades.
Q8. Does hair colour cause hair damage?
Ans. Hair colouring can cause damage if done frequently. Choose products with natural oils and conditioning properties. Do a patch test before full hair colouring.
Q9. What precautions should I take before hair colouring at home?
Ans. Do a patch and allergy test 48 hours prior. Oil and condition your hair well before colouring. Wear gloves and use Vaseline around hairline to avoid stains.
Q10. How often should I colour my hair?
Ans. Avoid hair colouring more than once every 6-8 weeks. This allows the hair to recover from the chemical processing. Over-colouring can severely damage hair.
Q11. What are the best hair dye brands in India?
Ans. Some of the best hair dye brands in India are L'Oreal Paris, Garnier, BBLUNT, Godrej, Revlon, Matrix, Streax etc. They offer ammonia-free hair dyes with herbal ingredients.
Q12. What are the biotique hair colour side effects?
Ans. Biotique hair colours use natural ingredients so have fewer side effects. But some people may face mild scalp irritation, dryness or itchiness if they have sensitive skin. Always do a patch test before full hair colouring.
Q13. What are the garnier hair colour side effects?
Ans. Garnier hair colours are infused with oils and conditioners so have minimal side effects. But some people may experience mild irritation or dryness. Doing a skin allergy test before colouring can help identify any potential reactions.
Q14. Which is the best natural hair colour ?
Ans. Some of the best natural hair colour brands in India are Indus Valley, Biotique etc. They use certified organic and Ayurvedic formulations without ammonia or other chemicals.
Q15. Which hair colour is long-lasting ?
Ans. L'Oreal Paris Casting Creme, Godrej Expert Rich Creme, BBLUNT Salon Secret are some of the long-lasting hair colour brands. They can last upto 4-6 weeks depending on your hair type and frequency of washes.
Q16. What are the godrej hair colour side effects?
Ans. Godrej expert hair dyes are ammonia-free so safe for most people. But some may face drying, mild redness or itching if they have sensitive skin. Do a patch test before hair colouring to be sure.
Q17. Which hair colour is best for hair ?
Ans. Matrix Opti Care, BBLUNT and L'Oreal Paris hair colours are good as they use natural ingredients like botanical extracts, proteins etc. to condition hair while colouring. Always opt for ammonia-free hair dyes.
Q18. How long does a semi-permanent hair colour last?
Ans. Semi-permanent or demi-permanent hair colours typically last for 4-8 shampoos or around 4-6 weeks. They deposit colour without fully penetrating the hair shaft. Reapplication is needed as the hair grows out.
Q19. Which hair colour brand is best for grey hair coverage?
Ans. L'Oreal Paris, Godrej Expert, Matrix OptiCare, Schwarzkopf and Wella hair colour brands provide excellent grey hair coverage. They are enriched with oils and conditioners to nourish hair while covering greys.