Inverters are one of the essential modern-day conveniences. They come in handy in case of power outages and unreliable power grids. However, the kind of inverter battery you use plays a huge role in deciding how well your inverter functions. Inverters powered by the best inverter battery brands are more reliable in emergencies and in daily life.
Choosing the right inverter battery brand can be a lot of work. That is why we have curated a list of the best inverter battery brands, along with the factors you should consider while making your choice to make your life a little easier.
How to Choose the Best Inverter Battery Brands?
Here are some factors you should consider while choosing between the best inverter battery brands.
Type of Battery
There are two primary types of batteries available for inverters: lithium-ion and lead acid. Consider which type will suit your needs better. A lithium-ion battery is expensive but lasts much longer than a lead-acid battery. However, a lead acid battery is less expensive but short-lived.
Efficiency
You should also consider the performance and efficiency of the battery. A battery's performance depends on how you use, maintain, and store it. Therefore, check the manual carefully before using the battery.
Capacity
A battery's capacity is measured using amp hours (Ah). It tells you how long a battery can last without having to recharge. Therefore, a battery with higher amp hours will last longer than a battery with lower amp hours.
Budget
Another crucial factor you should consider is your budget. Good-quality inverter batteries in India begin from Rs. 10,000. The most expensive batteries can cost lakhs of rupees.
8 Best Inverter Battery Brands
Now that you know the factors you should consider while buying a battery, here are the eight best inverter battery brands in India.
Exide Inverter Battery
Luminous Inverter Battery
Microtek
Loom Solar CAML Battery
Genus
V-Guard
Livguard
Amaron
1. Exide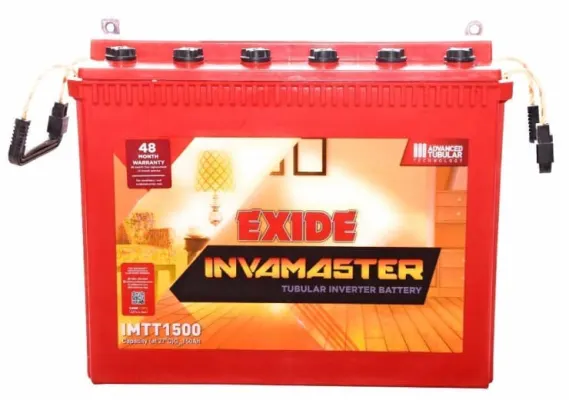 Exide is one of the top brands in India and produces reliable inverter batteries. The batteries can work in repeated and prolonged power outages. They are long-lasting, low maintenance, and have minimal plate failures.
What's Great?
Tubular plate batteries
Long backup performance
Minimal maintenance
Higher-quality performance
2. Luminous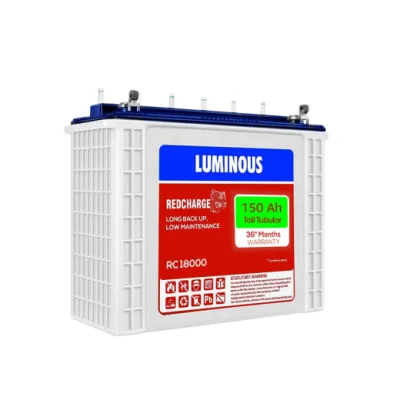 Luminous batteries come with advanced tubular plate technology that helps them provide an uninterrupted power supply for a long time. They are durable, require little maintenance, and are compatible with all kinds of power outages.
Luminous also provides batteries in gel and flat plate technology. All the batteries are designed to handle prolonged and frequent power outages.
What's Great?
Fast recharge
Requires little maintenance
Maximum overcharge tolerance
3. Microtek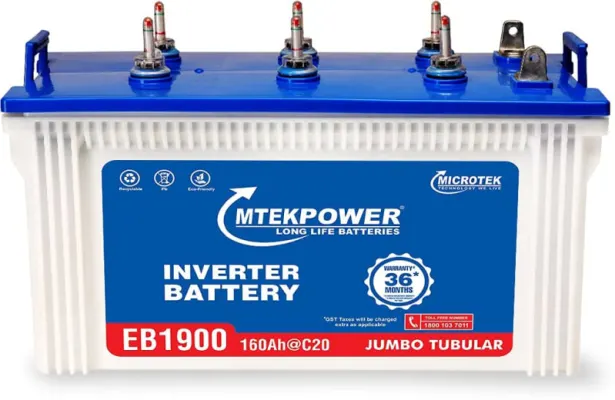 Microtek is well-known for its premium products, including inverter batteries. Microtek batteries use ceramic water level indicators and provide high performance. They are made with leading manufacturing processes which also gives them more extended backup and fast recharge.
What's Great?
Uses Hadi tubular technique
Faster recharge and longer backups
Durable and long-lasting
Needs minimal maintenance
4. Loom Solar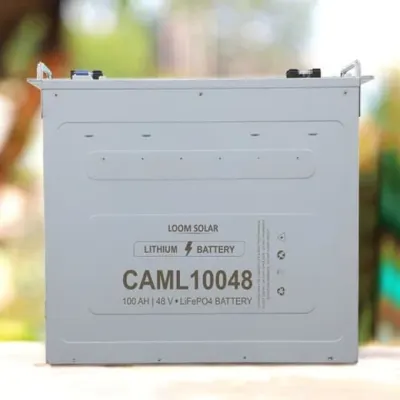 Loom Solar batteries are lithium batteries that come with a five-year warranty. They are lightweight, maintenance-free, and highly efficient. Loom Solar batteries also have fast recharging, taking two to four hours to finish recharging, and longer life than other batteries.
What's Great?
Lightweight and durable
Speedy charging
Requires no maintenance
5-year warranty
5. Genus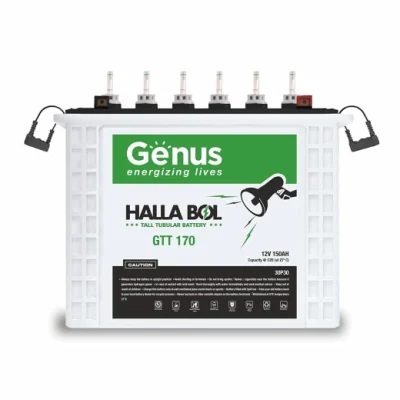 Genus inverter batteries are highly safe as they protect against external short circuits. They also come with a battery revival mode and can be used for conventional and solar applications. These batteries are long-lasting and durable, making them popular among Indian families.
What's Great?
Long-lasting and durable
Reliable and efficient
Provides better security
Sturdy design
6. V-Guard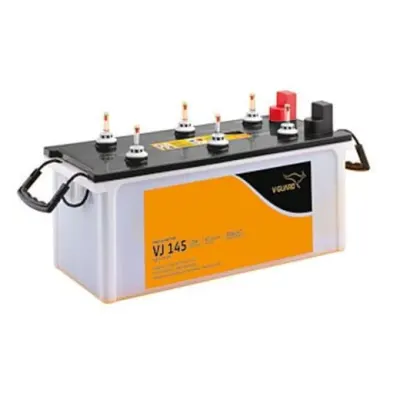 Apart from being long-lasting and reliable, V-Guard batteries are also known for being eco-friendly. They are suitable for areas with high power outages as the tubular-positive plates give them higher longevity.
What's Great?
Eco-friendly batteries that generate less gas
Long backup time
Easy installation and maintenance
Durable and long-lasting
7. Livguard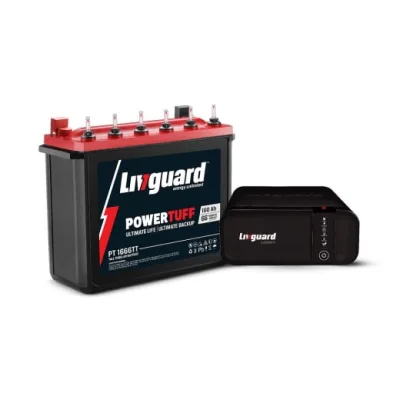 Livguard is one of the best inverter battery brands in India. The batteries have a premium design and can provide an uninterrupted power supply during lengthy power outages. They have an LED display and are made with robust material. Livguard offers a best-in-class warranty, making the batteries more reliable.
What's Great?
Fast charging
Premium design with an LED display
High-charge acceptance
Durable and long-lasting
8. Amaron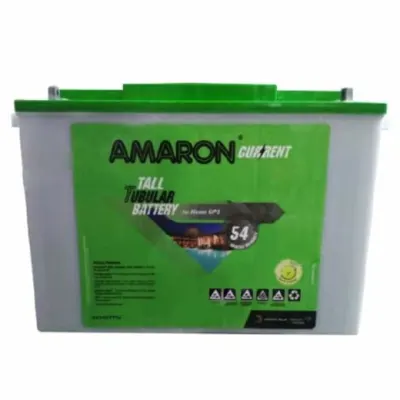 Amaron is also one of India's best inverter battery brands. Their batteries are highly heat tolerant, charge quickly, and require minimal maintenance. They come factory charged, making the experience hassle-free.
A unique part of Amaron batteries is that they are built keeping India's hot weather in mind. The batteries' grids use heat-resistant calcium or a modified hybrid alloy that gives them excellent heat tolerance.
What's Great?
Less maintenance
Fast charging
Lose less water
High heat tolerance
Conclusion
There is no shortage of inverter battery brands in the Indian market. However, the ones we have listed above are some of the best. We hope this list helps you narrow your choices and decide which battery brand will suit you the best.
FAQs
1. Which inverter brands are best for home?
Some of the best inverter battery brands for home are Loom Solar, Exide, Luminous, and Microtek. Their batteries are long-lasting, affordable, and can keep up with frequent power outages, making them suitable for homes.
2. Which is better, Amaron or Exide?
Both batteries have their strengths and weaknesses. Amaron batteries are known to have a higher heat tolerance, while Exide batteries are more easily available. It ultimately boils down to your needs and requirements.
3. Is a 200Ah battery better than a 150Ah?
A 200Ah battery stores more power than a 150Ah battery. So if you need a battery that runs for a longer time, 200Ah batteries will be more suitable.
4. Can I improve my battery life?
Yes, you can improve your inverter battery's life. The key lies in its usage, maintenance, and storage. Always follow the manual. Store the batteries in a ventilated area and clean the terminals correctly. Try to use distilled water to top out the battery.