Are you one of those people who value the goodness of fresh juices? Do you consider it an integral part of your daily lifestyle? If so, then you're well aware that having a reliable juicer is an absolute necessity.
Having the best juicer at your disposal isn't just about boosting your health; it also opens the door to a world where you can experiment with a variety of fruits and vegetables. With the right juicer, you can craft delicious and nutritious concoctions in your kitchen easily.
The kitchenware market offers a diverse range of juicers to cater to your unique preferences and requirements. Among these choices, the top contenders are centrifugal juicers, cold press juicers, and electric juicers.
So, if you're on the hunt for the best juicer in India, you're in the right place. In this article, we'll explore these top contenders and help you make an informed decision on the best juicer to complement your healthy lifestyle.
How to Choose the Best Juicer in India?
Due to a huge number of options, selecting the best juicer in India can be confusing. To make an informed choice, here are several factors to take into account when deciding on a juicer:
Speed: Depending on your needs, the speed of a juicer matters. High-speed juicers are known for their speed and efficiency, excellent for quickly extracting juice. Low-speed juicers operate slowly, preserving more nutrients in the juice. Variable-speed centrifugal juicers offer the best of both worlds.
Ease of use: A good juicer should be easy to operate. It shouldn't require you to hunt for the instruction manual every time you want to make juice.
Noise: When selecting a juicer, it's advisable to consider ones that are designed to operate quietly. This will help in providing a more peaceful juicing experience.
Size of the feeder tube: A large feeder tube offers the convenience of juicing whole fruits and vegetables without the need for extensive chopping. This is a valuable feature that simplifies the juicing process.
Simplified cleaning: Juicing can be messy, but an easy-to-clean juicer can make a huge difference. Selecting a juicer with fewer parts can simplify the cleaning process.
5 Best Juicers in India
Now that you know what to look for, let's explore the best juicers in India. These juicers have been carefully selected based on their ease of use, noise production, and overall efficiency.
Kuvings B1700 Professional Cold Press Whole Slow Juicer
Nutribullet Professional Smart Touch Blender & High-Speed Juicer
Sujata Powermatic Plus 900 Watts Juicer Mixer Grinder
AGARO Imperial Slow Juicer
Philips Viva Collection HR1863/20 2-Litre Juicer
Kuvings B1700 Professional Cold Press Whole Slow Juicer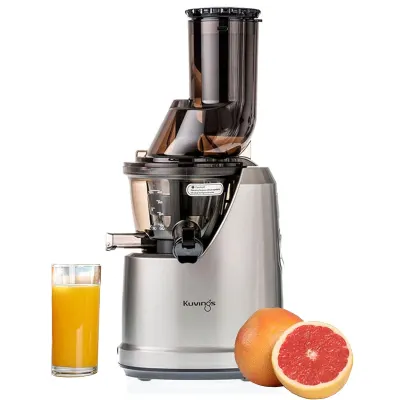 The Kuvings Juicer stands out with its exceptional performance and longevity, offering at least 10% more juice extraction compared to other cold press juicers on the market. The product offers a remarkable 12-year product support, making it one of the most reliable juicers.
The 76 mm wide feeding tube can accommodate a variety of ingredients, from fruits to nuts. Thanks to the Kuvings Green Cleaning Tool, the cleaning time is reduced to less than a minute.
What's Great?
Free home service available across India
Robust 240-watt motor
Durable and super quiet
Nutribullet Professional Smart Touch Blender & High-Speed Juicer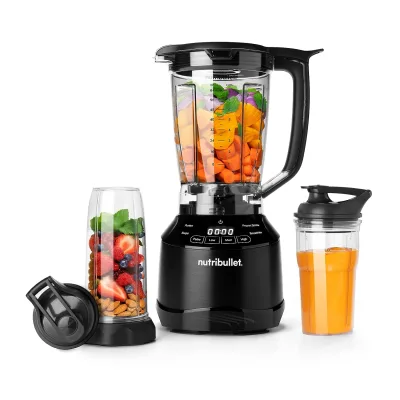 NutriBullet provides one of the best juicers in India. It features four preset blending programs, three-speed options, and a pulse function. The high-capacity vented pitcher is perfect for crafting smooth and creamy soups, and it comes complete with a locking lid and a user-friendly pour spout for added convenience. It's pitcher perfection at your service.
What's Great?
2-year warranty on the motor and a 6-month warranty on the blades
Top rack dishwasher-safe components
Comes with a 32oz cup, a 20oz cup, and two to-go lids
Sujata Powermatic Plus 900 Watts Juicer Mixer Grinder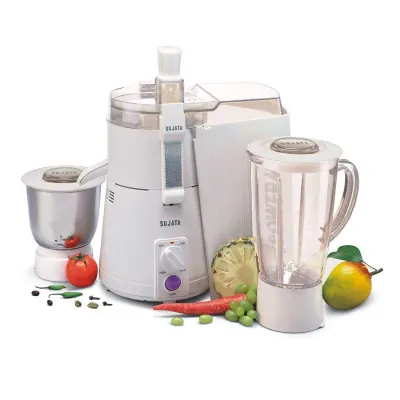 Sujata Powermatic Plus is a centrifugal juicer equipped with a 900-watt motor boasting double ball bearings. It offers unparalleled efficiency, low maintenance, and years of trouble-free operation. What sets this juicer apart is its unique honeycomb filter mesh, designed to extract finer juice with a higher yield.
With an impressive 90 minutes of continuous running time, this juicer is built for longer usage, making it suitable for both personal and family needs.
What's Great?
Low-maintenance, trouble-free design
Shock-proof
1-year warranty
AGARO Imperial Slow Juicer
Utilizing a cold press process, the AGARO Imperial Slow Juicer excels in extracting maximum juice while retaining essential nutrients. This versatile appliance goes beyond just juicing; it helps in preparing delicious smoothies and sorbets. It has a generously sized 74mm feeding tube, which can accommodate whole fruits like oranges and apples.
What's Great?
BPA-free, highest food-grade plastic jar
Operates with a masticating (chewing) method
5-year limited warranty
Philips Viva Collection HR1863/20 2-Litre Juicer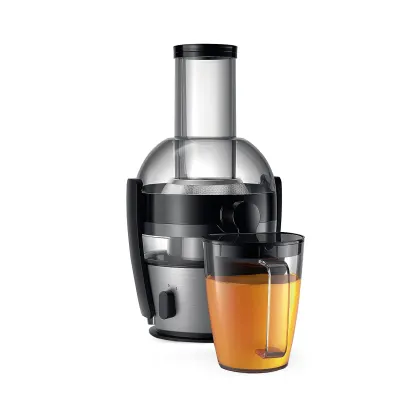 With this Phillips juicer, you can make up to 2 litres of juice in a single session without having to stop and empty the pulp container midway. The extra-large 75mm feeding tube accommodates whole fruits and vegetables, from apples to beetroots.
Phillips' QuickClean technology allows you to tidy up the integrated pulp container and smooth surfaces within minutes. It has a first-of-its-kind pre-clean function. By adding water to the pusher, you create a water fountain within the appliance.
What's Great?
Pulp naturally falls into one container
2 years warranty
QuickClean sieve
Wrapping Up
Selecting the best juicer in India involves careful consideration of various factors such as juicer type, speed, ease of use, and noise levels.
The top 5 juicers listed above have been chosen for their performance and suitability for different preferences. Some prioritize ease of cleaning, while others focus on maximum juice extraction.
Whichever juicer you choose, it's your step towards your healthier self, allowing you to savour the goodness of fresh, homemade juices with every sip.
FAQs
Q. Are juicers easy to clean?
Most juicers have detachable jars and blades, which makes them fairly easy to clean.
Q. How are slow and fast juicers different?
Slow juicers use a gentle crushing process for juice extraction, whereas fast juicers have high-speed spinning blades to rapidly cut and produce juice.
Q. Which juicer produces the least amount of waste?
Slow or cold-press juicers produce less waste as compared to other juicers.
Q. When should one replace their juicer?
It is time to consider replacing your juicer when you observe a decline in its performance, including reduced juice yield or heightened noise.