A dash of floral redolence, or a faint oriental aroma, emanating from your clothes can enhance your appeal. Spritzing on your favorite perfume adds those essential finishing touches to your final look as you venture out to face the day. Though perfumes might seem like an invisible or negligible part of dressing up, smelling good can make an enormous difference in how others perceive you. Also, when you know you smell good, you feel more confident and ready to take on the world.
Keep reading to find the brands that top the list of best perfumes for women in India!
How to Choose a Good Perfume?
Choosing to wear a perfume is always the right choice, but it's pertinent to choose the right one! We all have different tastes, and our choices can differ. However, there are certain basic rules to keep in mind while selecting a perfume; these include:
Fragrance: From floral to citrus, there are a plethora of choices awaiting you in the market. Hence, it can be easy to experience decision paralysis. To make things easy, first and foremost, rule out perfumes with an extremely strong scent that overpowers the senses. Many a time, people could have extreme sensitivities to fragrances. So, to play it safe, try to go with a mild to moderately strong perfume.
Occasion: Where are you headed? What's the occasion? These are certain things to remember while reaching out for that perfume bottle. For instance, if you are planning to buy a daily wear perfume for the office, you might want to stay clear of overpowering musky scents. Make sure you don't invest in perfumes that do not suit the occasion in your mind.
Research: It is important to set a budget for your purchase beforehand, so you can easily choose the best perfumes for women that fall within your budget. Perfumes are generally a blend of top notes, middle notes, and base notes. Take a look at all three of the perfume notes before deciding.
Top 7 Best Perfumes for Women in India
In this article, we have carefully curated a list of the best perfumes for women currently available in the Indian market. Whether you are drawn to refreshing woody scents or enchanting floral fragrances, we have versatile options for all.
Product Overview
1. Titan Skinn Celeste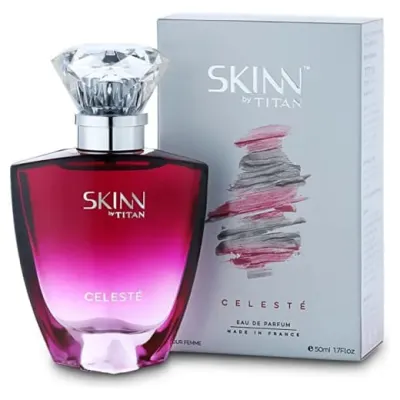 This is a perfume that has garnered a huge fan following. Its floral scent with tones of fruity fragrance is a breath of fresh air that subtly cocoons one's senses. An amalgamation of fruity, floral, and musky scents, this is the perfect fragrance to dazzle at a cocktail party or a wedding.
What's so great about it?
A chic, modern, and feminine fragrance, ideal for special occasions.
Moderate price range and the bottle can last you a while.
Long-lasting wear.
Fragrance:
The top notes are a blend of the floral redolence of orange flowers, tuberose, and waterlily.
The heart consists of fruity scents of white, peach mandarin, ginger, and green pear.
The base is made of sandalwood, patchouli, and white musk.
2. Mamaearth White Musk Perfume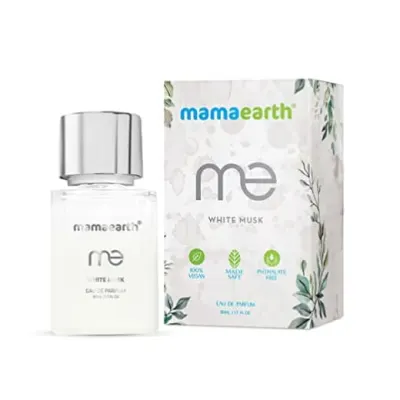 If you are looking for a daily wear perfume that wouldn't catch much attention, then Mamaearth's white musk perfume is a perfect choice. It is formulated to mimic your skin's natural fragrance and can last up to 12 hours without reapplication.
What's so great about it?
It has made a safety certificate, which implies that it is free of toxic chemicals.
It is free from phthalates, a chemical that negatively impacts skin function.
Long wear and ideal for daily use.
Fragrance:
Top notes emanate subtle floral fragrances such as galbanum, mint, and Lily Of The Valley.
The base consists of amber, tonka, and guaiac wood.
The middle notes are lavender and germanium.
3. Armaf Club De Nuit Eau De Parfum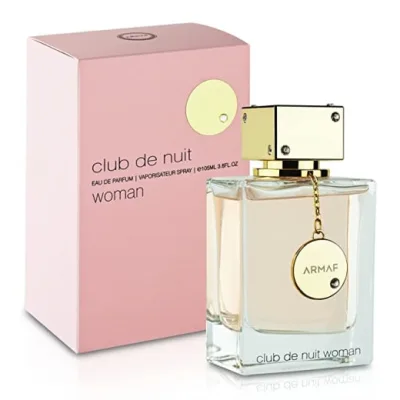 Eau de parfum generally has a higher concentration of fragrance than eau de toilette; hence this is best suited for special occasions rather than daily wear. It is a subtle blend of floral and fruity notes, elevated by Armaf's sophistication. "Club de Nuit," literally translates to "a night club," so make sure you spritz on this elegant scented perfume for your next night out!
What's so great about it?
Delicate fragrance for all occasions
Moderate price point
Long-lasting fragrance
Fragrance:
The top notes are an enticing blend of bergamot, grapefruit, peach, and orange.
Middle notes are a delightful blend of geranium, jasmine, litchi, and rose.
Base notes comprise woody musk, patchouli, vanilla, and vetiver.
4. Guess Seductive Women Eau de Toilette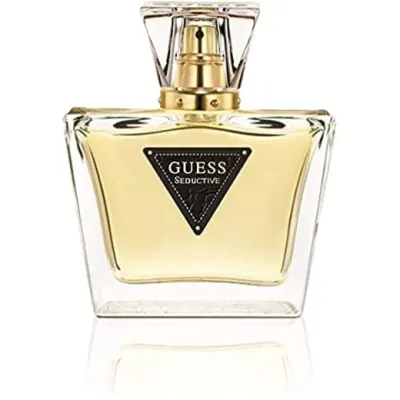 Here, Eau de Toilette implies that this perfume's fragrance concentration is low, making it ideal for daily use. It is a blend of oriental and floral tones and exudes seductive charm.
What's so great about it?
The authenticity of a product developed by a globally recognized brand
An amalgamation of feminine and seductive undertones
Subtle fragrance blended in low concentration
Fragrance:
The top notes are an exquisite blend of bergamot, black currant, and pear
Middle notes combine jasmine, African orange flower, and orris root.
Musky base notes are vanilla, olibanum, and cashmere wood.
5. Envy Women's Perfume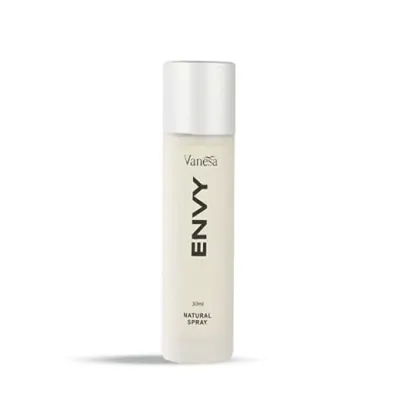 This perfume is probably one of the most affordable ones on the list and is ideal for daily wear. It emanates a feminine fragrance that subtly enhances your natural scent. It is an enchanting blend of green and citrus tones.
What's so great about it?
Hypoallergenic and suitable for sensitive skin
Extremely affordable
An irresistible blend of feminine and musky scents
Gas-free perfume
Fragrance:
The top notes are grapefruit and marine accord
Middle notes are a balanced blend of aromatic sweet, and sparkling elements
The base is a woody mix of patchouli, oakmoss, and amber
6. Pacifica Tahitian Gardenia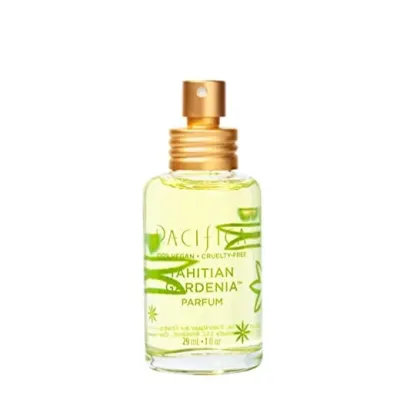 Look no further if you want to splurge on a high-end perfume for a special occasion! This luxuriant blend of floral and citrus tones will make you the center of attention at the party or perhaps a sophisticated soirée.
What's so great about it?
Vegan and cruelty-free
Gentle and natural grain alcohol base
Micro-batch perfume formulation
Phthalates and paraben-free
Fragrance:
A blend of gardenia, sweet orange, jasmine, and tea leaf.
7. Body Fantasies Vanilla Fragrance Body Mist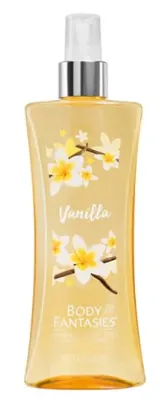 If you find floral, feminine scents alluring, this could become your new go-to perfume for daily wear. It wraps you in a fresh fragrance that lasts all day.
What's so great about it?
Long-lasting fragrance
A subtle blend of floral and fruity fragrance
Ideal for daily wear
Fragrance:
Fruity top notes are Fiji apple, macintosh apple, and frosted tangerine
Middle notes are Hawaiian pineapple, strawberry blossom, and jasmine
Woody base notes are a blend of vanilla musk, Tahitian vanilla bean, and caramel candy.
To Sum Up
Though choosing a perfume might seem easy, it has more to it than picking a random perfume bottle off the shelf. Now that we have provided you with a comprehensive list of the best perfumes for women, consider investing in one that fits your price range and preferences.
FAQs
Q. What is the most popular perfume for ladies right now?
Based on the perfumes reviewed in the content, Bella Vita Luxury Woman Eau De Parfum seems to be one of the most popular and top-rated perfumes for ladies right now. It has a sophisticated floral scent combining rose, jasmine, and frangipani that users and our testers love. With excellent ratings of 4.3/5 stars and over 20,000 units sold last month, this EDP stands out for its silage, longevity, and feminine aroma.
Q. Which is the best perfume for females?
There are many excellent perfume options for females featured in the content. The Bella Vita Luxury Woman Eau De Parfum is chosen as the best overall perfume for its sensual floral bouquet, lasting power, and rave reviews. Other top picks include Engage Verona EDP as a runner up for its fruity-citrus freshness and affordability, Bella Vita Luxury Rose Woman EDP as the best floral, and Bella Vita Luxury CEO Woman EDP as the best musky oriental perfume for women.
Q. What are the top notes in perfume?
The top notes are the first scents you smell in perfume usually lasting 15-30 minutes. Common top notes include citrus, fruity and green notes like lemon, orange, apple, violet leaf etc.
Q. What is the best time to apply perfume?
For long lasting results, the best time to apply perfume is after showering in the morning or before going to bed at night. The scent binds better to moist, oil-free skin. Avoid applying directly after the gym or when your skin is sweaty.
Q. How to store perfume correctly?
Perfumes should be stored away from direct light and heat to preserve the quality. Keep them in their original boxes, in a cool dry place. Avoid keeping in bathrooms or kitchens. Refrigeration can help prolong the scent.
Q. How to make perfume last longer?
Apply moisturizer before spraying perfume so it stays longer on hydrated skin.
Spray on pulse points like wrists, behind ears, and neck for warmth to diffuse scent.
Layer with scented lotion and body wash in the same fragrance family.
Carry a purse-size perfume for touch-ups.
Choose EDP or Parfum for longer-lasting power. Avoid rubbing wrists together.
Q. What are the things to look for when choosing the best perfumes for women?
Ans. Look at the top notes, middle notes, and base notes. If these are cohesive, then your perfume will most likely smell amazing!
Q. What is an affordable price for the best perfumes for women in India?
Ans. You can get a good perfume for as low as 200 bucks, or maybe even less!
Q. Is it necessary to invest in an expensive perfume?
Ans. Not at all; the Indian perfume market is abundant with perfumes at low, mid, and high price ranges. However, if you feel like splurging, then options are aplenty!
Q. Is it alright to wear perfumes every day?
Ans. So long as your perfume isn't filled with toxic parabens or phthalates, you can opt for a subtle fragranced perfume for daily wear.