Are you looking for the best sunscreen stick in India that suits your skin type and meets your needs? With so many options on the market, it can get overwhelming to find the right one. Don't worry, we did the research for you!
In this comprehensive guide, we will take you through everything you need to know about sunscreen sticks – how to choose the ideal one, the best products available in India, pros and cons, FAQs, and buying tips. So lather up and let's get started!
How to Choose the Right Sunscreen Stick?
With a wide range of sunscreen sticks available, keep these factors in mind when picking the ideal one for yourself:
1. SPF LEVEL
The Sun Protection Factor (SPF) indicates the level of protection against UVB rays that cause sunburn.
Dermatologists recommend using a sunscreen with SPF 30 or higher for adequate protection.
If you have very sensitive skin, you can opt for SPF 50+.
2. Skin Type
For oily, acne-prone skin, gel or liquid-based sunscreen sticks are ideal. Avoid creams or butters.
People with dry skin should choose a hydrating formula containing oils, butters or ceramides.
Those with sensitive skin need a mineral/physical sunscreen with zinc oxide or titanium dioxide.
3. Water and Sweat Resistance
If you sweat a lot or spend time in water, pick a water-resistant sunscreen that offers 40-80 minutes of protection.
Reapply after swimming or excessive sweating.
4. Texture and Finish
Stick sunscreens are mess-free and easy to apply. Still, prefer a smooth, even glide.
Opt for a matte finish if you have oily skin. For dry skin, go for a dewy finish.
5. Active Ingredients
Mineral/physical sunscreens contain zinc oxide and titanium dioxide that sit on top of your skin to deflect UV rays. Best for sensitive skin.
Chemical sunscreens absorb UV rays and are lightweight. But some ingredients may irritate sensitive skin.
Now that you know how to pick the right sunscreen stick, let's look at the top options available in India.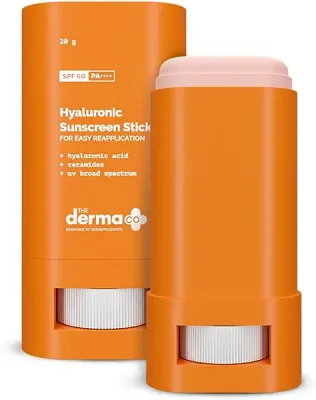 Top 10 Best Sunscreen Sticks in India
So these are the top 10 sunscreen sticks available in the Indian market. The Derma Co and Minimalist sunscreen sticks seem to be good mineral options for sensitive skin. Cetaphil and Neutrogena are also reliable brands with effective formulations.
For a budget-friendly option, you can try Lakme or Nivea sunscreen sticks. L'Oreal Paris also offers an oil-free, matte finish sunscreen stick specifically for oily and acne-prone skin.
Next, let's look at the pros and cons of sunscreen sticks so you know what to expect from them.
Pros and Cons of Sunscreen Sticks
PROS:
Convenient and mess-free application
Easy to carry around in your bag or pocket
Glides smoothly onto skin
Works well for targeted application on small areas like nose, ears etc.
Ideal for active outdoor use, sports, and travel
Leaves little to no white cast or greasy residue
Great for oily, acne-prone skin as the formulations are often oil-free
CONS:
May not blend as seamlessly as creams for full body application
Less product quantity as compared to lotions or creams
Needs reapplication every 2-3 hours
Not suitable for dry skin types as the formula can be drying
Stick tip can break off if not careful while applying
More expensive per ounce than lotions or creams
As you can see, sunscreen sticks offer great ease of use and convenience. But they may not be the best choice for full body application or very dry skin.
Now let's look at some tips to apply sunscreen sticks correctly so you get their full protective benefits.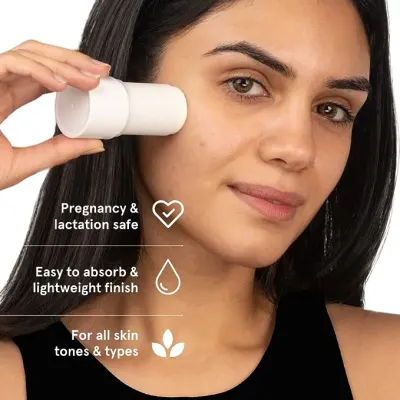 How to Apply Sunscreen Stick Properly?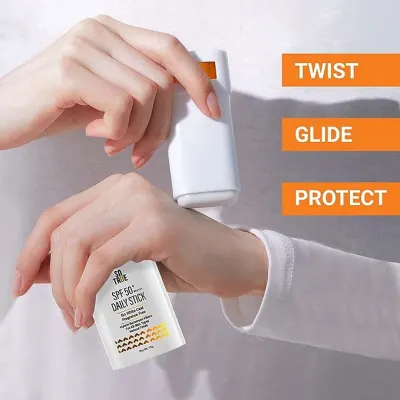 Cleanse your face and allow skin to dry fully before application. Damp skin can dilute the product.
Apply a moisturizer or primer first to create a smooth base.
Twist the stick up and glide gently over skin in downward strokes. Do not rub excessively.
Dot on exposed areas like ears, nose, around eyes etc. Blend with a brush if needed.
Apply 15-20 minutes before sun exposure for full effectiveness. Reapply every 2-3 hours.
Layer powder sunscreen on top for reapplication to avoid disturbing makeup.
Store in a cool place away from direct sunlight when not in use.
Exfoliate and moisturize well to avoid any clinging or peeling issues.
By following these tips, you can make sunscreen sticks work optimally for your skin!
Next up, here are answers to some frequently asked questions about sunscreen sticks in India.
FAQs about Sunscreen Sticks
Q. Is sunscreen stick better than lotion or cream?
Sunscreen sticks are better for portability and targeted application on the face and other exposed areas. Lotions and creams offer ease of blending over large body surfaces.
Q. How much sunscreen stick should be applied?
Apply about a pea-sized amount on each area like face, neck, ears etc. For best results, reapply every 2-3 hours.
Q. Can I use a sunscreen stick on my lips?
Yes, mineral sunscreen sticks with non-irritating ingredients are safe to apply on lips for sun protection. But they can be drying, so follow up with a lip balm or gloss.
Q. How long does a sunscreen stick last?
If unexpired and stored properly, a stick should last about 6-12 months depending on usage. If the color/smell changes or the stick becomes dry, it's time to replace it.
Q. Can I use a sunscreen stick at night?
Sunscreens are meant only for daytime use. At night, switch to a night cream with antioxidants, retinol etc. to repair skin damage from sun exposure during the day.
Q. Is mineral better or chemical sunscreen stick?
For sensitive and acne-prone skin, mineral sunscreen sticks with zinc oxide or titanium dioxide are best. Chemical sticks provide lighter texture but may irritate sensitive skin.
Q. Are sunscreen sticks waterproof?
Most sticks today are water-resistant for 40-80 minutes but not fully waterproof. They will need reapplication after heavy sweating, swimming or water activities.
Q. Can men use sunscreen sticks too?
Absolutely! Sun damage affects everyone. The mess-free application makes sticks convenient for men to use on the face, ears, bald patches etc. daily.
How to Choose the Best Sunscreen Stick in India – Buying Guide
Follow this buying guide to pick the ideal sunscreen stick for your needs:
For oily, acne-prone skin, choose an oil-free, non-comedogenic stick with SPF 30+ like Neutrogena Dry Touch.
Opt for a tinted sunscreen stick like Dermafique Sunkissed to get light sun protection plus a subtle glow.
Go for high SPF mineral sticks with zinc oxide like Derma Co or Cetaphil for sensitive skin types.
If using on lips too, pick a fragrance-free stick with moisturizing ingredients like shea butter or jojoba oil.
For outdoor activities, select a sweat/water resistant stick offering 40-80 minutes protection like La Shield.
Check the expiration date to ensure effective sun protection. Sticks last about 6-12 months after opening.
Choose a stick with antioxidants like vitamin E if using after chemical treatments to soothe and protect skin.
For keyed up application on scalp or bald spots, consider sticks that come with a brush for easy blending.
So choose wisely based on your skin type and needs to enjoy the fullest benefits of sunscreen sticks!
Conclusion
I hope this comprehensive guide helps you find your ideal sunscreen stick and use it correctly. The convenience of targeted application makes sticks a handbag staple. Just be sure to apply adequately and reapply for full sun protection.
Protect your skin each day with a quality broad spectrum SPF 30+ sunscreen like the Derma Co, Minimalist or Cetaphil mineral sticks. Stay safe and enjoy your days out in the sun without worries!