Do you wonder whether an oven or a microwave is the best choice for your kitchen? Whether you are a professional chef, a busy homemaker, or a passionate home cook – having the right kitchen appliance makes all the difference.
Ovens and microwaves are not the same, even though they may seem similar. Although some functions overlap, they have distinct cooking features and results. So, it's essential to understand the difference between an oven and a microwave. How do they impact your cooking experience? And most importantly, which brands offer the best products in each category?
This blog will explore both appliances, helping you understand their differences, unique features, and functionalities. So, let's explore the world of culinary wonders!
Difference Between an Oven and a Microwave: All You Need to Know
Do you ever wonder why chocolate chip cookies turn out differently when baked in an oven versus microwave? Or why are your leftovers sometimes cold in the middle when reheated in a microwave? The answer lies in the fundamental difference between an oven and a microwave.
Heat Distribution
Microwaves use electromagnetic waves to heat the water molecules present in the food. They are known for their convenience and speed.
Ovens are traditional cooking appliances that use dry heat to cook or bake food. It leads to consistent browning and crisping, making it ideal for baking and roasting.
Cooking Capabilities
Ovens are versatile appliances that allow baking, roasting, broiling, and even grilling. From making crispy cookies to perfectly searing a steak, ovens provide precise heat control.
Microwaves, on the contrary, excel at heating and reheating food. They can quickly warm up and cook simple meals with pre-programmed settings.
Time Efficiency
Ovens generally require longer cooking times due to their reliance on radiant heat. Baking a cake or roasting a chicken can take 30 minutes to a few hours.
Microwaves, on the other hand, excel in terms of speed. Reheating a plate of leftovers or cooking a frozen dinner can be done in minutes.
Cooking Results
Ovens excel at creating texture and flavour in dishes. The controlled temperature and longer cooking times also allow flavours to develop and intensify.
Microwaves are quick but cannot create the same browning or crispness as ovens. Food with different densities or moisture levels might not heat evenly in a microwave, so you must stir them often.
Elevate Your Culinary Experience: How to Choose the Best Brand
Now that you know the difference between an oven and a microwave, what's your pick? Are you drawn to the slow and steady rhythm of the oven? Or do you prefer the quick and convenient pace of the microwave? The choice is yours! Remember, it's what works best for you.
Here are some essential aspects to consider before buying them.
Performance: Look for brands with a reputation for producing reliable and durable appliances. Read customer reviews and check for warranties to avoid hassles.
Features: Different brands offer various cooking features, such as convection, grilling, and steam. Consider your cooking preferences before buying.
Capacity: Determine the size that suits your cooking requirements.
Energy Efficiency: In today's eco-conscious world, energy efficiency is crucial. Save money and the planet by choosing brands with eco-friendly features.
Budget: Set a budget and compare prices across brands. Look for brands that give you the best value for your money.
Design: The aesthetics matter, too. Consider brands that offer sleek and modern designs that complement your kitchen decor.
Hot Picks: Unveiling the Top Microwave and Oven Brands for Effortless Cooking
So, are you ready to elevate your culinary experience with effortless precision? Discover the leading microwave and oven brands that make cooking a breeze.
Bosch Series 2 Built-in Oven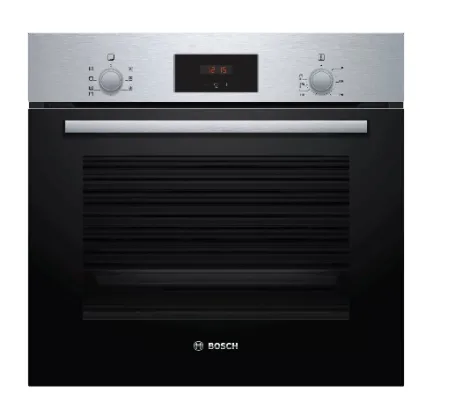 Bosch ovens are known for their reliability, innovative cooking technologies, and sleek designs. They are a top choice for many culinary enthusiasts, with advanced features, spacious interiors, multiple cooking options, and precise temperature control. The best part is that it has a child safety lock and LED display control.
Capacity: 66 litres
What's Great?
3D Hot Air technology for even heat distribution
Versatile cooking functions for different recipes
The rear wall coating absorbs grime, reducing the need for cleaning.
Saves energy while baking and roasting.
Crompton GrandArt Steam Oven
It is a built-in electric oven with innovative cooking technologies and a sleek design. It features a steam plus function that adds extra moisture to the food, enhancing the taste and texture. It also has a 3D heating system that ensures even heat distribution and consistent cooking results.
Capacity: 78 litres
What's Great?
User-friendly features like soft touch control, soft open/close door, and LED display.
Easy to clean with catalytic liner and steam-cleaning function.
Ten cooking functions – conventional cooking, grilling, and defrosting.
Has an energy efficiency rating of A.
LG NeoChef Charcoal Convection Microwave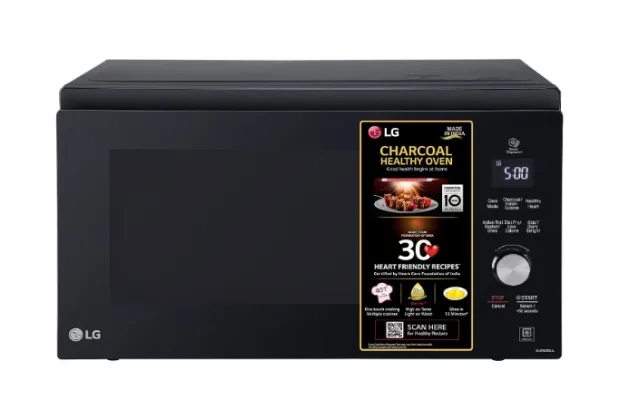 With its Smart Inverter technology, you can expect precise and even cooking results, whether you're reheating leftovers or cooking a full meal. This microwave oven also boasts a sleek and modern design that adds elegance to any kitchen.
Capacity: 32 litres
What's Great?
More than 400+ auto-cook menus.
360-degree motorized rotisserie.
Convection mode for baking, roasting, grilling, and crisping.
Samsung Solo Microwave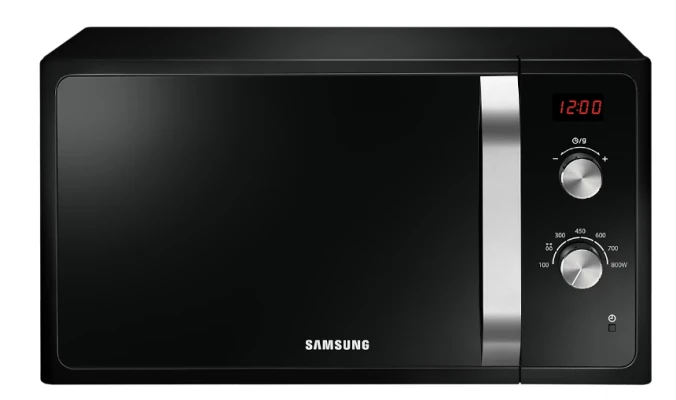 It is a compact and user-friendly microwave perfect for small kitchens or those who don't need a lot of cooking space. It has user-friendly features, such as the One Touch Sensor Cook and Reheat, that provide quick and easy cooking results. It comes with a power-saving mode to reduce energy consumption.
Capacity: 23 litres
What's Great?
Indian autocook menu and quick defrost system.
Deodorization setting to force air out of the interior cavity.
Easy to clean and scratch-free inside ceramic coating.
Summing Up
Cooking is an art! Hence, choosing between an oven and a microwave depends on your cooking needs and preferences. An oven is ideal if you love baking, roasting, or cooking elaborate meals packed with flavours and texture. On the other hand, if convenience and speed are your priorities, a microwave will serve you well for reheating and defrosting.
By understanding the difference between an oven and a microwave, you can make an informed decision and enhance your cooking experience.
FAQs
Can I bake in a microwave?
While microwaves have some baking capabilities, they cannot replicate the browning or crispy texture achieved by ovens.
Can I use metal utensils in a microwave?
No, as they can damage the appliance or cause sparks. It is best to use microwave-safe containers.
Can I use a microwave as an oven?
No! While some microwaves offer convection and grill capabilities, they cannot fully substitute for a traditional oven.
Which is more energy-efficient – an oven or a microwave?
A microwave is generally more energy-efficient than an oven as it cooks food faster.