Moving into a new home is an exciting and special occasion that deserves to be celebrated! Though housewarming parties are common in the West, the concept is now gaining popularity in India as well.
Housewarming gifts are a thoughtful way to congratulate your loved ones on their new chapter. But with so many options, it can be tricky to find the perfect present for a new home. Should you gift something decorative? Practical? Traditional? Modern?
To help make your gift search easier, we have curated a list of the top 20 most popular and unique housewarming gift ideas for Indian homes. Read on for our expert review on each product!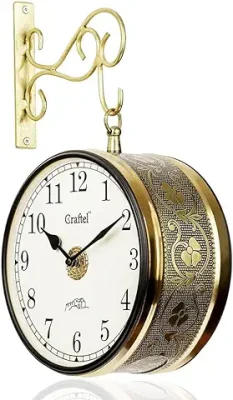 Key Features:
Vintage railway station-style double sided wall clock
Sturdy metal body with glossy gold finish
Made using premium quality material
Silent sweep movement for noise-free operation
Durable and long lasting
Our Expert Review:
This classy vintage-style metal wall clock from Crafter is a sophisticated and functional gift option for a new home. The railway station-inspired design with roman numerals and retro font gives it a nostalgic old-world charm that works well for both traditional and modern décors.
The clock has a sturdy metal body with a glossy gold finish. The silent sweep quartz movement ensures smooth and noise-free operation. The premium quality materials used makes it durable and long-lasting.
Overall, this double-sided clock is an elegant statement piece that is sure to upgrade any bare wall space. It is one of the top classic housewarming gifts that will always remain in style.
2. 2heet Stainless Steel Handmade Meenakari Peacock Design Decorative Glass Set for Home Traditional Indian Style Set of 6 Glass (Golden Color), 250 ml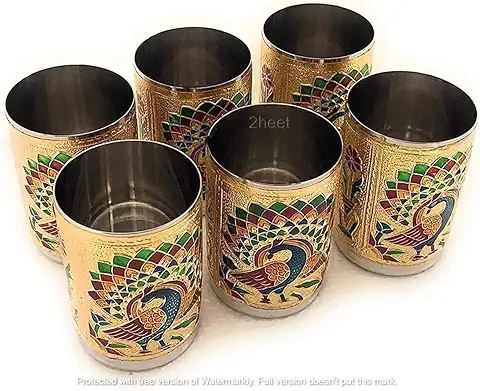 Key Features:
Set of 6 decorative glasses with peacock design Meenakari art
Intricate hand-painted floral motifs with peacock in the center
Food-grade stainless steel with golden finish
Perfect for serving drinks on special occasions
Traditional Indian ethnic home decor item
Our Expert Review:
This exquisite set of 6 Meenakari glasses from Tesora is a great ethnic home decor gift idea for Indian households. The intricate hand-painted peacock motif with floral designs gives it a rich, traditional look perfect for celebrations.
The glasses are made from food-grade stainless steel with a pleasing golden finish. The sturdy build makes them durable for long-term use. With a 250ml capacity, these glasses are ideal for serving sherbets, juices, squashes, and even desserts for guests.
The ornate Meenakari artwork and ethnic styling makes these functional glasses ideal for enhancing the beauty of a crockery cabinet. It tops our list of handpicked housewarming presents for the Indian home.
3. Betterminds Return Gifts for Women Lord Ganesha Diya
(Pack of 3), Wedding Gift Anniversary Housewarming Corporate Gifts, Baby Shower Return Gifts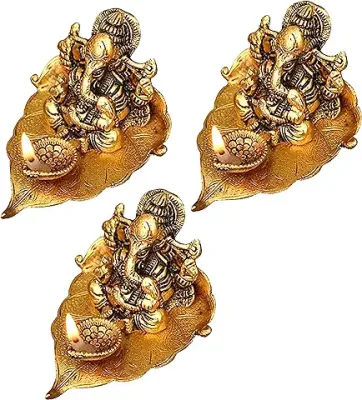 Key Features:
Set of 3 Lord Ganesha diya lamps
Intricately carved from white metal
Traditional design with elephant head motif
Packed in an attractive gift box
Versatile gifting option for various occasions
Our Expert Review:
This set of 3 Ganesha diyas from Betterminds makes for an auspicious and meaningful housewarming gift for devotees of the elephant God. The diyas are intricately hand-carved from white metal, depicting Lord Ganesha's distinctive elephant head motif.
The traditional diya shape is easy to light up and offers ambient lighting. The compact size also makes these diyas suitable for both worship rituals as well as home decor. They can spruce up cabinets, shelves, puja rooms, bedside tables, etc.
Packed in a premium box, this trio of diyas is a budget-friendly gift choice for housewarmings, corporate gifts, weddings and more. The timeless spiritual symbolism and craftsmanship make it a top gift pick.
4. Homesake® Lamp
Table Lamp, Night Lamp for Bedroom, Lamp for Living Room, Bedside Lamp, Table Lamp for Bedroom, Bedroom Decoration Items, Room Decor, Dovel Pot – (Wooden Base, Savanna)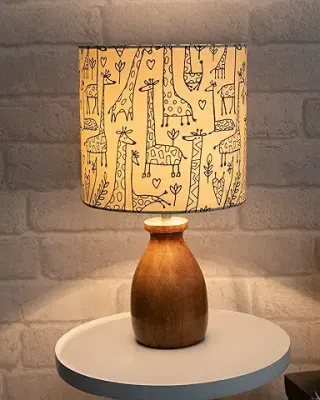 Key Features:
Handmade ceramic night lamp in dove motif
Beautiful natural finishing and detailing
Sturdy wooden base for stability
Modern ethnic bedroom decor item
Warm LED lighting with ON/OFF switch
Our Expert Review:
Give the gift of a restful night's sleep with this handcrafted ceramic night lamp from Homesake. Inspired by the dove, a universal symbol of peace, it has a unique design that blends rustic and modern aesthetics.
The lamp is meticulously shaped and finished to reflect the texture of an actual dove. The skillful craftsmanship is evident in the details like the head, wings, legs and feathers. It sits atop a sturdy mango wood base that adds a natural touch.
This elegant lamp casts a warm white glow that creates a soothing ambience for sleep. The LED bulb has an ON/OFF switch. Overall, it makes for a thoughtful housewarming present for the bedroom.
5. eCraftIndia Golden Lord Ganesha with Sun Decorative Metal Wall Hanging Art Decorative Showpiece for Wall Decor
Festival Home Decor Pooja Room Temple & Gift for Family, Friends, Housewarming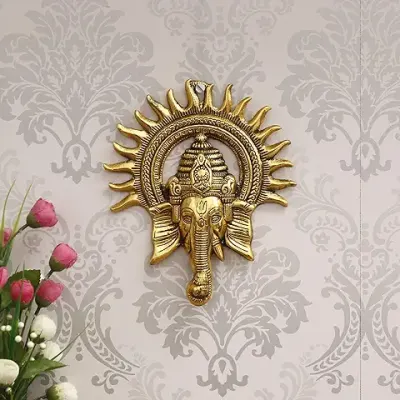 Key Features:
Lord Ganesha wall hanging art statue
Made from quality golden metal
Depicts Ganesha with sun on head motif
Traditional Indian religious symbolism
Perfect for wall decor and gifting
Our Expert Review:
This golden Ganesha wall décor from eCraftIndia makes an auspicious housewarming gift for Hindu homes. Lord Ganesha is depicted with a sun shining brightly from his head, symbolizing knowledge and wisdom.
The statue is intricately sculpted from premium golden metal with careful attention to detail. The finish gives it an antique appearance befitting traditional décor. But the uniqueness of the design also allows it to elevate modern minimalist walls.
Whether displayed in the pooja room, living room, bedroom or entryway, this elegant metallic Ganesha art injects divinity into the surroundings. It is among the top religious housewarming gift ideas for devotees.
6. Collectible India Laxmi Ganesh Saraswati Idol Diya Oil Lamp Deepak – Metal Lakshmi Ganesha Showpiece Statue – Traditional Diya for Diwali Puja – Diwali Home Decoration Items Gifts (1) (1)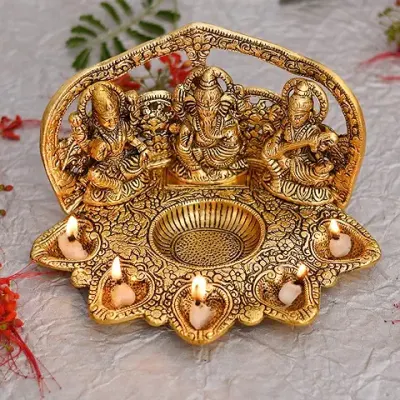 Key Features:
Combo of Lakshmi, Ganesha and Saraswati diya
Intricately designed from quality metal
Traditional diya shape with cutwork patterns
Auspicious Hindu trio of deities depicted
Ideal for home puja, decor and gifting
Our Expert Review:
This ornate metallic diya lamp set from Collectible India portrays the three most worshipped Hindu deities – Lakshmi, Ganesha and Saraswati. The handcrafted detailing on each diya is remarkable, taking inspiration from traditional motifs.
Made from durable metal alloy with antique finishing, these diyas have a traditional shape that casts a divine glow when lit. The premium quality ensures longevity despite regular use.
As a housewarming gift, this combo allows the recipient to incorporate spiritual symbolism into their home through décor and daily puja. Displayed together on a console table or bookshelf, this divine trio accentuates traditional Indian style effortlessly.
7. tu casa Table Lamp
Home Decor Items for Living Room | Metal Table Lamp | Bedside Lamps for Bedroom | Lamps | Room Décor | Night Lamp | Housewarming Gifts for New Home (White Shade)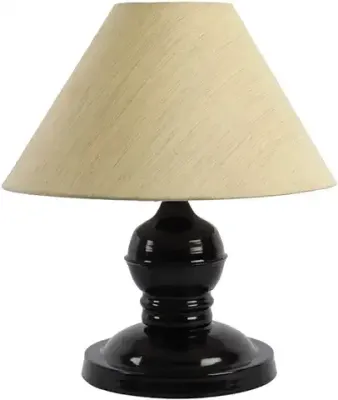 Key Features:
Adjustable metal arch table lamp
White fabric lamp shade included
Modern contemporary design
Stable round black base
Perfect bedroom and living room lighting
Our Expert Review:
This adjustable arch lamp from Tu Casa is a modern and multifunctional housewarming gift. During the day, the fashionable curved neck metal frame makes an artistic statement piece to accent a console. At night, the white drum lampshade casts a soft glow at the desired angle.
The lamp is thoughtfully designed to meet various lighting needs. The shade is easily adjustable and rotatable. The base provides a firm and skid-free grip. Made from powder-coated steel, it has excellent durability.
Available at an affordable price point, this lamp's contemporary aesthetics blend with both modern and traditional home settings. It is suitable for the bedroom, living room, study area or bedside.
8. eCraftIndia Colorful Lord Ganesha Face Idol With Sun Metal Wall Hanging Sculpture Decorative Religious Showpiece For Home Wall Decor
Pooja Room, Temple & House Warming Gift Purpose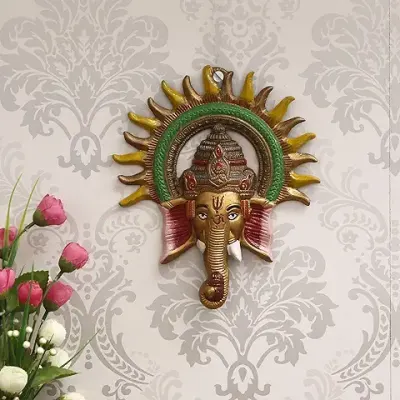 Key Features:
Colorful Lord Ganesha face wall hanging
Crafted from durable metal alloy
Vibrant red, green and golden hues
Sun motif above Ganesha's head
Perfect traditional home decor gift
Our Expert Review:
Capture the spirit of Lord Ganesha with this vibrant metallic wall art from eCraftIndia. It depicts a close up of Ganesha's face in red, green and golden tones. The sun shines brightly over his head in classic iconography.
While the colors and symbolism are traditional, the contemporary graphic style gives it a modern, eye-catching twist. This makes it suitable for both traditional and modern interior settings. The quality metal construction ensures durability despite everyday wear and tear.
Hang this colorful Ganesha sculpture in the living room, puja ghar, hallway or wherever it can uplift the surroundings with its joyful aura. It makes for an auspicious Indian housewarming gift.
9. TIED RIBBONS Ganesha Statue Playing Bansuri with with Wooden Flower Tealight Candle Holder Colorful Stones and Wooden Base – Diwali Decoration Items for Home Gifts Set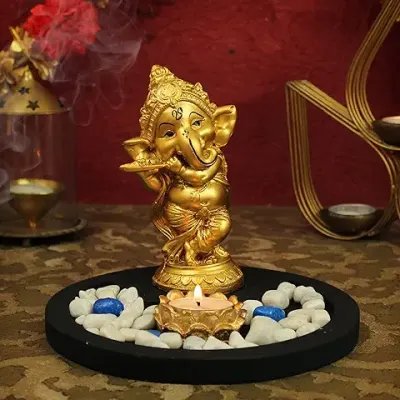 Key Features:
Ganesha statue playing the bansuri flute
Intricately carved from wood
Paired with wooden flower candle holder
Multicolored stone embellishments
Complete decor gift set for home
Our Expert Review:
This hand-carved wooden Ganesha decor set from Tied Ribbons is one of the most unique and heartwarming housewarming gifts out there. The showstopper is the Ganesha statuette depicting him endearingly playing the bansuri flute.
The detailing on the elephant-headed God is remarkable, down to the expressions on his face. The flute even has holes! The coordinating candle holder has a flower-shaped cavity to hold a tealight candle. Colorful stone chips are embellished on both pieces.
Crafted entirely from wood, this decor set will withstand years of use. The recyclable materials also give it an eco-friendly appeal. For devotees of Ganesha, it makes for a divine addition to the puja room.
10. Global Grabbers Polyresin Sitting Buddha Idol Statue Showpiece for Homedecor Decoration Gift Gifting Items-Org_Blk-Bs2-(00), Multicolored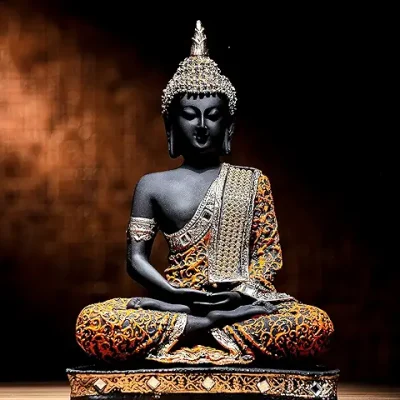 Key Features:
Seated Buddha idol statue showpiece
Made from durable polyresin material
Intricate carving and hand-painted details
Soothing zen decor item for home
Suitable for meditation spaces
Our Expert Review:
Finding your zen is easier with this elegant polyresin Buddha showpiece from Global Grabbers. The half-lotus position, serene facial expression and mudra hand gesture depict Buddha in deep meditation.
The detailing in the robes and other ornamentation is hand-painted. This lends an authentic, artistic touch. The durable polyresin ensures the statuette maintains its beauty over years of use.
In homes with minimalist, boho or oriental themes, this Buddha piece makes for inspiring decor. It is suitable for yoga rooms, meditation zones, bedrooms or as part of the main décor. The peaceful aura it exudes makes it a thoughtful housewarming gift.
11. eCraftIndia Brown Beautiful Lord Ganesha on Green Leaf Metal Wall Hanging Sculpture Decorative Religious Showpiece for Home Wall Decor
Pooja Room, Temple & House Warming Gift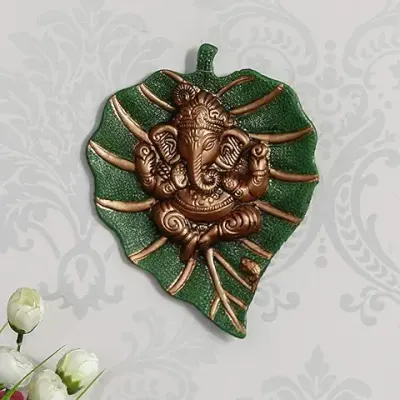 Key Features:
Brown Ganesha seated on green leaf
Intricately handcrafted from metal
Traditional imagery and symbolism
Ready to hang on wall screw
Ideal for Hindu home decor
Our Expert Review:
For eco-conscious Ganesha devotees, this metal wall art from eCraftIndia makes an apt housewarming gift. It depicts Ganesha seated comfortably on a large green leaf with his trunk turning elegantly.
The intricate embossing and engraving creates beautiful textural detail in the sculpture. The brown and green color scheme gives it an earthy, soothing look. But the hint of gold in the engraving adds a touch of luxe.
Made from quality metal alloy, this hanging sculpture can decorate the puja room, bedroom, living room or hallway. The green leaf imagery symbolizes nature, adding to the divine blessing.
12. 3D Moon Lamp 7 Colour 15 cm Changeable Sensor Moon Night Lamp for Bedroom
Touch Lamp, Moonlight Lamp with Stand & USB for Bedside, Valentine Gifts, Festival Gifts, Corporate Gifts, Wedding Gifts…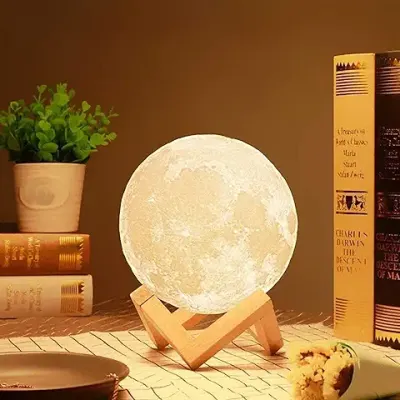 Key Features:
3D printed moon night lamp
Realistic cratered moon surface
Colour can change to 7 options
Touch sensor and remote control
Sturdy wooden base and USB charging
Our Expert Review:
This futuristic 3D moon lamp from DoeGAdgets is the perfect blend of decor and function. It looks exactly like the cratered surface of the moon thanks to intricate 3D printing. But it also emits a gentle moonlight-hued glow!
You can customize the color to suit your mood from the 7 built-in options. The touch sensor lets you control the lamp right from the surface. Use the bundled remote to switch colors from a distance.
The sturdy wooden base and USB charging feature makes it convenient to use bedside or on a shelf. The novelty, ambience and convenience makes this lamp a wonderful housewarming gift they will love.
13. eCraftIndia Meditating Monk Buddha Smoke Backflow Cone Incense Holder Decorative Showpiece with 10 Free Smoke Backflow Scented Cone Incenses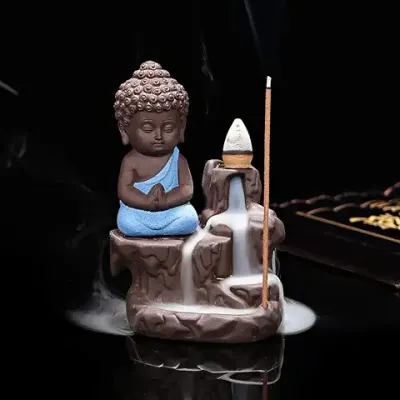 Key Features:
Sitting monk Buddha incense cone holder
Backflow smoke chamber with cutouts
Comes with pack of 10 smoke cones
Soothing decor object with fragrance
Perfect housewarming gift for peace seekers
Our Expert Review:
Incense lovers will appreciate this beautifully crafted backflow incense cone holder from eCraftIndia. The top portion has a meditating Buddha dressed in monk robes. Below is the backflow smoke chamber.
As the incense cone burns, the smoke swirls mesmerizingly inside the chamber before spilling out of the tiny cutouts. The mystical effect pairs perfectly with the serene Buddha statue.
Made entirely from glass, this showpiece has a premium look and finish. Set atop a console or bookshelf, it fills your living space with tranquility and divine fragrance. The included 10 smoke cones let you enjoy it immediately!
14. eCraftIndia Ganesh Deepak with Bell Brass Wall Hanging
(11 cm x 8 cm x 24 cm, Brown)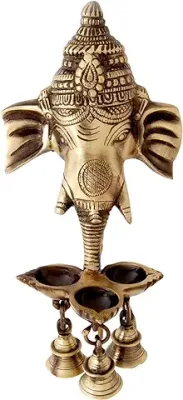 Key Features:
Brass Ganesha diya wall hanging
Traditional deepak shape with bell
Intricate repousse work details
Vintage distressed finish
Length 24 cm, ideal for small spaces
Our Expert Review:
This vintage-style brass Ganesha diya wall hanging from eCraftIndia makes a royal housewarming gift. The embossed details and craftsmanship is stunning on the small handheld deepak.
It has a traditional diya shape but with Lakshmi feet motifs on the base. The handle is crowned with a bell for added design elegance. Made from premium quality brass, it has an antiqued weathered finish.
Hang this bespoke brass deepak in the puja room or any corner that needs some divine illumination. The light from the flame flickers beautifully through the perforations. The vintage craftsmanship gives traditional decor an royal lift.
15. MILTON Venice Jr. Insulated Inner Stainless Steel Casserole
Set of 3, (450 ml, 850 ml, 1.35 litres), Grey | Double Walled | Hot & Cold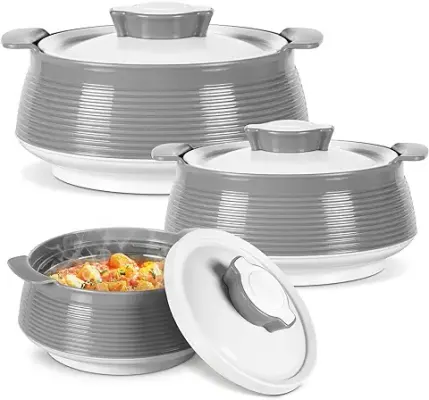 Key Features:
Set of 3 stainless steel casseroles
Double insulated walls for heat retention
Durable food-grade stainless steel
Smart handle design for grip
Safe for oven, fridge, microwave
Our Expert Review:
For the foodie moving into a new home, this insulated casserole set from Milton makes an ultra-practical housewarming gift they will use daily. Available as a pack of 3, the casseroles come in 450ml, 850ml and 1.35 litre capacities.
The double insulated walls keep food hot for longer while the outer walls stay cool. Made from food-grade 201 stainless steel, they are durable and withstand high temperatures.
The smart handle design ensures a good grip. The steel body and lid are also safe to use in the oven, fridge and microwave. Overall, this versatile casserole set will be a kitchen essential in any home.
16. Webelkart Diya Shape Flower Decorative Urli Bowl for Home Handcrafted Bowl for Floating Flowers and Tea Light Candles Home
Office and Table Decor| Diwali Decoration Items, Metal, Gold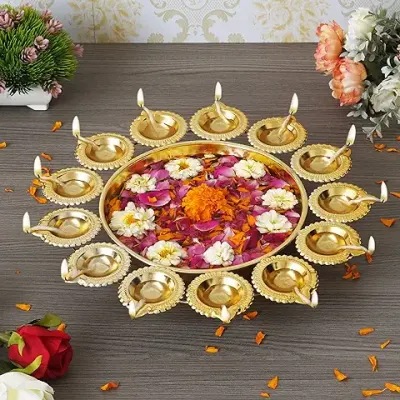 Key Features:
Decorative diya-shaped metal bowl
Intricate perforated floral patterns
Gold antiqued traditional finish
Multi-purpose for flowers, candles etc
Handcrafted decor object
Our Expert Review:
This mesmerizing metal urli bowl from Webelkart makes a gorgeous ethnic housewarming gift. The diya silhouette is intricately perforated with floral mandala motifs. The antique gold finish gives it a vintage royal charm.
Skilled artisans have handcrafted this bowl to perfection. The detailed work transforms a utilitarian object into a decorative masterpiece. Use it multifunctionally to hold potpourri, floating flower arrangements or even as an ornate candle stand.
Place it on the dining table, entryway console or bookshelf to infuse spaces with luxury. The lustrous finish brightens up both traditional and modern decors. A premium gift box adds to its gifting appeal.
17. Artvibes In This Home Decorative Wall Art MDF Wooden Hanger for Living Room
Bedroom | Artworks Decor | Office | Gift | Quotes Decor Items | Wall Hanging for Decoration | Modern Art(WH_6508N)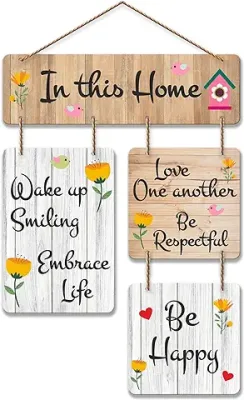 Key Features:
"In This Home" inspirational wall art
Carved from high quality MDF wood
Modern typography quote design
Pre-installed wall mount
Measures 22 x 5 inches
Our Expert Review:
Welcome guests to the new home with this thoughtful "In This Home" wall art from Artvibes. The quote is creatively designed using contemporary typography in black on a wood background.
Carved from premium MDF wood, it has a sleek modern look with clean lines and spacing. The high quality construction ensures it retains its inspiring message for years.
The pre-installed wall mount makes hanging effortless. Measuring 22 x 5 inches, it works in any room like the entryway, living room, bedroom or staircase wall. The sentimental value makes this a cherished housewarming gift.
18. Nestasia Contemporary Leaf-Shaped Ceramic Blue and White Glossy Serving Platter with Wooden Board for Serving Sweets
Cookies, Dry Fruits and Other Snacks (Set of 1 Tray and 4 Small Plates)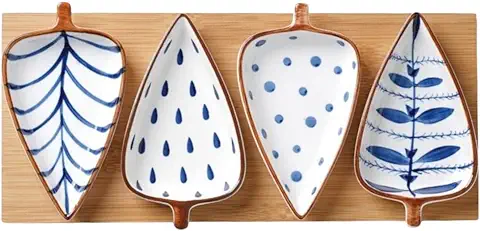 Key Features:
Leaf-shaped ceramic serving tray and plates
Glossy blue and white mosaic print
Food-safe ceramic with glossy finish
Paired with rectangular acacia wood board
Ideal for serving snacks and sweets
Our Expert Review:
This ceramic serving set from Nestasia creatively fuses nature with contemporary geometrics. The leaf silhouette tray and small plates have a mosaic blue on white print reminiscent of antique Iznik ceramics.
Made from glossy ceramic, they are durable enough for regular festive use. The wooden tray adds an organic touch – perfect for holding mithai, dry fruits, cookies and more.
Introduce elegant flair into casual gatherings or formal parties with this platter. The global visual makes it suitable for both Indian and western decor styles. It tops our list of functional yet statement-making housewarming gifts.
19. Indianara 3 PC Set of Ganesha Paintings
(1088) Without Glass 5.2 X 12.5, 9.5 X 12.5, 5.2 X 12.5 inch(multicolor1088)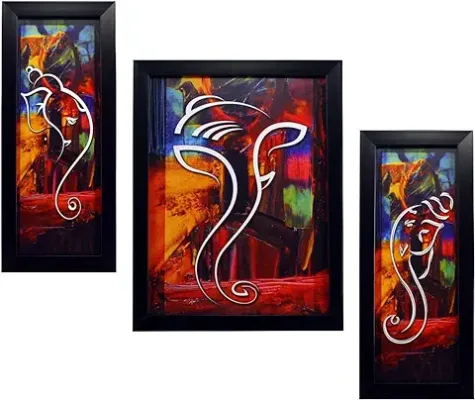 Key Features:
Set of 3 canvas Ganesha paintings
Vibrant and colorful artwork
Modern graphic print Ganesha depictions
Ideal puja room wall decor
3 different sizes included
Our Expert Review:
Bless the new home with divine grace through this set of 3 colorful Ganesha paintings from Indianara. Each canvas features Lord Ganesha's face and trunk in a cool graphic style with bright contrasting hues.
The modern iconography gives traditional religious art a fun millennial update. Made on premium canvas, the paintings have a stretched museum quality suitable for framing.
Hang this Ganesha trio together on a puja room wall or above the living room sofa. The energizing hues and imagery spread positive vibes anywhere you place them. Their vibrant appeal makes them a perfect housewarming gift.
20. Gold Art India Ceramic Pagdi Ganesha Idol, 6x4x3cm, Silver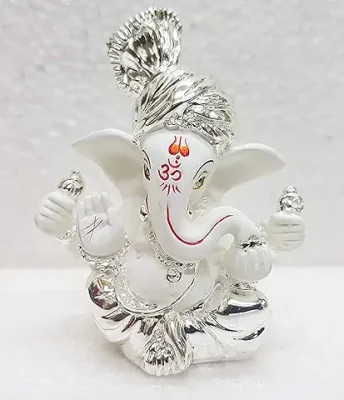 Key Features:
Ceramic Ganesha idol with turban
Intricate hand-painted ornamentation
Silver and gold accented turban
Traditional home pooja decor
Compact 6x4x3 cm size
Our Expert Review:
This charming hand-painted ceramic Ganesha from Gold Art India dons a bright turban for an endearing twist. The intricacies in the ornamentation and silver-gold pagdi are remarkable.
The finishing gives it a shiny metallic sheen despite the ceramic material. The compact size takes up little space while making a bold statement. Perched on a desk, tabletop or cabinet, this turbaned Ganesha can instantly uplift any corner.
Place it in the puja room to add personality and a touch of luxury to daily worship. The timeless appeal makes this a memorable housewarming gift for newlyweds or long-time Ganesha devotees alike.
Comparison for Top Housewarming Gifts
| Product | Type | Usage |
| --- | --- | --- |
| CRAFTEL Vintage Wall Clock | Wall décor | Tells time and decorates |
| Tesora Meenakari Glass Set | Kitchenware | Beverage serving |
| Betterminds Ganesha Diya Set | Spiritual décor | Puja rituals and decor |
| Homesake Night Lamp | Lighting | Bedroom lighting |
| eCraftIndia Ganesha Wall Hanging | Wall décor | Wall art and blessing |
| Collectible India Diya Lamp Set | Spiritual décor | Puja rituals and decor |
| Tu Casa Arch Table Lamp | Lighting | Ambient and task lighting |
| eCraftIndia Colorful Ganesha | Wall décor | Wall art and blessing |
| Tied Ribbons Ganesha Statue Set | Spiritual décor | Puja rituals and decor |
| Global Grabbers Buddha Statue | Spiritual décor | Wall art and blessing |
| eCraftIndia Ganesha Wall Hanging | Wall décor | Wall art and blessing |
| DoeGadgets 3D Moon Lamp | Lighting | Bedroom lighting |
| eCraftIndia Backflow Incense Holder | Home decor | Soothing aroma and decor |
| eCraftIndia Brass Wall Hanging | Spiritual décor | Ambient puja lighting |
| Milton Casserole Set | Kitchenware | Food storage and cooking |
| Webelkart Decorative Urli Bowl | Decor | Tabletop arrangements |
| Artvibes "In This Home" Wall Art | Wall décor | Wall art and quote |
| Nestasia Serving Platter Set | Kitchenware | Serving snacks and sweets |
| Indianara Ganesha Painting Set | Wall décor | Wall art and blessing |
| Gold Art India Ganesha Idol | Spiritual décor | Puja rituals and decor |
Conclusion
With its amazing festive spirit and emphasis on community, a housewarming is one of life's greatest joys for Indians. While gifts are not mandatory, they can express your love, blessings and excitement for the homeowner's new beginning.
We hope this list of 20 unique and diverse housewarming gift recommendations makes it easier to find the perfect present. Whether you want to gift something modern, useful, traditional or divine, there are so many wonderful options to explore.
Here's wishing the new homeowner good fortune, prosperity and wonderful memories in their new haven!
FAQs about Housewarming Gifts
Q. How much should I spend on a housewarming gift?
A. There is no fixed amount. Consider your budget and relationship – ₹500-1500 is good for acquaintances while ₹2000-5000 for close family/friends. Focus more on finding a thoughtful gift than how much you spend.
Q. What are popular housewarming gifts in India?
A. Common gifts in India include decorative objects, kitchenware, home appliances, divine idols, frames, lamps, bedding, indoor plants etc. Traditional options like shagun envelopes with cash are also welcome.
Q. Should housewarming gifts be traditional or modern?
A. You can give either a traditional or modern gift. Choose based on the homeowners' style and preferences. For traditional homes, ethnic décor pieces, diyas, idols work well. For modern homes, wall art, smart gadgets, and modern art are better options.
Q. What should I avoid gifting for Indian housewarming?
A. Avoid gifting sharp objects like knives, scissors etc as they are considered inauspicious. Also avoid gifting clocks, watches or timekeeping objects in general. Avoid giving alcohol or leather products if the homeowners are religious.
Q. What are the best housewarming return gifts I can give guests?
A. Popular Indian housewarming return gifts for guests include – sweets, homemade snacks, flowers, candles, diyas, framed spiritual quotes, branded chocolates, semi-precious coasters etc suitably packed.