In every busy Indian kitchen, non-stick cookware takes centre stage, making cooking a breeze and cleanup a cinch. For home chefs and cooking enthusiasts, choosing the right non-stick cookware brand is essential to ensure a delightful culinary experience.
However, finding the right brand among the plethora of brands available in the market can be challenging. That is why this blog will explore the best non-stick cookware brands in India. From user-friendly designs to durable coatings, these brands offer a range of pots, pans, and kadhai that cater to various cooking needs.
How to Choose the Best Non-Stick Cookware Brands in India?
Choosing the best non-stick cookware brand does not only depend on your needs. There are several other factors that you should consider. Let us discuss some of them:
Material Quality: Quality and durability are of utmost importance when selecting non-stick cookware. Ensure that the product you're choosing is durable and long-lasting. Consider choosing reputable brands well-known for their long-lasting products.
Safety Assurance: Ensure the cookware is free of harmful substances like PFOA and lead. Choose brands that prioritise food safety and use non-toxic coatings.
Heat Resistance: Another essential thing to check while buying cookware is its heat resistance. Ensure that the product can handle high temperatures without degrading or peeling the coating. The best non-stick cookware brands in India have high resistance.
Coating Type: Many types of non-stick coatings are available in the market, such as PTFE (Teflon) and ceramic. Check the pros and cons of each coating, including heat resistance, scratch resistance, and ease of cleaning.
Compatibility: Verify whether the cookware is compatible with your cooking appliances, like stovetops, ovens, and induction.
Top 5 Non-Stick Cookware Brands in India
Without further ado, let us proceed to the best non-stick cookware brands in India.
Hawkins Futura
Wonderchef
Prestige
Carote
Cello
Hawkins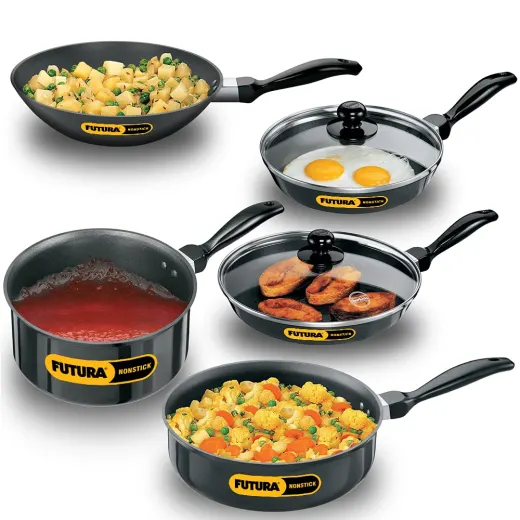 Hawkins is a household name in India, reputed for providing durable and excellent quality cookware. The Hawkins Futura Cookware Set contains a non-stick kadhai, two frying pans, a saucepan, and a saute pan. The set also includes two glass lids.
The non-stick coating is applied on the hard anodised base, which makes the products last longer. All the products are PFOA-free and safe to use. You can also buy each of the products in the set separately.
What's Great?
Long-lasting
Easy to clean
High-quality and sturdy material
Compatible with gas stoves, induction, ceramic, and halogen stoves
Two-year warranty
Shop from Amazon
Shop from Flipkart
Shop from Bigbasket
Wonderchef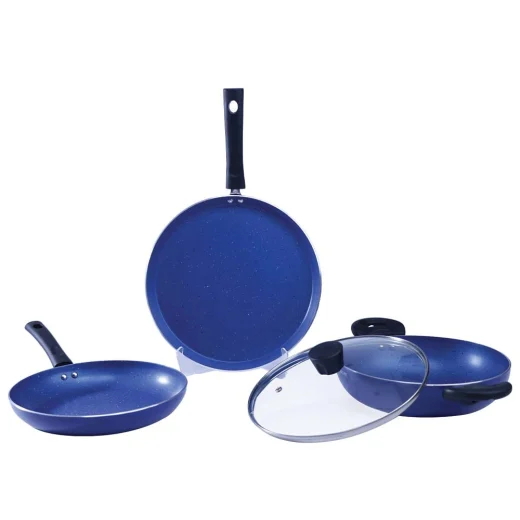 Among the top non-stick cookware brands globally, Wonderchef offers premium cookware, kitchen appliances, and tools. The Wonderchef Valencia Non-Stick Cookware Set is a fantastic and vibrant addition to your kitchen. It is made from virgin aluminium, making it a great heat conductor and energy efficient.
The set contains a kadhai with a lid, a frying pan, a dosa tawa, and a mini frying pan. It has a five-layer non-stick coating free of PFOA, lead, and other harmful chemicals. The handles are made of bakelite and have an ergonomic design, ensuring a secure grasp.
What's Great?
Induction, ceramic stoves, and gas stove friendly
Two-year warranty
Energy efficient
Lightweight, comfortable and stylish
Convenient and easy to clean
Durable and sturdy
Available in four colours
Shop from Amazon
Shop from Flipkart
Prestige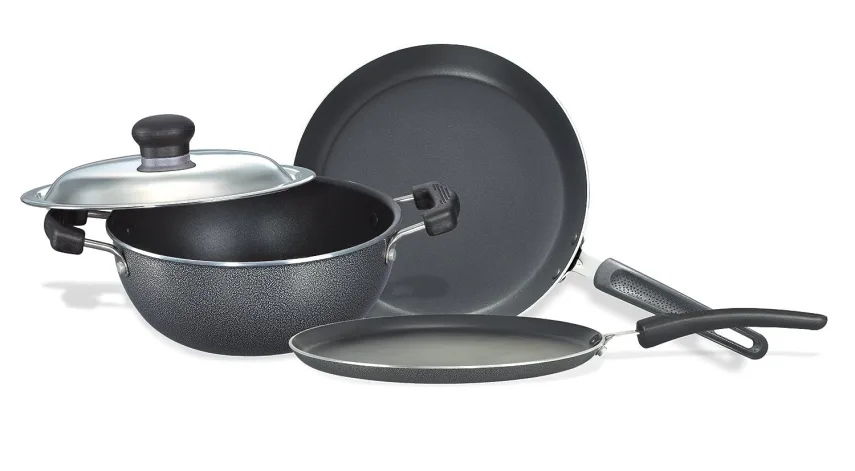 With over six decades of experience, Prestige is one of the best non-stick cookware brands in India. The Prestige Omega Select Plus Residue Free Non-Stick Kitchen Set contains a frying pan, an omni tawa, and a flat-based kadhai.
All the products are made of high-quality aluminium and have exceptional scratch, abrasion, and stain resistance technology. They are also metal spoon friendly, and the handles have grip spots, making them user-friendly and easy to use.
What's Great?
One year warranty
Quick food release
Long-lasting
Residue-free
Allows use of a metal spoon
Shop from Amazon
Shop from Meesho
Carote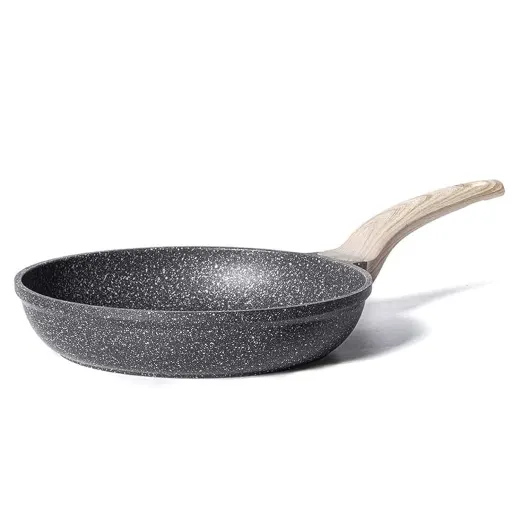 A newer brand compared to the others on this list, Carote's kitchenware is built with excellent quality. The Granite Non-Stick Frying Pan is a durable frying pan perfect for daily use. It requires less oil to cook, making it a healthy option.
While the product requires hand cleaning, it uses 70% less water to wash. The handle is made of bakelite and has a wooden finish. The pan can be used on induction, gas, ceramic, and halogen stoves.
What's Great?
Easy to clean
Energy saving
Scratch resistance and durable
Aesthetically pleasing
Ergonomic handles
Affordable pricing
Shop from Amazon
Shop from Flipkart
Shop from Jiomart
Cello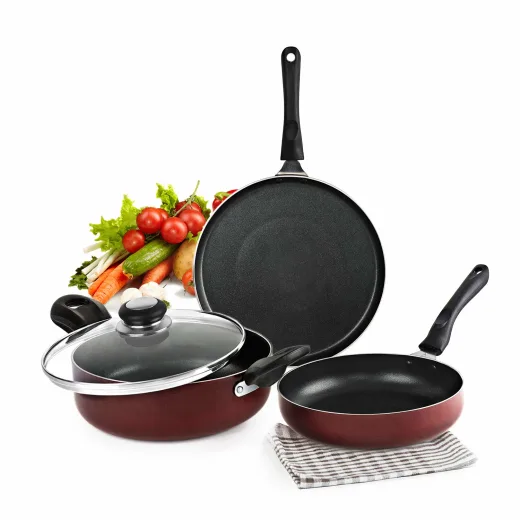 Another popular household name, Cello, is one of the best non-stick cookware brands in India. Its Prima Induction Base Non-Stick Aluminium Pan Cookware is made using high gauge aluminium. The product is scratch and abrasion resistant.
The tawa and pan have a loop on the handle, making them easy to hang on a wall. The glass lid has a steam hole.
What's Great?
Dishwasher-friendly
Available in four colours
Lightweight
One year warranty
Value for money
Shop from Amazon
Shop from Flipkart
Shop from Jiomart
Conclusion
Non-stick cookware is the most steadfast ally of home chefs in Indian kitchens. And choosing the right brand is not merely about convenience; it's about ensuring a delightful cooking experience and savouring the joy of effortless cleaning. The products listed in this blog are from the best non-stick cookware brands in India. Each brand is committed to health and safety and offers versatile cookware sets.
FAQs
How do I clean and maintain non-stick cookware to ensure it lasts long?
To clean non-stick cookware and maintain its longevity, it's best to avoid using any metal utensils that can scratch the coating. You can use silicone, plastic, or wooden utensils. You can also hand wash the cookware with a soft sponge.
What is the best non-stick material for cookware?
The best non-stick materials include PTFE and Ceramic. PTFE (or Teflon) has excellent non-stick properties, is affordable and is a great choice for low to medium cooking. On the other hand, ceramic is well-known for its ability to withstand high cooking temperatures. It is also eco-friendly and free of PFOA, a harmful chemical.
Can I use non-stick cookware on a gas stove?
Yes, non-stick cookware is typically suitable for gas stoves. Most of the best non-stick cookware brands in India are compatible with gas stoves, but always check the manufacturer's instructions to confirm.
What are the benefits of using non-stick cookware?
Non-stick cookware offers several benefits, including easy food release, less usage of oil and butter, quick and even heating, and effortless cleanup. Most of them are also compatible with gas stoves, ovens, and inductions.
What are the best non-stick cookware brands in India offering non-stick pans?
Brands like Wonderchef, Hawkins, Prestige, and Carote offer excellent non-stick pans. The products are PFOA-free and last long.