A recliner is a quintessential piece of furniture in any home that offers comfort and relaxation after a long day. With so many available options, finding the perfect recliner that suits your needs and budget can be daunting. To help you out, we have curated a list of the five best recliners in India that offer superior comfort, durability, and style. So sit back, put your feet up, and read on to find out which recliners made the cut!
How to Choose the Best Recliners?
But before we dive into our top picks, let's explore some tips on choosing the recliner that best fits your requirements.
Comfort
Comfort is the most important factor to consider when choosing a recliner. Look for a recliner that has soft, comfortable padding and a supportive backrest. A good recliner should be able to provide adequate support to your back, neck, and legs.
Size
The size of the recliner is also an important factor to consider. Make sure to measure the space in your living room where you intend to place the recliner. Choose a recliner that is proportionate to the size of your room.
Material
The material of the recliner is another important factor to consider. Recliners are typically made with leather, fabric, or synthetic materials. Each material has its pros and cons, so make sure to look into it before buying.
Style
The style of the recliner is also an important consideration. Choose a style that complements the overall decor of your living room. Consider the colour, pattern, and design of the recliner to ensure it matches the rest of your furniture.
Price
Price is another important factor to consider when choosing a recliner. Set a budget before you begin shopping to ensure you don't overspend. Consider the value for money offered by the recliner you are considering, and choose one that offers the best features for your budget.
Top 5 Recliners in India
Here are our top five picks for the best recliners in India:
Urban Ladder Bertie Compact Single-Seater Manual Recliner
Solimo Eero Fabric Recliner
Durian Rocker Recliner Chair
Godrej Interio Recliner Chair
Spacecraft Recliner Chair
1. Urban Ladder Bertie Compact Single-Seater Manual Recliner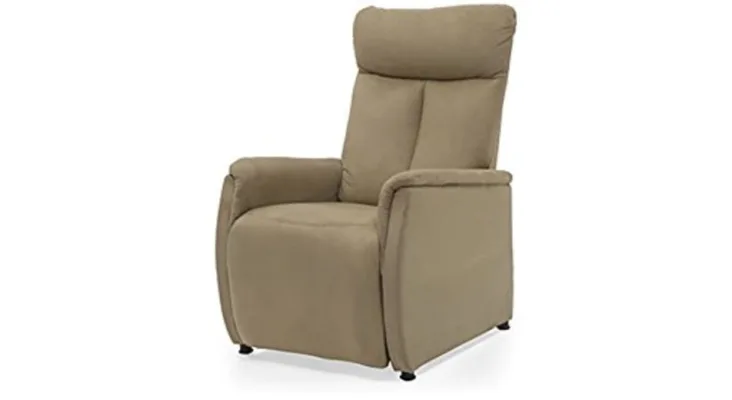 The Urban Ladder Bertie Compact Single Seater Manual Recliner is a perfect combination of style and comfort. It is designed to fit in small spaces and can easily be converted into a bed, making it ideal for overnight guests.
What's Great?
Upholstered in premium fabric
The manual reclining mechanism allows easy adjustment to different positions
Compact design
Solid wood frame for durability and long-lasting use
Available in a range of colours to match any interior decor
2. Solimo Eero Fabric Recliner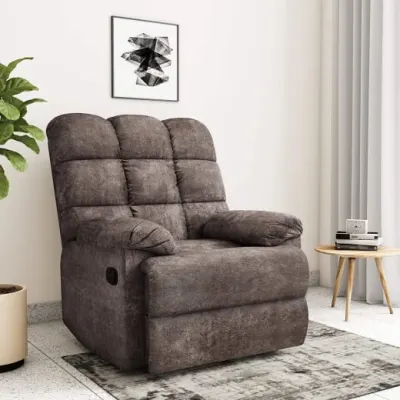 The Solimo Eero Fabric Recliner adds a touch of luxury to any living space. It is made with high-quality materials and comes with a range of features that make it a great choice for those looking for a comfortable and affordable recliner.
What's Great?
Made with high-quality fabric material
Features a sturdy frame made of solid wood
Soft and comfortable foam cushioning
Offers a smooth reclining mechanism for adjusting the backrest angle
Compact design
1-year warranty
3. Durian Rocker Recliner Chair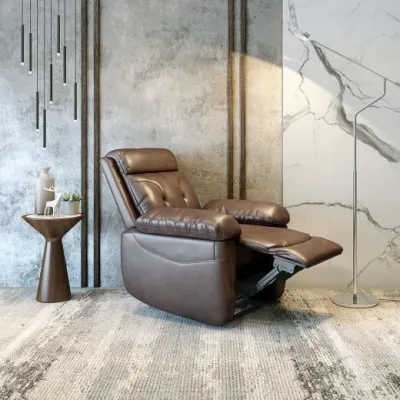 The Durian Rocker Recliner Chair is one of the best recliners in India. It is a comfortable and stylish option for anyone looking for a recliner to enhance the look of their living room.
What's Great?
Made with high-quality leatherette upholstery
Comes with a rocker mechanism for added relaxation
Features a sturdy wooden frame for durability
Equipped with a manual reclining mechanism for customized comfort
Has a comfortable padded backrest, armrests, and seat cushion
Can support a weight of up to 120 kg
4. Godrej Interio Recliner Chair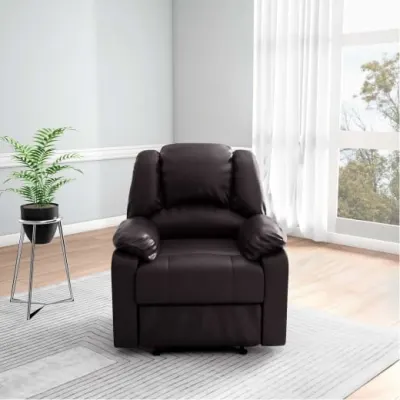 The Godrej Interio Recliner Chair is a stylish piece of furniture that can add a touch of elegance to any living space.
What's Great?
High-quality leatherette
Can be easily adjusted to multiple recline positions
Comes with a built-in footrest that can be extended for additional comfort.
Available in various colours
5. Spacecraft Recliner Chair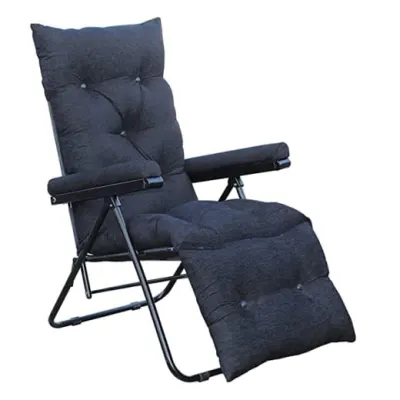 The Spacecraft's portable Recliner Chair is a comfortable seating option. It is a perfect blend between the comfort and cushioning of a sofa and the compactness of a chair. It features a built-in head and lumbar support to reduce strain and promote good posture.
What's Great?
Made from powder coated steel frame
Compact
Easy to clean
Conclusion
In conclusion, these top 5 recliners in India offer the perfect combination of style, comfort, and functionality to enhance your relaxation experience. Whether you prefer a classic design, a modern look, or something in between, there is a recliner on this list that will suit your needs. From high-end luxury models to budget-friendly options, there is something for every taste and budget. So go ahead and take your pick, sit back, and enjoy the ultimate in comfort and relaxation in the comfort of your own home!
FAQs
Q. What is a recliner?
A recliner is a type of chair that allows the user to adjust the backrest and footrest to achieve a comfortable position for relaxation.
Q. Are recliners good for people with back pain?
Recliners can be beneficial for people with back pain because they allow the user to adjust the chair's position to provide support and relief for the back.
Q. Can recliners be used as a substitute for a bed?
While recliners are designed for relaxation, they are not intended to replace a bed for sleeping. Prolonged use of a recliner can lead to discomfort and even health problems.
Q. Do all recliners come with a footrest?
Not all recliners come with a footrest. Some models have a built-in footrest, while others require a separate ottoman to serve as a footrest.
Q. What is the difference between a manual and a power recliner?
A manual recliner is adjusted by the user through a lever or handle, while a power recliner is adjusted using a motorised mechanism. Power recliners are typically more expensive but offer more convenience and ease of use.