Barbeque grills are trending cooking devices crafted to heat the food from below. Whether it be an outdoor patio family party or a barbeque night with buddies, barbeque grills are a one-in-all solution to lip-smacking food. Apart from instantaneous good food, BBQs are a popular choice when it comes to house parties. From charcoal grills for smoky flavours to electric grills for quick recipes, the market is flooded with a wide range of barbeque grills.
If you have been planning to buy a barbeque grill but are confused about the right pick for you., we have got you covered. This article outlines some of the best barbeque grills in India and mentions an effective guide on how to choose the right one.
How to Choose the Best Barbeque Grills in India?
Here are some vital factors you need to consider for buying a barbeque grill that will best suit your needs.
Size: Your choice of grill size should be influenced by the number of people you regularly cook for and how much room you have. A tiny grill would be perfect if you are cooking for just your family or a small gathering. However, you can spend more money on a bigger grill that offers more cooking capacity if you routinely host big parties.
Fuel Type: There are majorly three types of fuel barbeque grills that you can choose from. They are gas grills, charcoal grills and electric grills. While gas grills require low maintenance, charcoal grills are the best for smoky flavour. Electric grills are the most user-friendly as well as easy to maintain, which makes them ideal for beginners. Additionally, they are perfect for use in condos or other places where using a gas or charcoal grill is restricted.
Material: The material of the grill is an important factor to keep in mind as it guides durability and efficiency. Grills made of stainless steel are durable, resistant to corrosion and simple to maintain. They might, however, cost more than other materials. Cast iron grills are excellent at holding heat and giving meals a smokey taste, but they need greater maintenance.
5 Best Barbeque Grills in India
Here is a handpicked list of the 5 best barbeque grills in India that ensure an exclusive grilling experience. You can choose one according to your budget and requirements.
Wonderchef Charcoal BBQ
H Hy-tec HYBB Foldable Charcoal Barbeque Grill
Peng Essentials Drum Barbecue Charcoal Grill
MAZORIA Barbeque Grill Set
Ngel Folding Portable Outdoor Barbeque Charcoal BBQ Grill
1. Wonderchef Charcoal BBQ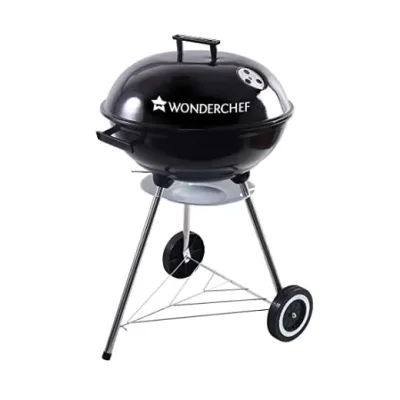 Wonderchef is a pioneer in kitchenware and equipment that ensures ease and comfort in preparing wholesome meals quickly. Wonderchef is known for its high German culinary performance, beautiful Italian concepts, and constant creativity.
This charcoal-based BBQ has a distinctive design with one cooking bowl and one bottom shelf. Whether it is an outdoor party with your friends or spending family time on the balcony, Wonderchef barbeque is easy to use and provides a lip-smacking taste. You can use packed or loose charcoal for best results. It serves up to 6 people.
What's Great:
It has sturdy legs with 5 wheels which ensures easy mobility
It is equipped with highly durable grills
Easy to install and clean
2. H Hy-tec HYBB Foldable Charcoal Barbeque Grill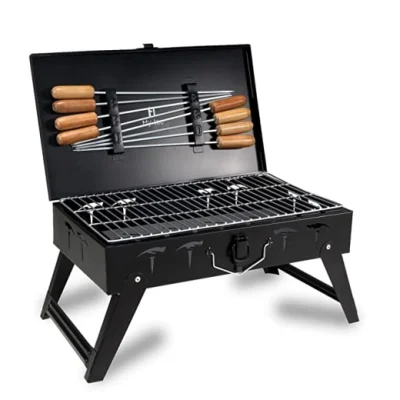 This HYBB traveller grill is equipped with a Charcoal tray, sturdy grills and 8 skewers. The finest quality ingredients and outstanding coated powder finishing are used in the construction of H Hy-tec Barbecues. It has a unique hammer design that gives a stylish look. It is equipped with a well-built handle to provide a firm grip.
What's Great:
Excellent circulation of heat and smoke
Skewer rods are square that can be easily used for roasting from all sides
It has four foldable legs to ensure free mobility
3. Peng Essentials Drum Barbecue Charcoal Grill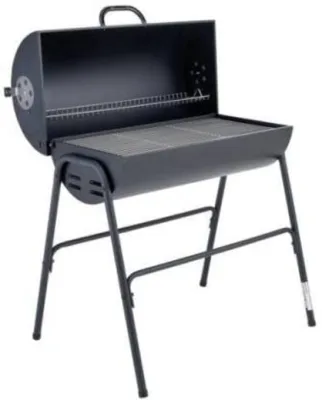 This oil drum charcoal BBQ has a cooking area of 35 x 71 cm. It is considered to have a fantastic size, ideal for outdoor parties of up to 10 people. It is equipped with a warming rack made of chromium which keeps the food warm while you prepare the next batch. The drum barrel vents allow you to regulate the barbecue's internal temperature.
What's Great:
It can be easily assembled and is highly portable
Ensures delicious charcoal flavours
Easy to clean and maintain
4. MAZORIA Barbeque Grill Set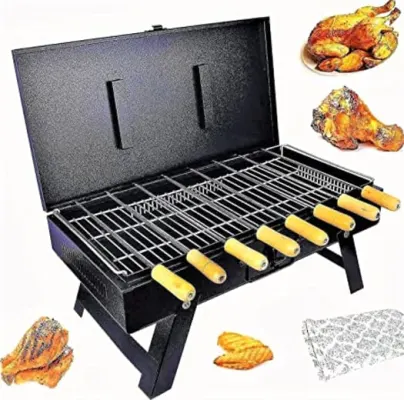 This is one of the best barbeque grills in India, which comes in a sleek briefcase design. It has foldable legs and is highly portable. When the grill is not in use, the four legs can be folded up to enable compact storage. It is equipped with 8 skewers, 1 tong, 1 grill and a butter brush. This grill is fantastic for outdoor events like picnics, parties, and family get-togethers.
What's Great
Low maintenance and easy to clean
Highly portable
convenient to use and handle
5. Ngel Folding Portable Outdoor Barbeque Charcoal BBQ Grill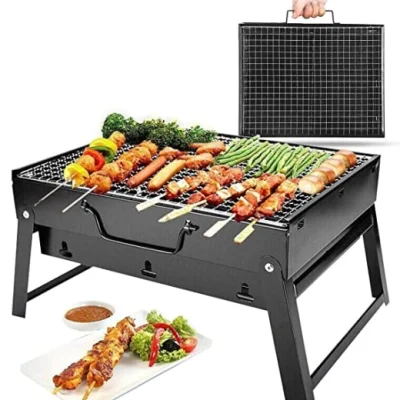 This is a top-notch charcoal barbecue grill built to provide a genuine outdoor grilling adventure. It is made of high-quality sustainable material and is lightweight. It has airflow openings and an effective mortar board which will separate carbon and dust. You can easily carry this bbq grill without any hassle. It is easy to clean and occupies very less space.
What's Great:
Highly resistant to heat and wind
Folding design that is highly portable
Ideal for camping and picnics
Wrapping Up
The best barbeque grills in India provided above have been carefully compiled with consideration given to consumer demand, product quality, and essential features that offer good value. These barbeque grills are made of the best quality material that is highly resistant and durable. Whether you're cooking vegetables, seafood, steaks, or sandwiches, these grills will allow you to create delectable meals that your family and visitors will adore.
FAQs
Q. What are the different types of best barbeque grills in India?
There are primarily three types of BBQ grills based on fuel type. They are charcoal, gas and electricity grills.
Q. Which barbeque is the best outdoors?
If you are hosting an outdoor party, charcoal barbeque grills are the most suitable.
Q. Which brands offer the best barbeque grills in India?
Wonderchef and Peng Essentials are popular choices when it comes to buying the best barbeque grills in India.
Q. Is charcoal barbeque cost-effective?
Yes, charcoal barbeque grills are budget-friendly and highly durable. They are a perfect choice if you are looking for something cost-effective. However, you may have to reconsider spending on buying charcoal.