Jazz up your party place with the best Bluetooth and trolley party speakers for a surreal musical experience. Bluetooth speakers are in high demand due to their unique features that provide easy accessibility and hassle-free usage. Whether karaoke tracks for a soothing cocktail party or loud treble for a DJ night, these best Bluetooth speakers are equipped with features to meet a wide range of requirements. If you have been planning to purchase a Bluetooth trolley speaker, we have got you covered with the best options available in the market. Here is a handpicked list of the 5 best Bluetooth and trolley party speakers to elevate your partying experience. Read on to find more.
How to Choose the Best Bluetooth and Trolley Party Speakers?
It is a highly competitive market, with many brands offering Bluetooth trolley speakers. However, here are some key points you need to remember while deciding on the right pick for you.
Check Battery Backup: The most important feature to look for while buying a speaker is battery backup. Since this feature guarantees an uninterrupted listening session, you must remember your requirements. If you need to use the speaker for long hours, ensure the battery backup supports the same.
Ensure high quality that suits your budget: It is important to look for a speaker that meets your specification requirement at budget-friendly prices. Make sure you compare the features and prices of different brands.
Look for audio quality and acoustics: Preference for audio quality differs across individuals. Check out the bass, tone and treble that suits you the best. Acoustics play a vital role when it comes to experiencing music. Room size, floor type and space do impact the audio experience.
Listing of Top 5 Best Bluetooth and Trolley Party Speakers
Here is the exclusive list of the top 5 best Bluetooth and trolley party speakers in India for your next memorable party experience.
T-Series TR-S8B
F Ferons LZ-3102
T-Series TR12K
Takara Karaoke Speaker Trolley
Sony MHC-V13 Wireless Bluetooth Party Speaker
1. T-Series TR-S8B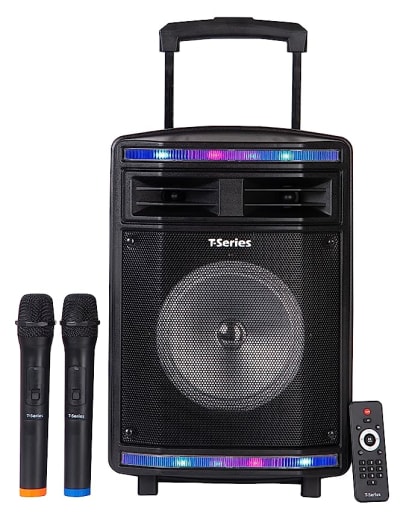 Enjoy wireless music streaming via Bluetooth on the T-series powerhouse's best Bluetooth and trolley party speakers. The speaker is equipped with eight woofers that provide high sound quality. It has a dual cordless mic ensuring hassle-free mobility and smooth usage. A versatile remote system with wide options of usage adds to the special features of this Bluetooth trolley speaker. This sleek and stylish speaker comes with multiple connectivity options. It is highly portable and can be easily carried with you due to its small design. Amp up your karaoke nights and outdoor patio parties with T-Series TR-S8B.

What's Great:
Powerful sound and bass that elevates your listening experience
Equipped with an additional memory card slot
Good battery backup to ensure long hours of usage without any disruption
Wireless hassle-free music streaming via Bluetooth
Shop from Amazon
Shop from Flipkart
Shop from Indiamart

2. F Ferons LZ-3102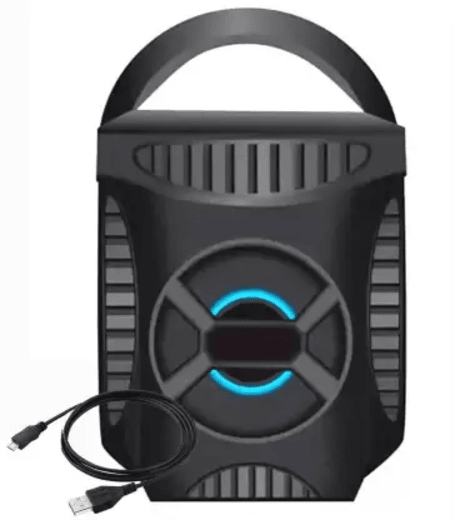 This is one of the most popular, best Bluetooth and trolley party speakers in India because of its high-end features at a budget-friendly price. It is a stylish contemporary speaker with top-notch audio quality. It is highly durable with unique features like water resistance. The trolley speaker is easily portable due to its compact size. It has a handle that ensures smooth mobility. You can easily switch modes and change volume levels according to your listening requirements with several connectivity options. Enjoy the 3D bass sound and change the tracks from the comfort of your fingertips.

What's Great:
You can easily pick up and disconnect calls on this trolley speaker
It has a 10 m wireless range that lets you enjoy music in your own space
It has a long-term battery life of 4 hours
Shop from Flipkart
Shop from Meesho
Shop from Jiomart
3. T-Series TR12K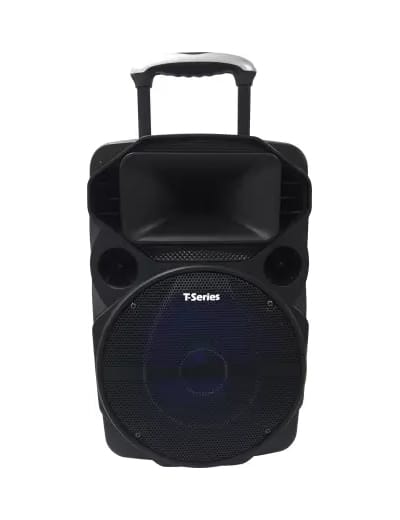 Amp up your parties and events with one of the best Bluetooth and trolley party speakers from the T-series collection. The bespoke trolley design with wheels and handles is a win-win for aesthetic appeal and smooth movability. It has two cordless mics and 12 trendy woofers that ensure bass and sound of the best audio quality. A multifunctional remote and chic LED display provides a user-friendly experience. It has a built-in FM and provisions to record your audio.

What's Great:
It has two hours of battery life for an uninterrupted music experience
It has a wide range of connectivity options like USB, memory card and AUX
Wireless music streaming at 40W power output
Shop from Flipkart
Shop from Amazon
Shop from Indiamart
4. Takara Karaoke Speaker Trolley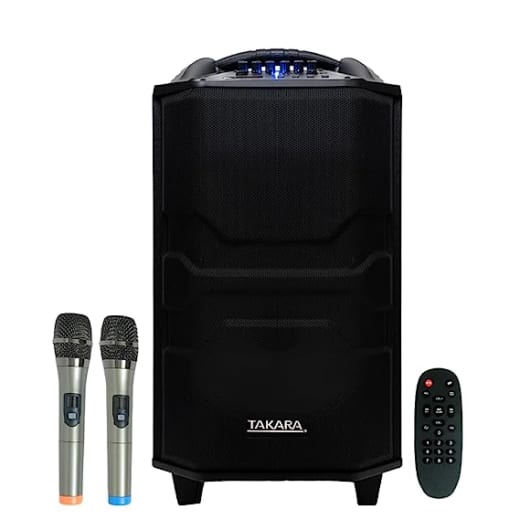 Choose from one of the most durable best Bluetooth speakers. It has been designed with sleek wheels that ensure good portability. This 12-inch speaker has heavy bass, built-in FM, USB connection and Bluetooth. It has dual digital wireless mics and a wired mic with echo control facilities. You can easily carry it for outdoor parties and events. You can use the folder button to browse a multitude of tracks.

What's Great:
It is equipped with a rechargeable battery to play music for up to 4 to 5 hours
Highly durable and easy to use
You can convert mp3 songs to Karaoke tracks easily
Shop from Amazon
Shop from Flipkart
Shop from Indiamart
5. Sony MHC-V13 Wireless Bluetooth Party Speaker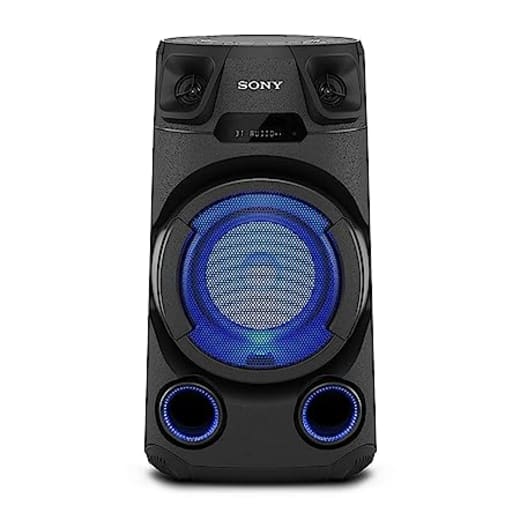 Shake your leg to the beats of your favourite track played on Sony's best Bluetooth speakers. It has high-end tweeters and a versatile bass booster. It has two bulbs that provide colourful illuminations and helps set up a nightclub mood anywhere. It is most suitable for Karaoke parties due to a microphone input system. It has an app that lets you download and keep track of the songs played on the Bluetooth speaker.

What's Great:
It has unique speaker lights that create a party mood anywhere and everywhere.
Provides wireless music playing via NFC and Bluetooth
Shop from Amazon
Shop from Flipkart
Shop from Reliance Digital
Wrapping Up
These are some of the most popular and top-rated Bluetooth trolley speakers that account for a memorable musical experience. Whether it be your birthday dinner party or a wedding function, the best Bluetooth speakers will surely steal the show with their surreal base and audio quality. If you plan to buy a new Bluetooth trolley speaker, you must go through the list above to ensure a quality purchase.
FAQs
Q. What is the desirable volume for party speakers?
A party speaker for indoor events should be between 70 and 80 dB. However, in outdoor events involving large crowds, you can opt for up to 110 dB.
Q. What is the desirable Watts for a party speaker?
5 watts is ideal per person for indoor parties. However, you can aim for 10 watts in case of high-energy outdoor parties.
Q. Are higher watts speakers better than lower ones at parties?
Yes, higher watts speakers are usually preferred due to their loud and clear audio that sets up the right mood for a party.
Q. What size speakers are the best for a party?
Typically, 12-inch and 15-inch best Bluetooth speakers are available. A 12-inch speaker will produce about 400W of power. A pair of these would be ideal for a gathering of up to 100 attendees.