Does your watch do more than give you time? If not, it's probably time for you to switch to smartwatches.
Smartwatches have become the most incredible way of keeping track of your health. Staying fit has never been easier with features such as activity tracking to heart rate monitoring available in a single watch. Moreover, the multi-functional device lets you pick up calls or change music from your wrist. No wonder they've become an essential lifestyle item for many.
We've got you covered if you're interested in buying a smartwatch but wondering which brand to choose. Below is a list of the best smartwatch brands in India with features that make them stand out. Browse through the entire list before you make a pick.
1. Apple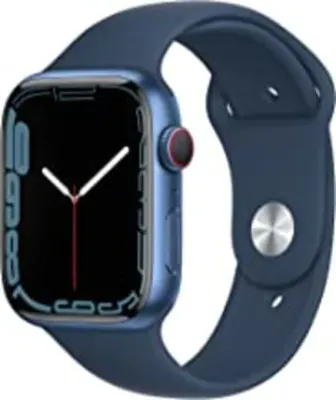 When it comes to quality and design, Apple smartwatches are hard to beat. The watch can be an excellent choice to stay on top of your fitness game. It helps you track your fitness, meet your sleep goals, check oxygen levels, and monitor your heart health with notifications of any irregular heart rate or rhythm. Further, you can also check your messages and emails or make calls from the watch.
What's Great
Big display for easy notification reading
Durable and crack resistant
Reliable fitness tracker
2. Samsung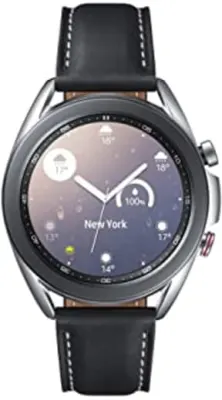 Samsung smartwatches are great alternatives for android users. The best feature of the smartwatch is its super AMOLED display that allows vivid graphics. You can even customize the display as per your liking. From a health point of view, the watch provides 39 built-in trackers for checking stress levels, blood pressure, etc. The functional and elegant piece is becoming a favorite among Indian users.
What's Great
Extensive fitness features
4G sim support
Compatible with both Android and iOS
50-meters water resistance
3. Fossil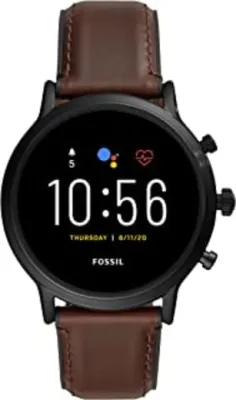 Fossil is another great Wear OS smartwatch option available for android users. The smartwatch syncs to your phone, so you can get maximum utility. Its lightweight and sleek and has multiple watch faces and features, making it one of the best smartwatch brands in India. It is ideal for those wanting to balance their work and health.
What's Great
Decent battery life of up to 10 days
Includes a pedometer, heart rate monitor, and fitness tracker
The Gen 4 and 5 watches are water resistant and can be worn while swimming or showering
4. One Plus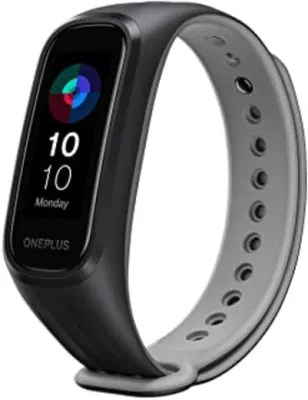 OnePlus has all the features you'd expect from a smartwatch at an affordable price. It has over 110 fitness modes to track everything, from your steps to ground time balance. In addition, its hands-free design lets you control everything from your wrist, such as calls, music, camera shutters, etc.
What's Great
Health features backed by the OnePlus Health App
Battery life of 14 days
IP68 certified for water and dust resistance
5. Mi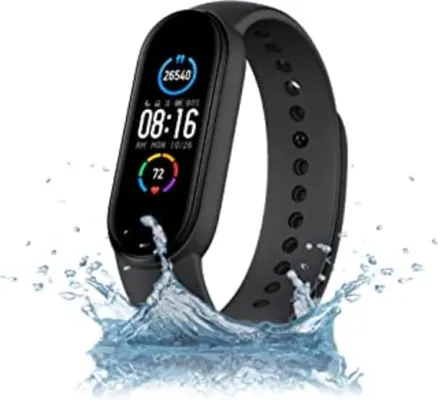 Mi is another feature-packed, affordable brand that makes it to the top 10 list. Its best feature is the continuous heart monitoring system that allows you to track your heart health at all times. You can connect the smart band to your smartphones and receive your call and notification on your wrists.
What's Great
Long-lasting battery life of 20 days
Full touch display with Bluetooth 5 pairing
Comes with 5 ATM water resistance (can be worn while swimming or showering)
6. Fitbit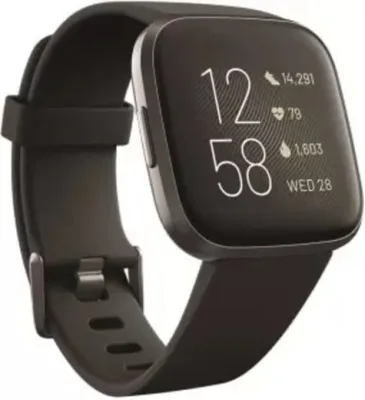 Fitbit is among the first smartwatch brands that focus on stress management. It has an advanced EDA sensor for stress tracking and an ECG app for heart health monitoring. It also features a sleep score to help improve your sleep quality. The chic and elegant smartwatch is made with premium leather that looks phenomenal on both men and women.
What's Great
Best for sleep and swim tracking
Built-in Alexa for quick news and information on the go
Decent battery life of five days
7. Noise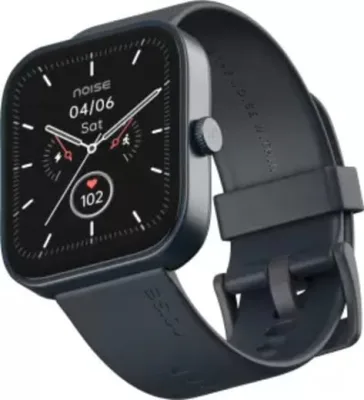 If you like to match your wristbands with your wardrobe, the Noise ColorFit smartwatch is your ideal choice. You will get four stylish strap colors and multiple watch faces to choose from. Besides giving you a striking look, the watch also allows you to track every fitness measurement, from heart health, sleep tracking, and blood oxygen level to menstrual cycle tracking.
What's Great
It is IP68 certified for water and dust resistance
Offers 60 sports modes and 150 watch faces
Has a 1.69″ LCD display
A decent 7-day battery life
8. Boat
Boat, a brand popular for speakers, headphones, and wireless, is now foraying into the world of smartwatches and making a mark there. It has garnered quite a huge customer base with its easy UI, 1.69″ LCD display offering vivid visuals, and up to 12 levels of brightness control. Regarding fitness tracking, it provides all basic features such as step tracking, heart health monitoring, stress tracking, meditation, etc.
What's Great
Top features available at an affordable price range
Supports 14 different sports mode
Decent battery life of 7 days
Built-in Alexa for quick news and information on the go
9. Fire Boltt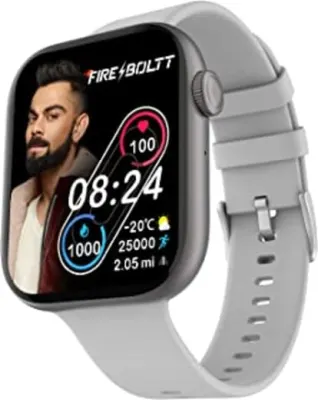 This smartwatch brand has made quite a reputation among its Indian customers. After all, it is the first smartwatch featuring a SpO2 function (a feature that tracks blood oxygen level). Apart from SpO2, it also monitors your heart rate, blood pressure, and sleep quality. Other popular features of the brand are its large display, decent battery life, accurate tracking, and easy interface.
What's Great
Full touch HD display with wrist sensor
IPX7 water resistance
Decent battery life of 8 days
Sleek and stylish metal body
10. Huawei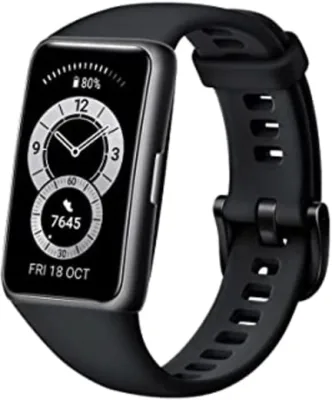 With Huawei, you'll get the combination of a flagship smartwatch and a fitness tracker available on a budget. Though it lacks the app bouquets offered by Wear OS devices, it includes all other general features like built-in alarms, health tracking, and music playbacks. It further provides 96 different exercise modes, a boon for athletes.
What's Great
Built-in GPS smarts for runners
SpO2 tracking and reliable heart censors
14 days battery life
11. CrossBeats
CrossBeats specializes in rugged, outdoor-focused smartwatches and audio devices. Here are some of their top models:
CrossBeats Ignite Armor Smartwatch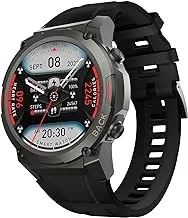 Ratings: 4.2 out of 5 stars (7,742 reviews)
Key Features:

1.3" display
Rugged, shock-resistant build
Bluetooth calling
100+ sports modes
Heart rate and SpO2 sensors
10-day battery life
This rugged smartwatch comes with an IP68 rating for dust and water resistance. It packs a robust set of health, activity, and outdoor sports tracking features. Reviewers praise its extremely durable design and long battery life. Overall, it's a great rugged smartwatch for adventurous users.
12. Amazfit
Owned by Zepp Health, Amazfit is a popular smartwatch brand from China that offers affordable models with robust fitness tracking. Some of their best options include:
Amazfit Bip 3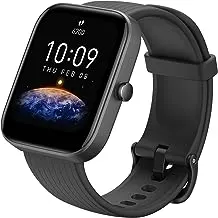 Ratings: 4.2 out of 5 stars (1,326 reviews)
Key Features:

1.69" color display
2 week battery life
60+ sports modes
Blood oxygen saturation sensor
5 ATM water resistance
Weighs only 31g
The Amazfit Bip 3 packs impressive battery life of up to 2 weeks into an incredibly lightweight and slim design. It provides extensive activity tracking and detailed health metrics. Reviewers love its comfortable and convenient wearability. For its low price, it delivers fantastic value.
Amazfit GTR 4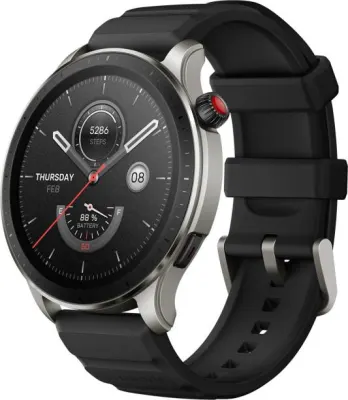 Ratings: 4.4 out of 5 stars (15,642 reviews)
Key Features:

1.43" AMOLED display
Bluetooth calling
150+ sports modes
Alexa built-in
Heart rate, SpO2, and stress monitoring
14-day battery life
With its vibrant AMOLED display, Bluetooth calling, built-in Alexa, and 2-week battery life, the GTR 4 offers an excellent overall package. Users mention its comfortable curved design and accurate health tracking capabilities. It provides in-depth data on workouts and activities. Overall, it's one of the best Amazfit smartwatches.
Comparison of Best Smartwatch Brands in India
| Brand | Key Features | Top Models |
| --- | --- | --- |
| Apple | Seamless iOS integration, premium design, advanced health tracking | Apple Watch Series 8, Apple Watch SE 2nd Gen |
| Samsung | Tight integration with Galaxy devices, super AMOLED display, extensive health tracking | Galaxy Watch4, Galaxy Watch5 Pro |
| Fossil | Affordable, decent battery life, fitness tracking features | Fossil Gen 5, Fossil Sport |
| OnePlus | Affordable price, long battery life, fitness tracking | OnePlus Watch |
| Mi | Affordable price, long battery life, full touch display | Mi Smart Band 7 |
| Fitbit | Top for sleep and swim tracking, stress management features | Fitbit Sense, Fitbit Versa 4 |
| Noise | Affordable, multiple stylish designs, fitness tracking | Noise ColorFit Pulse 2 Max, NoiseFit Endure |
| boAt | Affordable, easy UI, fitness tracking, Alexa support | boAt Wave Lite, boAt Airdopes 131 |
| Fire Boltt | Affordable, SpO2 tracking, sleek metal body | Fire-Boltt Talk 2, Fire-Boltt Beast |
| Huawei | Affordable, built-in GPS, activity tracking | Huawei Watch GT3, Huawei Watch Fit |
| CrossBeats | Rugged build, sports focus, long battery life | Ignite Armor, Torq earbuds |
| Amazfit | Affordable, lightweight designs, fitness focus | Amazfit Bip 3, Amazfit GTR 4 |
How to Choose the Best Smartwatch Brands in India
With so many options on the market, choosing the right smartwatch can be difficult. Here are some tips on selecting the best smartwatch for your needs:
Consider your usage – Are you looking for advanced fitness tracking? Battery life for outdoor usage? Business productivity features? Pick a smartwatch that aligns with how you plan to use it.
Choose your ecosystem – Smartwatches work best when paired with a smartphone from the same brand (like Apple or Samsung). This allows for tighter integration and expanded features.
Compare displays – Opt for an AMOLED or OLED display for sharper visuals and vivid colors. This is especially important if you'll use the watch for photos, videos, or maps.
Assess durability – Rugged smartwatches with waterproofing and impact protection are best for active lifestyles. Look at the watch casing and strap material.
Check sports mode support – Runners, cyclists, swimmers, and other athletes need a smartwatch with extensive sports modes and tracking capabilities.
Review health tracking features – Heart rate monitoring, sleep tracking, blood oxygen saturation, and stress monitoring are common health features to look for.
Consider budget – Premium brands like Apple and Samsung offer cutting-edge features and tight integration but cost more. Affordable brands can still provide robust functionality.
Different Types of Smartwatches
There are a few main types of smartwatches to consider:
Fitness smartwatches – With advanced tracking features and sport modes, these are optimized for athletes, runners, cyclists, and gym enthusiasts. Brands like Garmin, Coros, and Polar specialize in dedicated fitness smartwatches.
Fashion smartwatches – Focusing more on aesthetics and style, these smartwatches complement your outfit. Fashion brands like Fossil, Armani Exchange, and Michael Kors offer fashionable smartwatch models.
Luxury smartwatches – Prestigious watchmakers like TAG Heuer, Montblanc, and Breitling offer luxury smartwatches made with premium materials and finishes. They cost significantly more than mainstream options.
Lifestyle smartwatches – Meant for everyday casual use by most consumers, affordable brands like Amazfit, Huawei, and Xiaomi offer models with essential features and decent battery life.
Rugged smartwatches – With protective casings and bands, improved waterproofing, and shock absorption, rugged smartwatches are built for intense sports, hiking, combat, and outdoor adventures.
Smartwatch Care and Usage Tips
Follow these tips to get the most out of your smartwatch and keep it working well:
Charge daily to extend battery lifespan. Avoid letting the battery fully drain.
Use soft, lint-free cloths to wipe away dirt and oils from the watch case and band. Avoid submerging in water if the watch is not rated for it.
When showering or washing hands with the watch on, rinse it afterwards to wash away soap, shampoo, and other residues.
Switch wrists periodically if wearing the watch all day to avoid skin irritation. Keep the band clean and dry.
Update to the latest firmware for your smartwatch model to get new features and optimized performance.
Avoid exposing your smartwatch to extreme temperatures for long periods to prevent potential damage to internal components.
For better scratch resistance, consider smartwatch models with sapphire crystal glass displays or added screen protectors.
Turn on water lock mode before swimming or showering on water-resistant smartwatch models to avoid accidental inputs.
Set your smartwatch to theater mode before watching movies or plays to stop the screen from illuminating and distracting others.
Enable auto-pause on the smartwatch when using for running to stop tracking when you stop at intersections. It provides more accurate data.
FAQs about Best Smartwatch Brands in India
Q. Which brand offers the best smartwatch in India?
A. There is no definitive "best" brand, as a lot depends on your usage, preferences, and budget. Samsung and Apple make the most premium and advanced smartwatches optimized for their respective ecosystems. Indian brands like Noise, Fire-Boltt, and Boat offer more affordable options with great features.
Q. Is it worth getting a smartwatch in India?
A. Smartwatches can be highly beneficial for notifications, activity tracking, and health monitoring on the go. Most models today offer robust features at affordable prices. If you have a compatible smartphone and want greater convenience and productivity, a value-for-money smartwatch is absolutely worth it.
Q. How much does a good smartwatch cost in India?
A. You can get a decent smartwatch from a trusted brand for Rs. 3,000 to Rs. 5,000. For more premium build quality, advanced health sensors, and seamless smartphone integration, expect to spend upwards of Rs. 10,000 or more. Apple and Samsung watches cost over Rs. 20,000.
Q. What should I look for when buying a smartwatch?
A. Key factors to consider are display type and resolution, sports mode support, battery life, smartphone compatibility, durability rating, health sensors, guaranteed smartwatch brand warranty in India, and of course, budget. Choose based on your must-have features.
Q. How long do smartwatches last?
A. With proper maintenance and usage, you can expect 2-3 years of reliable usage from a good smartwatch. Battery lifespan diminishes over time. Premium models tend to last longer, thanks to better build quality and components. Replace the straps as needed.
In summary, Fire-Boltt, Noise, Boat, Amazfit, Samsung, and Apple make some of the best smartwatches available in the Indian market currently. Evaluate your usage requirements and budget to choose the right option. Maintain your smartwatch well for the best experience.
Q. Are smartwatches compatible with all smartphones?
Ans. While Apple smartwatches are compatible with iPhones only, you can use Wear OS watches with Android and iOS devices. However, you may need to install a companion app in some cases.
Q. Which is the best budget smartwatch in India?
Ans. Some budget-friendly best smartwatch brands in India include Boat, Noise ColorFit, and Huawei.
Q. What features should you look for in a smartwatch?
Ans. Some features to consider while buying the best smartwatch brands in India are:
Compatibility with your device
Fitness features
Integration with phone apps
Display and design
Battery life
Water resistance
Price