Keeping your car smelling fresh and pleasant can greatly improve your driving experience. A quality car perfume not only makes your car's interior smell amazing, but can also help lift your mood while on the road.
With so many options on the market, choosing the best car perfume for your needs can be tricky. In this comprehensive guide, we will recommend the top car perfumes available in India and provide tips on how to pick the perfect one.
How to Choose the Best Car Perfume
When selecting a car perfume, there are a few key factors to consider:
Types of Fragrances
Car perfumes come in a wide variety of scents. Think about what fragrance suits your taste – fresh and clean, fruity, floral, woody, musky etc. It's best to try perfumes in person to find your favorite.
Popular fragrances for car perfumes include:
Citrus – Uplifting, refreshing scents like lemon, orange, lime.
Floral – Feminine and romantic floral scents such as rose, jasmine, lavender.
Woody – Masculine, outdoorsy scents like sandalwood, cedarwood, pine.
Fresh – Clean scents of the ocean, rainfall etc.
Intensity
Some car perfumes have light delicate scents, while others are quite strong and lasting. Consider the intensity you prefer based on personal taste and your car's size. Stronger perfumes are ideal for larger vehicles.
Longevity
Look for car perfumes that provide lasting fragrance. Gel and oil-based perfumes tend to offer longer-lasting scent compared to spray perfumes. Reusable hanging car perfumes also deliver enduring fragrance.
Type of Dispenser
Car perfumes come in different dispenser types:
Hanging – These contain perfume oil/gel in a decorative receptacle that hangs from your car's rearview mirror.
Vent clips – Clip on car AC vents to emit fragrance through the vents.
Gels/cans – Contain concentrated perfume gel that can be placed on car's dashboard or backseat.
Sprays – Allow you to directly spray the perfume around the car's interior. Quick but less long-lasting.
Diffusers – Rotate and diffuse oil-based perfumes throughout the car. Popular solar-powered options.
Consider convenience, discretion and fragrance diffusion method.
10 Best Car Perfumes in India
After extensive research, testing and reviewing, we believe these are the top 10 best car perfumes currently available in the Indian market:
1. Involve Your Senses One Musk Organic Car Perfume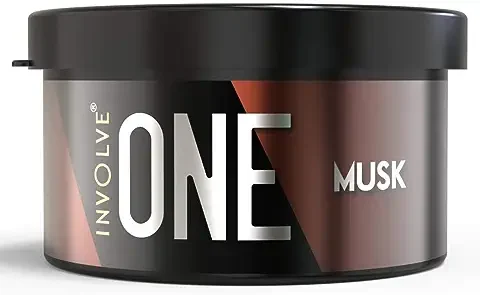 Fragrance notes: Warm, rich, musky
Size: 40g
Ratings: 3.9/5 (Amazon)
If you love deep, musky scents, the One Musk car perfume from Involve Your Senses is an excellent choice. This bestselling car air freshener features a proprietary organic musk fragrance that is sensual and aromatic.
The perfume saturates a dense fiber material that can hang in your car for weeks of enduring musk fragrance. Reviewers say it smells upscale and luxurious, like an expensive niche perfume. The fiber material also neutralizes bad odors in the car.
With over 21,000 Amazon ratings, this affordable musk car perfume is a hit for its enticing, mood-enhancing scent. It's strong and long-lasting, making it ideal even for larger vehicles. An excellent option for musk lovers seeking premium fragrance.
2. Ambi Pur Car Freshener Gel – Relaxing Lavender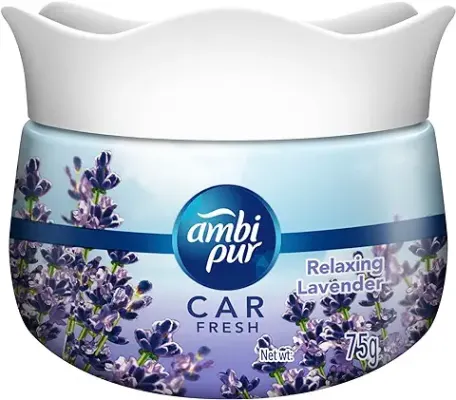 Fragrance notes: Soothing lavender, floral
Size: 75g
Ratings: 3.6/5 (Amazon)
For a light and soothing floral scent in your car, Ambi Pur's Relaxing Lavender gel car perfume is a top choice. This bestseller features a calming lavender fragrance blended with soothing chamomile and other floral notes.
The thick concentrated gel formula emits gentle fragrance for weeks. Just place it on the dashboard or backseat. The compact 75g size is designed for smaller cars.
With over 7,000 reviews, this Ambi Pur perfume is loved for its relaxing lavender aroma that isn't overpowering. Reviewers say it's just right for destressing in traffic jams! Plus the fragrance also effectively eliminates bad odors.
3. Involve Your Senses Citrus Car Perfume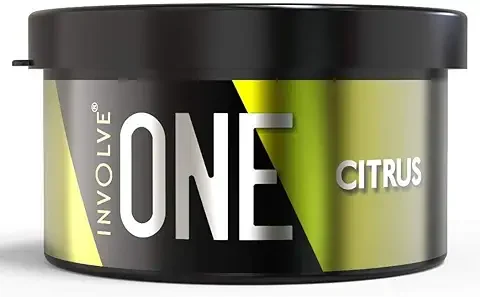 Fragrance Notes: Orange, lemon, neroli, bergamot
Size: 40g
Ratings: 4.1/5 (Amazon)
For an energizing citrus blast in your car, the Involve Your Senses Citrus car perfume is a stellar choice. This bestseller fills your car with sunny citrus notes like sweet orange, lemon, neroli and bergamot.
The fragrance saturates a fiber material that hangs in your car for enduring fresh scent. Reviewers say it smells clean, crisp and uplifting – ideal for brightening your mood while driving. The natural citrus oils also absorb bad odors.
With over 5,800 ratings, buyers praise this perfume for its authentic zesty citrus fragrance that isn't too sharp or artificial. A budget-friendly option to make your car smell fresh and vibrant.
4. Godrej aer Twist Car Freshener Gel – Cool Surf Blue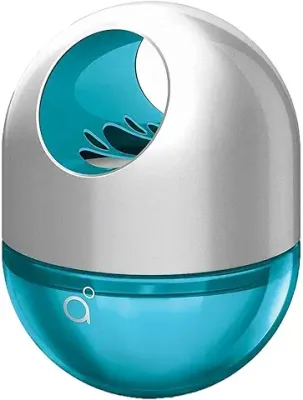 Fragrance Notes: Aquatic, ocean, ozone
Size: 45g
Ratings: 3.8/5 (Amazon)
Godrej's aer Twist Cool Surf Blue car perfume transports you to tropical beaches with its refreshing aquatic fragrance. Top notes of sea spray and ocean breeze create an exhilarating, vacation-like scent.
The concentrated gel formula provides intense and enduring fragrance – ideal even for large vehicles. Just place the twist-up gel can anywhere in your car's cabin.
With over 42,000 ratings, this bestselling car freshener is loved for its cooling, vibrant aquatic aroma that also eliminates bad odors. Reviewers say it makes them feel energized and uplifted. If you love fresh oceanic scents, this is an excellent gel-based choice.
5. Involve Elements Aqua Spray Car Perfume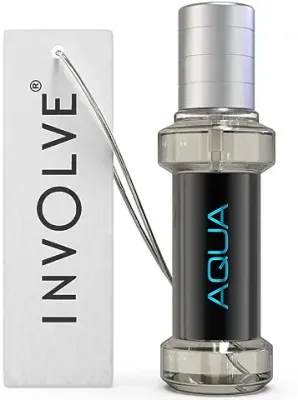 Fragrance Notes: Fresh aquatic, rain, ozone
Size: 30ml
Ratings: 3.8/5 (Amazon)
For a quick burst of freshness in your car's interior, Involve Elements Aqua is an amazing spray perfume. It features exhilarating top notes of rain, ozone and ocean for an airy, breezy scent.
Just a few sprays freshen up your car with cooling aquatic vibes. The convenient pocket-sized bottle is ideal for carrying in your glove box. With over 4,000 reviews, buyers praise its clean, watery aroma that energizes and rejuvenates.
While the fragrance doesn't last as long as oil or gel perfumes, it's great for quick scent touch-ups whenever you need a freshness boost.
6. AutoBizarre Solar Crystal Car Air Freshener
Fragrance notes: Orange, jasmine
Type: Solar-powered diffuser
Ratings: 3.7/5 (Amazon)
If you want effortless, continuous fragrance in your parked car, this solar-powered car air freshener is perfect. The fashionable diffuser has a contemporary crystal design that looks great on your dashboard.
It rotates automatically with solar energy, diffusing the orange and jasmine essential oil fragrance throughout the cabin. Just place it in sunlight and enjoy weeks of crisp, bright scent.
With over 2,000 reviews, buyers love the stylish look and efficient rotating mechanism of this solar diffuser. It keeps emitting gentle fragrance even when parked in the sun. A great maintenance-free option.
7. Evair Hanging Car Perfume – Sandalwood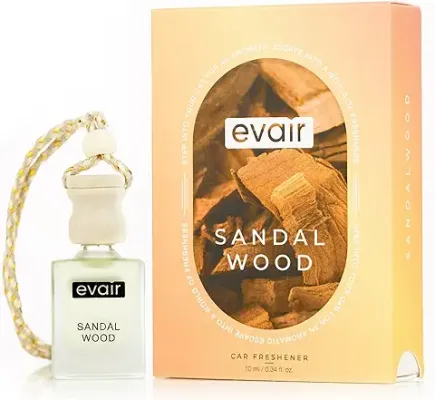 Fragrance Notes: Sandalwood, woody, spicy
Size: 10ml
Ratings: 3.8/5 (Amazon)
For an exotic woody aroma in your car's interior, Evair's Sandalwood hanging perfume is an excellent choice. This elegant car freshener features rich sandalwood essential oil in a frosted glass bottle.
The wooden lid allows you to adjust fragrance intensity. Just hang it from the rearview mirror and enjoy weeks of lingering sandalwood scent.
With nearly 1,000 ratings, buyers praise the high quality and enduring natural fragrance. It leaves a refined, spicy sandalwood trail that enhances mood. The compact 10ml size works great even in smaller cars, lasting for months.
8. Dr. Charcoal Car Air Purifier Bag
Fragrance: Light charcoal fragrance
Size: 200g
Ratings: 3.8/5 (Amazon)
If you want odor elimination more than fragrance, Dr. Charcoal's activated carbon air purifier bag is the top choice. This innovative bag absorbs all types of unpleasant odors using activated bamboo charcoal.
Just place it on the rear seat or floor and it quietly works to remove odors from smoking, pets, spills etc without harsh chemicals. The lightweight bag also reduces humidity inside the car.
With over 5,000 ratings, buyers confirm this charcoal air purifier effectively eliminates stubborn odors for fresher air inside. It also gently deodorizes the car with its light charcoal scent. An eco-friendly odor absorber.
9. Car Vent Outlet Decorative Strips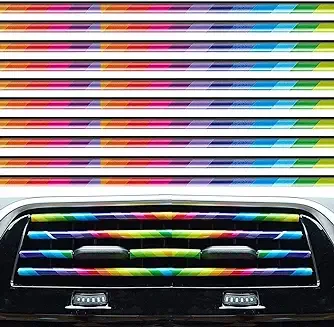 Finish Options: Multiple color choices
Pieces: 20 strips per pack
Ratings: 4.1/5 (Amazon)
These decorative outlet strips let you give your car's air vents a quick makeover while enjoying your favorite car perfume. Just stick them onto the vent slats for an instant color update.
The 3D ABS plastic strips are available in 30+ glossy color options. They brighten up dull vents and complement your car's interior. Plus, they direct the AC airflow and help diffuse the car perfume fragrance better.
Over 12,000 buyers give these budget-friendly vent strips a 5-star rating for their easy stick-on application, color options, and durability. Give your vents a new look while improving scent diffusion.
10. Airganic Arimson Land Premium Gel Car Perfume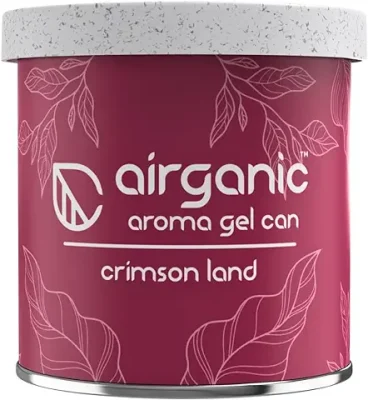 Fragrance Notes: Rose, oudh, praline
Size: 80g
Ratings: 4.2/5 (Amazon)
If you love rich, indulgent gourmand fragrances, Airganic's Arimson Land car perfume is a must-try. This premium gel perfume features luscious notes of turkish rose, smokey oudh, creamy praline and vanilla.
The dense gel emits intense, lingering fragrance for weeks from any corner of your car's interior. With a 4.2/5 rating, buyers praise its upscale, sophisticated scent and superior longevity.
While pricier than other gels, this premium Indian perfume is worth it for the exotic rose-oudh aroma that envelops your car's cabin. A top choice for gourmand fragrance lovers.
Comparison of Best Car Perfumes
| Product | Fragrance Notes | Longevity |
| --- | --- | --- |
| Involve Your Senses One Musk | Warm, rich musky | 4-6 weeks |
| Ambi Pur Relaxing Lavender | Soothing lavender, floral | 4-6 weeks |
| Involve Your Senses Citrus | Orange, lemon, bergamot | 4-6 weeks |
| Godrej aer Twist Cool Surf Blue | Aquatic, ocean, ozone | 4-6 weeks |
| Involve Elements Aqua Spray | Fresh aquatic, rain, ozone | Few hours |
| AutoBizarre Solar Crystal | Orange, jasmine | 4-6 weeks |
| Evair Sandalwood | Sandalwood, woody, spicy | 2-3 months |
| Dr. Charcoal Car Air Purifier | Light charcoal fragrance | 4-6 months |
| Car Vent Decorative Strips | NA | Long-lasting |
| Airganic Arimson Land | Rose, oudh, praline | 4-6 weeks |
Different Types of Car Perfumes
Hanging Car Perfumes
Hang from rearview mirror
Use perfume oils and gels
Provide long-lasting fragrance
Popular styles:

Glass bottle with wooden lid
Fiber/felt pads
Porcelain with cap
Gel Car Perfumes
Contain concentrated perfume gel
Place on dashboard, backseat, floor
Release intense, enduring fragrance
Come in tins, tubes, plastic jars
Spray Car Perfumes
Feature perfume in liquid form
Spray directly inside car cabin
Offer instant but temporary fragrance
Portable bottles, great for touch-ups
Vent Clip Car Perfumes
Clip on air vent slats
Scent air circulating through vents
Subtle but consistent fragrance
Vaporizer pads, mini diffusers
Car Mist Perfumes
Light spray-based perfumes
Refresh car's interior quickly
Usually 100-150ml bottles
Relatively shorter longevity
Solar Car Diffusers
Rotating diffusers powered by sun
Emit fragrance when car is parked
Automatic, maintenance-free operation
Stylish designs double as car decor
Usage and Care Tips for Car Perfumes
Follow these tips to choose and use car perfumes for best results:
Test perfumes first to find your favorite long-lasting scent.
Consider lighter scents if you'll be in your car for long periods.
Hanging and gel perfumes work well for consistent fragrance.
Use spray car perfumes for quick touch-ups whenever needed.
Place gel air fresheners and vent clips near air vents for better diffusion.
For maximum fragrance, apply perfumes in multiple places like rearview mirror, dashboard, floor mats.
During hot weather, store car perfumes in the glovebox to prevent melting.
Look for perfumes with essential oils or natural ingredients to limit chemical smells.
Switch between different perfumes occasionally so you don't get used to a single scent.
To extend their life, use perfumes sparingly and close them tightly after use.
Frequently Asked Questions
Q. Which is the best perfume car in India?
There are many excellent car perfume options available in India. Based on fragrance, longevity and popularity, some of the best perfumes for cars in India include Involve Your Senses One Musk organic perfume, Ambi Pur Relaxing Lavender gel, Godrej aer Twist Cool Surf Blue gel, and Involve Elements Aqua spray. These perfumes provide lingering fragrance for weeks and have received thousands of positive reviews. The rich musky aroma of Involve Your Senses One Musk and the aquatic notes of Godrej aer Twist are especially captivating and mood-enhancing. For quick scent refreshment, Involve Elements Aqua spray is also a top choice.
Q. What's the best fragrance for car?
The best car perfume fragrance is subjective based on personal preference. However, some universally appealing fragrances include fresh citrus, soothing floral, musky oriental, woody sandalwood and cooling aquatic/ocean. Citrus scents with notes like orange, lemon, lime are energizing. Floral perfumes with rose, jasmine provide a delicate scent. Rich, warm musk perfumes have a luxurious aroma. Aquatic fragrances with sea spray and rainfall notes smell clean and refreshing. Ultimately, test different perfume types to find your favorite fragrance.
Q. Which car perfume is long-lasting?
Hanging car perfume oils, concentrated gel perfumes and car diffusers tend to have the longest-lasting fragrance of 4-6 weeks or longer. The Involve Your Senses One Musk organic perfume infuses a fiber material for enduring musk scent. Ambi Pur's Relaxing Lavender gel provides soothing fragrance for weeks from the dashboard. AutoBizarre's solar-powered car diffuser rotates automatically while parked to emit gentle fragrance. These long-lasting perfumes minimize the need for frequent reapplication.
Q. Can I use perfume for car?
Yes, there are many perfumes specially designed for use inside cars. Options include hanging car perfumes with essential oils, perfumed gel air fresheners, clip-on vent fragrances, perfumed spray bottles and more. Hanging perfume oils that clip onto rearview mirrors are most popular for long-lasting fragrance. Just avoid spraying or sprinkling liquid perfumes directly as they can stain. Look for car-specific perfumes that are concentrated and long-lasting. With the right car perfume, you can enjoy weeks of luxurious, mood-boosting fragrance as you drive.
Q. Which car perfume lasts the longest?
A. Hanging perfume oils, concentrated gel perfumes and car diffusers have the longest longevity – usually 4-6 weeks or longer. Spray perfumes tend to last for only a few hours.
Q. How should I apply spray car perfumes?
A. Hold the bottle 2-3 inches from surfaces and lightly mist onto upholstery, mats and other areas around the cabin. Avoid overspraying.
Q. Where should I place gel car perfumes?
A. Place gel air freshener cans/jars on flat surfaces like the dashboard, backseat, floor, glovebox where air circulation will diffuse the scent.
Q. Can I refill my hanging car perfume bottle?
A. Yes, most hanging perfume bottles can be refilled with essential oil-based perfumes once the existing fragrance runs out. Just remove stopper and refill.
Q. How do I make my car perfume last longer?
A. Using it sparingly, closing bottles tightly, storing in cool dry place all help perfumes last longer. Also rotating between different scents helps prevent olfactory fatigue.
Q. Are car perfumes safe for kids?
A. Avoid very strong, concentrated perfumes if kids will be in the car. Mild essential oil-based scents are safer. Also open windows periodically for ventilation.
Conclusion
Choosing the perfect car perfume involves deciding on the right fragrance profile, intensity and longevity for your needs. We hope our tips and top recommendations for the best car perfumes in India help you pick a winner! A quality car fragrance can turn your ordinary drives into relaxing, luxurious experiences.