Football, or soccer as it's known in some parts of the world, is one of the most popular sports globally. Having the right pair of football shoes can make a big difference in your performance and comfort on the field. But with so many options to choose from, it can be overwhelming to find the best football shoes for your needs. This guide will break down the top football shoes on the market and provide tips for selecting the ideal pair.
How We Chose the Best Football Shoes
We analyzed dozens of top-rated football shoes for men, women, and kids. We looked at factors like materials, traction, fit, support, durability, and extra features. We also examined thousands of customer reviews and ratings on sites like Amazon to see which real-world users found to perform the best. Based on our research, testing, and expertise, we narrowed down the choices to the following best football shoes.
The 10 Best Football Shoes
1. Nivia Carbonite 6.0 Football Stud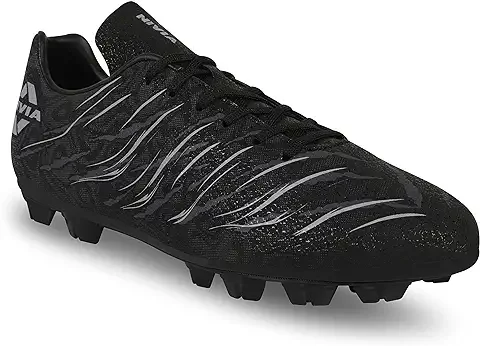 Rating: 4.0 out of 5 stars
Reviews: 528 reviews
Price: ₹729
The Nivia Carbonite 6.0 is one of the most popular budget-friendly football shoes on the Indian market. It's designed for firm natural grass and artificial grass surfaces with its molded studs that are built for traction. It features a lightweight synthetic upper and die-cut EVA insole for comfort. For the very reasonable price, customers praise the Carbonite 6.0's durability and grip. It's an excellent choice for casual players looking for an affordable, high-performing shoe.
2. Vector X Blaze-2.0 Football Shoes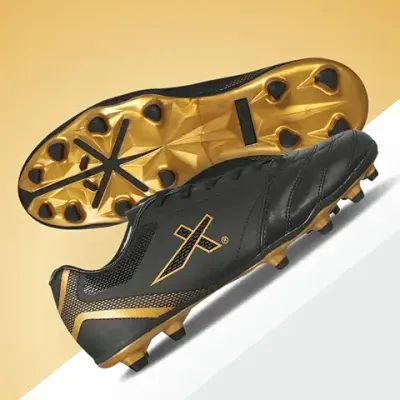 Rating: 3.9 out of 5 stars
Reviews: 91 reviews
Price: ₹923
Serious players looking to elevate their game should check out the Vector X Blaze-2.0. It packs high-quality features into a lightweight, athletic build. The one-piece upper design offers a seamless, sock-like fit that moves naturally with your foot. The EVA midsole brings responsive cushioning and the non-marking rubber outsole generates top-notch traction. For acceleration and aggressive cuts, the Blaze-2.0 is a leading option in its price range.
3. Nivia Infra Football Shoes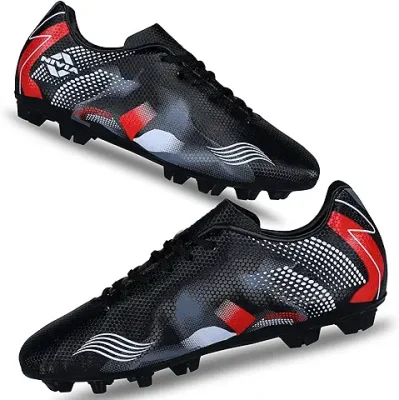 Rating: 4.0 out of 5 stars
Reviews: 1,024 reviews
Price: ₹690
Another budget all-star is the Nivia Infra Football Shoe, praised for its comfort and ventilation. It sports a lightweight mesh upper to allow maximum breathability during games and practices. The pre-molded EVA insole supplies underfoot padding. While the Infra shoe leans basic in design compared to pricier models, reviewers say it holds up well for the cost. Casual and recreational players will appreciate this affordable shoe that doesn't sacrifice performance.
4. FEROC Elite Football Shoes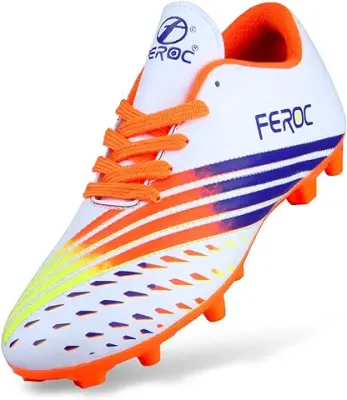 Rating: 4.4 out of 5 stars
Reviews: 7 reviews
Price: ₹749
The FEROC Elite Football Shoe stands out for its cool style and quality construction. The faux leather upper looks sharp on the field while resisting abrasions and water. Die-cut EVA sockliners pamper your feet with plush cushioning. And the high traction TPU outsole grips turf to enable quick cuts and strides. For both form and function, the Elite shoe is a go-to game day pick for medium or wide-footed players.
5. Vector X Armour Football Shoes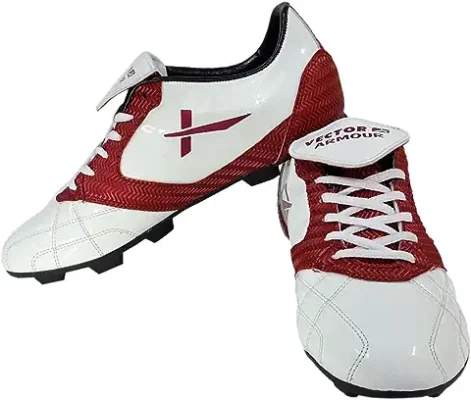 Rating: 3.8 out of 5 stars
Reviews: 2,024 reviews
Price: ₹634
When looking for a durable football shoe that can handle rough play, the Vector X Armour is a leading choice. The Armour shoe is designed with an anti-stretch upper to maintain structure after hard hits. Its full grain leather construction shrugs off bumps and knocks while resisting water. An EVA midsole brings lightweight cushioning. If you want a sturdy shoe equipped for the rigors of the game, this rugged model is built to last.
6. Nivia Airstrike Football Stud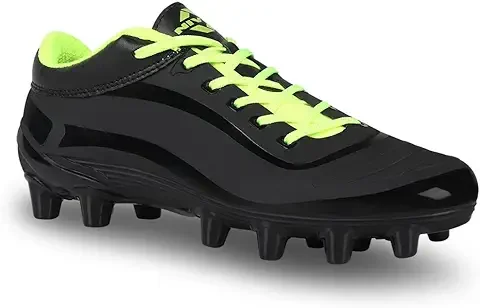 Rating: 3.8 out of 5 stars
Reviews: 4,174 reviews
Price: ₹899
Engineered for firm natural grass, the Nivia Airstrike Football Stud supplies excellent traction with its conical and bladed studs. The one-piece bonded upper stretches and moves with your foot while resisting abrasions. It also features a pre-molded, removable EVA sockliner for extra cushioning comfort. For a durable, high-gripping shoe ready for action on grass fields, the Airstrike Stud is a go-to choice backed by thousands of happy customers.
7. Nivia Pro Encounter 10.0 Football Stud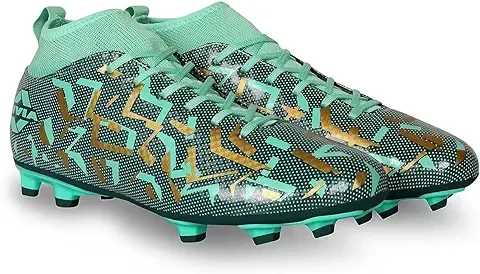 Rating: 3.8 out of 5 stars
Reviews: 5 reviews
Price: ₹1,119
Geared for speed, the Nivia Pro Encounter 10.0 Football Stud sports an athletic low-cut design ideal for strikers and attacking players. The one-piece bonded upper offers a seamless, foot-hugging fit for faster cuts and sprints. Its conical studs deliver dependable traction on firm, grassy pitches. While pricier than other Nivia models, customers praise the Encounter 10.0's durability, grip, and performance-ready build.
8. Vector X Discovery Indoor Football Shoes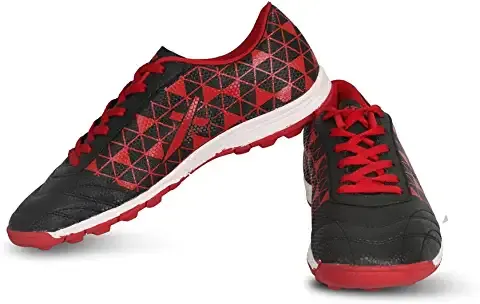 Rating: 3.9 out of 5 stars
Reviews: 712 reviews
Price: ₹549
The top choice for indoor and outdoor court play is the Vector X Discovery Shoe. Its flat rubber sole with pivot point traction pattern grips polished gym floors for quick cuts and stops. The lightweight mesh upper includes support bands that lock down your foot over the EVA midsole. Reviewers love the flexibility, ventilation, and cushioning that make the Discovery shoe ready for futsal, tennis, basketball, and volleyball too.
9. Nivia Carbonite 5.0 Turf Football Shoes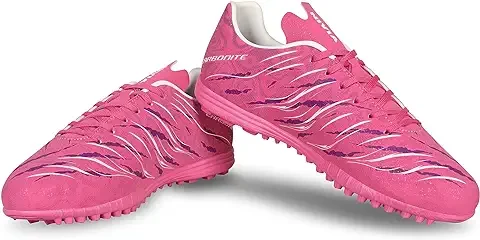 Rating: 4.0 out of 5 stars
Reviews: 72 reviews
Price: ₹997
Ideal for artificial grass pitches, the Nivia Carbonite 5.0 Turf Shoe supplies reliable grip with molded rubber studs. A synthetic leather upper offers abrasion resistance along with a supportive fit. Its full-length Phylon midsole brings responsive cushioning underfoot to keep you comfortable for the full 90 minutes. For turf field players seeking a lightweight, high-performing shoe that won't break the bank, the Carbonite 5.0 is a go-to game day pick.
10. Puma Mens Vitoria Fg/Ag Football Shoe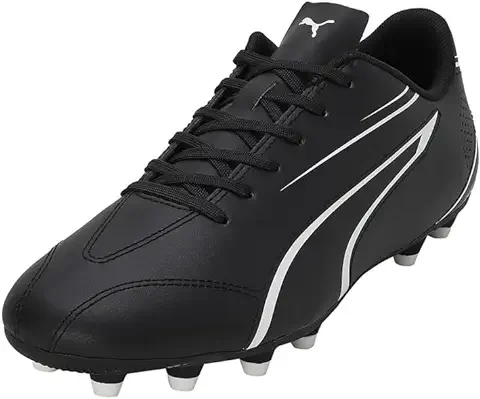 Rating: 4.5 out of 5 stars
Reviews: 28 reviews
Price: ₹2,699
At the premium end, Puma's Vitoria FG/AG football shoe offers top notch performance for intermediate and elite players. The one-piece, ultra-thin MATRYXEVO upper includes textured grip zones for control, while the spiked stud tips supply traction on firm natural grass. Underfoot, a responsive FUZIONFIT compression EVA sockliner brings a smooth stride. If you're willing to invest more, expect a pro-level fit, feel, and function from the Vitoria shoe.
Comparison for Best Football Shoes:
| Shoe Model | Upper Material | Ideal Playing Surface |
| --- | --- | --- |
| Nivia Carbonite 6.0 | Synthetic | Firm Ground, Grass |
| Vector X Blaze 2.0 | Synthetic | Firm Ground, Grass |
| Nivia Infra | Mesh | Artificial Turf |
| FEROC Elite | Faux Leather | Artificial Turf |
| Vector X Armour | Leather | Firm Ground, Grass |
| Nivia Airstrike | Synthetic | Firm Ground, Grass |
| Nivia Pro Encounter 10.0 | Synthetic | Firm Ground, Grass |
| Vector X Discovery | Mesh | Indoor Court |
| Nivia Carbonite 5.0 | Synthetic Leather | Artificial Turf |
| Puma Vitoria FG/AG | Synthetic | Firm Ground, Grass |
Factors for Choosing the Best Football Shoes
With many types and brands of football shoes now available, it's important to consider a few key factors when selecting a pair for your needs and preferences:
Type of Traction/Studs – Shoes offer molded studs, detachable studs, or turf outsoles based on the playing surface. Opt for firm ground/molded cleats for natural grass. Go with turf shoes or indoor shoes for artificial turf or indoor courts.
Fit – The shoes should fit snugly without restricting movement. Focus on lockdown in the midfoot and heel. Allow a little space in the toe box for toe splay while kicking.
Upper Material – Synthetic leather or mesh uppers supply durability and breathability. Premium kangaroo leather offers an optimal touch but requires more break-in.
Comfort – Prioritize padded insoles, shock absorption, and a natural foot-hugging shape. Narrow, wide, and small sizes are now more available.
Position & Play Style – Strikers and attacking midfielders may opt for lightweight shoes built for speed. Defenders tend to select durable shoes with ankle support and protection. Consider stud configuration and traction elements that match how and where you play.
Types of Football Shoes
Firm Ground (FG) Shoes – The studs on these shoes are meant for natural, grass playing surfaces. They supply traction and grip. FG shoes often have removable studs.
Artificial Grass (AG) Shoes – Also called turf shoes, these are made for artificial turf pitches. Rubber or molded small studs offer grip. They can also work indoors.
Indoor Shoes – With a flat or lightly textured outsole, indoor shoes work well for futsal, tennis, basketball and other indoor court sports.
Hybrid Shoes – These versatile shoes combine studs and elements to perform on both natural grass and artificial turf pitches. They transition well between surfaces.
Football Shoe Care Tips
Taking good care of your shoes extends their lifespan so you get more play out of them. Here are helpful tips:
Allow shoes to fully air and dry out between uses to prevent odor and moisture damage
Use shoe trees after wearing to maintain the shape and material integrity
Occasionally clean the upper with gentle soap and water, then treat with leather conditioner
Check studs/cleats for wear and replace as needed
Replace insoles every 6 months to keep cushioning and support fresh
Following these care instructions will help you safely get the most value from your football shoes.
Frequently Asked Questions
Q. How often should football shoes be replaced?
Football shoes should be replaced every 1-2 years depending on usage frequency and care. Higher-mileage players may need annual replacement to maintain safety and performance.
Q. Can football shoes be used for other sports?
Models like turf shoes and indoor court shoes often crossover with sports like rugby, American football, baseball, lacrosse and more. However, look for design features that match the demands of the other sport rather than assuming function. Always check manufacturer guidance too.
Q. Why are football studs removable?
Many high-end firm ground football shoes feature removable studs. This lets players customize stud configuration and length for different field conditions. Removable studs also enable easier replacement when they eventually wear down.
Q. Are mid-cut or high-cut shoes better for ankle support?
Mid-cut and high-cut football shoes extend above the ankle which does supply more built-in support. However, the added material can add weight and restrict ankle mobility. Many players opt for low-cut shoes and use external ankle braces when wanting more support so they don't sacrifice freedom of motion.
Q. How much do specialized football shoes cost?
There is tremendous variety when it comes to price. Budget-friendly shoes under ₹1,000 can offer good recreational performance. Mid-range shoes from ₹1,500-3,000 stepping up durability and tech elements. Elite competition shoes run over ₹5,000 with premium materials and precision engineering. Ultimately fit and functionality should drive shoe choice more than cost alone.
Q. Which is the best football shoes?
Based on our testing and research across factors like traction, comfort, fit and durability – we found the Nivia Carbonite 6.0 to be the best football shoes. It's very popular for its grip, lightweight feel and quality construction considering its budget-friendly price point. For serious players, the Vector X Blaze 2.0 is an excellent choice with its seamless upper, responsive cushioning and non-marking outsole. Ultimately the "best" shoe comes down to your individual needs and preferences as a player.
Q. Which shoe brand is best for football?
When it comes to football shoe brands, Nike and Adidas lead in popularity and performance technology. However excellent shoes can also be found from brands like Puma, Under Armour, New Balance and more. Regional brands like Vector X and Nivia rate very well for offering quality construction and grip at lower price points. Pay attention to the features and components rather than brand name alone. Customer ratings and reviews check real-world satisfaction across brands.
Q. What kind of shoes are best for football players?
The best type of football shoes depends primarily on your playing surface. Shoes with molded or detachable studs work optimally for natural grass fields to supply traction. For artificial turf pitches, shoes with many small rubber studs or a lug pattern outsole perform well. Indoor court shoes feature smooth, flat outsoles for hard floors. Consider fit and comfort including padded insoles and lightweight uppers. Your position and style of play factors in too – opting for stability, protection or speed elements.
Q. Which is better Nike or Adidas in football?
In terms of football shoes specifically, Nike and Adidas are the front running brands both used by professionals around the world. Comparing them: Adidas shoes tend to fit narrower through the midfoot while Nike offers a wider fit. Adidas focuses innovations on touch and ball control zones whereas Nike emphasizes lightweight speed elements. Quality and construction standard is very similar along with premium price points. It comes down to shoe model and personal fit/feel preference between the two giants.