Gone are the days when you have to shell out tons of money at a salon to change your hair drastically. Now, some of the best hair extensions allow you to switch up your hair as you like it without having to step out!
There's something for everybody when it comes to extensions – from straight, wavy to curly hair. Plus, you can even add a pop of colour to your hair without having to worry about any chemical colourants. As convenient as hair extensions are, there are numerous options in the market which makes it quite difficult to search and find the one that suits you.
In this article, we will walk you through the best hair extensions brand in India. Before that, we will guide you in choosing the right ones for you.
A Brief Guide to Choosing the Right Extension for You
Hair is quite literally the crown you wear every day. The right hair extension can elevate your look as much as the wrong ones can mess with your overall look. So, here are some things to remember before purchasing a hair extension.
Hair extension can be added to your hair in two different ways – tape in or clip in. Tape ins look more natural but it is quite difficult to put on. On the other hand, clip ins look a little less natural but they are easier to put on. However, if you purchase a high-quality clip in hair extension and wear it correctly, it can look blend well with your natural tresses.
Typically, hair extensions come in two materials – real human hair and synthetic human hair. Real human hair feels just like your hair and you can treat it that way. If you find it uneasy to wear this, you can go with synthetic hair extensions which are made from finely woven fibres.
With real human hair extensions, you can style them using heat and other ways as you would do with your hair. When it comes to synthetic hair, however, you can not treat them with heat and change the style often. Therefore, we advise paying attention to the available styles and going for what you like. For instance, you can purchase a wavy hair extension instead of treating it with heat to achieve a wavy hair style.
Products Overview
D-Divine Brown Hair Extension
Moon Eyes Black Natural Wavy Hair Extension
D-Divine Brown Curly Ribbon Ponytail Hair Extension
Twirey Messy Hair Bun Synthetic Hair Extension
Pema Black Curly Hair Extension
5 Best Hair Extensions in India
1. D-Divine Brown Hair Extension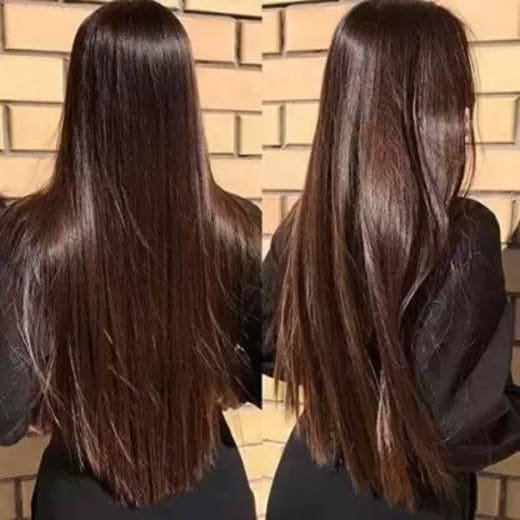 Bring out your inner dive with this long, brown and beautiful hair extension. It is 24 inches long and comes in a natural brown colour suitable for most Indian hair colours. The super straight style makes it look chic, stylish and extravagant.
If you are a party animal, having this in your beauty closet will be a great decision. The clip-in feature makes it super convenient to use. So, all you have to do is, comb your real hair, clip it on and get ready to dazzle.
What we like about this product?
Clip in and go in only 5 minutes
Can achieve beautiful straight hair without having to treat your hair with harsh chemicals or heat
Silky and soft texture
Customer Review
The product was too good and delivered as shown, worth it. I'm fully satisfied and recommend it for you. Vedshri Dabhade
Shop now on Flipkart
2. Moon Eyes Black Natural Wavy Hair Extension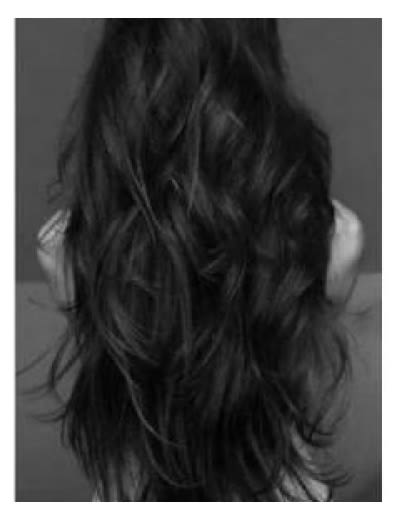 Walk into any room with full of confidence with long, wavy tresses from Moon Eyes. The natural black colour looks stunning on every Indian skin and face type.
The wavy hair extension is 24 inches long with 5 clips to secure it. The long extension when adjusted right below your crown will reach the bottom of your waist. This will give you dreamy, long hair.
What we liked about this product?
High-quality synthetic hair that looks natural
Clip and go for convenience
Dark, black colour for a stunning overall look
Customer Review
Enjoying this product. Easy to use. Bring home to flaunt your hair. Veronika Tripathi.
Shop Now on Flipkart
3. D-Divine Brown Curly Ribbon Ponytail Hair Extension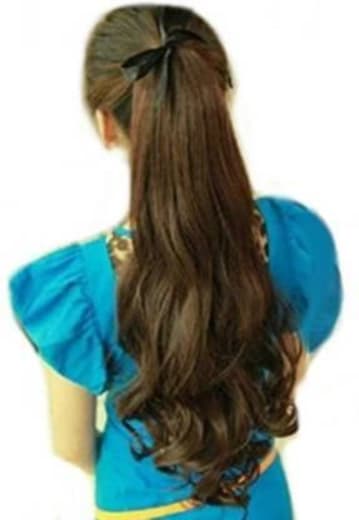 Another D-Divine hair extension has made it to our list of best hair extensions. It is made of high-quality synthetic hair material.
The extension is pre-bonded and you can attach it by wrapping it around. It takes less than two minutes to attach the ponytail extension. If you are looking for a casual hair extension for work, you can go ahead and add this one to your shopping cart.
What we liked about this product?
Pre-bonded ponytail allows you to create your dream ponytail look in no time
Wavy texture adds volume to your hair
22 inches long tresses for that casual look
Customer Review
Fabulous! Super. Jyoshna Nandhu
Shop Now on Flipkart
4. Twirey Messy Hair Bun Synthetic Hair Extension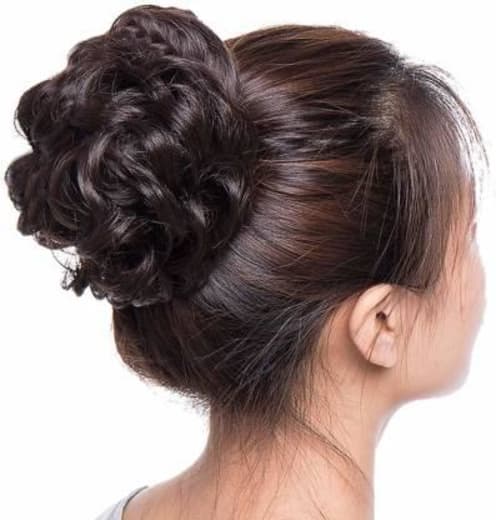 Do you want to pull off the messy bun look that has taken over the internet? You can now wear a messy yet beautiful bun in less than a minute. This twirey messy bun comes in 2 pieces, one messier than the other.
The beautiful extension comes with a scrunch which makes it easy to wear. Plus, it will hold well in your hair for a long time. The natural black colour adds to its beauty.
What we liked about this product?
Easy to use since it works like an ordinary hair tie
Beautiful and natural-looking curls
Skin-friendly material blends perfectly with your natural hair
Customer Review
Very nice product. Manisha Chatar.
Shop Now on Flipkart
5. Pema Black Curly Hair Extension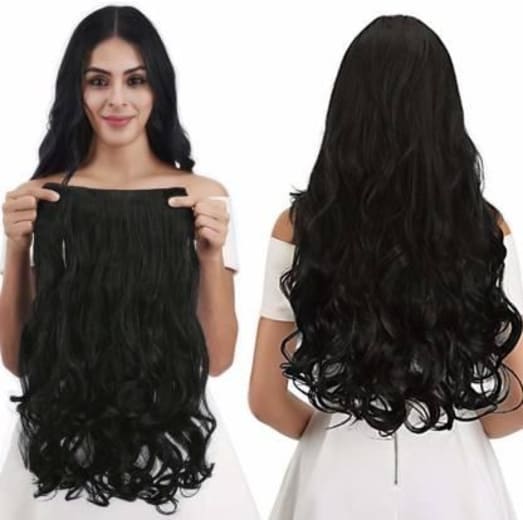 Long, curly hairstyle is in vogue now and you can get on with it by investing in this PEMA curly hair extension. The black colour adds to the charm of the hairstyle.
The clip and go application makes it super easy to use. The 22 inches, voluminous curls add instant fullness and length to your hair. The high-quality material will also ensure your tresses do not shed.
What we liked about this product?
Beautiful, full curls
Shiny and black hair
Reliable and long-lasting material
Customer Review
Wow, such an awesome product. I'm so satisfied and it exactly matches my hair colour. I would definitely recommend this and the cost is also fine. Overall, I'm happy with it. Indhu Yuvi
Shop Now on Flipkart
Closing Lines
The best hair extensions not only add volume and length, but they will also look perfectly natural on you. Moreover, they are a one-time investment and you can use the same extension multiple times. So, don't forget to take into consideration all the aspects such as colour, texture, style and most importantly, quality.
FAQs
How To Use Hair Extensions?
There are plenty of ways to use hair extensions. Here are a few of them:
To increase the volume of your ponytail
Add dimension and length to open hair
Create thicker and longer braids
Add colours or highlights
Which Type of Hair Extensions Are the Best?
The best type of hair extension is the one that you prefer! However, hairstylists suggest using real human hair extensions from a reputed brand or high-quality synthetic hair. Besides, you need to pay attention to the way you apply it.
How do I maintain my extensions?
You need to provide your extensions with the same care you would for your hair. If washing is required, be sure to wash it gently with a bit of shampoo water and rinse it off following a conditioner. You can apply a hydrating hair mask for improved care and detangle it often with a soft brush or wide tooth comb.