In India, Mehandi is not just a beautiful tradition; it's an art form passed down through generations. With a history of approximately 5,000 years, it is an inseparable part of our culture. Whether it is Diwali, Raksha Bandhan, or a wedding, our celebrations feel incomplete without adorning our hands (and feet!) with beautiful mehandi designs.
But with modern life getting busier and busier, how can you protect and cherish this art form? The answer is quite simple. With an easy mehandi design, you can not only add to the joy of festivities but also save time.
Who says easy designs can not look as beautiful and sophisticated as intricate ones? Our guide to the best beginner-friendly mehandi designs will prove that simplicity and beauty can go hand in hand.
So, without further ado, let us dive in.
17 Easy Mehandi Design
Classic Mehandi Design
Arabic Mehandi Design
Mandala Mehandi Design
Bangle Mehandi Design
Bracelet Style Mehandi Design
Floral Mehandi Design
Peacock Mehandi Design
Rajasthani Mehandi Design
Moon Mehandi Design
Mirror Image Mehandi Design
Birds Mehandi Design
Pakistani Mehandi Design
Jhumka Mehandi Design
Creepers Mehandi Design
Floral Jaal Mehandi Design
Shaded Mehandi Design
Feather Mehandi Design
Classic Mehandi Design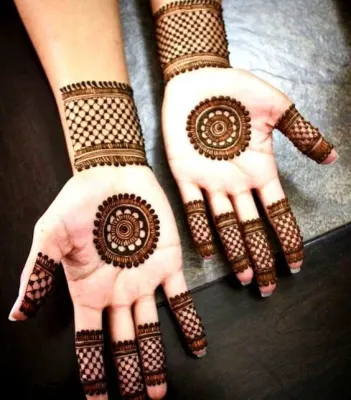 If you are looking for a subtle mehandi design, you cannot go wrong with the classic circular mehandi. It is simple, elegant, and incredibly easy to make, which makes it quite popular in India.
It is also worth mentioning that circles represent unity and harmony. That is why many brides prefer to include this easy mehandi design in their elaborate designs.
Arabic Mehandi Design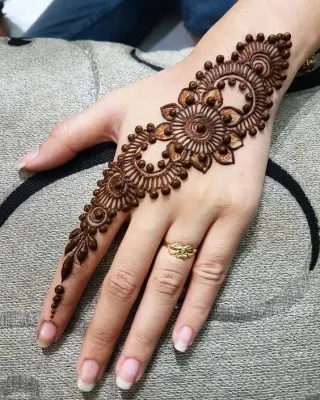 Arabic mehandi designs are famous for combining vines, laces, and flowers. If you prefer a clean and sophisticated look, this design will not disappoint. It is easy to make and begins from your wrist and ends at your fingertip. Moreover, it takes less time to make and dry, so you do not have to avoid using your hands for long.
Mandala Mehandi Design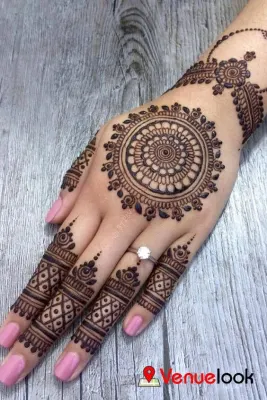 Mandala is considered an auspicious symbol in many religions, including Hinduism, Jainism, and Buddhism, as it represents our universe. And that is why it is used in mehandi designs. The design is typically drawn on the centre of the palm.
Bangle Mehandi Design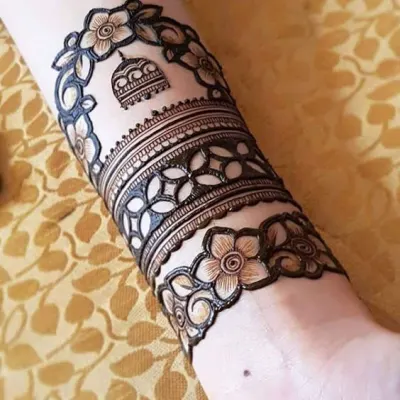 The bangle mehandi design is a trendy yet traditional design. Instead of wearing bangles, many people today prefer to get intricate and beautiful bangle designs made on their wrists and arms. It is especially popular with brides. Apart from creating a bangle design with flowers and petals, you can choose other options like stars, vines, etc.
Bracelet Style Mehandi Design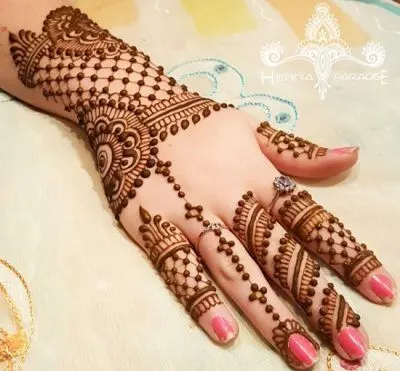 Similar to the bangle design, the bracelet design mehandi is more chic-looking. It covers the back of your hand, with at least one thread going to your fingers. Its intricate design resembles a modern-day bracelet that people often wear during festivals and weddings.
Floral Mehandi Design
This floral design is an all-time popular, classic, and easy mehandi design. It puts the attention on your fingers with swirls, twirls, and lace patterns.
It may look complicated at first; however, it is quite easy to make if you begin slowly. Feel free to replace any element that looks hard to make. You can make the last part slightly less embellished if it feels complicated.
Peacock Mehandi Design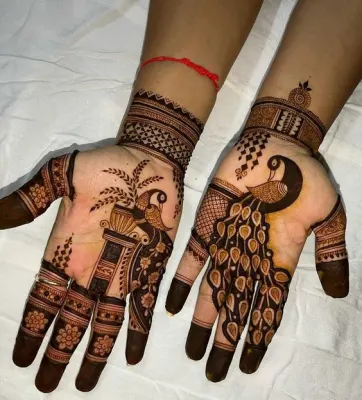 Peacocks represent beauty, confidence, renewal, and self-expression. With these promising representations, what better than a peacock mehandi design to flaunt your confidence this festive season?
This peacock design is stunning, simple, and lovely. It has dramatic details that symbolise your creativity and grace. The feathers are mainly highlighted with shading. And the pot adds a touch of nuance to it.
Rajasthani Mehandi Design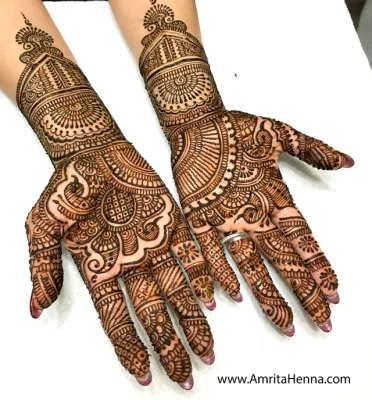 Rajasthan is among India's most vibrant states. With culture and tradition apparent in all its offerings, it is no surprise that this Rajasthani Mehandi design is the best mehandi design.
The design combines intricate detailing, making it slightly tricky for beginners to design on their palms.
Moon Mehandi Design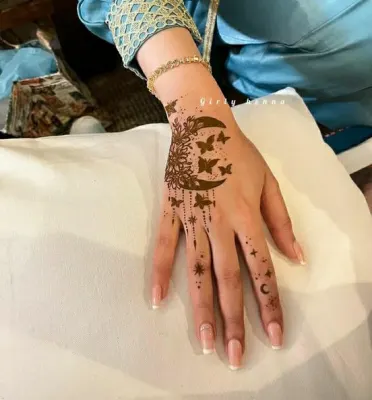 The moon symbolises different things in different mythologies, from femininity and beauty to renewal and cycles. That is why a lot of Moon Mehandi designs are becoming popular today.
The butterflies and flowers in this design add to the grace of the crescent moon and celebrate its rebirth after a new moon. It is perfect for people who are looking to capture metaphorical stars in their hands.
Mirror Image Mehandi Design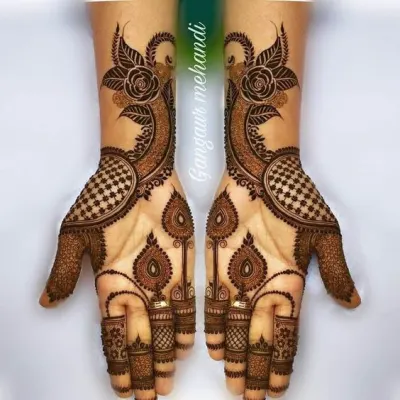 Also called symmetrical mehandi design, mirror image mehandi designs are created by replicating the same pattern on both hands. They represent harmony, balance, and unity. This design adds a touch of elegance and sophistication to your look.
If the flower on your wrist seems complicated to make, you can replace it with an easier flower design.
Birds Mehandi Design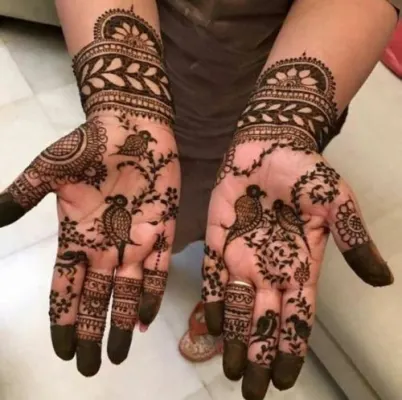 Birds have been a part of body art for a long time. From tattoo designs to mehandi designs, birds express a sense of freedom, unity, hope, and new beginnings.
With this pretty bird mehandi design, you can express the same emotions. It is not only fresh but also attractive and unique.
Pakistani Mehandi Design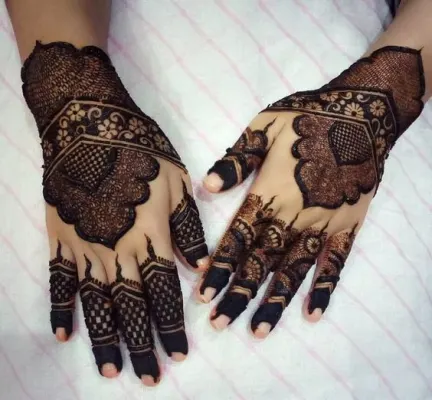 Pakistani mehandi designs are a gorgeous combination of Indian and Arabic designs. This design may look complicated, but all it requires is a lot of patience and a good command of your henna. The small space between the fingers and the back of the hand adds to the gracefulness of the design without making it look crowded.
Jhumka Mehandi Design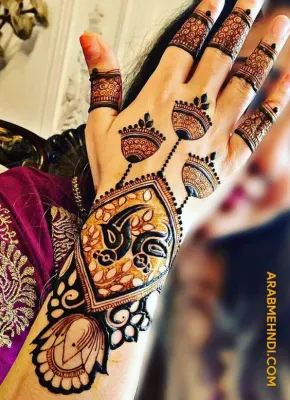 Jhumkas, the charming Indian earrings, have a much deeper meaning than you may realise. They signify eternal life and are believed to bring positive energy. So, why not add the unique touch and auspiciousness of Jhumkas to your festivities with this beautiful mehandi design? They will not only protect you from evil but also highlight your eccentric personality.
Creepers Mehandi Design
Looking for something more lowkey but also flowery? Well, then, this creeper mehandi design will work like a charm. The design is simple, charming, and easy to make. Creepers indicate liveliness, perseverance, and tenacity. And with a creeper mehandi on your hand, you can also signify all these ideas.
Floral Jaal Mehandi Design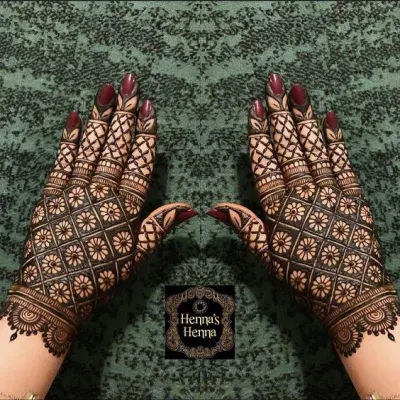 Another type of floral mehandi design, the floral jaal, is a popular mehandi design in India, especially for brides. With people believing it symbolises eternal love and timelessness, you can use this design for festive occasions. The only catch is that you require a lot of patience to make it.
Shaded Mehandi Design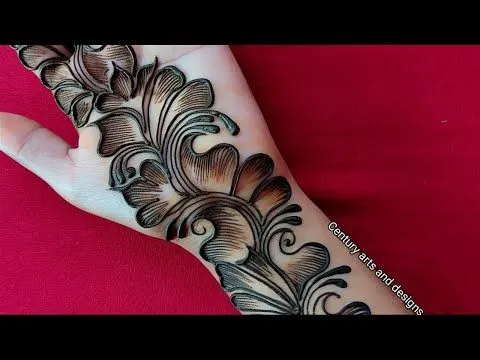 A shaded mehandi design gives a certain depth and dimension. They are more vibrant visually appealing, and can be done with patterns. The design in the image is an easy mehandi design that will not only last longer due to shading but also looks unique and personalised.
Feather Mehandi Design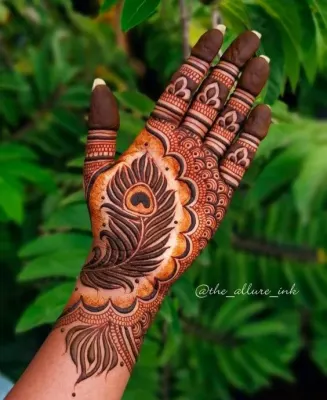 As one of the most versatile mehandi designs, the feather mehandi design looks good on people of all ages. This design begins from your wrist and covers half of your palm. The shaded part gives it an otherworldly look and adds to its allure. If you also love feathers, you can easily make this design.
Conclusion
There you go! The best mehandi design adds to your beauty and enhances your look with its intricate patterns and vibrant colours. With a wide range of options, you can select the one that matches your personality the best. However, remember, the best mehandi design is all about your individuality. So do not forget to twist these patterns to suit your style.