Having dark lips can be frustrating. While some causes like smoking and sun exposure are preventable, other reasons like pigmentation are often genetic. The good news is – with the right lip care, you can lighten dark lips and keep them healthy.
In this comprehensive guide, we will discuss the best lip balms and treatments available in India for dark lips. These products are enriched with nourishing ingredients like Vitamin E, shea butter, cocoa butter, and more to repair pigmented lips and make them lighter and softer.
How to Choose the Best Lip Balm for Dark Lips
With so many options in the market, choosing the right product can be confusing. Here are some tips to help you pick the best lip balm for dark lips:
SPF Protection – Look for lip balms with SPF to guard against sun damage worsening pigmentation. SPF 15 or higher is ideal.
Lightening Ingredients – Opt for balms with natural lighteners like licorice, lemon, mulberry extract, Vitamin C, etc. They inhibit melanin production.
Hydration – Dry, flaky lips worsen the appearance of darkness. Seek intensely moisturizing balms with shea butter, almond oil, jojoba oil.
Fragrance-Free – Heavily fragranced balms can irritate sensitive lips. Fragrance-free ones are safest.
Your Needs – If you need instant color correction, pick tinted balms. For overnight treatment, choose masks and scrubs.
Types of Lip Balms for Dark Lips
1. Tinted Lip Balms
Tinted balms provide a quick fix by adding a sheer coat of color to mask darkness. They also moisturize lips.
Best Options: Mamaearth Vitamin C Tinted Lip Balm, Juicy Chemistry Blood Orange & Rosehip Organic Lip Balm
2. Lip Lightening Balms
These contain ingredients like licorice, kojic acid, Vitamin C, and more to lighten pigmented lips with regular use.
Best Options: Dot & Key Lip Lightening Balm, Minimalist Vitamin C Lip Treatment
3. Lip Scrubs and Masks
Gentle physical exfoliation removes dead skin cells and lightening masks offer intensive dark lips treatment.
4. Overnight Lip Masks
Worn overnight, these treatments deeply nourish and rejuvenate lips.
Best Options: Laneige Lip Sleeping Mask, The Body Shop Vitamin E Lip Care Mask
The 10 Best Lip Balm for Dark Lips in India
After extensive research and testing numerous lip balms available in the Indian market, here are our top picks:

Key Features:
Enriched with Vitamin C and honey
Shea and cocoa butter for moisture
Provides sheer pink tint
Price: ₹299
Ratings: 4.2/5 stars (8,712 reviews)
Infused with Vitamin C from orange essential oil, this tinted balm from Mamaearth works to lighten pigmented lips. The melanin inhibiting properties of Vitamin C coupled with moisturizing honey and butters make it ideal for dark, dry lips. It gives sheer color to mask darkness temporarily.
"My lips look visibly pink after using this regularly. It also feels very moisturizing on application."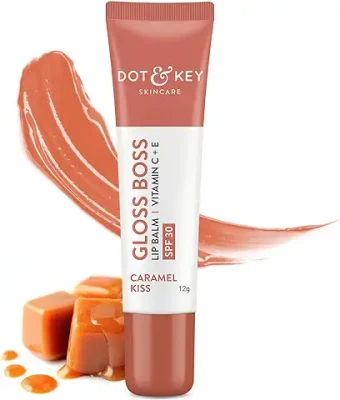 Key Features:
Contains liquorice extract
SPF 25 PA++ protection
Ultra-hydrating formula
Price: ₹385
Ratings: 4/5 stars (1,112 reviews)
The Dot & Key lip balm is powered by liquorice extract and vitamin C – both of which are proven to reduce melanin and pigmentation over time. It is very hydrating thanks to ingredients like shea butter, jojoba oil, cranberry seed oil. SPF guards lips against further sun damage.
"I used it twice daily for a month and noticed good lightening of my dark lips. Plus SPF means it prevents tanning."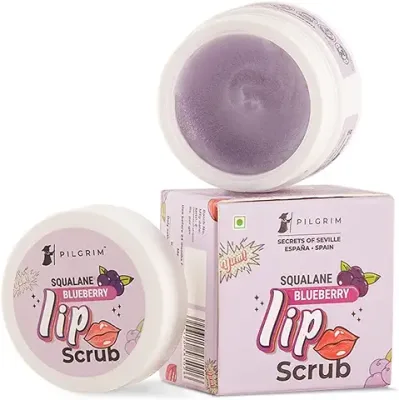 Key Features:
Contains blueberry to exfoliate
Enriched with sugar and shea butter
Improves lip texture
Price: ₹199
Ratings: 4.3/5 stars (472 reviews)
This gentle lip scrub by Pilgrim sloughs off dead skin with blueberry to reveal softer, lighter lips. The oils in it provide ample nourishment. Use it once or twice a week before applying lip balm for best results. It leaves lips smoother.
"I saw a noticeable difference in my lip pigmentation after using this scrub. Lips look brighter and feel really moisturized."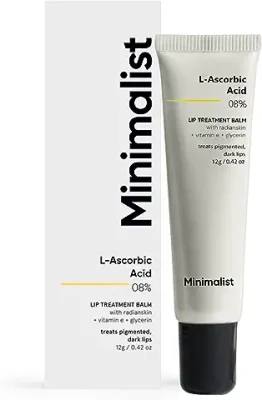 Key Features:
8% L-Ascorbic Acid (Vitamin E)
Lightweight buttery formula
Improves lip texture
Price: ₹399
Ratings: 4/5 stars (1,012 reviews)
Minimalist's lip treatment contains a high percentage of Vitamin E that works wonderfully to lighten pigmented lips and boost collagen production. The balm texture ensures lips stay supple and hydrated too. It does not feel sticky or heavy on the lips.
"I used it every night and saw good results. My lips look noticeably lighter and feel nourished. Texture is smooth and non-greasy."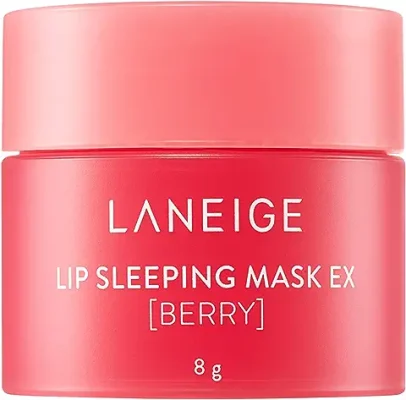 Key Features:
Berry complex and Vitamin C
Hydrates lips overnight
Soft matte finish
Price: ₹600
Ratings: 4.4/5 stars (7,112 reviews)
The Laneige lip sleeping mask is a holy grail product for dry, chapped lips and also works to treat pigmentation. It contains antioxidant-rich berry mix and Vitamin C to lighten dark lips and deeply moisturize them. Just apply a layer before bedtime and wake up to soft, supple lips.
"It made a big difference – my lips looked healthy, soft and the dark pigmented patches lightened considerably."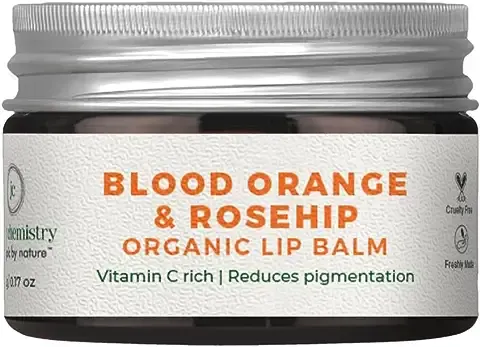 Key Features:
Cold-pressed blood orange oil
Organic rosehip oil
Intensely moisturizing
Price: ₹350
Ratings: 4.3/5 stars (3,912 reviews)
This organic lip balm from Juicy Chemistry is filled with natural oils that nourish dry, chapped lips wonderfully. The blood orange oil in it works to gently lighten pigmentation. While the rosehip oil boosts collagen and repairs lips. It keeps lips smooth and supple.
"I love the zesty orange scent and it feels very moisturizing. I've noticed lightening of pigmented patches on my lips gradually."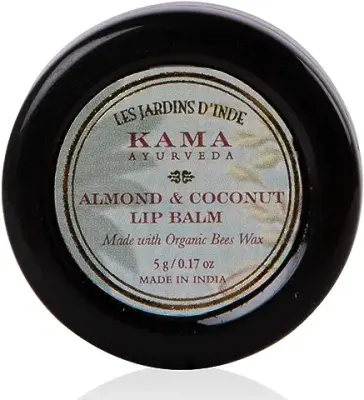 Key Features:
Ayurvedic formula with 19 herbs
Contains almond & coconut
Anti-aging and rejuvenating
Price: ₹775
Ratings: 4.1/5 stars (472 reviews)
Kama Ayurveda's intensive lip treatment is enriched with Coconut Oil, Castor Oil and Organic Almonds and more to deeply nourish lips. The herbal balm prevents collagen loss and effectively repairs dry, flaky, pigmented lips.
"Expensive but works amazingly to hydrate lips and lighten pigmented patches. Brightens lip complexion."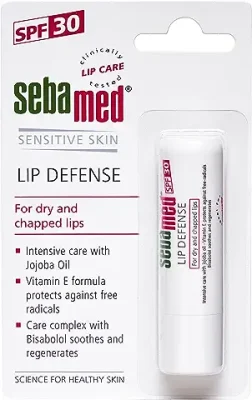 Key Features:
SPF 30 UV protection
Jojoba oil & vitamin E
Fragrance-free
Price: ₹445
Ratings: 4.3/5 stars (4,201 reviews)
Sebamed's lip balm offers broad spectrum SPF 30 defense against sun damage that worsens dark lips. It contains hydrating jojoba oil and antioxidant vitamin E. The formula is fragrance-free making it suitable for sensitive lips too. It provides long-lasting moisturization without heaviness.
"My lips were so dry that normal balms didn't work. This healed my lips and prevented them from tanning in the sun."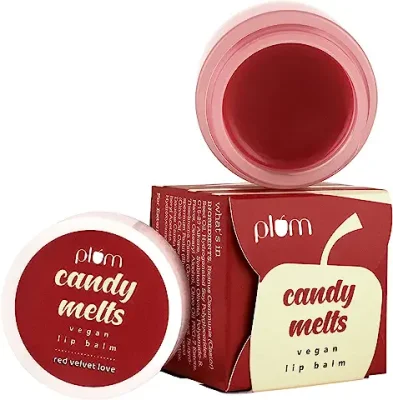 Key Features:
Shea butter and vitamin E
Beautiful tinted shades
Cruelty-free
Price: ₹295
Ratings: 4.2/5 stars (3,324 reviews)
Plum's candy melt tinted balms are much loved for their juicy shades and smooth texture. Available in red, pink, orange and more colors, they provide instant color correction for darkened lips along with intense nourishment from shea and cocoa butter. The vegan formula is safe for sensitive lips too.
"Gives sheer beautiful color to my lips masking any darkness instantly. Still feels light and moisturizing."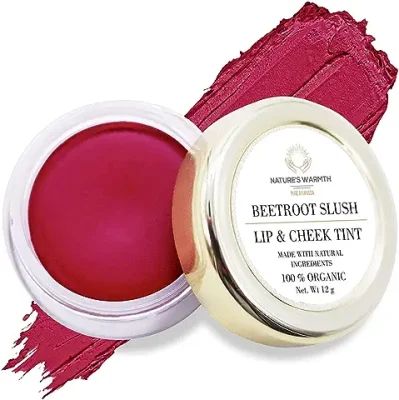 Key Features:
Contains beetroot extract
Shea butter for moisture
Lightweight formula
Price: ₹249
Ratings: 4/5 stars (712 reviews)
Nature's Tattva lip balm combines the power of antioxidant-rich beetroot and shea butter to effectively lighten pigmented lips and keep them hydrated. The non-greasy formula gets absorbed quickly without leaving any stickiness. It also has a lovely natural beetroot scent.
"Regular use lightened my dark lips noticeably. You only need a small amount so one tube lasts long."
Comparison of Best Lip Balm for Dark Lips
| Product | Key Ingredients | Price | Ratings |
| --- | --- | --- | --- |
| Mamaearth Vitamin C Tinted Lip Balm | Vitamin C, Honey | ₹299 | 4.2/5 |
| Dot & Key Lip Lightening Balm | Liquorice, Vitamin C, SPF 25 | ₹385 | 4/5 |
| Pilgrim Blueberry Lip Scrub | Blueberry, Shea Butter | ₹199 | 4.3/5 |
| Minimalist Vitamin C Lip Treatment | 8% Vitamin E | ₹399 | 4/5 |
| Laneige Lip Sleeping Mask | Berry Complex, Vitamin C | ₹600 | 4.4/5 |
| Juicy Chemistry Blood Orange & Rosehip Lip Balm | Blood Orange Oil, Rosehip Oil | ₹350 | 4.3/5 |
| Kama Ayurveda CIntensive Lip Balm | Coconut oil, Almond oil, | ₹775 | 4.1/5 |
| Sebamed Lip Defense | Jojoba Oil, Vitamin E, SPF 30 | ₹445 | 4.3/5 |
| Plum Candy Melts Tinted Lip Balm | Shea Butter, Vitamin E | ₹295 | 4.2/5 |
| Nature's Warmth Beetroot Lip Balm | Beetroot Extract, Shea Butter | ₹249 | 4/5 |
How to Use Lip Balm for Treating Dark Lips
Using lip balm regularly is crucial for improving pigmented lips. Here are some tips:
Always apply lip balm after exfoliating lips to remove dead skin and optimize absorption
For overnight masks, apply a thicker layer on clean lips and leave it on while sleeping
For daytime use, dab a small amount and reapply every few hours as needed
Use lip balms with SPF daily before sun exposure to prevent tanning
Avoid licking lips constantly as it removes the product
Complement your lip balm with a healthy diet and lifestyle for best results.
Caring for Lips to Prevent Pigmentation
Along with using effective lip balms, follow these care tips:
Exfoliate – Do a lip scrub once or twice a week to remove dead skin. Be gentle.
Moisturize – Never skip lip balm, especially at night. Keep lips hydrated.
Sun Protection – Use lip balm with SPF 30 or more before going out. Reapply often.
Healthy Diet – Eat antioxidant-rich fruits and veggies. Stay hydrated.
Limit Smoking – Smoking can cause and worsen lip pigmentation.
FAQs about Best Lip Balm for Dark Lips
Q. Which ingredients should I look for in lip balms to lighten dark lips?
A. Seek lip balms containing licorice extract, Vitamin C, kojic acid, mulberry extract, beetroot extract, etc. They help reduce melanin production.
Q. Can lip scrubs be used to treat pigmented lips?
A. Yes, lip scrubs with gentle exfoliants like sugar or coffee can remove dead skin cells, improve blood circulation, and enhance product absorption. Use them once or twice weekly.
Q. How long does it take to see results from using lip balm for dark lips?
A. With regular twice daily usage, results are usually visible within 4 to 6 weeks in the form of lighter, brighter, and more even-toned lips. However, time taken may vary based on individual lip condition.
Q. Should lip balms for pigmented lips be applied at night too?
A. Yes, applying lip treatments at night allows the ingredients to work on your lips overnight without disturbance and penetrate deeply. So use overnight masks or nourishing balms before bed.
Q. Can I use normal moisturizing lip balm for my dark lips?
A. Regular lip balms only provide surface hydration but do not treat pigmentation. Opt for lip balms with specialized lightening ingredients like those mentioned in this post for dark lips.
Q. Which ingredients are preferred in lip balms for dark lips?
Shea Butter, Vitamin C and Vitamin E are ideal for treating dark lips.
Q. Which lip balm is used for reducing lip pigmentation?
Mamaearth Natural Lip Balm and Biotique Bio Fruit Brightening Lip Balm effectively treat conditions like lip pigmentation.
Q. Can dark lips turn supple and pink?
Yes, various remedies can turn dark lips to supple pink. You can use home remedies like scrubbing, ghee, organic masks, drinking plenty of water and following a healthy diet. However, you can get instant results by using lip balm for dark lips. They help replenish dark lips and make them look supple pink.
Q. Can you apply lip balm at night?
Yes, you can apply lip balm before going to sleep at night. It gets ample time to work on the dead skin cells for the best results.
Q. Which lip balm is best for dark lips?
According to our research, the Mamaearth Vitamin C Tinted Lip Balm is one of the best for dark lips. It contains vitamin C which helps lighten pigmentation. The moisturizing formula with honey, shea and cocoa butter also repairs dry, chapped lips.
Q. How can I remove lip darkness?
Using lip balms with lightening ingredients like licorice, vitamin C, kojic acid, etc. can help reduce melanin production and remove lip darkness gradually. You can also try lip scrubs 2-3 times a week to exfoliate off dead skin and improve lightening product absorption.
Q. Which lip balm makes lips pink?
Tinted lip balms like the Mamaearth Vitamin C one provide a temporary pink tint to make lips appear brighter. For longer lasting lightening, the Khadi Herbals Madhuadhar Beetroot Lip Balm and Juicy Chemistry Blood Orange & Rosehip Balm make lips pinker over time.
Q. How to get pink lips?
Using lip balms enriched with fruit extracts, beetroot, rosehip oil, and vitamins C and E can help lighten pigmentation and get naturally pink lips. Avoid smoking, stay hydrated, and use SPF lip balm for added care.
Q. Which is the No 1 lip balm in India?
According to sales and reviews, the cult favorite Nivea Original Care Lip Balm in the blue tin is considered the No.1 lip balm in India. It deeply hydrates dry, chapped lips.
Q. Which lip balm whitens lips?
Lip balms containing ingredients like licorice extract, vitamin C, kojic acid, mulberry extract, etc. have skin lightening properties to reduce melanin production and whiten pigmented lips when used regularly.
Q. Which lip balm is best for daily use?
For daily use, the Sebamed Lip Defense with SPF30, vitamin E and hyaluronic acid is a great option. It hydrates lips for 24 hours, protects against sun damage, and is suitable for sensitive skin too.
Q. How to get red lips?
Using a hydrating, tinted lip balm like the Plum Candy Melts in juicy red shade can temporarily give you red lips. For a bolder look, apply red lipstick or tinted lip gloss over your balm.
Q. Why my lip is so dark?
Lips can darken due to sun exposure, smoking, nutritional deficiencies, hormonal changes, hyperpigmentation, aging, etc. Using adequate SPF protection, avoiding smoking, and eating a healthy diet can help prevent and treat lip darkness.
Q. Why is my lip area dark?
Darkness around lips is usually caused by hyperpigmentation. It worsens with sun exposure. Using sunscreen, chemical exfoliants, creams with niacinamide, etc. under expert guidance can help lighten it over time.
Q. Can lipstick darken lips?
Certain lipstick shades, especially very dark ones, can stain lips and make them appear darker. Opting for lighter, non-matte lipsticks and removing makeup thoroughly before sleeping helps prevent this.
Q. How to avoid dark skin?
Minimizing sun exposure, using sunscreen, eating vitamin C and antioxidant-rich diet, staying hydrated, exfoliating regularly, and avoiding smoking can help avoid skin darkening. Consult a dermatologist too.
Q. Can I apply lip balm overnight?
Yes, applying an intensive lip treatment balm or mask overnight allows the moisturizing and nourishing ingredients to work on your lips for hours without interruption and lighten darkness effectively.
Q. Which lip balm gives Colour?
Tinted lip balms from brands like Mamaearth, Plum, Lakme provide a sheer wash of color while moisturizing lips. They come in pink, coral, red, plum, orange and other shades to temporarily color and brighten your lips.
Q. What color are lips naturally?
Human lips are naturally pinkish or light red in color owing to the blood vessels underneath the thin lip skin. Very pale to dark brown lip colors are also genetically determined in some people.
Q. Can a dermatologist help with dark lips?
Yes, consulting a dermatologist can help identify the exact cause of your lip darkening and get effective treatment like medicated creams, chemical peels, laser therapy, etc. based on your concern.
Q. Is A red lip attractive?
Red lips are considered attractive and a sign of youthfulness due to their association with good blood circulation. Classic red lipstick can beautifully accentuate lips. But ultimately comfort and self-confidence in your look makes your lips most attractive!
So those were the best lip balms available in India for effectively and safely lightening dark, pigmented lips and making them soft and supple. Use them regularly along with lip care to see positive changes. Let us know if you have any other questions!
Summing Up
This article is a one-stop list of top-rated Lip balms for dark lips. While individual choices may differ across requirements, brands, ingredients and flavours, anyone from the top 6 list will definitely stand up to your expectations. You can consider your budget and package choices before picking up an ideal lip balm for dark lips this season.