Welcome to the world of creamy indulgence! In 2023, the domain of mayonnaise in India is bursting with exciting choices that can transform your meals into an adventure of its own. Whether you're a foodie or someone who wants to add some zest to your dishes, the right mayonnaise can make all the difference.
In this article, we'll discover the top six mayonnaise brands in India. From classic favourites to innovative newcomers, these carefully curated selections promise to elevate your meals and ignite your taste buds.
How to Choose the Best Mayonnaise in India?
Choosing the best mayonnaise involves considering several factors to ensure you find the perfect match for you. Here's a list of factors to help you make the best choice:
Check the ingredient list: Look for options with simple, natural ingredients and avoid those with too many additives or preservatives.
Type of mayonnaise: You can choose between regular mayonnaise, low-fat, or eggless varieties, depending on your dietary choices. If you have specific dietary restrictions, be it vegan or gluten-free, select the mayonnaise that aligns with these requirements.
Flavor choice: Mayonnaises come in different flavours. Choose a flavour that best compliments your dishes.
Consistency of the mayo: Before making a purchase, look for the texture you prefer, whether you like a thicker, richer texture or a lighter, smoother mayo.
Brand of mayonnaise: Opt for well-established brands known for quality and consistency.
Time to expiry: Check the expiration date to ensure the mayo has a reasonable shelf life.
Packaging type: Choose the packaging best suited to your convenience. Squeeze bottles with resealable caps are often more user-friendly.
Customer reviews: Read customer reviews and ratings to get insights into the taste and overall satisfaction of the mayonnaise.
List of Best Mayonnaise in India
The right mayonnaise can turn a regular meal into a gourmet delight. Let's dive into the world of creamy goodness and the versatility of mayonnaise. Here's a list of our top picks that can bring culinary wonders to your table:
Dr. Oetker FunFoods Veg Mayonnaise
Urban Platter Mayonnaise
Veeba Eggless Mayonnaise
Wingreens Farms Veg Mayonnaise
Hellmann's Real Mayonnaise
Kewpie Mayonnaise
Oetker FunFoods Veg Mayonnaise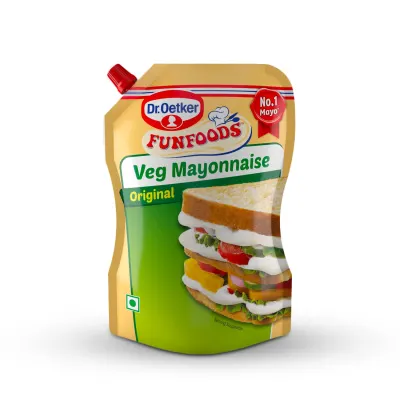 Founded in 2008, Dr Oetker has built a global reputation for its extensive range of culinary delights. At the heart of their mayonnaise offerings is the beloved Dr. Oetker Funfoods Mayonnaise, a 100% vegetarian delight.
The mayo has a versatile and neutral flavour profile, ideal for a variety of dishes like sandwiches, burgers, and wraps. Best of all, Dr. Oetker's mayonnaise is free from cholesterol and trans-fat, aligning with modern dietary preferences.
What's Great?
The rich and creamy taste
Contains no MSG
Rich source of omega-3 fatty acids
User-friendly packaging with travel options
Urban Platter Mayonnaise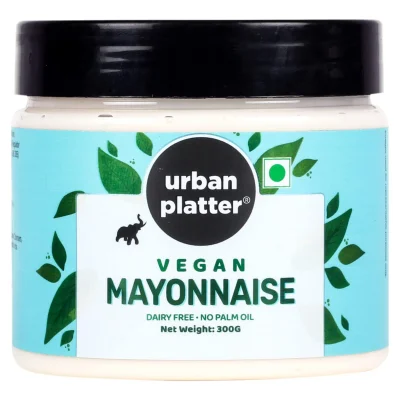 Urban Platter, a distinguished Indian food company, has made a significant mark as a leading provider of gourmet products. Among its standout offerings is Urban Platter Mayonnaise, one of the best mayonnaises in India. This mayo is made without using palm oil or its derivatives, ensuring a healthier choice for consumers.
What's Great?
Gluten-free
Dairy-free
One of the only widely available vegan mayonnaise
Veeba Eggless Mayonnaise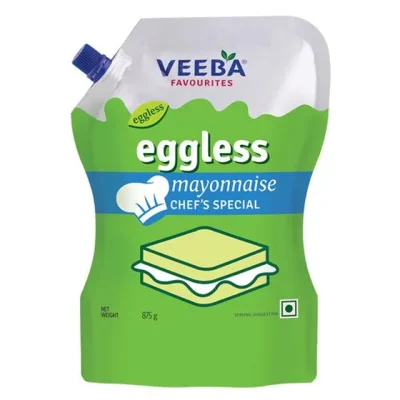 Indulge in the goodness of Veeba Eggless Mayonnaise, where each dollop brings an extra creamy and irresistibly smooth texture to your dishes. This condiment is the perfect catch that elevates all your creations to culinary masterpieces. Crafted with a dedication to quality, this mayo boasts to use only the finest ingredients.
What's Great?
100% vegetarian
Offers a range of flavours
Free of trans fat and cholesterol
Wingreens Farms Veg Mayonnaise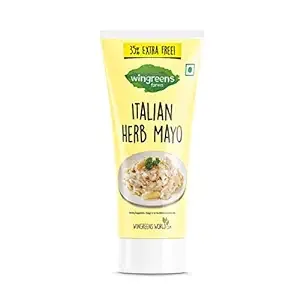 When it comes to the quest for the best mayonnaise in India, Wingreens Farms stands out as an eminent player. Established in 2009, this Indian company has swiftly become a favourite among modern millennial consumers.
What truly distinguishes Wingreens Farms' eggless mayonnaise is its exceptional taste. It is crafted with premium quality farm-sourced mixed herbs and enveloped in the goodness of sunflower oil.
What's Great?
Suitable for both vegans and vegetarians
Comes in numerous flavors
Offers various packaging options
Hellmann's Real Mayonnaise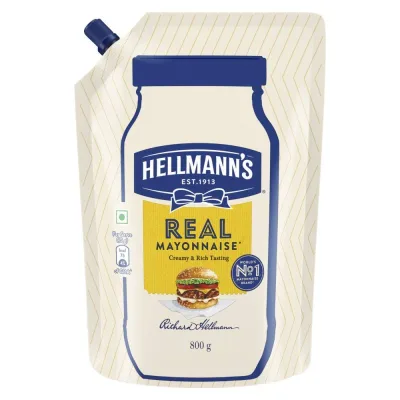 Hellmann's, an American food company with a global footprint, has earned a stellar reputation for delivering an array of delectable food products, including mayonnaise. Hellmann's is known for offering the best mayonnaise in the Indian market, winning over the hearts and taste buds of its consumers.
Made with a blend of refined soybean oil, water, and sugar, Hellmann's mayonnaise commits to using high-quality ingredients.
What's Great?
Enriched with Omega-3
Vegetarian
Creamy and rich texture
Kewpie Mayonnaise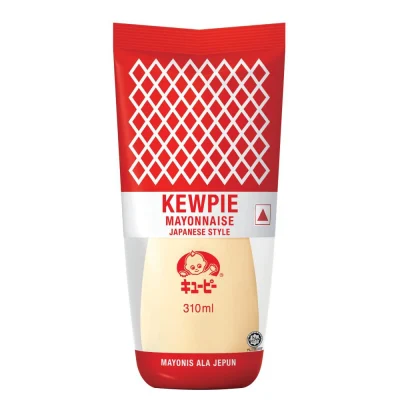 Kewpie's Japanese mayonnaise has made a significant mark in India and beyond, securing its position as one of the best mayonnaises in India. Its unique flavour with a subtle umami tangle and creamy consistency due to egg yolks set it apart from standard mayonnaise.
What's Great?
Uses rice vinegar instead of conventional distilled vinegar
Free of milk, dairy, gluten, alcohol, preservatives, chemicals
Packaging is user-friendly, with a squeezy bottle and built-in double cap system
Wrapping Up
In recent years, mayonnaise has established an indispensable role in elevating the flavours of our favourite dishes like sandwiches, burgers, fried chicken, and sushi. It's now placed as more than just a condiment; it's a culinary essential that adds that perfect creamy touch to your meals.
From the creamy goodness of Hellmann's to the umami-rich Kewpie, these brands have set a gold standard in the world of mayonnaise. They bring not just taste but also quality to your table, ensuring that every bite is a culinary delight.
FAQs
Q. How should mayonnaise be stored at home?
It is recommended not to leave opened mayo containers outside of the refrigerator. Once opened, mayonnaise can spoil within approximately 8 hours.
Q. Are there any health benefits to consuming mayonnaise?
Mayonnaise includes vitamin E, which supports heart health, and vitamin K, crucial for blood clotting. Consuming it in moderation is key.
Q. What is the shelf life of mayonnaise?
Typically, mayonnaise has a shelf life of three months when stored in the pantry. Once opened, it should be refrigerated and consumed within two months.
Q. How much mayonnaise consumption is considered healthy?
It's advisable to limit the serving to 1 tablespoon at a time. This portion contains approximately 103 calories, 12 grams of fat, and 2 grams of saturated fat.