India is traditionally known as a nation of tea drinkers, but coffee has steadily gained popularity over the years. With an array of options now available, from traditional South Indian filter coffee to imported blends, it can be tough to know which coffee is truly the best.
In this guide, we will explore the top coffees in India based on quality, taste, aroma, value for money, and customer reviews. We will break down the key factors in choosing a great coffee and provide recommendations on how to brew and enjoy coffee to its fullest flavor. Read on for the inside scoop on the best coffee brands and products that India has to offer!
How to Choose the Best Coffee in India
When selecting the best coffee in India, here are some key factors to consider:
Bean Quality: The quality of the coffee beans, including origin, variety, processing method, and roast level all impact the taste of the final product. Coffees made with 100% Arabica beans or a blend of Arabica and Robusta tend to be higher quality.
Roast: How the beans are roasted affects the flavor. Light roasts preserve more complexity, while dark roasts have bolder, deeper flavors. Try out different roast styles to find your preference.
Grind: Grind size dramatically impacts flavor extraction and coffee mouthfeel. Finer grinds infuse more quickly for espresso while coarser grinds allow pure infusion for drip or pour-over coffee.
Freshness: Freshly roasted coffee tastes best. When possible, choose coffee that has a roasted-on date and use within 2 weeks for peak freshness.
Brewing Method: The same coffee can taste completely different depending on the brewing process. Consider how you will make your coffee before purchasing.
Flavor Profile: Coffees range from light, bright, and fruity to deep, earthy, and chocolaty. Decide if you prefer a mild or strong taste. Flavored coffees add vanilla, hazelnut, or other tastes.
Price: While not always an indicator of quality, price can reflect aspects like rarity, origin, processing method that influence taste. Set a budget that fits your needs.
By keeping these factors in mind, you're sure to select a coffee in India that matches your preferences and provides an exceptional sipping experience! Now let's dive into the top picks.
Best Coffee in India
1. Nescafe Classic Instant Coffee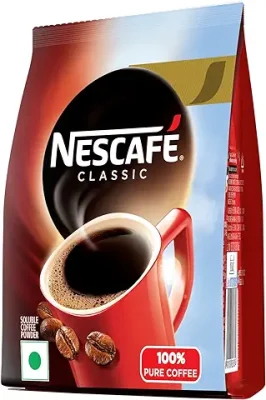 Nescafe Classic is one of the most popular coffee brands in India, known for their affordable and widely available instant coffee. Their classic instant coffee uses a blend of Robusta and Arabica beans sourced from India and is available in a variety of jar, pouch, and sachet sizes.
Key Features:
Made from 100% pure coffee beans
Strong, rich taste
Smooth and creamy texture
Range of quantity options from 24g to 500g
Ratings: ⭐⭐⭐⭐ (4.5 out of 5)
Nescafe Classic provides a straightforward and satisfying coffee experience. The instant powder dissolves easily in hot water or milk, and the end result is a strong, full-bodied coffee with rich aroma. It's an excellent daily coffee that is easy to prepare anywhere.
2. Davidoff Café Instant Coffee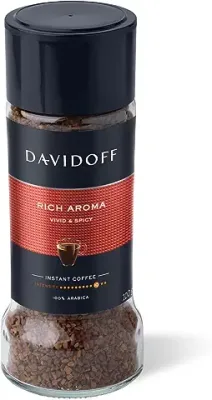 For premium instant coffee in India, Davidoff Café is a top contender. This 100% pure Arabica coffee comes from high-altitude beans sourced from Latin America and Africa. The soluble coffee crystals allow for a smooth texture and refined aroma.
Key Features:
Made from 100% Arabica coffee beans
Complex, multilayered coffee taste
Notes of cocoa and malt
Elegant glass jar packaging
100g quantity
Ratings: ⭐⭐⭐⭐⭐ (4.6 out of 5)
Davidoff Café has a sophisticated flavor profile with hints of caramel and fruit. It produces a velvety, intensely aromatic coffee. The natural sweetness and mild bitterness strike the perfect balance. This is an elevated instant coffee experience for those who appreciate quality and nuanced taste.
3. Bru Instant Coffee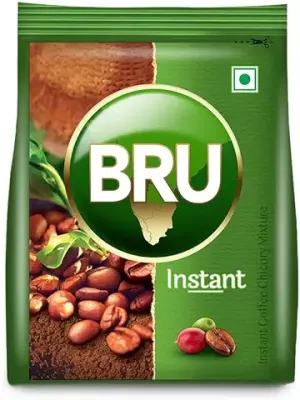 Bru instant coffee, created by Hindustan Unilever, brings the flavor of South Indian coffee in convenient instant form. It is made from a blend of Robusta and Arabica beans sourced from the lush Baba Budan Hills. Bru has an aromatic, well-balanced taste and creamy texture.
Key Features:
Blend of Arabica and Robusta beans
Aroma of South Indian coffee
Smooth, creamy texture
Highly rated taste
Jars from 50g to 200g
Ratings: ⭐⭐⭐⭐ (4.4 out of 5)
For those who enjoy the regional taste of South Indian filter coffee, Bru instant provides nostalgic flavor with modern convenience. It brews a coffee that is aromatic, smooth, and easy drinking. The taste evokes the terroir of coffee from Southern India.
4. Sleepy Owl Instant Coffee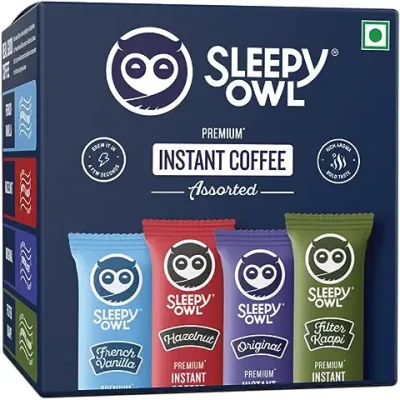 Sleepy Owl is one of the trendiest new instant coffee brands in India. Their signature microground coffee uses 100% Arabica beans roasted and ground to order for peak freshness. The coffee has a smooth, full flavor with nuanced tasting notes.
Key Features:
100% Arabica coffee beans
Freshly roasted and microground
Ultra smooth, refined taste
Variety of flavors like hazelnut and French vanilla
Packs of 48 sachets or 100g jars
Ratings: ⭐⭐⭐⭐ (4.3 out of 5)
For instant coffee that rivals a gourmet roast, Sleepy Owl delivers. Their high quality Arabica beans and innovative brewing process creates a complex yet mellow tasting profile. It's some of the freshest and most sophisticated instant coffee you can find in India.
5. Tata Coffee Grand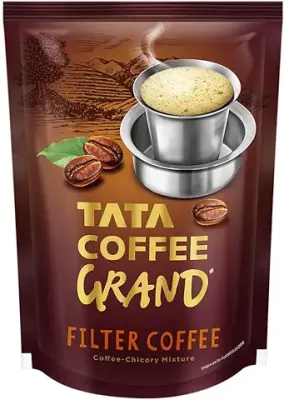 Tata Coffee Grand brings single-origin coffee from Coorg, known for some of India's best coffee estates. This blend of Robusta and Arabica incorporates unique "decoction crystals" to capture the flavors and aromas of fresh brewed coffee.
Key Features:
Single-origin Indian coffee
Decoction crystal technology
Intense aroma and full body
Packs and jars from 48g to 200g
Ratings: ⭐⭐⭐⭐ (4.3 out of 5)
The decoction crystals dissolve gradually to infuse the coffee with layered robust taste. Tata Coffee Grand evokes the experience of a traditional Indian filter coffee with its complex aroma, rich body, and regional authenticity.
Best Coffee Beans in India
For aficionados who want complete control over the coffee brewing process, buying whole bean coffee allows you to freshly grind and brew for peak flavor. Here are some top options for high-quality coffee beans in India.
1. Blue Tokai Coffee Roasters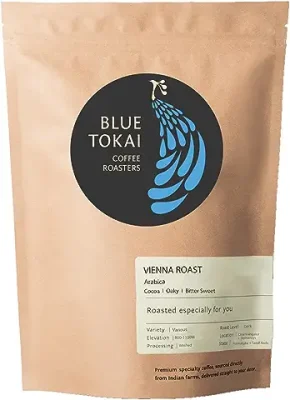 Blue Tokai, based in Mumbai, is one of the leading specialty coffee roasters in India. They source unique single-origin coffees from Indian estates along with beans from Africa, Latin America, and Asia. The beans are expertly roasted for incredible freshness.
Key Features:
Single-origin coffees
Traced from farm to cup
Roasted in small batches in Mumbai
Complex, fruit-forward flavor
Pack sizes ranging 250g to 1kg
Ratings: ⭐⭐⭐⭐⭐ (4.5 out of 5)
Blue Tokai coffees like the Attikan Estate French Roast and Vienna Roast are intensely aromatic with flavors like wine, chocolate, and caramel. Their transparent sourcing and exceptional roast profiles make them a top contender for fresh coffee beans.
2. FRESH & HONEST Lavazza Gusto Crema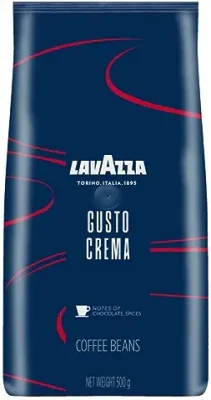 These medium roast Arabica beans from Lavazza bring classic Italian coffee flavor. Sourced from Brazil, Colombia, and India, the beans have a smooth and balanced profile.
Key Features:
100% Arabica beans
Medium roast
Smooth and creamy flavor
Notes of honey and exotic fruits
500g resealable bags
Ratings: ⭐⭐⭐⭐⭐ (4.5 out of 5)
Lavazza Gusto Crema beans craft rich espresso with sweet crema. They also make exceptional drip or French press coffee. The medium roast highlights nuanced tastes from the high-quality Arabica beans.
3. Cothas Coffee Company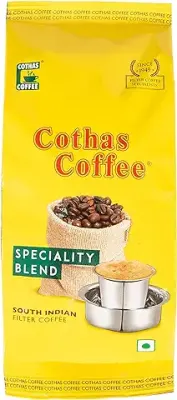 Based in Tamil Nadu, Cothas Coffee Company specializes in locally grown and processed single-estate coffees. Their beans are traced from 'soil to cup' and medium roasted to highlight terroir.
Key Features:
Traced from estate through roasting
Single-origin options
Medium roast profiles
Notes of spice and chocolate
Pack sizes of 250g
Ratings: ⭐⭐⭐⭐⭐ (4.9 out of 5)
Indian estates like Thalakaveri and Glenmachan from Cothas reflect unique local flavor with tropical fruit sweetness and rustic spice. The beans brew wonderfully balanced, juicy cups.
Best Ground Coffee in India
Pre-ground coffee provides convenience while still allowing you to freshly brew. Here are exceptional options for pre-ground coffee available in India.
1. Lavazza Qualita Oro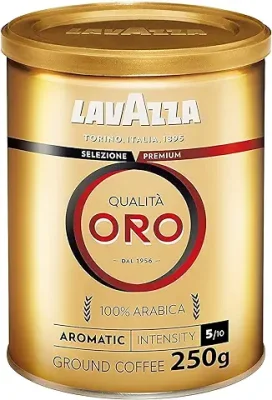 Lavazza, Italy's leading coffee brand, offers their exclusive Qualita Oro ground coffee in India. These 100% Arabica beans from Brazil, Colombia, and India are expertly blended and roasted in Italy.
Key Features:
100% Arabica bean blend
Medium roast
Rich, velvety crema
Notes of honey and exotic fruit
Available in 250g vacuum-sealed packs
Ratings: ⭐⭐⭐⭐⭐ (4.6 out of 5)
Lavazza Qualita Oro makes an incredible espresso with thick golden crema and syrupy body. The ground coffee also works well for drip or French press, yielding a smooth coffee with almond and cocoa hints. The global heritage of Lavazza comes through in the expert blending and roasting.
2. Seven Beans Coffee Company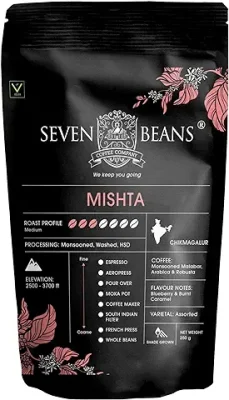 Based in Coorg, Seven Beans offers medium roast 100% Arabica coffees that capture the essence of Indian specialty coffee. They source beans from accredited growers across India and craft small-batch roasted coffee.
Key Features:
100% Arabica beans from Indian estates
Medium roast
Silky, complex taste
Nutty and chocolatey notes
Sold in resealable 150g packs
Ratings: ⭐⭐⭐⭐⭐ (4.5 out of 5)
Seven Beans coffees like Smooth Operator and Costa Rica Honey process shine with fruity, clean cups and a smooth, syrupy mouthfeel. The freshness and precision in sourcing and roasting set them apart.
3. Third Wave Coffee The El Diablo Blend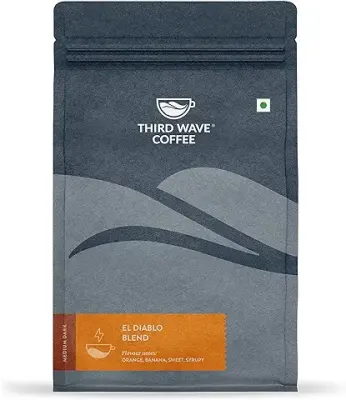 This blend from Third Wave Coffee combines bright, fruity Indian and Ethiopian beans with the body of Sumatran coffee. The medium-dark roast has a robust, complex profile.
Key Features:
Blend of Indian, Ethiopian and Sumatran
Medium-dark roast
Notes of berry, spice, and cocoa
Velvety body
Fine ground 250g packs
Ratings: ⭐⭐⭐⭐⭐ (4.8 out of 5)
With citrus acidity and full body, this blend makes rich espresso or drip coffee. The Indian beans provide distinct local character to this sophisticated global blend.
Best Flavored Coffee in India
For coffee with an extra taste sensation, flavored coffee infuses unique flavors and aromas into the beans. Here are delightfully flavored coffees available in India.
1. Davidoff Caffe Crema

Davidoff Caffe Crema imparts the taste of fresh cream into 100% Arabica beans through an innovative process. The result is rich, velvety coffee with aromatic cream notes.
Key Features:
100% Arabica beans
Flavored with creamy aroma
Smooth, creamy mouthfeel
Sold in 100g glass jars
Ratings: ⭐⭐⭐⭐⭐ (4.7 out of 5)
The indulgent cream flavors pair beautifully with the high-quality Arabica beans. Davidoff Caffe Crema makes a luxurious coffee experience. The flavors marry harmoniously for a perfect morning cup.
2. Rage Coffee Irish Hazelnut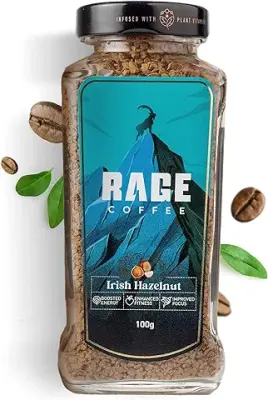 Rage Coffee infuses single-origin Arabica beans with luscious Irish hazelnut flavor for a gourmet twist. The nutty, aromatic flavors pair perfectly with the Colombian Arabica.
Key Features:
100% Arabica beans
Irish hazelnut flavor
Rich, smooth taste
Sold in 50g resealable packs
Ratings: ⭐⭐⭐⭐⭐ (4.3 out of 5)
The Irish hazelnut complements the fruity Arabica, creating excellent depth. Brewed hot or chilled, this coffee impresses with authentic nutty flavors. It makes flavored coffee sophisticated.
3. Sleepy Owl French Vanilla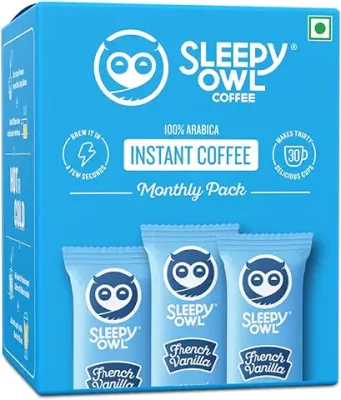 Sleepy Owl adds aromatic French vanilla to their 100% Arabica beans for soft, velvety flavor. Sweet vanilla mingles with chocolaty coffee undertones.
Key Features:
Arabica beans with French vanilla
Smooth and creamy taste
Notes of caramel and vanilla
Sold in 100g jars
Ratings: ⭐⭐⭐⭐ (4.2 out of 5)
The high quality Arabica beans prevent the flavor from becoming artificial or overpowering. Sleepy Owl French Vanilla strikes a perfect balance for an utterly delightful coffee.
Best Cold Brew Coffee Brands in India
Cold brew coffees are steeped for long hours, yielding sweeter tasting, less acidic coffee. Here are the most recommended cold brew coffee options in India.
1. Blue Tokai Cold Brew Pack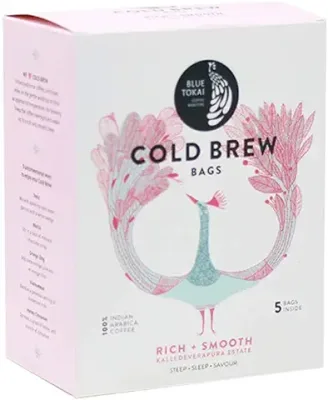 Blue Tokai offers an immersive cold brew experience with their pack including Arabica coffee concentrate and paper filters. The cold brew has a refreshing, fruity profile.
Key Features:
Smooth cold brew concentrate
Added chicory for body
Sweet, clean taste
Easy cold brew kit
200ml concentrate pack
Ratings: ⭐⭐⭐⭐⭐ (4.6 out of 5)
With nuanced citrus and caramel flavors, Blue Tokai's cold brew concentrate shines iced or diluted. The cold brew kit makes brewing easy and approachable for fantastic coffee.
2. Sleepy Owl Cold Brew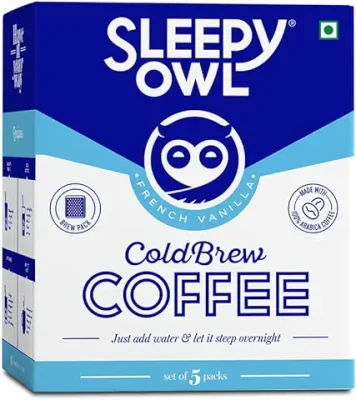 Sleepy Owl applies their specialty coffee expertise into concentrated cold brew made from 100% Arabica beans. The cold brew has low acidity and refreshing fruitiness.
Key Features:
Smooth, creamy cold brew
Brewed from Arabica beans
Chocolatey, malty notes
Lower acidity
200ml bottles
Ratings: ⭐⭐⭐⭐ (4.2 out of 5)
The cold brew smoothness accentuates chocolate and malt flavors. Sleepy Owl makes cold brew coffee accessible to all with their ready-to-drink bottles. Simply chill and enjoy!
3. Davidoff Cold Brew Colombian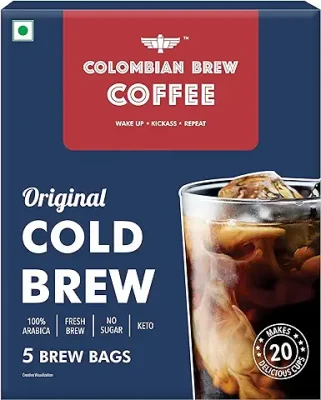 Bringing single-origin sophistication to cold brew, Davidoff Cold Brew Colombian uses high-grown specialty Colombian beans. The concentrate has carved fruit flavors.
Key Features:
Cold brew from Colombian beans
Concentrated 2:1 ratio
Tasting notes of orange and cherry
Smooth, syrupy cold brew
Packs of 200ml concentrate
Ratings: ⭐⭐⭐⭐ (4.1 out of 5)
Davidoff harnesses expert roasting and cold brewing to craft nuanced cold brew. The Colombian cold brew concentrate injects fruitiness and vibrancy into any drink.
Comparison of Best Coffee in India
| Product | Bean Type | Roast Level |
| --- | --- | --- |
| Nescafe Classic | Robusta and Arabica blend | Medium |
| Davidoff Café | 100% Arabica | Medium |
| Bru Instant | Robusta and Arabica blend | Medium |
| Sleepy Owl | 100% Arabica | Medium |
| Tata Coffee Grand | Robusta and Arabica blend | Medium |
| Blue Tokai | Single-origin Arabica | Light to dark |
| Lavazza Gusto Crema | 100% Arabica | Medium |
| Cothas Coffee | Single-origin Arabica | Medium |
| Lavazza Qualita Oro | 100% Arabica blend | Medium |
| Seven Beans Coffee | 100% Arabica | Medium |
| Third Wave El Diablo | Arabica blend | Medium-dark |
How to Brew Coffee for Maximum Flavor
To get the most from your coffee beans, proper grinding and brewing technique is key. Here are some tips for optimized coffee brewing:
Use a burr grinder to freshly grind beans to the right coarseness for your brew method. Finer for espresso, coarser for French press.
Measure coffee grounds using a weight measurement, not volume, for accuracy. Use 55g to 60g of grounds per 1 liter of water.
For drip machines, use heated filtered water around 200°F and rinse filters beforehand.
For French press, steep for 4 minutes then plunge and pour off grounds. Don't over-steep.
Water quality impacts taste. Filtered or bottled water is ideal. Avoid distilled water.
Store beans and grounds in airtight containers out of sunlight. Consume within 2 weeks of roast date.
Clean equipment regularly including dripper, French press, and espresso machine.
Adjust grind size, coffee amount, and timing to hone in on your optimal brewing method.
With the right tools, techniques, and freshly roasted coffee, you can make cafe-quality coffee at home easily. Experiment with different beans, brew styles, and flavor additions to find your favorite coffee.
Frequently Asked Questions
Here are some common questions about finding the best coffee in India:
Q. What is the most popular coffee brand in India?
A. Nescafé is the most popular instant coffee brand in India. For fresh local beans, Blue Tokai Coffee Roasters is widely regarded for their high-quality single origin coffees.
Q. Which city has the best coffee culture in India?
A. The cities with the biggest coffee culture are Bengaluru, Mumbai, Delhi, and Coorg in Karnataka. These cities have many specialty coffee roasters, cafes, and a population that loves coffee.
Q. Where are the best coffee estates located in India?
A. Some of the most renowned Indian coffee estates are located in Coorg and Chikmagalur in Karnataka, Baba Budan Giri Hills in Chikkamagaluru, and Araku Valley in Andhra Pradesh and Odisha.
Q. How should I store coffee beans and grounds?
A. Store whole coffee beans and grounds in airtight, opaque containers in a cool, dark place. Avoid moisture, light, heat, and air exposure. Consume beans within 2 weeks of roast date for optimal freshness.
Q. What is the difference between Arabica and Robusta coffee beans?
A. Arabica beans are considered higher quality, with a sweeter, more complex flavor. Robusta beans have a harsher, grain-like taste but contain more caffeine. Many blends combine the two types of beans.
Q. What are some popular South Indian coffee options?
A. South Indian coffees like Bru Instant Coffee, Tata Coffee Grand, and single-origin beans from Karnataka Plantations and Kapi Kottai offer the regional flavors of monsooned Malabar, Indian Arabica, and blends inspired by filter coffee.
Q. Are there coffee bean subscriptions available in India?
A. Yes, coffee roasters like Blue Tokai, The Indian Bean, and Curious Life Coffee Co. offer coffee subscriptions that send freshly roasted beans across India monthly. This ensures access to the freshest coffee.