Crunchy, spicy, and downright addictive – that's the magic of namkeen. These flavourful treats have earned their rightful place as a beloved part of Indian cuisine.
Whether it's tea time, festive celebrations, casual gatherings with friends, or those mid-workday cravings, a serving of namkeen fits every occasion.
From the classic Aloo Bhujia to the fiery Ratlami namkeen, this blog brings you a carefully curated list of namkeen brands in India, all known for delivering the utmost quality and taste.
How to Choose the Best Namkeen?
Selecting the best namkeen in India is never easy when the market is full of options. Here's how you can ensure that you only pick the highest-quality options:
Ingredients: Check if the brands prioritize using fresh, natural ingredients. See if the manufacturing standards have received a positive rating.
Taste: Before committing to a family-sized pack, sample the namkeen products to assess their flavours, textures, and overall taste experience.
Certifications: Brands that follow food safety and quality guidelines are certified by organizations like the Food Safety and Standards Authority of India. The certification mark is present on the packaging.
Pricing: While quality is non-negotiable, consider the affordability and overall value offered by the brand. A good balance between price and quality never harmed anyone.
Customer feedback: Check out customer reviews and feedback to gauge the satisfaction levels of those who have tried the namkeens.
Brand credibility: Established brands with a good reputation in the market and a history of providing quality namkeens often stand out.
5 Best Namkeens in India
From fiery and spicy to sweet and delightful, here's a selection of top-tier brands that offer a diverse bunch of the best namkeens.
Haldirams
Bikanervala/Bikano
Kaleva
Bikaji
Nutty Yogi
Get ready to savour the perfect fusion of spices and flavours as we dive into the goodness of India's best producers of namkeen.
Haldiram's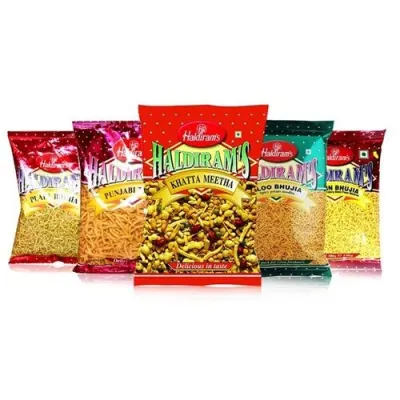 Haldiram's, a prominent name in the world of Indian snacks and namkeens, boasts a rich history dating back to its establishment in 1937 by Shri Ganga Bhishen Agarwal. Standing as a household favourite, Haldiram's is synonymous with delivering the finest namkeen products across India.
It offers an array of tempting namkeen options, including Nagpur mixture, bhujia, spicy chana mix, chidwa, sev, and bhel, among others. Haldiram's namkeens excel in presenting the essence of Gujarati taste, with a unique blend of flavours.
What's Great?
Only natural spices are used
100% vegetarian namkeens
Easily Affordable
Wide variety available
Bikanervala/Bikano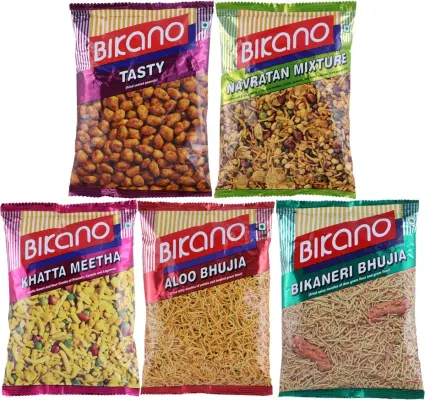 In a parallel narrative, the Indian brand Bikano, initially known as Bikaner Bhujia Bhandar, has made its mark too. Much like Haldiram's tantalizing namkeens, this namkeen company is equally dedicated to delivering a burst of flavour in every bite. Known as one of the best namkeens in India, they offer a number of namkeens, sweets, bakery items, biscuits, dry fruits, and more. Their Kaju mixture, in particular, has earned them widespread recognition across India.
What's Great?
Caters to health-conscious consumers with diet mixtures
Offers a range of snacks without onion and garlic
Wide range of different namkeens are available
Pocket-friendly packs
Kaleva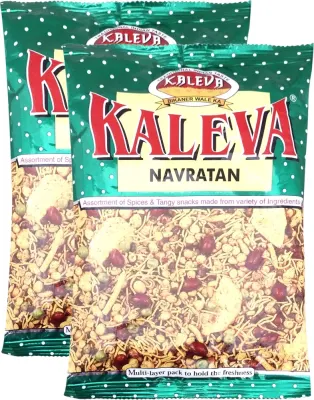 Kaleva stands tall as one of the best namkeens in India, with its roots firmly grounded in Delhi. It boasts an impressive collection of over 1000 namkeens, desserts, and traditional items. Every product they offer embodies the rich, authentic flavours of India. For health-conscious individuals, Kaleva India extends a thoughtful choice of non-fried products. They also cater to both the spicy and non-spicy preferences of adults and children alike.
What's Great?
Staggering 350 varieties of namkeens
Offers a selection of non-fried products
100% vegetarian
Bikaji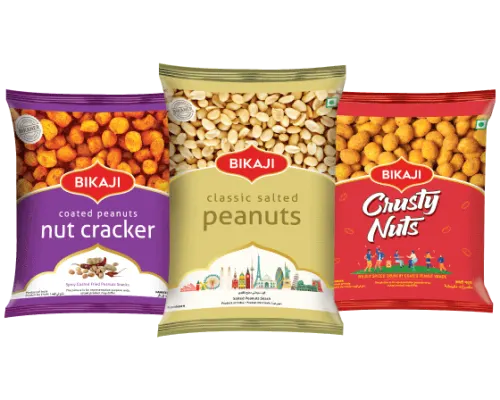 Tracing back the origin to 1993, Bikaji is known to be amongst the best in the namkeen industry. Bikaji continually innovates to bring flavourful delight to its customers, aspiring to be a global frontrunner in the world of snacks and savouries. One of Bikaji's standout creations is its "made in Bikaner" bhujias, a true testament to their commitment to regional authenticity. Moreover, it offers a diverse variety of namkeens made with peanuts, spicy lentils, rice flakes, and potatoes.
What's Great?
Bikaji's Kolkata mixtures
No added preservatives
Offered across a range of price points
No synthetic coloring
Nutty Yogi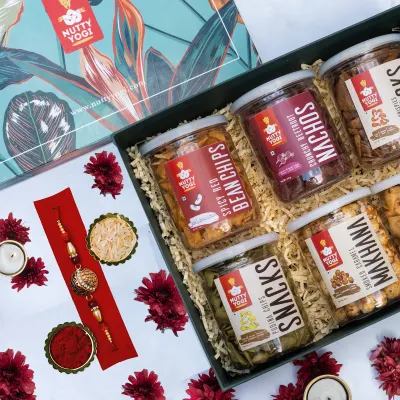 Nutty Yogi, established in 2017 as an organic food company, aims to offer a diverse range of natural and wholesome namkeens. They strive to provide you with a fantastic array of namkeens that can enrich your diet with nutrient-dense options. They are best known for their salted chana, peri-peri almonds, and ragi chips. Nutty Yogi has given beetroot an innovative twist by creating bhujia and nachos out of it.
What's Great?
Provides gluten-free options
Contains low sodium
Offers a vegetarian range of namkeens
Final Word
The world of namkeens in India is a diverse one, offering a plethora of flavourful options for every palate. Whether you prefer the time-tested flavours of traditional brands like Haldiram and Bikaji, or the innovative and health-conscious offerings from newer players like Nutty Yogi, there's a namkeen out there to satisfy every craving.
What stands out across all these top namkeen brands is their unwavering commitment to superior quality, flavour, and continuous innovation. Each brand, whether long-established or a recent startup, brings the authentic tastes of India to your plate, ensuring a delightful snacking experience every time.
Best Namkeen In India: FAQs
Q. Which is the best namkeen in India?
Bikano, Haldiram's, and Bikaji are the top choices of Indians when it comes to namkeens.
Q. Are namkeens healthy snacks?
Namkeens can be healthy when consumed in moderation. Namkeens like foxnuts, roasted chana, peanuts, and puffed rice are considered healthy as they offer protein, fibre, and other essential nutrients.
Q. Which is the most famous namkeen in India?
Haldiram's Bhujia and Bikano Kaju mixture are the two ultimate hits in India.
Q. What are some of the most innovative namkeen flavours available in the market?
Innovative namkeen flavours include minty masala, peri peri, extra garlic, Khatta-Meetha, cream and onion, and other regional blends.