Are you a fan of almonds? Do you enjoy their mouthwatering flavour? You are not alone! Almonds treat your taste buds and nourish your body with essential nutrients. However, finding the best quality almonds can be daunting, with countless brands flooding the market.
So, how do you separate the good almonds from the bad? Worry not! We are here to guide you through the almond wonderland and help you make an informed choice. Get ready to savour the exquisite pleasures of this superfood worth every penny.
Top 6 Brands for Best Quality Almonds
Now that you know what to look for in a brand, let's explore some of the best quality almonds. Each brand has its unique features and benefits. Here are our top picks.
Paper Boat Premium Smoked and Roasted Almonds
Happilo 100% Natural California Dried Almonds
Vedyaz Organics 100% Pure Afghan Gurbandi Almonds
Nutty Gritties Jumbo California Almonds
Nutraj California Almonds
Amazon Brand – Solimo Premium Almonds
Now, let's delve deeper into what makes these brands stand out and why they are the best in the market.
Paper Boat Premium Smoked and Roasted Almonds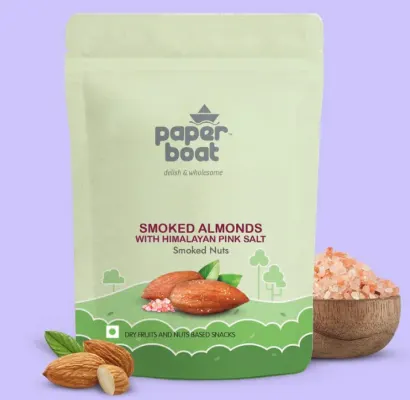 Picture this: Organic Himalayan pink salt sprinkled over each almond, then roasted in small batches to perfection. The result? A warm, smoky flavour that will transport you to paradise. And pink salt – with 84 essential nutrients, is organic and brimming with health benefits.
What Makes Them Great:
Slow-roasted using dried wood chips to infuse a smoky flavour.
Zero trans fats, no artificial flavours, preservatives, or GMOs.
8+ quality checks and superior packaging.
Happilo 100% Natural California Dried Almonds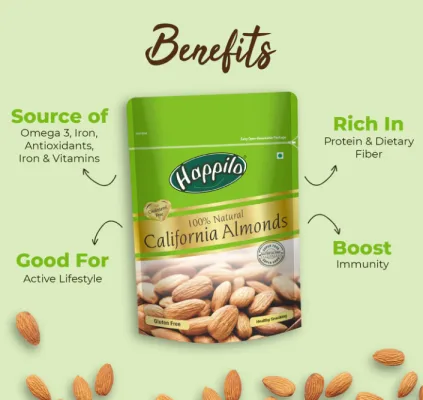 Experience the authentic taste and goodness of California-grown real nuts with Happilo! These best-quality almonds are 100% natural, making them an excellent choice for health-conscious individuals.
What Makes Them Great:
Full of essential nutrients like vitamin E, calcium, and magnesium.
Good source of healthy fats and antioxidants.
Airtight packaging ensures freshness.
Vedyaz Organics 100% Pure Afghan Gurbandi Almonds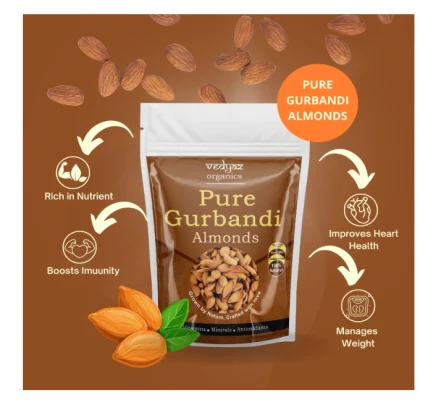 These Choti Giri almonds are 100% pure and are the epitome of natural goodness! Straight from the heart of Afghanistan, these unpolished, raw, and natural gems are bursting with nutrients, including omega-3, vitamin E, and antioxidants. With their rich oil content, each bite is a symphony of flavour and nourishment.
What Makes Them Great:
Unpolished, raw, and natural to preserve their wholesome nutrition.
Each almond is a testament to the perfect balance of flavour, health, and purity.
Hygienically packed true essence of guilt-free snacking.
Nutty Gritties Jumbo California Almonds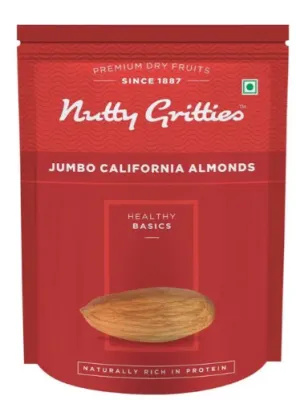 This brand offers almonds that are a powerhouse of nutrition and flavour. With about 20g of protein per 100g, these almonds are perfect for building muscle and strength. They are also a nutrient-dense snack, loaded with Vitamin E, Manganese, Magnesium, and Antioxidants, boosting immunity.
What Makes Them Great:
High fibre content for weight management.
Rich in healthy monounsaturated fats for a healthy heart.
Keto–friendly, gluten-free, and 100% vegan.
Nutraj California Almonds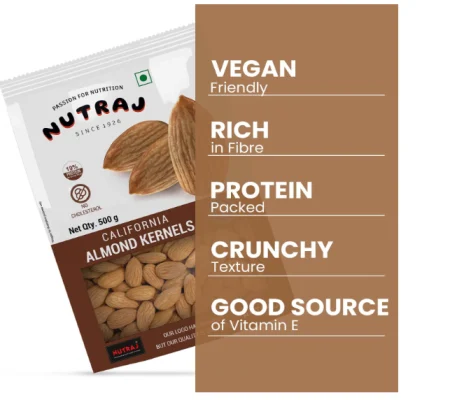 One of the oldest in the market, Natraj almonds come from the farms of California and undergo a rigorous selection process. Indulge in their irresistible crunch, packed with healthy unsaturated fats that reduce the risk of bad cholesterol. You can use them in various delicious recipes, from smoothies to cakes, cookies, and bars.
What Makes Them Great:
Best quality almonds with no additives and preservatives.
A powerhouse of essential nutrients and antioxidants.
Vacuum-sealed packaging to maintain freshness.
Amazon Brand – Solimo Premium Almonds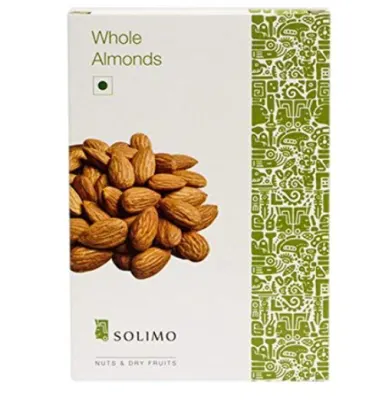 This Solimo product is a perfect partnership of best quality almonds and great value. They use careful selection, hygienic processing, and resealable packing, ensuring long-lasting freshness.
What Makes Them Great:
Crisp and crunchy texture.
Versatile for snacking, baking, or adding to dishes.
How to Choose the Perfect Brand for Best Quality Almonds?
People have been consuming almonds for centuries. But with so many almond brands, what aspects do you look for when selecting the best one? Is it taste, quality, or something else? Here are some essential points to consider:
Variety
Want to enjoy the subtle sweetness of California almonds in your morning smoothie? Or savour the rich, earthy flavours of Mamra almonds in a traditional Indian dessert?
Different varieties offer unique taste profiles, so choose based on your preference and the intended use.
Quality
Buy from brands that focus on quality and offer crunchy almonds free from additives or preservatives. Fresh almonds have a pleasant, sweet aroma. If the almonds have a rancid or musty smell, try to avoid them.
Look for certifications such as FSSAI approval, ISO certification, and organic or non-GMO, which signify adherence to quality standards.
Texture and Size
The almonds should be firm and crunchy. Don't buy almonds that are too soft or have a rubbery texture. Choose almonds that are uniform in size, have a smooth surface, and are free from marks or discolouration.
Sourcing
Choose brands that procure almonds from trusted sources known for their sustainable and ethical practices. Brands that use advanced and hygienic processing methods ensure that the almonds retain their quality and freshness.
Packaging
Good packaging protects the almonds from moisture and pests, preserving their taste and texture. Look for brands that invest in high-quality packaging to ensure you receive almonds fresh and flavorful.
Customer Reviews
Scroll through reviews from satisfied customers who rave about the brand's reliability and reputation. Positive feedback and high ratings show that a brand delivers excellent products.
Wrapping Up
Finding the best almonds is essential for a delicious and nutritious experience. Whether snacking on them, adding them to your favourite recipes, or using them as a topping, these best-quality almonds will enhance your culinary adventures.
So, enjoy the goodness of the best quality almonds available in the Indian market! Embark on a journey of flavour and nutritional delight. Your taste buds and your health will thank you.
FAQs
How should I store almonds to maintain their freshness?
It's best to store almonds in an airtight container in a cool, dry place, away from sunlight and moisture.
Are soaked almonds better than raw almonds?
Soaking almonds overnight can make them easier to digest and help release their nutrients. Yet, both soaked and raw almonds have their benefits.
Are these almonds suitable for cooking and baking?
Absolutely! You can use them in cooking, baking, garnishing, and more.
Can I include almonds in a gluten-free diet?
Yes, almonds are naturally gluten-free, so they are safe for consumption.