Playing guitar can be an incredibly rewarding hobby or even a full-time career. But finding the right guitar for your needs is crucial to get the most out of your musical journey. In this guide, we will dive into the best quality guitars available to suit all budgets and playing styles.
How to Choose the Best Quality Guitar
With so many options on the market, it can be tricky to know where to start when choosing a high-quality guitar. Here are some key factors to consider:
Body Type: The shape and size of the guitar body affects the tone and volume. Common acoustic body types include dreadnought, concert, grand auditorium, jumbo and others. Electric guitar bodies come in solid, semi-hollow or hollow shapes.
Wood Material: Higher quality wood generally produces better tone. Solid wood tops are best for acoustics, while body woods like alder, ash and mahogany work well for electrics.
Hardware: Look for stable tuning keys, sturdy bridges and quality electronics in electric guitars. The hardware should match the level of the other components.
Neck: Make sure the neck is straight, with comfortable string action and no dead spots. The fretboard wood also impacts tone.
Brand Reputation: Stick with well-known brands that have proven track records for quality, especially for beginner and intermediate players.
Budget: Factor in what you can afford, but remember you generally get what you pay for when it comes to guitar quality.
Purpose: Consider what style of music and playing scenarios the guitar will be used for. This affects what attributes are most important.
Listen and Play: Never buy a guitar without playing it first, if possible. Listen closely to the tone and how it feels to your touch.
By keeping these guidelines in mind, you'll be prepared to choose a high-quality guitar that suits your needs and budget.
Best Quality Acoustic Guitars
Acoustic guitars produce their sound purely from the vibration of the strings reverberating through the body of the instrument. From bright, articulate tones perfect for live performance to deep, robust warmth ideal for rhythm playing, here are some of the best acoustic guitars available today in terms of quality and value:
Juârez 038C Acoustic Guitar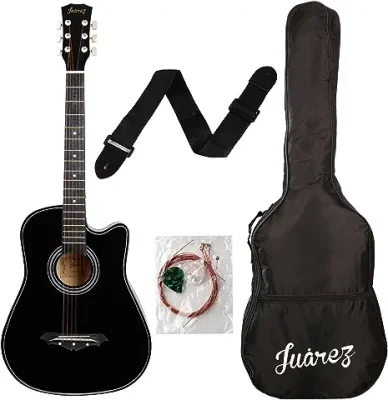 With a 4 out of 5 star rating across over 20,000 reviews, the Juârez 038C acoustic guitar kit represents an outstanding option for beginners and intermediates seeking best quality guitars.
Key Features:
Lindenwood construction with 38-inch cutaway body
Complete set comes with gig bag, strings, pick and strap
Classic acoustic guitar tone from a reputable brand
Budget-friendly price around ₹1,900
This Juârez acoustic delivers a balanced, resonant sound with good articulation and volume thanks to its Lindenwood build. The slim neck allows for comfortable playability, while the kit provides everything you need to start playing right out of the box. For its combination of quality, affordability and positive reviews, the 038C earns its place among the top acoustic guitars.
Kadence Frontier Acoustic Guitar
The Kadence Frontier acoustic guitar combines solid wood craftsmanship with modern appointments, including an EQ system to shape your tone.
Key Features:
Solid spruce top with rosewood back and sides
Onboard 3-band EQ for tone shaping
Quality grover-style tuners for stable tuning
Bone nut and saddle for bright, articulate sound
Online learning course included
Reviewers praise this Frontier model for its warm yet balanced tone and very playable feel. The EQ provides flexibility, while details like the bone nut and saddle boost clarity and resonance. If you want a high quality acoustic guitar with some extra features, the Kadence Frontier is an excellent choice.
Yamaha FG800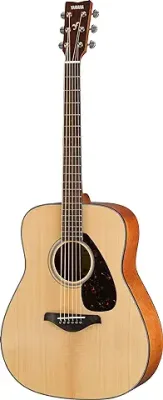 Known for its quality acoustics, Yamaha delivers another winner with the FG800 dreadnought guitar.
Key Features:
All solid Sitka spruce top
Nato neck and rosewood fingerboard
Dreadnought body with scalloped bracing
Diecast tuners for smooth tuning stability
Tortoise pickguard for style
Yamaha's meticulous attention to detail ensures the FG800 sounds as good as it looks. From its hand-sprayed finish to its carved neck joint, everything is expertly crafted. Reviewers say this guitar "punches above its weight class" in terms of quality and tone at this reasonable price point.
Best Quality Electric Guitars
Electric guitars rely on pickups, an amplifier and effects to produce their signature sound. From shredding solos to crunchy rhythms, these are some of the top electric guitars available today based on quality and performance:
Kadence Astro Man Electric Guitar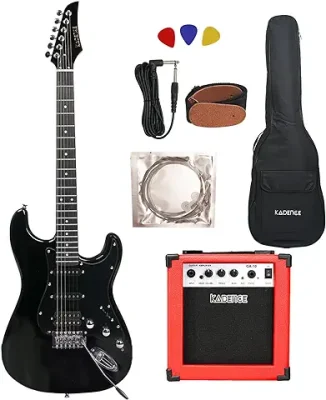 The Astro Man electric guitar from Kadence Guitars packs premium features into an affordable package.
Key Features:
Solid walnut top with alder back and sides
Dual cutaway for easy upper fret access
HSS pickup configuration with 5-way switching
Tremolo bridge for expressive effects
Comes with free online learning course
The Astro Man punches above its weight class with its solid wood top, smooth tremolo system and quality electronics. It delivers on versatile tones, from sparkling cleans to high-gain distortion. For an electric with professional appointments at a reasonable price, it's hard to beat the Astro Man.
Epiphone Les Paul Standard

The Epiphone Les Paul Standard carries the torch for this legendary guitar model at an accessible price.
Key Features:
Mahogany body with maple cap for classic Les Paul tone
Dual humbucker pickups with push/pull coil splitting
Slim taper neck profile for smooth playability
Ebony fingerboard for enhanced resonance
Available in attractive heritage sunburst finish
Many reviewers insist this affordable Epiphone model lives up to its Gibson counterpart in terms of tone and playability. It provides that quintessential Les Paul growl and singing sustain. Serious players will appreciate the quality components like the Graph Tech nut and Grover tuners. If you want a real Les Paul on a budget, don't miss the Epiphone Standard.
Fender Player Telecaster

The Player Telecaster puts Fender's iconic style and sound within reach of most guitarists.
Key Features:
Alder body with gloss polyester finish
Two Player Series single-coil pickups
"Modern C"-shaped neck profile
6-saddle string-through-body bridge
Vintage-style tuning machines
This made-in-Mexico Fender offers US-style craftsmanship at an accessible price point. It delivers the classic biting twang that Telecaster fans love, along with modern playability. The Player Tele bridges the gap between vintage looks and contemporary performance.
Comparison Table for Best Quality Guitars
| Guitar Model | Body Type | Top Wood |
| --- | --- | --- |
| Juârez 038C | Dreadnought | Linden |
| Kadence Frontier | Dreadnought | Solid Spruce |
| Yamaha FG800 | Dreadnought | Solid Sitka Spruce |
| Kadence Astro Man | Double Cutaway | Solid Walnut |
| Epiphone Les Paul Standard | Single Cutaway | Maple Cap |
| Fender Player Telecaster | Single Cutaway | Alder |
Other High-Quality Guitar Options
Beyond the major brands, you can also find excellent acoustic and electric guitars from smaller companies that offer impressive quality for the money. Here are some additional options:
Choosing the Best Acoustic Guitar Strings
The right strings are vital for your acoustic guitar to reach its full potential. Here are tips for selecting the best string set:
Gauge: Lighter gauges are easier to fret and ideal for beginners, while heavier gauges provide volume and full tone suited to performance.
Bronze vs. Phosphor Bronze: Most players prefer the warmth and brightness of phosphor bronze over 80/20 bronze strings.
Coated vs. Uncoated: Coated strings last longer but some guitarists feel they don't break in as well as uncoated. Go with personal preference.
Tone and Feel: Try different brands to see what tone, warmth and playability you like the best. Popular options include D'Addario, Ernie Ball and Elixir.
Change Regularly: Replace your acoustic strings at least every few months, more often if you play frequently. Stale strings lose their tone quickly.
Following these guidelines will help you keep your acoustic sounding its very best with a quality string set well-suited to your playing needs.
Caring for Your Guitar
To keep your guitar sounding and performing at its best, proper care and maintenance are essential. Here are some tips:
Keep it Clean: Wipe down the strings and fretboard after playing with a soft cloth. Clean the body periodically with a guitar polish/cleaner.
Store Safely: Keep the guitar in its case when not in use and avoid extreme temperatures and humidity.
Adjust the Truss Rod: Counteract string tension by tightening or loosening the truss rod to correct neck bowing when needed.
Humidify: Use a guitar humidifier during dry seasons to prevent cracking, warping and other damage.
Inspect Intonation: Check intonation regularly and adjust bridge saddles as needed to compensate for string and neck wear.
Electronics Upkeep: For electric guitars, replace worn volume and tone pots, switches, jacks and patch cords as needed.
Professional Setups: Consider an annual professional tune-up to fix any major issues and keep your guitar playing perfectly.
With the proper care and maintenance, your guitar will last many years and continue sounding amazing from the first chord to the final bow.
Frequently Asked Questions (FAQs) About Best Quality Guitars
Q. Are more expensive guitars actually better quality?
A. Generally, yes – more expensive guitars use higher grade materials, better hardware and more precise craftsmanship. However, guitars in the low to mid price ranges can still offer excellent quality.
Q. What should I look for in a high quality acoustic guitar?
A. Solid wood top (like spruce or cedar), quality tonewoods for back and sides (mahogany, rosewood), precise neck construction, and extras like scalloped bracing and bone nut/saddle.
Q. What factors affect an electric guitar's quality and playability?
A. Fretwork, nut slots, neck thickness/shape, hardware quality, electronics/pickups, and overall fit and finish. Quality hardware like tuners and bridges are important.
Q. How much do I need to spend for a quality beginner or intermediate guitar?
A. You can find very playable guitars for beginners and intermediates in the ₹12,000 to ₹25,000 range from major brands. Expect to spend ₹50,000+ for pro level instruments.
Q. Should I take my guitar to a tech for regular maintenance?
A. Yes, most guitarists recommend having a professional do a setup yearly at minimum for the best playability. Techs can also address any major issues.
Q. Will using a guitar humidifier protect my instrument?
A. Yes, humidifiers help prevent your acoustic guitar from drying out and cracking in dry climates. Keeping your guitar at around 45% relative humidity is ideal.
Q. What is the benefit of a solid wood top on an acoustic guitar?
A. Solid wood tops, especially solid spruce or cedar, resonate better and improve tone, volume and sustain compared to laminate tops. This is key for projection.
Q. Can cheaper guitars still offer good tone?
A. Yes, you can find guitars under ₹15,000 that still provide pleasing, quality tone if they are well-constructed. Much of tone also comes from the player's hands.
Hopefully this comprehensive guide has helped you understand how to identify the best quality guitars for your budget and needs. Let your musical journey begin!