No matter how many expensive outfits are stuffed in your wardrobe, if it doesn't have a classic men's suit, then your collection is incomplete!
If you think only women scratch their heads while choosing their attire for an event, you cannot be more wrong! Men get equally held up with their choices. But here is a solution! Just like draping an elegant saree can save a woman's day on almost any occasion, a dapper suit can help a man stand out in the crowd.
So if you want to conquer this powerful feeling of authority blended with style, here is a list of the best suit brands in India that you should check out.
10 Best Suit Brands in India
No more waiting as we pen down the best suit brands in India for men. Take a look!
1. Raymond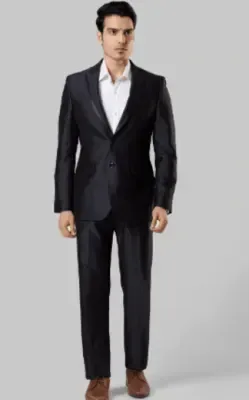 Image credit: Amazon
Raymond continues to thrive in the textile and apparel industry. Over the previous decades, this company has never failed to exceed its customers' expectations.
Fabrics like cotton, linen, denim, and wool, make a Raymond suit ideal for daytime occasions whilst serving the purpose of a night-long party. But that's not all. You can even put on this brand's suit for semi-formal events.
What's Great
Offers open-length trousers.
Ideal for day, night, or semi-formal events.
2. Peter England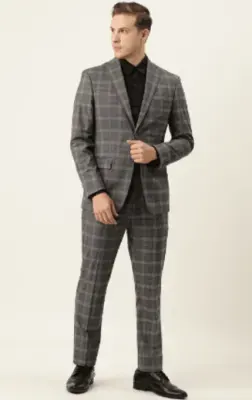 Image credit: Amazon
Peter England is an evergreen Indian fashion brand. Its legacy is known to be as rich as the raw materials and fabrics it uses to produce suits. The best part is that you can wear them to any event and rock your look simultaneously.
What's Great
Can be worn for any event.
The suits are made up of a poly-viscose blend.
3. Van Heusen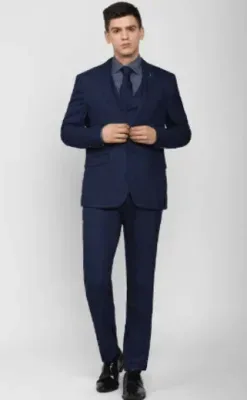 Image credit: Amazon
Considered one of the best suit brands in India, Van Heusen doesn't lag in providing the best suit styling. It not only caters to the customer's required fashion needs but maintains the quality of fabrics used and the comfort of its wearer. So men who live for comfortable fashion – here is your answer!
What's Great
Recently launched 7-in-one-suits that are perfect for wearing on seven different occasions.
Very good quality fabric.
4. Louis Phillipe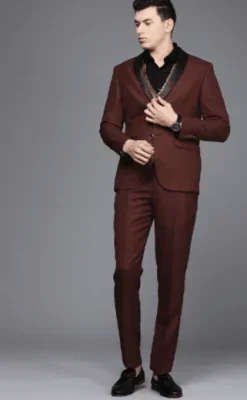 Image credit: Amazon
Louis Philippe has made its brand identity based on its premium clothing and fair pricing for men's suits in India. The variety it offers is wide and intriguing. The suits provided by Louis Philippe are best suited for weddings, office wear, loungewear, and parties. And guess what? You can even pick just one piece that can be flashed on all these occasions!
With its timeless style and impeccable tailoring, a Louis Philippe tuxedo is also an excellent choice for any formal occasion, exuding sophistication and classic elegance.
What's Great
Good pricing.
Very versatile.
Lots of fabric options.
5. Arrow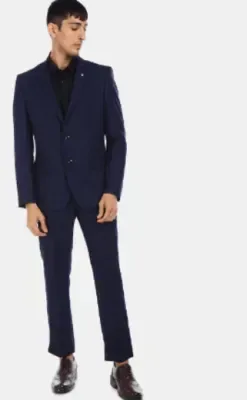 Image credit: Amazon
Arrow is an American brand that has gained a lot of prominence in India for men's suits. The suits are crafted with high-quality material and fabric and look subtle yet elegant.
What's Great
High-quality fabrics and materials.
Best suited for brunches, parties, and office wear.
6. Blackberrys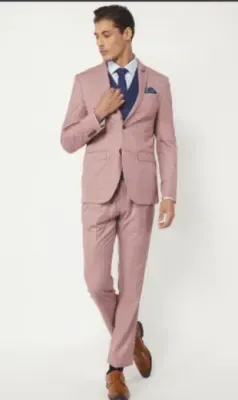 Image credit: Amazon
For more innovative suit options with reasonable pricing, Blackberrys got your back! The price range at which its products are put on the market makes it all the more tempting. The company is one of the best blazer brands in India.
What's Great
Unbelievable price range.
Innovative styling.
7. Allen Solly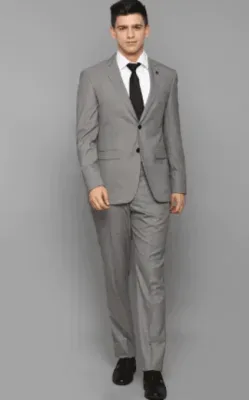 Image credit: Amazon
Even though Allen Solly isn't exclusively famous for suits in India, they have a good collection. Because of its ready-made suits, Allen Solly is the first choice for many people. There is no hassle in getting the tailoring done. You get a quick solution, yet there is no compromise in the quality of the product.
What's Great
Ready-made suiting.
High quality.
8. MANQ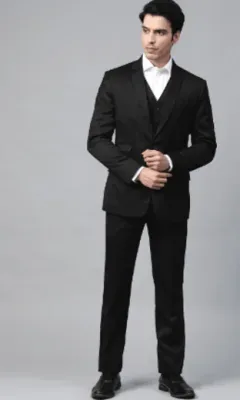 Image credit: Amazon
Established in 1991, MANQ has been a progressive brand for men's clothing. The company's suits are perfect for workplace parties, meetings, and conferences. The company's perfection in silhouette and design makes it distinct from other brands. The finest materials are used to craft an ideal suit piece that customers would love.
What's Great
Specializes in blazers, suits, waistcoats, and other casual wear.
Good quality fabrics are used.
Lays a lot of emphasis on perfect fittings.
9. Park Avenue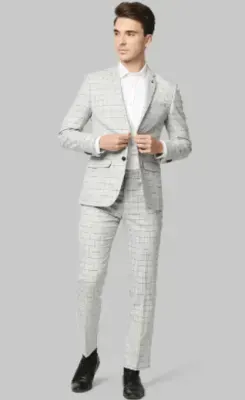 Image credit: Amazon
Park Avenue is primarily reckoned as one of the largest fabric exporters, but they also have a wide range of suit collections. Because the distributions done by the company are so high in volume, you probably will never find "No stock available" anywhere. Additionally, the crisp styling of suits is tailored to elevate your style.
What's Great
Sharp looks.
Great fitting.
10. Hangup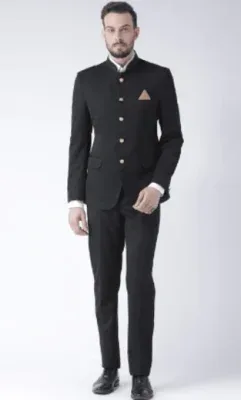 Image credit: Amazon
Hangup is pretty underrated as a brand when compared to others mentioned in this list. Nevertheless, it is quite popular in the suiting area and for the right reasons. You get fashion, elegance, and comfort – all in one. Hangup established itself as a pioneer because of its USP – men's suiting.
What's Great
Protection from toxic sun rays.
Wrapping up
Whether it's a formal event or a casual party, for a man, a well-stitched suit works effortlessly on every occasion. But grabbing the best suit that's versatile enough to do both? That's quite a task, we know.
So we hope this list of 10 top suit brands in India helped you find the one that works for you.
FAQs for best suit brands in India
Q. Is Allen Solly a good brand?
Among the popular Indian suit brands, Allen Solly is considered a good brand for its contemporary fits, trendy styles and affordable pricing. The brand offers a range of suits, blazers, formal trousers and shirts for men and women. Known for its Friday Dressing concept, Allen Solly is a favourite brand for young professionals today.
Q. Allen Solly vs Van Heusen – which is better?
Comparing these two leading Indian suit brands, Allen Solly scores for its modern fits, edgy styles and smart casual range. Van Heusen is better known for its formal suiting range and premium sub-brands like Van Heusen Sport. Allen Solly suits are more affordable while Van Heusen provides better finish and fabrics. Overall, Allen Solly has an edge among young consumers today.
Q. Louis Philippe vs Van Heusen – which is better ?
Louis Philippe is considered more premium than Van Heusen when it comes to suiting and formal wear for men. Louis Philippe offers better construction, immaculate tailoring and luxury fabrics like fine wool and cashmere. Van Heusen provides a wider range from formal, occasion to everyday wear at competitive prices but Louis Philippe excels in craftsmanship.
Q. What is better between Allen Solly vs Louis Philippe?
Louis Philippe is ranked higher than Allen Solly in terms of fabric quality, fit, finish and range of suits and blazers on offer. Louis Philippe focuses on tailored suits and blazers made from top grade materials while Allen Solly emphasizes smart casuals, trendy styles and discounted pricing, appealing more to youth.
Q. What should you chose between Allen Solly vs Peter England?
Both Allen Solly and Peter England cater to young professionals with their formal and smart casual range. Allen Solly offers more contemporary styles and fits loved by the youth while Peter England focuses on providing fine suiting at competitive prices. Peter England boasts of better fabric quality while Allen Solly wins for stylish designs.
Q. Which are the top suit brands in India?
Some of the best suit brands for men in India include Louis Philippe, Arvind, Van Heusen, Blackberrys, Raymond Suitings and Manyavar. Louis Philippe leads with its fine fabrics, precise tailoring and timeless styles. Other popular options are Park Avenue, Donear, Allen Solly and Peter England known for contemporary designs.
Q. Which coat suit brand is best?
For premium three-piece and two-piece suits for men, the top brands are Louis Philippe, Raymond, Armani, Hugo Boss and Brooks Brothers. A made to measure suit from these brands offers impeccable construction, tailored silhouette and use of fine fabrics like wool, linen and cashmere.
Q. What are the top 5 suits every man should own?
The 5 essential suits for men to invest in include:
A navy or charcoal grey business suit – versatile for workwear
A light grey or blue suit – for year-round pairing
A beige or tan chino suit – ideal for summer
A tuxedo – for black tie formal events
A grey or brown check suit – for occasions like weddings
Q. What suit is trending?
Slim fit suits in solids, checks and stripes are a big trend currently. Well-tailored two and three-piece suits in shades like navy, charcoal grey and brown are also popular for a timeless, refined look.
Q. Which brand makes the best blazer?
Some of the best men's blazer brands are Louis Philippe, Armani, Canali, Hugo Boss and Brooks Brothers. A well-fitted blazer from these brands offers versatility, sophistication and impeccable construction.
Q. Which clothes is best for blazer?
A blazer can be paired with formal trousers, chinos, dark jeans, dress shirts, turtlenecks and polos for a sharp finish. Avoid t-shirts, distressed denim and bold prints when wearing a blazer.
Q. Which color blazer looks good?
Classic colors like navy, charcoal grey, black, tan and brown work well for blazers. Other options include olive, khaki, burgundy and lighter blue shades.
Q. Which colour is most popular in blazer?
Navy blue, charcoal grey and black are the most popular blazer colors. Their versatility allows pairing with multiple shirts, trousers and accessories.
Q. What is the most famous suit brand?
Some of the most prestigious and famous suit brands for men globally are Armani, Hugo Boss, Ralph Lauren, Brooks Brothers and Tom Ford. They offer fine Italian wool suits, impeccable construction and timeless tailored styles.
Q. What to look for in a suit before its purchase?
Ans. Before buying a suit, check its fabric quality and the suit fittings.
Q. How much will a quality suit cost me?
Ans. You can get good suits starting from Rs. 5,000 to Rs.10,000 in the market. However, it largely depends on your choice, budget, and purpose for which you want the product.