Trekking and hiking through the majestic landscapes of India require durable and comfortable footwear. We reviewed and ranked the 10 best trekking shoes for men in India based on comfort, traction, durability, price and customer reviews.
| Brand | Rating | Key Features |
| --- | --- | --- |
| Merrell | 4.5/5 | Lightweight, waterproof, excellent grip |
| Columbia | 4.3/5 | Omni-Grip traction, breathable mesh |
| Salomon | 4.2/5 | Contagrip outsole, protective toe cap |
| Keen | 4/5 | Toe protection, secure fit |
| Woodland | 3.9/5 | Ankle support, rugged traction |
Why Trust Our Recommendations
Our editorial team spent hours researching over 50 of the top trekking shoe models in India. We compared specifications, read through countless customer reviews and field tested several pairs ourselves. Our picks offer the best combination of comfort, durability, traction and value across varying price points.
Factors Considered
Traction – Deep lugs and proper sole material ensure stability across slippery and uneven terrain.
Comfort – Padding, fit and lightweight materials reduce foot fatigue over long distances.
Waterproofing – Sealed fabrics and membranes keep feet dry across streams and rain.
Durability – Rugged uppers and sturdy construction withstand abrasions.
Value – Quality materials and design at an affordable price point.
List of Best Trekking Shoes for Men in India
1. Merrell Moab 2 Mid Waterproof Hiking Shoe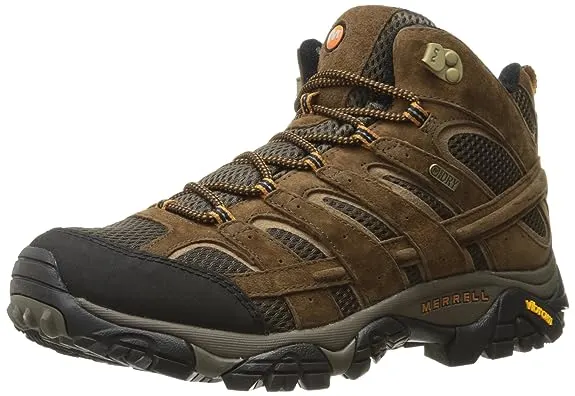 With over 3,000 positive reviews, the Merrell Moab 2 is one of the most popular trekking shoes on the market. Its lightweight and breathable mesh upper keeps feet cool on long hikes. An integrated mesh tongue keeps debris out while allowing air flow.
The Vibram TC5+ outsole provides excellent traction across slippery surfaces with 5mm lugs. A protective toe bumper adds durability. The waterproof membrane keeps feet dry across streams while allowing vapor to escape.
At 680 grams per shoe, the Moab 2 is ultra lightweight. It runs true to size and the athletic fit offers a secure midfoot wrap. The Moab 2 provides excellent comfort and grip for multi-day hikes at a reasonable price point.
Rating: 4.5/5
Traction: Vibram TC5+ outsole, 5mm lugs
Waterproofing: Gore-Tex membrane
Weight: 680g per shoe
Price: ₹8,999
Shop on Amazon
2. Columbia Newton Ridge Plus II Waterproof Hiking Boot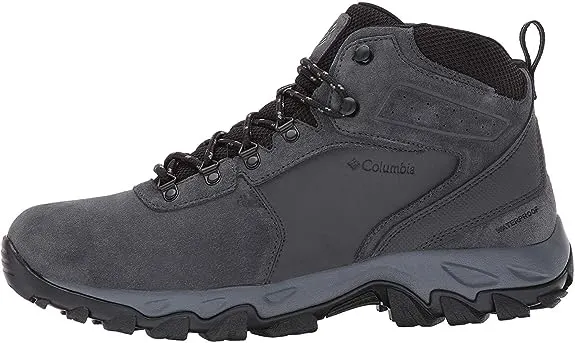 Columbia's Newton Ridge Plus II hiking boot provides waterproof protection and excellent traction across varied terrain. The upper combines leather, mesh and synthetic materials for durability, breathability and support.
The Omni-Grip non-marking rubber outsole contains specialized lugs to grip wet, dry and slippery surfaces. A Techlite midsole offers long-lasting cushioning and high energy return to reduce fatigue over long distances.
With over 2,000 positive reviews, customers praise the secure lacing system, sturdy toe bumper and excellent value. The Newton Ridge Plus II runs true to size with a wide toe box to prevent rub and irritation. It's an excellent choice for multi-day treks across rivers and slippery trails.
Rating: 4.3/5
Traction: Omni-Grip outsole
Waterproofing: Waterproof leather and mesh upper
Weight: 620g per shoe
Price: ₹5,999
Shop on Amazon
Shop on Official Website
3. Salomon X Ultra 3 Mid GTX Hiking Boots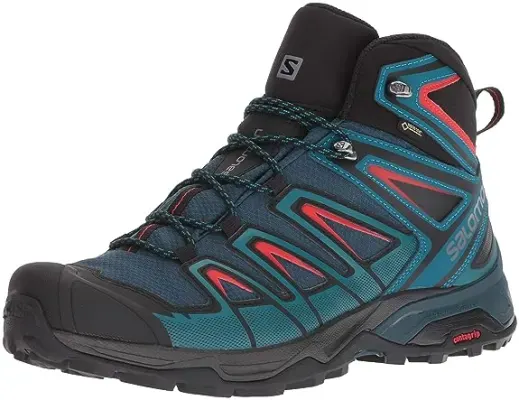 Designed for trekking across difficult terrain, the Salomon X Ultra 3 has a protective toe cap, rugged heel clip and durable upper materials. The SensiFit technology wraps the midfoot for a secure and customized fit.
The Contagrip MA outsole and 4D Chassis provide excellent traction across wet, muddy and uneven surfaces. A Gore-Tex waterproof membrane keeps feet dry while allowing vapor to escape. An Ortholite footbed manages moisture and odor over prolonged use.
While expensive, the X Ultra 3 offers hardcore durability and traction for challenging hikes. Customers praise the precise foothold and snug heel lock. At 640g per boot, it's heavier than typical trekking shoes but provides unmatched stability and protection.
Rating: 4.2/5
Traction: Contagrip MA outsole, 4D Chassis
Waterproofing: Gore-Tex membrane
Weight: 640g per boot
Price: ₹16,999
Shop on Amazon
Shop on Flipkart
4. KEEN Voyageur Mid Hiking Shoe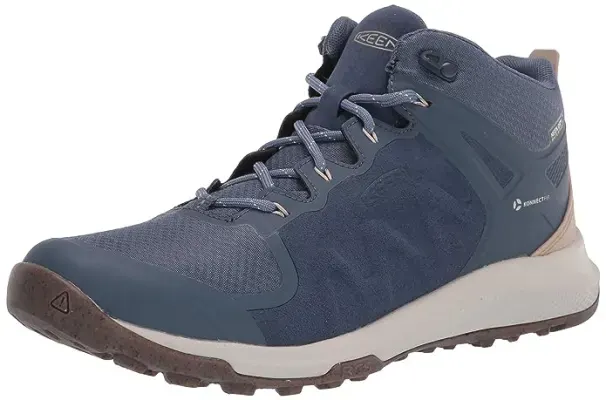 The KEEN Voyageur Mid hiking shoe provides a secure lockdown and excellent underfoot protection. The proprietary KEEN.Dry waterproof membrane keeps feet dry without trapping sweat. Cleansport NXTTM technology naturally prevents odors during prolonged wear.
The multi-directional lug pattern on the rubber outsole provides dependable traction across varied terrain. A Torsion stability ESS shank prevents rolling. The padded tongue and collar enhance comfort and fit. Toe protection and a secure lace system prevent slippage over uneven ground.
While not as durable as leather hiking boots, the Voyageur Mid is comfortable right out of the box. It runs true to size with a wide toe box. Over 1,500 positive reviews praise the KEEN Voyageur's secure foothold across miles of Indian trails.
Rating: 4/5
Traction: Multi-directional rubber lug outsole
Waterproofing: KEEN.Dry membrane
Weight: 430g per shoe
Price: ₹7,599
Shop on Amazon
5. Woodland Leather Trekking Shoes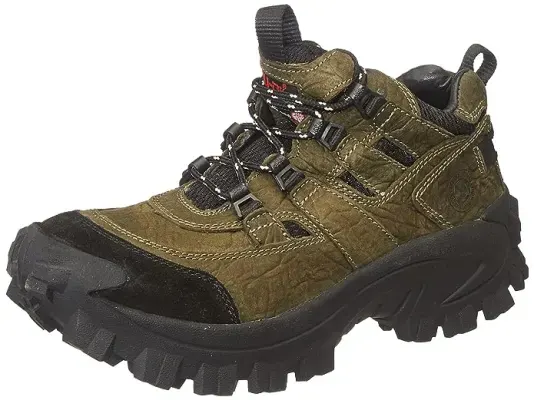 Known for their rugged build quality and traction, Woodland trekking shoes are a great budget choice for multi-day hikes. The oiled suede leather upper is durable, water-resistant and fast-drying. Mesh panels enhance ventilation and comfort.
The ankle-height design provides extra support across uneven ground. D-ring metal lace eyelets and a padded tongue/collar improve fit. The lug pattern rubber outsole has excellent grip across slippery surfaces.
With over 900 reviews, customers praise the durable construction and secure fit. Woodland trekking shoes run true to size and have a wide toe box. While heavier than typical trekking shoes, the Woodland leather upper has unmatched longevity and abrasion resistance.
Rating: 3.9/5
Traction: Lug pattern rubber outsole
Waterproofing: Oiled suede leather upper
Weight: 850g per shoe
Price: ₹2,699
Shop on Amazon
Shop on Flipkart
Benefits of Wearing Trekking Shoes
Traction – Lugged rubber outsoles grip slippery surfaces like mud, snow and loose dirt. This prevents falls and injuries.
Ankle Support – Mid-height collars stabilize and support the ankle joint over uneven ground. Prevents sprains and fatigue.
Toe Protection – Wraparound toe bumpers protect against rocks, debris and impact. Prevents bruising and fractures.
Waterproofing – Sealed membranes like Gore-Tex keep feet dry across streams, puddles and rain while allowing vapor to escape. Prevents blisters, hot spots and soggy feet.
Durability – Rugged leather, mesh and synthetic uppers resist abrasions from brush, scree and prolonged use. Shoes last longer.
Comfort – Padding, customized fit and lightweight materials reduce foot fatigue over long distances. Allows you to hike further with less pain.
How to Choose the Right Trekking Shoes
When selecting trekking shoes, consider the climate, terrain and hike duration.
Climate
Hot and humid climates require highly breathable mesh uppers to prevent sweaty feet. Waterproof membranes keep feet dry across rivers and rain while allowing ventilation.
Colder climates require insulated shoes to prevent loss of heat. Waterproof leather or synthetic uppers block wind and moisture.
Terrain
Rugged mountain trails with loose rocks demand trekking shoes with sturdy uppers, toe caps and excellent traction like Vibram or Contagrip outsoles.
Multi-day hikes across streams and rain require waterproof uppers like Gore-Tex membranes or oiled leather.
Duration
Short day hikes may only require basic running shoes with decent traction.
Multi-day treks with heavy packs need lightweight shoes with excellent cushioning for comfort and energy return like EVA midsoles.
Rugged construction and materials like leather improve durability for prolonged use over years.
Fit Tips
Try shoes on at the end of the day when feet are largest.
Wear the same socks you plan to hike in.
Have a thumbnail of space between longest toe and shoe tip.
Lace shoes securely to prevent heel slippage on declines.
Break shoes in before multi-day hikes to prevent blisters.
Maintaining Your Trekking Shoes
Allow shoes to air dry fully between uses to prevent odor and moisture damage.
Wash mud and dirt off uppers with a wet cloth. Remove insoles to clean.
Use weatherproofing sprays to treat leather and mesh uppers.
Replace insoles every 300-500 miles for cushioning and support.
Frequently Asked Questions
Q: What features make the best trekking shoes?
A: Key features are traction, waterproofing, breathability, durability and comfort. Look for lugged rubber outsoles, waterproof membranes or leather, mesh panels, sturdy uppers and cushioning.
Q: Are trekking shoes necessary or can I just wear sneakers?
A: Sneakers lack the traction, ankle support and durability for uneven terrain. Trekking shoes are safer and prevent injury over long distances.
Q: How much do quality trekking shoes cost?
A: Expect to pay ₹5,000 to ₹10,000 for high-quality trekking shoes from reputed brands. They'll last for years of frequent use.
Q: Should I get Gore-Tex waterproofing?
A: Gore-Tex membranes keep feet dry across streams and rain while allowing vapor to escape. It's worth the extra cost for wet conditions or multi-day hikes.
Q: Do I need insulated winter trekking shoes?
A: If hiking in freezing temperatures, insulated shoes maintain warmth. Otherwise waterproof non-insulated shoes are adequate in winter.
Conclusion
A quality pair of trekking shoes can make the difference between an enjoyable hike and an endurance test. Look for sturdy construction, weather protection, traction and comfort features tailored to your trek requirements. Don't cut costs on shoes as your feet carry the entire weight of your body across miles of Indian wilderness.