Lipstick is one of the most important makeup products that carry the power to make or break your look. And every woman prefers lipstick that remains intact for an extended time without reapplication. It was why waterproof lipsticks came into the picture and became a game-changer in the makeup world. In addition, there are countless benefits that waterproof lipstick offers.
And besides lasting throughout the day, a waterproof lipstick requires minimal touch-ups, remains smudge-free, and provides full coverage in a single stroke. So given these benefits, every leading makeup and beauty brand in India has launched its range of waterproof lipsticks. However, given the sheer number of waterproof lipsticks available in the market recently, choosing the best one can be overwhelming.
Hence to help you get that perfect smudge and waterproof lipstick, here are some of the top waterproof lipstick in India!
How to Choose the Best Waterproof lipstick?
Finding a waterproof lipstick that looks beautiful, is long-lasting, and remains smudge-proof even under a face mask can be challenging. However, it is not impossible. Here are some factors you must consider when choosing waterproof lipstick.
Skin tone: When selecting the right waterproof lipstick, choosing one that matches your skin tone and undertone is essential.
Lipstick shades: While nudes and coral shades complement all skin complexions, you must pay equal attention to their undertones, like cool, neutral, or warm, and choose a shade that blends perfectly with them.
Consider your natural lip colour: The most suitable lip tones will be a colour or two darker than your natural lip shade. And to test this, you must simply apply your preferred lipstick shade on one lip, and you will find the perfect colour one or two shades darker than your bare lip.
Below we cover these waterproof lipsticks and their brands one-by-one.
7 Best Waterproof Lipstick
1. Renee Waterproof lipstick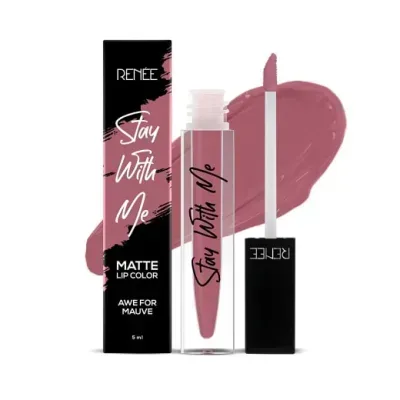 Although a new player in the beauty and makeup industry, Renee has become a well-known brand in India. While it offers a wide range of beauty and cosmetic products, waterproof lipsticks by Renee in stunning shades remain best-seller.
Its transfer-proof properties and highly pigmented shades are what women love the most. Furthermore, one of the most liked features of this brand is it is entirely vegan and makes lipsticks from natural ingredients that keep the lips moisturized. In addition, this brand's pocket-friendly rates make Renee a popular cosmetic brand in India.
Key Highlights
Lightweight and comfortable application
Cruelty-free
Smudge-proof
2. Kay Beauty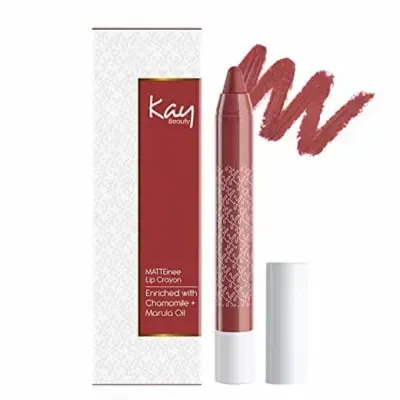 Kay Beauty is another famous cosmetic brand offering rich matte waterproof lipsticks in different shades to give you a bold and intense look. Moreover, since these lipsticks are transfer-proof and stay for an extended time, they can be your go-to choice for office and college makeup. It is perfect for office and college looks. And created with a lightweight formula, these lipsticks are comfortable for all-day use. Likewise, these lipsticks are cruelty-free and contain natural ingredients that keep your lips supple and moisturized.
Key Highlights
Beautiful matte finish
Creamy formula that glides smoothly on the skin
Paraben and cruelty-free
3. Mac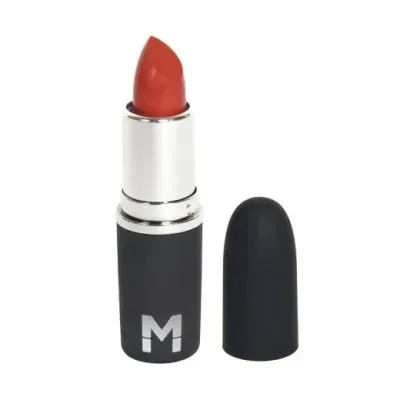 Mac's Matte waterproof lipsticks are famous for their intense pigmentation and saturated shades. Furthermore, this lipstick's creamy, thick texture flows seamlessly on the skin and offers a perfect matte touch in just one stroke. Besides, this lipstick has a long-lasting formula that makes it smudge-proof and bleed-proof without demanding regular touch-ups. And you know the best part? Its highly pigmented shades perfectly highlight your lips and give them a striking look.
Key Highlights
Offers excellent colour payoff in a single stroke
The liquid formula glides smoothly like butter
Contains nourishing ingredients
4. Sugar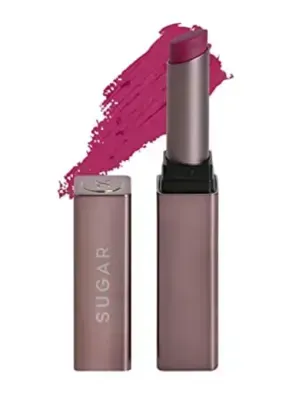 Waterproof lipsticks by Sugar is perfect if you hate reapplying your lipsticks again and again. And it is a favourite among women who love glossy and matte lips. In addition, being the most loved lipstick brand in India, Sugar's waterproof lipsticks are waterproof and exceptionally long-lasting. Recently emerging as one of the leading cosmetic brands in India, lipsticks by Sugar last for a long time and are entirely transfer-proof and keep your lips from getting chapped.
Key Features
An intense pigment that lasts long
A non-sticky formula that keeps you comfortable all day long
Long-lasting and smudge-proof
5. Nykaa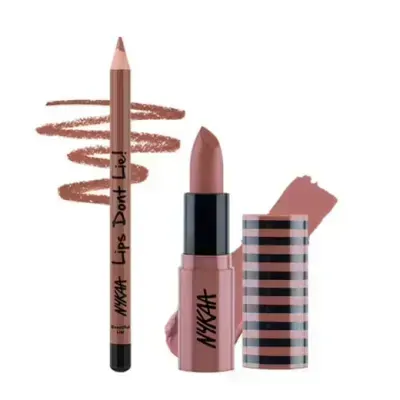 Nykaa recently earned immense prevalence with its high-quality makeup products, especially waterproof lipsticks. With highly pigmented lipsticks for every Indian skin tone, waterproof lipsticks by Nykaa glide beautifully on lips and offer an ultra-matte finish. The natural ingredients and unique formula make Nykaa lipsticks stand out from the rest and offer the best value for money.
Key Features
Lasts for up to 12 hours without smudging
A creamy, smooth texture prevents lips from chapping
Smooth formula and matte finish
6. Lakme Absolute Argan Oil Lip Color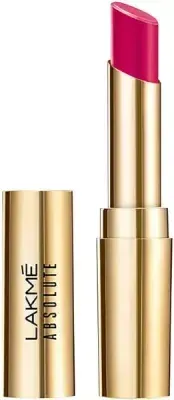 Lakme Absolute Argan Oil Lip Color is a range of waterproof liquid lipsticks that provide intense color with a creamy matte finish. It is enriched with argan oil that hydrates and nourishes the lips. These lipsticks are billed as 12 hour lasting and completely transfer-proof. The liquid formula glides on smoothly and sets to a smudge-free, light matte texture. It comes in 10 trendy shades.
Key Features:
Waterproof, transfer-proof formula
Velvety matte finish
Enriched with argan oil for moisturization
12 hour long lasting color
Lightweight, smooth texture
Wide range of modern shades
7. MARS Long Lasting Lip Crayon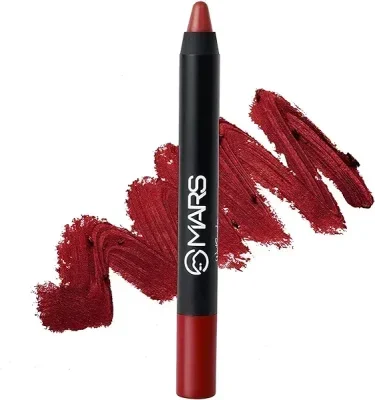 MARS Long Lasting Lip Crayon is a retractable lip crayon that provides waterproof, smudge-proof color that lasts upto 12 hours. It has a matte finish and highly pigmented formula for full coverage in a single stroke. The creamy, lightweight texture makes it easy to apply. It is available in 20 trendy shades.
Key Features:
Waterproof and smudge-proof
12 hour long wear
Smooth matte finish
Retractable lip crayon format
Highly pigmented formula
Glides on easily
Wide range of shades
Comparison of Best Waterproof Lipstick in India
Here is a comparison table of some of the top waterproof lipsticks in India:
| Brand | Product | Key Features |
| --- | --- | --- |
| Renee | Stay With Me Mini Matte Lip Color | Lightweight, matte finish, waterproof, smudge proof, 12 shades |
| Kay Beauty | Hydrating Cushion Matte Lipstick | Velvet matte finish, lightweight, waterproof, moisturizing, 18 shades |
| M.A.C | Retro Matte Liquid Lipcolour | Intense matte color, 12-hour wear, waterproof, smooth creamy formula, 28 shades |
| SUGAR | Smudge Me Not Liquid Lipstick | Ultra matte, transferproof, waterproof, 12-hour wear, 44 shades |
| Nykaa | So Matte Lipstick | Matte finish, waterproof, smudgeproof, budget friendly, 18 shades |
| Maybelline | Superstay Matte Ink | Upto 16 hrs wear, waterproof, 12 shades |
| Lakme | Absolute Argan Oil Lip Color | Creamy matte color, enriched with argan oil, waterproof, 12 hrs duration, 10 shades |
| MARS | Long Lasting Lip Crayon | Waterproof, 12 hour wear, easy to apply crayon, no smudging, 20 shades |
This covers some of the best waterproof lipsticks from popular makeup brands in India. The matte and liquid lipstick formulas offer transfer-proof properties and extended wear without smudging or feathering.
Final Words
In a nutshell, waterproof lipsticks last for an extended time and are ideal for women who don't like frequent touch-ups. And all the brands mentioned above have the best variety of waterproof lipsticks that are long-lasting, smudge-proof, and offer the best value for money. So next time you shop for the best waterproof lipstick, don't forget to take cues from this article and find your best pick.
FAQs for Best Waterproof Lipstick in India
Q. Which brand offers the best waterproof lipstick in India?
Ans. Brands like Sugar, Nykaa, and Kay Beauty offer the best waterproof lipsticks in India. SUGAR Cosmetics Smudge Me Not liquid lipsticks are considered one of the best waterproof lipsticks available in India. They have an ultra-matte finish that lasts up to 12 hours without smudging or transferring. The Swiss Beauty and Mars waterproof lipsticks are also good options for long-lasting wear. When choosing the best waterproof lipstick, consider the finish, longevity, pigmentation and hydrating ingredients.
Q. How long does waterproof lipstick last?
Ans. While this differs from brand to brand, waterproof lipsticks generally last upto 12 hours.
Q. Is Sugar lipstick transfer-proof?
Ans. Lipsticks from Sugar are entirely waterproof and transfer-proof.
Q. Is there any waterproof lipstick?
Yes, there are many waterproof lipstick options available now. Brands like Swiss Beauty, Sugar, Mars, Lakme, Colorbar etc offer waterproof lipsticks in various finishes like liquid lipsticks, matte lipsticks, lip crayons etc. These lipsticks are transfer-proof, smudge-proof and can last upto 12 hours in some cases. They have long-wearing formulas that do not budge or fade even when eating, drinking or wearing a mask.
Q. Which lipstick lasts the longest?
Liquid lipsticks tend to last the longest, with certain brands claiming up to 24 hours of wear. SUGAR Smudge Me Not liquid lipsticks, Maybelline Superstay Matte Ink, Lakme Absolute Matte Lip Color and Swiss Beauty waterproof lipsticks are some of the longest lasting options. The matte finish and transfer-proof formulas allow them to stay put without smudging or fading. Besides liquid lipsticks, matte bullet lipsticks also have good staying power.
Q. Is Lakme Liquid lipstick waterproof?
Yes, the Lakme Absolute Argan Oil Lip Color range contains waterproof liquid lipsticks that claim to last for up to 12 hours. It has a matte finish and comes in several trendy shades. However, Lakme's matte bullet lipsticks and lip crayons are not waterproof. For Lakme waterproof lipsticks, check the Lakme Absolute Matte Liquid Lip Color range specifically.
Q. Does waterproof lipstick work?
Yes, waterproof lipsticks do work to an extent. They are formulated to be transfer-proof, smudge-proof and budge-proof. Waterproof lipsticks with matte or liquid formulas stay intact for longer without fading or feathering. However, they tend to dry out lips faster. Using a lip balm underneath can help moisturize. Touch ups may be needed after meals. How well it works depends on the specific brand and formula.
Q. Is there kiss-proof lipstick?
There are certain lipsticks that claim to be kiss-proof, meaning they do not smudge or transfer when kissing. Matte liquid lipsticks like the SUGAR Smudge Me Not Lipsticks are dubbed kiss-proof. They have intense matte pigments that adhere to lips for hours. Certain lip stains, mousse and lacquer formulas also resist transferring or smudging with kissing. However, no lipstick is 100% transfer-proof, some minor smudging is unavoidable.
Q. What is the best waterproof long lasting lipstick?
Some of the top options for waterproof long lasting lipsticks include:
SUGAR Smudge Me Not Liquid Lipstick – Ultra matte formula lasts 12 hours
Maybelline Superstay Matte Ink – Up to 16 hours of wear
Lakme Absolute Matte Liquid Lip Color – Waterproof, 12 hours duration
MARS Long Lasting Lip Crayon – Matte crayon lasts 12 hours
Swiss Beauty Waterproof Lipstick – Transfer-proof for long duration
Faces Canada Ultime Pro Matte Lip Crayon – Smudge-proof for hours
Look for matte or liquid formulas that claim to be transfer-proof and waterproof for best long-lasting results.