Every bride deserves a grand wedding where she is dressed in her special way. Once you're done selecting the outfit and accessories, it's time to focus on the makeup. Whether it's a traditional attire or a modern one, deciding on the makeup beforehand will help keep things organised. Since wedding days are usually long, choose a type of makeup that you're comfortable with and that goes well with your outfit. If you're confused about what kind of makeup for a bride would look good, we've got you covered.
In this article, we've talked about different types of traditional and modern bridal makeup. To make things easier, we've also mentioned a few bridal makeup tips that might come in handy.
Consider These Bridal Makeup Tips For a Gorgeous Look
When it comes to the makeup for a bride, it starts with skincare. Cleanse and moisturise your skin daily to keep it hydrated. Soft and plump skin will help the makeup to set better.
To avoid any breakouts and rashes, ask for a makeup trial. Get yourself familiarised with the different types of makeup brands and products. Do a trial test on your skin and select the right products.
Depending on the timing of the wedding, choose makeup for a bride that will elevate the outfit's look. This will help to make a big difference. Shimmery or gold makeup will look best during the night.
Always stick to moderation. If you feel that a bold lip is enough, choose nude makeup for the rest of the face. It's not necessary to choose a glamorous lip shade and eye shadow together.
Try to relax and keep the stress away. The more stress, the more the breakouts. Use green tea to reduce the redness of pimples or acne marks.
Make sure to use clean makeup brushes and equipment. A dirty tool can lead to rashes and infections.
Makeup Ideas for Indian Brides
Now let's look at different styles of makeup for a bride. We've also added some points on accessories so you can buy the necessary items before the event.
Traditional Indian Bridal Makeup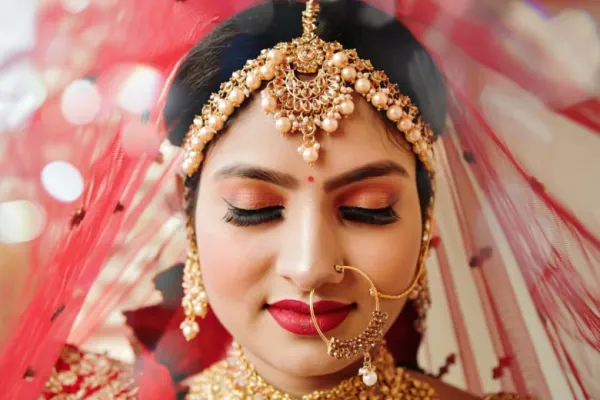 Opt for traditional bridal makeup that will make you stand out from the rest of the crowd. Paint the lips with bright red lipstick, create a shimmer on the eyes with some gold and contour the face for a snatched look. A saree with rich zari work and this makeup will go very well together.
Muslim Bridal Makeup Idea
This modern bridal makeup focuses on jewellery. The traditional nose ring and Jhumar Passa are important elements in this style. Keep the makeup all-natural with light and warm shades. This way, the focus will stay locked on the jewellery pieces. A recent trend in Muslim weddings is red lipstick. Brides have been using the Scarlet Red shade on their lips to match bright red outfits.
Simple Makeup for Kashmiri Brides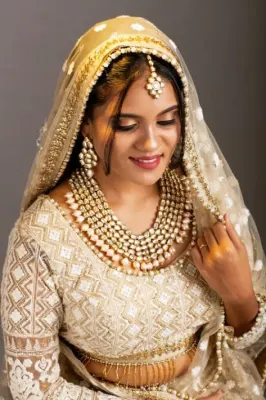 Kashmiri weddings include soft pastel colour outfits and nude makeup. Heavy blush on the cheeks is also popular among Kashmiri brides. Focus on nude makeup using soft shadows and strokes instead of heavy makeup. You can also try soft gloss or glitter for the eyeshadow to make the eyes pop.
Telugu Pelli Kuthuru Makeup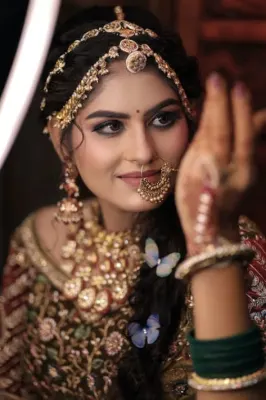 The statement accessory in a Telugu wedding is the maang bindi that highlights the forehead. There's a lot of jewellery involved in a modern bridal makeup: around the neck, earrings and across the forehead. You can create natural light makeup using a neutral gold or copper shade for the eyes. If you can't decide on the lip colour, match your lipstick with the roses on your hair.
Bengali Style Bridal Makeup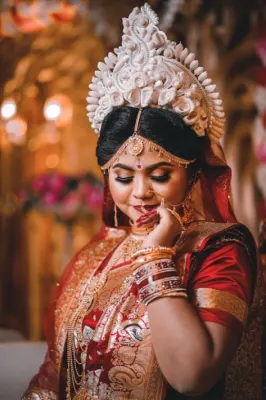 Bengali makeup for a bride includes dressing up in red sarees and gold accessories. Use bright red bindis, winged eyeliner or heavy kajal eyes with a soft bronze touch. Well-drawn eyebrows and light eyelashes will create almond-shaped eyes. Traditionally, chandan is used to draw intricate bindi designs on the forehead. A mukut made from white shola is used to symbolise prosperity.
Shimmery Bridal Makeup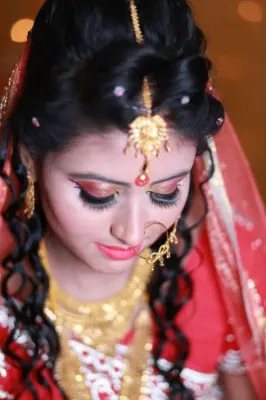 When it comes to makeup for a bride, you can go all out with the glitter trend. Glitter eye makeups are the show stealer nowadays. Choose a striking eye shadow combination that matches your outfit, and add some glitter for the shimmer. This will elevate the look of your outfit and jewellery as well.
Kerela Style Bridal Makeup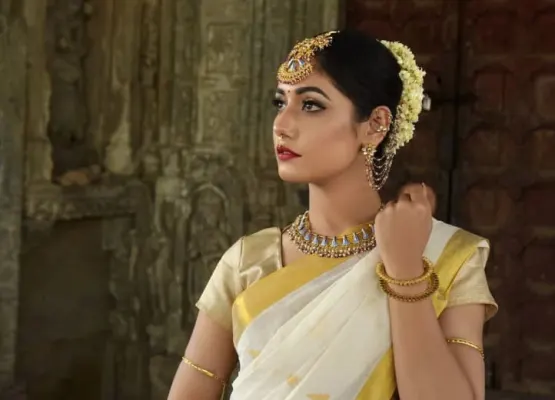 Traditionally a Kerela wedding includes brides decked up in white sarees with a beautiful golden zari border. Another modern bridal makeup option is the orange saree with golden zari work. Wrap around some Jasmine flowers on the hair bun and use a small bindi on the forehead. Go light with the makeup; a few coats of mascara, a medium bright lipstick and Kohl eyes should do the trick.
Punjabi Kudi Style Bridal Makeup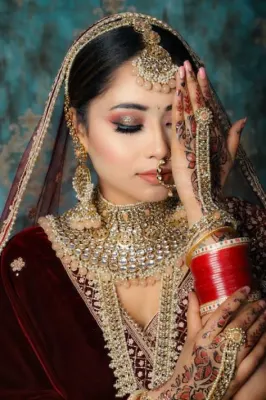 Everyone needs to keep up with the fun and bold spirit of a Punjabi wedding. For modern bridal makeup, dress up in pinks, mustards, greens and fuchsia. Extra long lashes are a favourite of many brides. Also, shimmery eyes and soft pink lips will look very natural. The bold colours complement the soft makeup of the bride.
Maharashtrian Nauvee Saree Makeup for Brides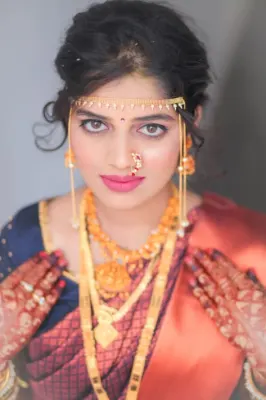 A Maharashtrian bridal makeup is incomplete without the crescent moon bindi on the forehead, a nauvari saree and mundavalyas across the face. Try using earthy tones to match the green nauvari and add a bit of shimmer for a new look. Highlight the bride's natural glow with light-tinted eyebrows and a light nude shade for the lips.
Wrapping Up
These are the most popular styles of makeup for a bride. Choose a modern bridal makeup style and shine bright for the shaadi season. All the pre-planning for the wedding day will help keep things perfect. And the makeup will help tie the entire look together with your outfit. Opt for your preferred makeup style, and get ready for the camera!
FAQs
Q. What is traditional Indian bridal makeup?
Classic Indian makeup includes bright lips, kajal eyes and red bindi. The lip colour drives all the attention, so it is important to avoid putting on too much makeup. A clean face and soft bronze eyes usually do the trick.
Q. What is important for bridal makeup?
The right bridal makeup will boost the style of the outfit and highlight the face. Synchronise your makeup with the colour of the outfit. Play around with shades of brown, green or red and use eyeliner or Kohl on the eyelids.
Q. Which type of makeup is best for brides?
Silicone-based makeup will give smooth results and feel light on the skin. Choose a makeup style that you feel will be comfortable, and use a setting spray to keep things in place.
Q. What kind of bridal makeup should not be done at a wedding?
Never skip the makeup trial. The trial will help to prevent a lot of mistakes. Avoid wearing too much gloss, as the hair tends to stick. Don't choose a very dramatic eye shadow, and make sure to apply blush correctly.