A bike that suits your personality makes riding one of the most adventurous activities. It is like you are amidst elite satisfaction when your foot changes the gear, and the hand rotates the accelerator. But as much as a great bike improves your experience, riding gloves are important to keep you safe.
A good pair of riding gloves isn't just a style statement but also essential gear to protect your hands from unfavourable weather during short and long rides. Riding gloves for everyday use is also a sure-shot way to protect your hands.
Finding the best fit requires you to consider a lot of things like comfort, safety ratings, price justification, and other specifications. So, if you are lost in your search for the best riding gloves in India, we have got you covered.
Top 5 Riding Gloves in India
Here's a curated list of the best riding gloves in India that bring together style, safety and comfort.
Rynox Tornado Pro 3
Steelbird Full-Finger Bike Riding Gloves
Royal Enfield Urban Hustler
Studds SMG-6
DSG Carbon-X
1. Rynox Tornado Pro 3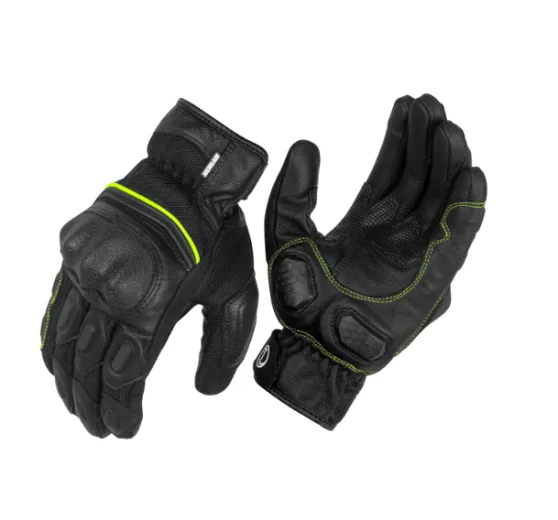 Rynox is one of the most trusted brands by bikers. The Tornado Pro 3 gloves have been carefully designed to fit your hands perfectly. It has a mesh-type design that allows your hands to breathe.
They have a safety lining for the palm and a hard protector for the lower part of the palm. The whole glove is made of high-strength material. You won't have to take off your gloves after stopping for a ride.
The design of the glove has pre-curved fingers, girth adjusters, and mesh panels on the fingers and wrist for complete comfort and ventilation.
Rynox has been a pioneer in creating some of the best riding gloves sought after by bikers. They have a complete range of riding safety gear. Just keep your hands on the throttle and stay safe with one of the best riding gloves in India.
What's Great?
Impact Resistant and CE Certified
Affordable yet stylish design
High-strength material that will not get torn easily
Provides full coverage with knuckle protectors and foam inserts on fingertips and joints
Buy them from Flipkart
Buy them from Amazon
2. Steelbird Full-Finger Bike Riding Gloves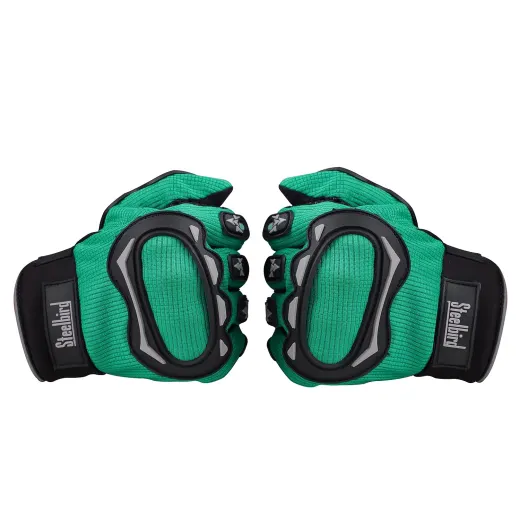 Steelbird is one of the most reputed bike safety products manufacturers in India. The full-finger bike riding gloves by Steelbird provide complete protection and are stylish at the same time.
They provide a comfortable grip on the bike handle while covering all the safety points. The padding is made of highly quality fibre material and the material used in the glove is sturdy and breathable.
The gloves keep your hand insulated while the mesh lets your palm breathe. The biggest advantage of these gloves is that they come with touchscreen compatibility. You can make calls, text, or click photos while having the gloves on.
What's Great?
Come at a very lucrative price range
Nylon makes the gloves insulated and comfortable
Touchscreen compatible
The lower mesh ensures ventilation and comfort during rides
Buy them from Flipkart
Buy them from Amazon
3. Royal Enfield Urban Hustler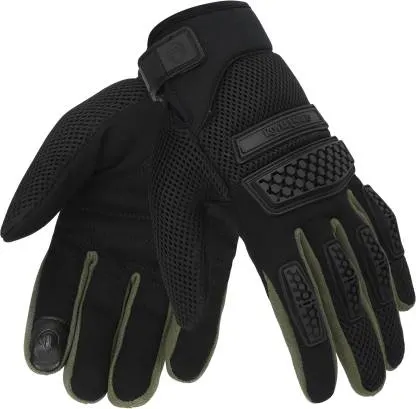 Royal Enfield has had one of the most supportive fan bases. They have a lineage in bike products that not many companies in the world have. The Urban Hustler range is for those who hit the city roads with Enfields.
You can put these on a ride to your college, your office, or just for an evening ride for tea. These gloves have a design that lets the air keep flowing through your palm for ventilation and have a great fit.
The material used has high elasticity and durability. The protective casing covers up all of the essential points of the hand, like the fingers, lower palm, knuckles, etc. These gloves are a style statement without compromising functionality.
What's Great?
Perfect design for daily commuters
Material is lightweight yet sturdy
Affordable and stylish
Mesh design keeps the hand free of sweat and uneasiness
Buy them from Flipkart
Buy them from Amazon
4. Studds SMG-6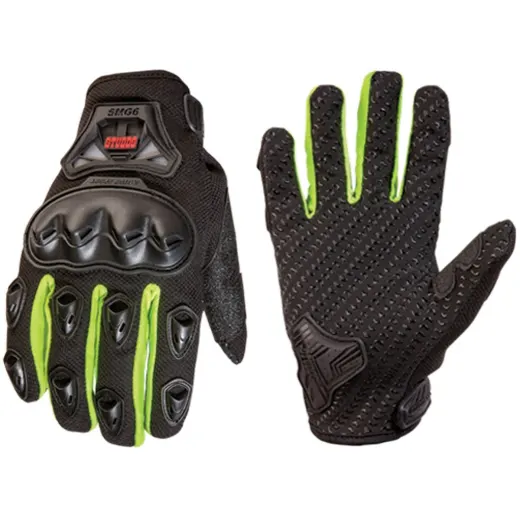 Studds has partnered with several bike companies and supplies motorcycle helmets with every new bike purchase. Their SMG-6 has turned out to be one of the best riding gloves in India within an affordable range.
The design is funky as well as protective. They provide full coverage and are a perfect fit for daily city rides or on rough terrains.
The overall material is quite durable and justifies the pricing or even serves more. You can go for these if you like to keep the funkiness alive in your rides.
What's Great?
Unique design with an affordable pricing
High-grade material for the protection of the hand
Anti-slip for a strong grip
Buy them from Flipkart
Buy them from Amazon
5. DSG Carbon-X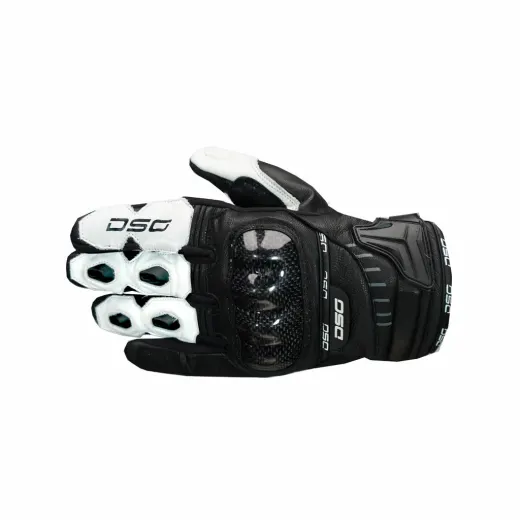 DSG is another trusted brand amongst the riders. If you are looking for gloves for your next adventurous riding trip, the Carbon-X is perfectly suited for you.
They have a hard shell covering the outside and the lower palm. The leather material inside, along with the mesh, makes them highly durable and comfortable. These all-weather riding gloves are a little on the expensive side comparatively but completely worth the money.
What's Great?
Attractive design
A blend of leather and mesh for extra comfort
An outer shell for extra protection
Buy them from Amazon
Buy them from Moto Central
Conclusion
Riding gear like gloves for biking enthusiasts is not just a necessity but also a style statement. Consequently, they make for a perfect practical gift!
The above-mentioned are some of the best riding gloves in India that will fit your budget and choice. You can find amazing deals online and grab top-notch riding gloves at great prices.
FAQs
1. What functions do riding gloves serve?
The best riding gloves in India keep your hands safe all the time, especially during an accident. Gloves also protect your hands from heat, dust, and rain, ensuring you have a good grip consistently.
2. How long does one pair of gloves last?
It depends on the kind of rider, but if you do not get into a serious accident, riding gloves last for a long time. They usually last for three to four years on average.
3. Should you wear gloves if you have sweaty hands?
In that case, too, you can go with any of the gloves mentioned above. Being the best riding gloves in India, the manufacturers have kept ventilation in mind and added design elements for your hands to stay sweat-free.