Looking for something dashing for a cousin's wedding? For your sister's sangeet? Wondering where to find a wedding kurta pajama with jacket that makes sure all eyes are on you?
We have curated a list of exquisite, top 7 best kurta pajama with jacket for weddings, receptions, and other occasions.
From subtle yet impressive to bold and dramatic kurta, pajama and jacket sets, we have gone through it all so, you do not have to. We have made sure to pick the sets that will be delivered to you as good as it looks, and in great quality.
Now, all you have to do is go through the list and pick the one that is in line with your fashion sense.
Quick Overview of the Brands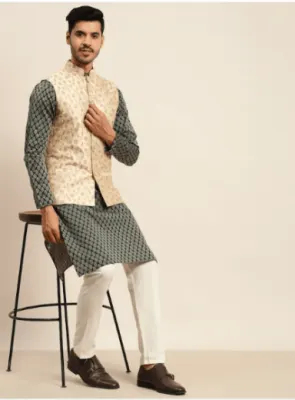 First up on our list, we have an elegant and perfectly suave ethnic kurta with a Nehru jacket. The kurta is dark green with silver embellishments. To contrast the warm tone, the jacket comes in a neutral colour.
The jacket has beautifully detailed ethnic motifs. The white trousers maintain the overall simplicity. This set is suitable to wear for the evening as well as daytime events.
What's Great?
Simple elegant design and silhouette
Unique ethnic motifs
Product Review
Quality product with reasonable price. Bhavesh Soni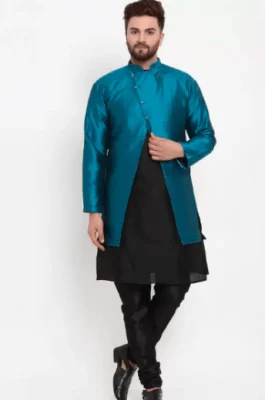 In search of an evening kurta set that makes you stand out in the crowd? Then, this silk blend ethnic jacket and kurta set are for you. This stylish set comes with black pants and a plain black kurta.
The catch lies in the jacket – it is a full-sleeve jacket with a bold cut in the middle. The silky jacket comes in several bold colours such as dark green, yellow, maroon, red, royal blue and silver. If you want to pull off an all-black set, there's an option too.
What's Great?
Excellent choice for evening events
Unique style
Product Review
Wonderful Kurta. Ram Kumar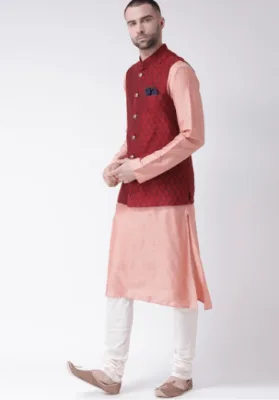 Next up, we have Kisah printed set that combines all of the chic and comfort that you need during a wedding or a family festival get-together. The set contains simple light pink kurta and white slim trousers that keep you comfortable.
The Nehru jacket has a mandarin collar and long sleeves. The bright red jacket adds a touch of festivity to it. So, you can walk into a room full of people with a simple kurta and yet turn their heads.
What's Great?
A comfortable option for events that lasts for long hours
High-quality materials (silk blend & cotton blend)
Product Review
Exactly shown in the picture. Go for it. Soumya Biswas.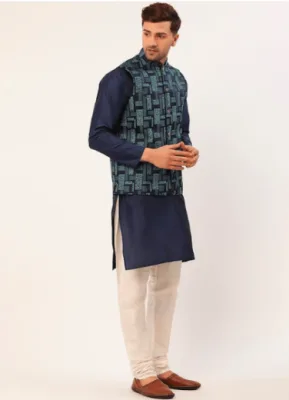 Mix it up a little bit with this Jompers Blue & Cream Kurta set. This set by Jompers comes with simple white cotton trousers and a navy blue, full sleeves kurta. The mandarin collared kurta is complete with two pockets.
In contrast to the kurta and pajama, the jacket has a modern twist. It has printed rectangular patterns of various shades of blue that keep the clash of modern patterns elegant. The overall wedding kurta pajama with jacket is harmonious and comfortable.
What's Great?
Made of superior quality cotton blend machine weave fabric
Available in a bronze-toned alternative
Product Review
Worth it. Bhumika Tripathi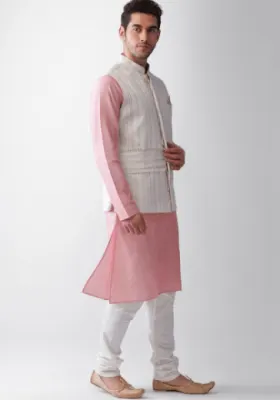 We have another set of kurta with pajamas from Kisah that will surely make you the centre of attention in any event. This classy, beautiful light-coloured kurta elevates your look without any doubt. The solid kurta is simple with regular, long sleeves, and a knee-length hem.
The cotton-blend material will keep you comfortable throughout the wedding or other festivities. It is complete with a mandarin collar white kurta with exquisite silver embroidery works. It also comes with a nice, little silver handkerchief tucked in the pocket.
What's Great?
Looks very expensive but is relatively affordable
Available in three different colour variants
Product Review
Bought this for my brother absolutely happy with it. Pooja Singhania
Bring out the old-school, classic guy in you with this linen kurta pajama set with jacket. This is the simplest kurta ensemble for men you can find anywhere! The kurta and the trousers are made of linen to give optimal comfort.
The jacket is simple with a mandarin collar and button-ups. You can complete the look with a nice pair of brown ethnic footwear. Moreover, the jacket is available in a wide range of colours. It includes beige, black, grey, orange, and several shades of blue among others.
What's Great?
Simple and versatile wear
Extremely comfortable, especially suitable for wearing long hours
Product Review
The quality of the products is nice fabric. Shahista Shah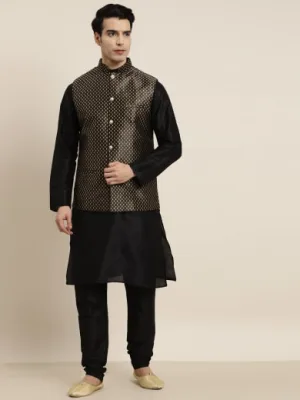 Our next pick will take you from simplicity to a daring, dashing look. This kurta, pajama ensemble is an all-black look that can be a great addition to your ethnic collection. The solid straight-shaped kurta and the trousers look bold and beautiful with the Mandarin collar.
The self-design Nehru jacket is made of 80% silk and 20% cotton to balance the shine and comfort. The golden details and buttons add dimension to the all-black look. You can pair it with golden sandals and get ready to shine as the star of the evening.
What's Great?
Amazing evening look
Comfortable, breathable material
Product Review
The material is awesome, and the fitting is too good, must buy it. Dhairya Palan
Final Words
Before picking your favourite from the above listed sets, it is important to analyze a few things. It starts from choosing the kurta pajama set according to the time – day or night event? It is better to go with neutral tones for daytime events and brighter tones for night-time events.
Then, you need to see if the set suits your style. If it does, go on and add the wedding kurta pajama with jacket set to the cart and start checking out!
FAQs
Q. Which is the best place to buy kurta, pajamas, and jackets in India?
Ans. Myntra and Flipkart has some of the best collection of kurta, pajama, and jacket sets. You can also shop from Ajio, TatCLiQ, and Snapdeal. Alternatively, you can shop from nearby store outlets.
Q. Can I mix-match the kurta, pajama pieces from one set with another?
Ans. Definitely yes! You can mix-match to any extent you like. However, you need to make sure the colours coordinate well. A quick tip: It is better to keep the kurta and trousers together and experiment with different combinations of jackets.
Q. Should I consider the climate before purchasing the sets?
Ans. Absolutely, yes. You need to consider the weather, sunlight, and how long the event will last before purchasing the wedding kurta pajama with jacket. It is better to go with linen or cotton blend materials in the summer. During winter, you will stay relatively warm since the sets are layered.