Sunglasses are more than just a fashion accessory – they protect your eyes from harmful UV rays. When investing in a pair of sunglasses, especially from a luxury brand, you want quality frames made from durable materials that will last. Luxury sunglasses offer premium lens technology, stylish and timeless designs, and top-notch craftsmanship.
In this guide, we've compiled the best luxury sunglasses brands and top products to consider for your next pair of shades.
How to Choose Luxury Sunglasses
When selecting luxury sunglasses, here are some factors to consider:
Frame Material
Look for frames made of high-quality materials like acetate, titanium or stainless steel. These materials are durable and comfortable. Plastic frames are cheaper but less sturdy.
Lens Material
Lens material affects clarity, durability, and UV protection. Polycarbonate lenses are impact-resistant. Nylon lenses are lightweight. Glass lenses offer excellent optical clarity.
Polarized vs. Non-Polarized
Polarized lenses reduce glare from reflective surfaces. Ideal for activities like driving, fishing, and water sports. Not ideal for looking at LCD screens.
Lens Tint and Coating
Different tints and coatings filter specific light wavelengths and serve different purposes. Common options: grey, brown, green (anti-glare), mirrored (good sun protection), gradient (partial tint).
UV Protection
Ensure the lenses block 100% of UVA/UVB rays up to 400 nm. This protection is critical to prevent eye damage.
Frame Size and Fit
The right frame size should align with your facial features and feel comfortable. Measure your PD (pupillary distance) for ideal lens alignment.
Style
Choose a timeless, versatile frame style that complements your face shape. Classic styles include aviators, wayfarers, cat eye, round, square, etc.
Top Luxury Sunglasses Brands & Products
Tommy Hilfiger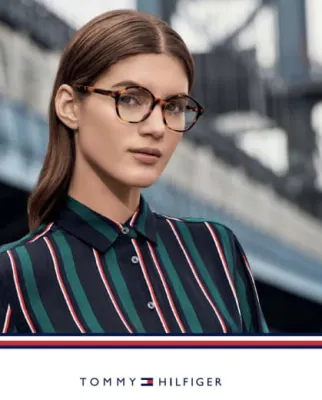 Known for its preppy designs, Tommy Hilfiger offers high-quality sunglasses without the ultra-high price tag. The brand's sunglasses are well-crafted using durable materials like stainless steel, acetate, and scratch-resistant lenses.
Top Picks:
Ray-Ban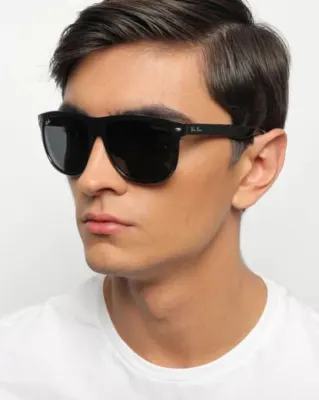 When you think luxury sunglasses, Ray-Ban is likely the first brand that springs to mind. Known for its excellent craftsmanship and timeless styles, especially the iconic Wayfarer and Aviator models, Ray-Ban epitomizes both fashion and function.
Top Picks:
Ray-Ban Aviator Classic: The classic aviator silhouette with crystal glass lenses and sturdy metal frame. Suited for medium to large face shapes. Provides optimal visual clarity and 100% UV protection. 4.6 out of 5 stars. MRP: ₹14,999
Ray-Ban Wayfarer: The iconic wayfarer style reinvented with contemporary color combinations. Features lightweight acetate frames, crystal lenses and signature Ray-Ban branding. 4.5 out of 5 stars. MRP: ₹9,999
Oakley
Oakley takes a sporty, technological approach to eyewear. Its sunglasses feature patented innovations that enhance vision during sports. Oakley lenses offer unbeatable optical clarity along with premium UV protection.
Top Picks:
Oakley Half Jacket 2.0 XL: Designed for performance and protection. The XL interchangeable lens design offers versatile lens options. Features impact resistance and a lightweight, stress-resistant O Matter frame. 4.6 out of 5 stars. MRP: ₹11,703
Oakley Flak 2.0 XL: Ideal for medium to large face sizes. The XL rectangle shape with High Definition Optics provides razor sharp clarity. Extended lens coverage offers excellent sun protection. 4.7 out of 5 stars. MRP: ₹10,799
Persol

Handcrafted in Italy since 1917, Persol is renowned for its extremely high quality. Its sunglasses feature flexible acetate frames and crystal lenses for impeccable optical clarity. Each pair takes 2-3 months to produce.
Top Picks:
Persol PO3249S: Timeless foldable aviators designed specifically for smaller faces. Hand assembled acetate frame with flexible arrow hinges and crystal brown lenses. 4.5 out of 5 stars. MRP: ₹20,490
Persol PO0649: Iconic aviator style reinvented with a smaller lens dimension. Features acetate arrow temples, adjustable nose pads. Available in dark havana frame with crystal green lenses. 4.6 out of 5 stars. MRP: ₹16,365
Prada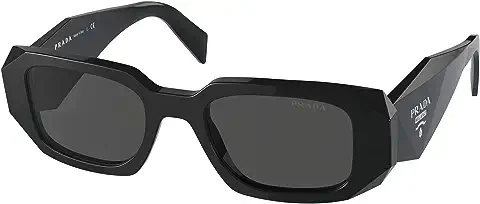 Known for luxury fashion design, Prada brings the same exceptional quality to its sunglasses range. Crafted in Italy, Prada eyewear combines innovative style with precision optics. The brand focuses on high-tech finishes and fashion-forward shapes.
Top Picks:
Prada PR27NS: Bold angular cat-eye sunglasses with acetate frame and arms. Oversized shape makes a statement. Available with dark lenses and innovative UV/UVB protection. 4.1 out of 5 stars. MRP: ₹20,990
Prada Linea Rossa PS 01SS: Sport-inspired square sunglasses with wrap-around temples. Gray gradient lenses and adjustable rubber nose pads. Lightweight but durable frame construction. 4.3 out of 5 stars. MRP: ₹16,490
Types of Luxury Sunglasses
Aviators
Aviator sunglasses have a teardrop shaped metal frame with lenses that are wider at the top. The classic style dates back to the 1930s when they were developed for pilots. Aviators are suited for round and oval face shapes.
Popular luxury brands: Ray-Ban, Tom Ford, Persol, Carrera
Wayfarers
Wayfarer sunglasses have a thick, angular frame with trapezoidal lenses. First created by Ray-Ban in the 1950s, the wayfarer style was popularized in the 1980s and remains a fashion staple today. They suit square, oval, and diamond face shapes.
Popular luxury brands: Ray-Ban, Oakley, Persol, Maui Jim
Cat Eye
Cat eye sunglasses have an upturned frame shape that resembles feline eyes. The curved frame highlights the cheekbones. Cat eye styles work well for heart, oval, and diamond face shapes.
Popular luxury brands: Prada, Tom Ford, Celine, Barton Perreira
Round
Round sunglasses have circular frame fronts and lenses. The versatile style offers a retro look. Round shapes pair well with square and angular face shapes.
Popular luxury brands: Oliver Peoples, ic! berlin, Mykita, Cutler and Gross
Square
Square sunglasses have a straight, boxy frame with angular edges. The sharp style creates a bold, fashion-forward look. Square shapes complement round or oval faces.
Popular luxury brands: Prada, Gucci, Celine, Ralph Lauren
How to Care for Luxury Sunglasses
Follow these tips to properly care for expensive designer shades:
Keep sunglasses in a hard case when not in use to prevent scratches.
Clean lenses only with microfiber cloth, water or lens cleaners to avoid scratching.
Avoid contact with chemicals like chlorine, salt water, hair sprays which can damage frames.
Don't set glasses lens-side down on surfaces. Only place them lens-side up or in a case.
Store sunglasses somewhere cool. Heat can warp frames.
Take care not to sit on eyeglasses or place heavy objects on them to prevent bending.
Have adjustments, repairs done by a professional to avoid breakage.
Consider adding insurance in case of theft, loss or accidental damage.
FAQs
Q. What are the top luxury sunglasses brands?
Some of the top luxury sunglasses brands are Ray-Ban, Oakley, Persol, Prada, Tom Ford, Gucci, Cartier, Chanel, Burberry, Dolce & Gabbana, Oliver Peoples, and Maui Jim. These brands offer exceptional quality, stylish designs, and premium materials.
Q. Why are luxury sunglasses so expensive?
Luxury sunglasses use high-grade materials and quality craftsmanship which increase production costs. Brands also conduct extensive R&D and incorporate proprietary technology into lenses and frames. There are also licensing fees, marketing expenditures and retailer margins which add to the price.
Q. Are luxury sunglasses worth the money?
For many buyers, luxury sunglasses are worth the investment because you are paying for lenses that provide 100% UV protection and reduce eye strain. The frames are also extremely durable, comfortable and stylish. With proper care, luxury sunglasses can last 5-10 years or longer.
Q. How can I determine my face shape for sunglasses?
Stand in front of a mirror and use a lipstick or eyeliner to trace the outline of your face. Or have someone look straight at you and outline the face shape they see. Compare the outline to guides online to determine if your face is round, oval, square, heart, or diamond shaped. This can help select the most flattering sunglasses.
Q. Should sunglasses lenses be dark or light?
In general, gray, brown or green lenses ranging from light to medium darkness are ideal for everyday use. Darker lenses like mirrored or gradient are best suited for very bright, direct sunlight. Lighter rose or yellow lenses enhance contrast and depth perception. Specific lens tints cater to different activities like driving, golf, water sports, etc.
Q. How tight should sunglasses fit?
Sunglasses should fit snugly without feeling too tight. Make sure the frame aligns with your brow line and sits close to your temples without pinching. Arms should bend comfortably behind the ears without being loose. Nose pads should not leave marks on your nose. A proper fit prevents slippage and light leakage.
Q. What is the best designer brand for sunglasses?
Some of the top designer brands for luxury sunglasses are Ray-Ban, Oakley, Persol, and Prada. These brands offer high-end craftsmanship with durable frame materials and advanced lens technology to provide maximum protection, visual clarity and stylish looks. Ray-Ban's Wayfarer and Aviator styles are iconic. Oakley uses patented innovations for sports performance sunglasses. Persol handcrafts extremely high quality sunglasses in Italy. Prada focuses on fashion-forward shapes and technical finishes.
Q. Which brand is the best for sunglasses?
The best brands for sunglasses are those that use high-grade materials like acetate, titanium or stainless steel for the frames. Brands like Ray-Ban, Oakley and Persol rely on these durable materials. The lens quality is also important – polycarbonate, nylon and glass lenses from reputable brands ensure excellent optics. Additional factors that make a brand the best include polarization, UV protection, scratch-resistance and style. Based on these criteria, some of the top brands are Ray-Ban, Oakley, Persol, and Prada.
Q. What is the most expensive sunglasses brand?
Some of the most expensive luxury sunglasses brands include Cartier, Bulgari, Chanel, Dolce & Gabbana, Tom Ford and Kerin Rose Gold. These ultra high-end designer brands can cost $300 to even $500,000 for a single pair of sunglasses. The expensive price tags are due to the use of extremely rare, high-quality materials such as gold, diamonds, precious gems, and exotic leathers along with superior craftsmanship. The brands also reinforce exclusivity through limited edition collections.
Q. What are the top 10 sunglasses?
Based on quality, reviews and popularity, the top 10 sunglasses are:
Ray-Ban Aviator Classic
Ray-Ban Wayfarer
Oakley Half Jacket 2.0 XL
Oakley Flak 2.0 XL
Persol PO3249S
Persol PO0649
Prada PR27NS
Prada Linea Rossa PS 01SS
Tommy Hilfiger Men's Square Sunglasses
Tommy Hilfiger Unisex Wayfarer Sunglasses
These sunglasses deliver outstanding performance, protection and style. They use premium materials for durable, comfortable frames and high-clarity lenses that shield your eyes. Many of these models feature classic silhouettes that will remain in fashion for years to come.
Conclusion
When purchasing luxury sunglasses, look for trusted, reputable brands that offer durable frames, superior lens technology and timeless styling. A high-quality pair that flatters your face shape provides protection, visual clarity and versatility for years to come. With proper care and maintenance, luxury sunglasses are a sound investment to shield your eyes in style.