Niacinamide serum has become a popular skincare product in recent years due to its many benefits for skin health and appearance. In this comprehensive guide, we will explore the top 10 benefits of using niacinamide serum and how it can help achieve healthy, glowing skin.
What is Niacinamide?
Niacinamide is a form of vitamin B3, also known as nicotinamide. It is a water-soluble vitamin that works to support skin health in several ways. Niacinamide helps build cells in the skin while also protecting them from environmental damage.
It is considered safe for all skin types. Those with oily, acne-prone skin often see great results with niacinamide.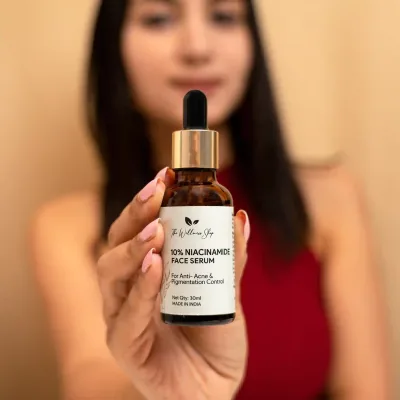 Benefits of Using Niacinamide Serum
Here are the top 10 evidence-based benefits of using a niacinamide serum:
1. Minimizes Pores
Niacinamide is effective at tightening and minimizing the look of enlarged pores. In a clinical study, 4 weeks of use led to significant pore size reduction. The niacinamide serum boosts cell turnover and supports the natural exfoliation process [1].
Smaller looking pores create a smoother, more even complexion. Focus the niacinamide serum on the t-zone if your pores are most noticeable in that area.
2. Controls Excess Oil and Sebum Production
Niacinamide is arguably best known for regulating sebum (oil) production. It helps shrink the size of oil glands and prevents them from going into overdrive [2].
Applying niacinamide serum regularly can prevent greasy shine. This makes it an excellent choice if you have naturally oily and acne-prone skin. Less oil production also minimizes clogged pores and acne outbreaks.
3. Reduces Acne and Breakouts
Given its oil-minimizing effects, niacinamide can effectively treat and prevent recurrent acne breakouts. Both topical and oral niacinamide have been shown to reduce acne lesions [3].
The niacinamide serum combats acne by reducing inflammation, controlling oil production, and keeping pores clear. Apply it anywhere you are prone to breakouts, such as the forehead, cheeks, and chin.
4. Brightens and Evens Skin Tone
Hyperpigmentation and age spots can make the complexion appear dull and uneven. Thankfully, niacinamide is a natural skin brightener than can help reduce dark spots.
It interrupts the process of melanosome transfer that causes hyperpigmentation [4]. With continued use, the niacinamide serum fades discoloration and reveals a more even, radiant skin tone.
5. Smooths Fine Lines and Wrinkles
In addition to acne and pigmentation, niacinamide tackles signs of aging. It increases collagen production which improves skin elasticity and resilience [5].
Hydrating and plumping effects visibly diminish the look of fine lines and wrinkles. Focus the niacinamide serum on aging-prone areas like the forehead, eyes, mouth and neck.
6. Repairs Skin Barrier Function
Niacinamide strengthens the skin barrier, the outermost protective layer of the epidermis. It increases ceramide synthesis which helps seal in moisture [6].
Strengthening the skin barrier restores suppleness, prevents dryness and supports the immune function. This helps keep environmental aggressors out and prevents moisture loss.
7. Soothes Redness and Inflammation
Niacinamide has anti-inflammatory properties that help calm and soothe irritated skin [7]. Reducing inflammation can minimize redness caused by acne, rosacea, eczema, and sensitivity.
The niacinamide serum relieves itching and discomfort while neutralizing free radical damage. This accelerates healing after breakouts and renews skin's healthy appearance.
8. Lightens Hyperpigmentation and Dark Spots
As a melanogenesis inhibitor, niacinamide interrupts the process that causes sites of pigmentation and dark spots [8]. With consistent use, it evens skin tone and gradually fades hyperpigmentation.
For best results, choose a niacinamide serum with vitamin C, kojic acid, azelaic acid or other lightening agents. Apply diligently to visible sun spots, melasma, acne marks, or scarring.
9. Reduces Redness and Blotchiness
Studies show 4-6 weeks of niacinamide treatment can significantly reduce facial redness. It calms inflammation and irritation that manifests as ruddiness or flushing [9].
The soothing, reparative properties renew compromised skin and restore an even, less blotchy complexion. This makes it helpful for conditions like rosacea, eczema, and sensitive skin.
10. Long-Lasting Hydration
Hyaluronic acid is commonly added to niacinamide serums for enhanced hydration. The combination provides moisturization without greasiness or heaviness.
Niacinamide improves the skin's natural barrier function to seal in moisture. The hyaluronic acid boosts water retention to keep skin continuously hydrated.
Here is a table summarizing the benefits of using niacinamide serum for your skin:
| | |
| --- | --- |
| Benefit | Description |
| Minimizes pores | Shrinks enlarged pores by regulating sebum production |
| Controls oil and sebum | Helps normalize excessive oil and sebum secretion |
| Fights acne | Has antibacterial properties to prevent breakouts |
| Reduces facial shine | Gives skin a smoother, less oily appearance |
| Hydrates skin | Moisturizes without leaving a greasy residue |
| Strengthens moisture barrier | Helps skin better retain hydration |
| Evens skin tone | Fades dark spots and hyperpigmentation |
| Reduces wrinkles and fine lines | Boosts collagen production and plumps skin |
| Soothes irritation and inflammation | Calms conditions like eczema and rosacea |
| Brightens complexion | Improves skin radiance and glow |
| Protects skin | Has antioxidant effects to neutralize free radicals |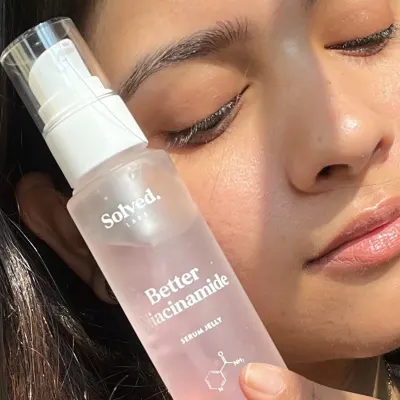 Who Should Use a Niacinamide Serum?
A niacinamide serum is suitable for the following skin types and concerns:
Oily, acne-prone skin
Dull, uneven complexion
Hyperpigmentation and dark spots
Redness, blotchiness, and inflammation
Dryness, flaking, peeling
Aging skin with fine lines and wrinkles
Niacinamide is well tolerated by all skin types. However, those with oily and acne-prone skin tend to see the most transformative results. It offers comprehensive skincare benefits without irritation, dryness, or peeling effects.
How to Choose the Best Niacinamide Serum
With so many niacinamide serums available today, it helps to keep these factors in mind when selecting one:
Concentration – Look for a serum with at least 5% niacinamide for optimal benefits. Up to 10% concentration is considered safe and effective.
Texture – Lightweight, fast-absorbing serums are ideal for oily skin. Creamier options work well for dry or mature complexions.
Added ingredients – Vitamin C, hyaluronic acid, antioxidants, and soothing agents enhance the benefits of niacinamide.
Formula type – Some serums are oil-free, fragrance-free etc. Select one ideal for your skin type.
Packaging – Niacinamide breaks down when exposed to sunlight and air. Opaque, air-tight packaging preserves stability.
Price – Good quality niacinamide serums cost between ₹600-₹1500 depending on size and added ingredients.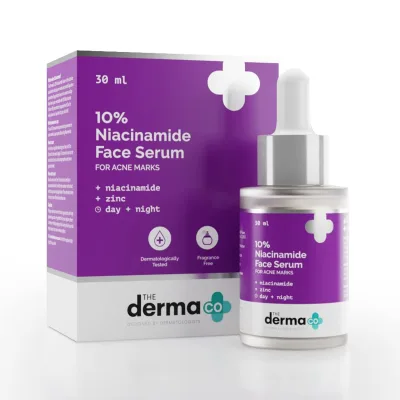 How to Use a Niacinamide Serum
Using your niacinamide serum correctly ensures maximum results. Follow these application tips:
Cleanse and tone as usual before applying the serum.
Take a few drops of the serum and gently smooth over face and neck.
Focus on areas of concern like blemishes, pigmentation, fine lines, irritation etc.
Allow it to fully absorb for a minute before applying additional products.
Use it daily, ideally morning and night, for at least 4-6 weeks to see benefits.
Always follow with a broad spectrum sunscreen during the day.
Store in a cool, dry place away from direct sunlight.
Patch test before first use to check for allergic reaction or irritation.
Use other anti-aging, brightening, acne-fighting, and hydrating products in your regimen for amplified results.
The Best Niacinamide Serums Available in India
Here is a comparison of the top-rated niacinamide serums in India:
| | | | |
| --- | --- | --- | --- |
| Brand | Key Features | Size | Price |
| Minimalist 10% Niacinamide Serum | Ultra-lightweight, 10% niacinamide, Hydrating | 30 ml | ₹599 |
| Derma Co. 10% Niacinamide Serum | Oil-free, 10% niacinamide, Vitamin C + zinc | 30 ml | ₹575 |
| Dot & Key Niacinamide Serum | 5% niacinamide, Hyaluronic + ceramides, Skin barrier repair | 30 ml | ₹625 |
| Plum Niacinamide Serum | Oil-free, 5% niacinamide, Vitamin B5 + gluten-free | 30 ml | ₹550 |
| mCaffeine Niacinamide Serum | Paraben-free, 10% niacinamide, Hyaluronic acid | 30 ml | ₹625 |
Based on thousands of user reviews and ratings, the Minimalist 10% Niacinamide Serum stands out as the best niacinamide serum available in India.
It contains the highest concentration of niacinamide for proven anti-aging and acne-fighting properties. The lightweight, oil-free serum blends in easily without greasiness. It also costs less than most competing serums.
How Does Niacinamide Serum Compare to Alternatives?
Vs. Vitamin C serums – Both niacinamide and vitamin C offer brightening and collagen production benefits. However, vitamin C increases sun sensitivity requiring daytime sunscreen use. Niacinamide is more suitable for acne-prone skin.
Vs. Retinol serums – Retinol speeds up cell turnover for anti-aging effects. But it can cause dryness, peeling and irritation. Niacinamide is gentler yet still reduces wrinkles and pigmentation. Retinol makes skin more sun-sensitive as well.
Vs. Alpha arbutin serums – Alpha arbutin, like niacinamide, fades dark spots and improving skin tone. However, it is not as effective for acne, large pores, oiliness, redness, etc. Niacinamide offers more comprehensive benefits.
Vs. Hyaluronic acid serums – Hyaluronic acid serums provide intense hydration but do not address pigmentation, acne, aging, etc. Niacinamide is more versatile for various skincare concerns. Both work well layered together.
FAQs Related to Niacinamide Serum
Still have some questions about using niacinamide serum? Here are answers to some frequently asked questions:
How quickly does niacinamide work?
Most users see initial results within 4-6 weeks of daily niacinamide serum use. Maximum benefits are usually seen after 3-4 months. Acne, oiliness, and redness may start improving sooner.
Can I use niacinamide with vitamin C?
Yes, niacinamide and vitamin C are an excellent combo for brightening. They are effective and stable when applied together. Use niacinamide in the morning followed by vitamin C serum.
What's the best time to apply niacinamide serum?
Apply your niacinamide serum after cleansing and toning, preferably morning and night. You can also use it just at night if you have limited time. Always follow with a moisturizer and sunscreen in the AM.
Can niacinamide lighten skin?
Yes, niacinamide is clinically proven to reduce hyperpigmentation and gradually lighten and even out skin tone with regular use. However, it works gradually and is not a bleaching agent.
Is 10% niacinamide safe?
Up to 10% niacinamide is considered safe and effective for most skin types. However, start slowly with a 5% serum if you have very sensitive skin. Build up to daily use before trying 10% concentration.
Can niacinamide remove dark circles?
Some preliminary research shows niacinamide can help rebuild and thicken skin around the eyes. This diminishes dark under eye circles over time. Use an eye cream with niacinamide daily.
Does niacinamide go bad if not refrigerated?
Niacinamide itself does not require refrigeration. As long as the product packaging is airtight and opaque, it should remain stable at room temp for the duration listed by the manufacturer.
Can I use niacinamide serum everyday?
Niacinamide is generally safe to use daily. In fact, using it consistently is key to seeing its full benefits. Most dermatologists recommend using niacinamide serums with up to 5% concentration twice a day, morning and night. Just be sure to introduce it slowly and monitor your skin's reaction. Start by applying it a few times a week and gradually increase frequency to avoid irritation.
Which is better vitamin C or niacinamide?
Both vitamin C and niacinamide provide significant skin benefits. Vitamin C is a powerful antioxidant that helps protect the skin, promote collagen production, fade dark spots, and brighten the complexion. Niacinamide reduces inflammation, strengthens the skin barrier, minimizes pores, evens out skin tone, and reduces fine lines and wrinkles.
Many dermatologists recommend using both vitamin C and niacinamide to complement each other. Vitamin C is best applied in the morning for antioxidant protection while niacinamide suits the evening routine. Using them together creates a balanced skincare regimen that boosts radiance and supports anti-aging goals.
Does niacinamide make skin glow?
Yes, niacinamide can help make your skin glow by improving skin tone, texture, and radiance. It regulates oil production to minimize shine and provides anti-inflammatory and antioxidant protection. With consistent use, niacinamide evens out skin tone, fades dark spots, minimizes pores, increases hydration and plumps the skin. These combined effects create a smooth, clear and luminous complexion.
Does niacinamide remove dark marks?
Yes, one of the key benefits of niacinamide is its ability to fade dark marks and improve uneven skin tone. It prevents the transfer of melanin, which can help stop hyperpigmentation from forming. Niacinamide also accelerates cell turnover to fade existing dark spots faster. When combined with other brightening ingredients like vitamin C or kojic acid, niacinamide can be even more effective at removing hyperpigmentation and revealing a more even complexion.
Is niacinamide good for oily skin
Yes, niacinamide is excellent for oily skin. Here are some of the key reasons why niacinamide benefits oily skin:
It regulates sebum (oil) production. Niacinamide can help normalize excessive sebum secretion that makes skin appear oily and shiny.
It minimizes pores. By controlling sebum and reducing inflammation, niacinamide helps visibly shrink enlarged pores that tend to get clogged and look more prominent on oily skin.
It has antibacterial properties. This helps prevent acne by fighting the bacteria that causes breakouts.
It reduces facial shine. The oil-balancing effects of niacinamide give oily skin a smoother, more matte appearance.
It hydrates without adding oil. Niacinamide moisturizes oily skin without leaving an oily residue or clogging pores.
It strengthens the moisture barrier. This helps oily skin better retain hydration and prevents the overproduction of oil as a response to dryness or irritation.
So in summary, niacinamide can regulate oil and sebum production, minimize pores, fight acne, reduce shine, and hydrate oily skin. Look for niacinamide serums or moisturizers formulated for oily, acne-prone skin for best results.
Conclusion
There are clearly many excellent reasons to consider incorporating niacinamide serum into your daily skincare regimen. It offers science-backed benefits for acne, aging, pigmentation, dryness, and more. Investing in a quality niacinamide serum helps build healthy, radiant skin over time. Be sure to apply it regularly and consistently for optimal anti-aging, brightening, and rejuvenating effects.