A good body spray is an essential grooming product for men. It keeps you smelling fresh all day and boosts your confidence. With so many options available, choosing the best body spray can be tricky. We evaluated the top-rated and best-selling body sprays for men in India to come up with this definitive list of the 10 best men's body sprays you can buy online.
How We Chose the Best Body Sprays for Men
We looked at the following factors while rating and ranking the best body sprays for Indian men:
Fragrance: The fragrance should be pleasant, masculine, and long-lasting. It can have floral, woody, musky, citrus or oriental notes.
Ratings & Reviews: Sprays with higher star ratings and more positive reviews score higher. Products with over 4+ stars and thousands of reviews get preference.
Price & Quantity: Products that offer better value for money in terms of price per ml and quantity score higher.
Brand Reputation: Popular and reputable brands known for quality fragrances are preferred.
Ingredients: Alcohol-free, skin-friendly ingredients which do not cause irritation or allergies are preferred.
Now that you know how to shop for body sprays, check out the top 10 best body sprays for men in India.
1. Fogg Marco No Gas Body Spray for Men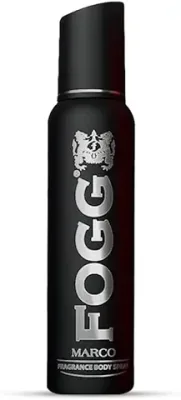 Key Features:
Long lasting masculine fragrance
No gas formula, uses perfume instead
Alcohol-free, skin-friendly
Comes in 150ml and 65ml packs
4+ stars from 21,000+ reviews
With its distinct masculine fragrance notes, the Fogg Marco No Gas body spray is the number one bestseller on Amazon. It uses a no-gas formula powered by perfume instead of gas propellants and is easier on your skin as it is alcohol-free. Over 21,000 men rate it 4+ stars for its enticing scent and long lasting freshness. It's excellent value with pricing under ₹200 for 150ml.
Our Verdict: Great long-lasting scent at an affordable price. Excellent product from a reputable Indian brand. No wonder it is the top-selling men's body spray online.
2. Axe Signature Mysterious Body Spray for Men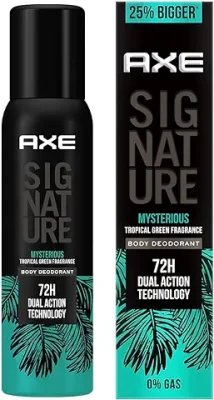 Key Features:
Notes of tropical fruits and apple
Long lasting up to 72 hours
Dermatologically tested
154ml pack
4+ stars from 11,000+ reviews
Axe offers a wide range of delightful body sprays for men and the Axe Signature Mysterious is one of their top fragrances with an enticing fruity scent. It can last over 3 days on skin, clothes and hair thanks to its long-lasting technology as reviewed by thousands of satisfied Indian men. Axe sprays are rigorously dermatologically tested and suitable for men with sensitive skin too.
Our Verdict: A tropical delight from a well-known brand. Great scent at an affordable price backed by over 11,000 positive ratings. One of the best date night fragrances.
3. Nivea Fresh Active Original Body Spray

Key Features:
Notes of citrus fruits and ocean breeze
Uplifting masculine fragrance
Provides 48-hour freshness
Comes in 150ml pack
Alcohol-free, skin-friendly
Rated 4+ stars by 30,000 men
When you think of refreshingly nice fragrances, Nivea's ocean inspired body sprays top the list. The Nivea Men Fresh Active body spray contains citrus essences and ocean notes for an invigorating scent that energizes your day. It is alcohol-free, made especially for men's skin pH and keeps you smelling fresh for up to 48 hours as rated by over 30,000 satisfied users.
Our Verdict: A must-have long-lasting body spray from a trusted skincare brand suitable for everyday use by men. Alcohol-free skin-friendly formula at a reasonable price.
4. Brut Original Body Spray for Men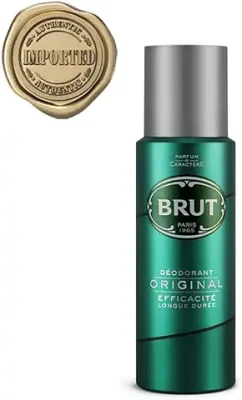 Key Features:
Iconic authentic masculine fragrance
Long lasting freshness
Comes in 200ml and 500ml packs
Imported from Europe
Rated 4+ stars by 11,000 men
Brut is a renowned fragrance house that has been making premium men's fragrances since the 1960s. The Brut Original body spray for men features their iconic fresh aromatic scent blended from citrus, spices and woods. It offers long-lasting fragrance and is imported from Europe. Over 11,000 men rate this classy body spray 4+ stars.
Our Verdict: An iconic velvety masculine fragrance from an established international brand at a reasonable price point. Worth trying for its rich authentic scent.
5. Wild Stone Red Body Spray for Men

Key Features:
Intense sensual woody notes
Long lasting up to 8 hours
Dermatologically tested
Comes in 120ml, 150ml and 200ml packs
Rated 4+ stars by 1,700+ buyers
The Wild Stone Red body spray has a rich sensual fragrance with woody and musky base notes that lasts over 8 hours. It is made using quality dermatologically safe ingredients that do not cause skin irritation or allergies. This Eau De Parfum spray comes in smart matt red packaging and 3 size options. Over 1,700 men rate it 4 stars for its enticing manly scent and good longevity.
Our Verdict: A sensual evening scent for the wild side within you. The woody aroma uplifts mood and lasts fairly long. Decent product from a known brand.
6. Denver Hamilton Body Spray for Men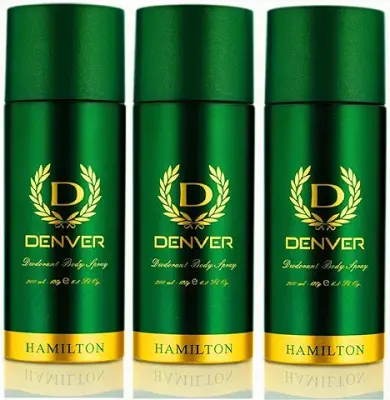 Key Features:
Fresh aromatic fragrance
Long lasting for upto 10 hours
Comes in 165ml & 200ml packs
Rated 4+ stars by 400 men
Affordable pricing under ₹300
Denver makes quality budget fragrances and the Denver Hamilton body spray is their bestseller. It has a fresh masculine scent that lasts over 10 hours. You can choose between 165ml and 200ml pack sizes at an affordable rate of under ₹125 per 100ml. The spray nozzle works well and over 400 buyers rate this body spray 4+ stars for its nice scent and good longevity at a reasonable price tag.
Our Verdict: A budget buy offering decent fresh fragrance and longevity. Good choice for daily use.
7. Park Avenue Voyage Body Spray for Men

Key Features:
Luxurious masculine aroma
Provides all-day freshness
Available in 220ml size
4+ star rating from 16,000+ reviews
When you want a touch of luxury, the Park Avenue Voyage body spray delivers with its sensual masculine fragrance infused with rare ingredients. It offers superior freshness that lasts all-day. With 16,000+ ratings, it is a popular scent online and the 220ml oversized bottle ensures you won't run out fast.
Our Verdict: A premium long-lasting fragrance suitable for modern successful men from a reputable brand. Big bottle offers good value.
8. Axe Signature Gold Temptation Body Spray

Key Features:
Warm gourmand coffee fragrance
Provides 72 hours freshness
Comes in 136g can
Rated 4+ stars by 1,300+ reviewers
The Axe Gold Temptation houses an absolutely tempting sweet coffee fragrance that envelopes you in warmth and freshness for 3 days straight. If you love the scent of coffee, this unique gourmand body spray is sure to delight your date. It comes in a 136g slim can that you can easily slip into a pocket. Over 1,300 men give it a 4+ star rating for its scrumptious long-lasting scent.
Our Verdict: An Oriental delight offering supreme scent pleasure and freshness. Highly rated for its heavenly sweet coffee aroma.
9. Engage M4 Body Spray for Men

Key Features:
Invigorating masculine scent
Top notes of lemon, lavender and freesia
Alcohol-free, skin-friendly
Comes in 120ml bottle
Rated 4+ stars by over 1,700 buyers
The Engage M4 body spray has an invigorating fresh floral scent touched by lemon and lavender. It is specially crafted using skin-friendly ingredients and contains no alcohol, hence does not dry your skin. Over 1,700 men rate this body spray 4 stars for uplifting mood with its fresh aroma and causing no irritation even on sensitive skin.
Our Verdict: An affordably priced body spray with lovely scent and skin-friendly formula free of alcohol/gas.
10. Set Wet Body Spray Gift Pack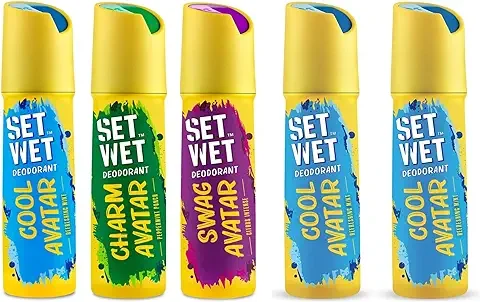 Key Features:
Contains 3 body sprays – Cool, Charm and Swag
Fresh aromatic fragrances
150ml sprays
Rated 4+ stars by 50,000 buyers
This Set Wet body spray gift pack offers amazing value with 3 different fragrances – Cool, Charm and Swag. All 3 have refreshing masculine scents suitable for daily wear. With 150ml quantity each, they will also last you a while. Over 50,000 men rate these body sprays 4 stars for their nice affordable scents. At just ₹225 for 3 bottles, this is a steal deal.
Our Verdict: Incredible value offering 3 fragrances at a throwaway price. Decent scents for everyday freshness on budget.
So there you have it – our picks for top 10 best body sprays for men in India with something for everyone's taste, occasion and budget. All products selected are top sellers online with high user ratings and reviews. Spray one on and stay confident and fragrant all day long!
Comparison for the Top 10 Body Sprays
| Product | Fragrance Notes | Long Lasting |
| --- | --- | --- |
| Fogg Marco | Masculine | Up to 72 hours |
| Axe Signature Mysterious | Fruits and apple | Up to 72 hours |
| Nivea Fresh Active | Citrus and ocean | 48 hours |
| Brut Original | Citrus, spices, woods | All day |
| Wild Stone Red | Woody and musky | 8 hours |
| Denver Hamilton | Fresh aromatic | 10 hours |
| Park Avenue Voyage | Masculine luxury | All day |
| Axe Gold Temptation | Sweet coffee | 72 hours |
| Engage M4 | Lemon, lavender, freesia | 6-8 hours |
| Set Wet Gift Pack | Multiple fragrances | 6-8 hours |
Types of Body Sprays for Men
By Fragrance Family: Woody, musky, floral, citrus, oriental, fresh aquatic etc.
By Occasion: Casual daily wear, date night, outdoor adventure etc.
By Ingredients: Alcohol-based, alcohol-free, with/without gas propellants etc.
By Brand: Axe, Nivea, Denver, Wild Stone, Brut, Park Avenue etc.
How to Choose the Best Body Spray for You
Choose your preferred fragrance family – woody, floral, fresh etc.
Consider when you will wear it – work, play, date night etc.
Check if you have sensitive skin and prefer alcohol-free sprays.
Compare prices, ml quantity and cost per ml. value for money.
Check brand reputation and product ratings/reviews.
Consider travel-friendly mini sizes for carrying in bags.
Test the fragrance by spraying on skin before buying if possible.
Tips for Using and Maintaining Body Sprays
Apply on clean underarms, neck, wrists and clothes
Use it moderately, overuse can make the scent too strong
Store in a cool, dry place away from direct sunlight
Discard if fragrance fades or liquid changes color
Do not spray near eyes or open flames
Frequently Asked Questions about Body Sprays for Men
Q. How is a body spray different from a perfume?
A. Body sprays have lower fragrance concentration than perfumes. They last for shorter time but are easier on your pocket.
Q. Which scent is best for date nights?
A. Sweet gourmand scents like coffee, chocolate or stronger musky/woody fragrances are best for romantic evenings.
Q. Can body sprays be used on clothes?
A. Yes, you can spray your body spray lightly on clothes to leave a lingering fragrance. But some fabrics may get stained by oils.
Q. How long does fragrance of body spray last?
A. Most body sprays for men last 6-8 hours while some premium ones offer even 72 hour freshness. Reapply if scent fades earlier.
Q. Does body spray expire?
A. Unopened body sprays have a shelf life of 3 years. But you may notice fading of fragrance or color changes after a year or two.
Q. Which one is the best body spray in India?
The Fogg Marco No Gas Body Spray is considered the best body spray for men in India. It has a masculine fragrance powered by perfume instead of gas propellants. Over 21,000 Indian men have rated this affordable, skin-friendly, long lasting body spray 4+ stars for its top notch quality and enticing scent.
Q. Which body spray has best smell?
The Axe Gold Temptation body spray has the best sweet gourmand coffee scent as rated by over 1,300 men. Its heavenly fragrance of warm coffee notes envelopes you for up to 72 hours of freshness. If you love the smell of coffee, this uniquely tempting Oriental body spray offers supreme olfactory pleasure.
Q. Which body mist is long lasting?
The Fogg Marco and Axe Signature body mists for men provide 72 hour long lasting fragrance from just one application. A premium ingredient called microcapsules gradually release more fragrance to ensure you smell fresh for 3 days straight without having to reapply.
Q. What is a good body spray?
A good body spray for men should have a pleasant, masculine scent that lasts at least 8 hours without fading or getting overpowering. It should preferably use a skin-friendly no gas formula instead of aerosols. Top rated body sprays do not contain alcohol which can dry your skin. They are affordably priced under ₹200 per 100ml and sold by reputable brands with high user reviews.