Sunglasses are saviors. From protecting the eyes from the harsh UV rays of the sun to making a great style statement, a pair of sunglasses serve numerous purposes. They are available in various shapes, sizes, and myriad hues to cater to all types of faces and requirements.
Now, in India, sunglasses are available across all price ranges. While you can definitely pick the one you love the most, it is generally advised to invest in your sunglasses to protect your eyes from UV rays and heat while serving their fashion purpose. This article discusses the top 10 luxury sunglasses brands in India that are the perfect amalgam of quality and functionality. Take a look –
Product Overview

1. Ray-Ban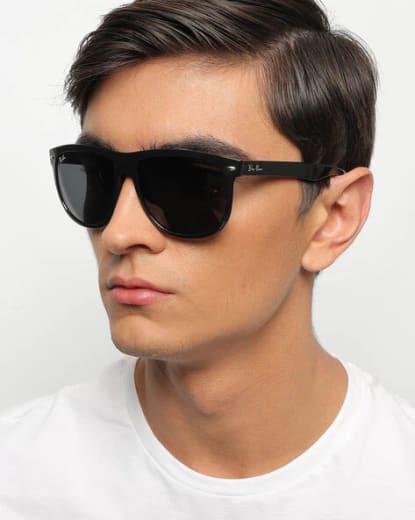 Think of sunglasses, think of Ray-Ban. Ray-Ban is one of the most popular sunglasses brands in the world and is worn by almost all in Bollywood. Neat design and regal outlook underlined by high functionality have been the trademark of this American luxury brand. Their wayfarer and aviator sunglasses deserve a separate mention.
Pros:
Gender-neutral designs that suit every face type
Classic and neat design for formal wear
Shop from their official store
Shop from Myntra
Shop from Titan EyePlus
2. Fastrack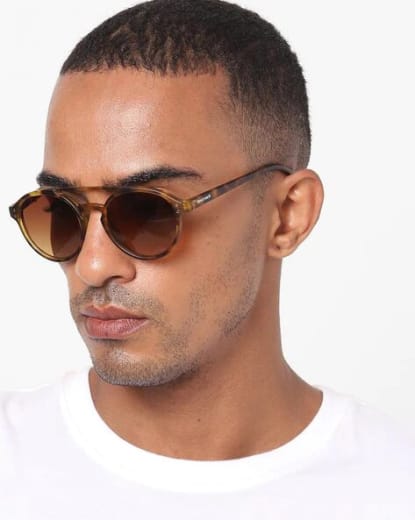 Launched as a part of Titan Watches in 1998, Fastrack can be considered India's first luxury sunglasses brand. In 2005, Fastrack became an independent brand targeting the Indian youth, with their sunglasses becoming an instant hit. Since then, there has been no looking back for this brand, which aims at providing quality, style, and value-for-money as a package.
Pros:
Highly fashionable sunglasses aimed at the Indian youth
Value for money
Shop from Myntra
Shop from Ajio
3. Calvin Klein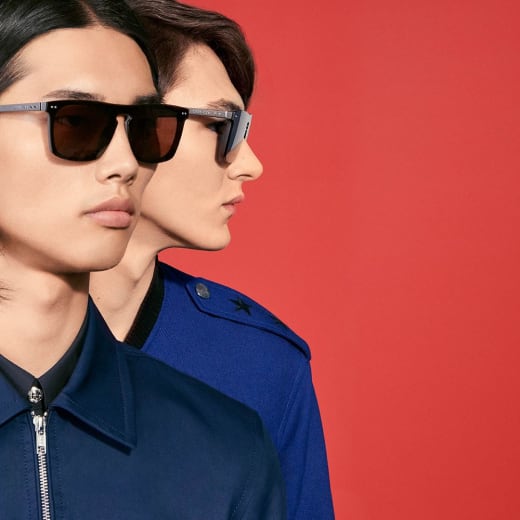 Who doesn't know Calvin Klein – one of the top luxury fashion houses in the world? One of the foremost luxury sunglasses brands in India, Calvin Klein's eyewear and sunglasses range is pretty impressive and is famous among youth. Available in different shapes and sizes, a pair of CK sunglasses always promises to keep your fashion game strong and in the right beat with the trends.
Pros:
Light-weight
Trendy
Fashionable
Shop from Shoppers Stop
Shop from Myntra
4. IDEE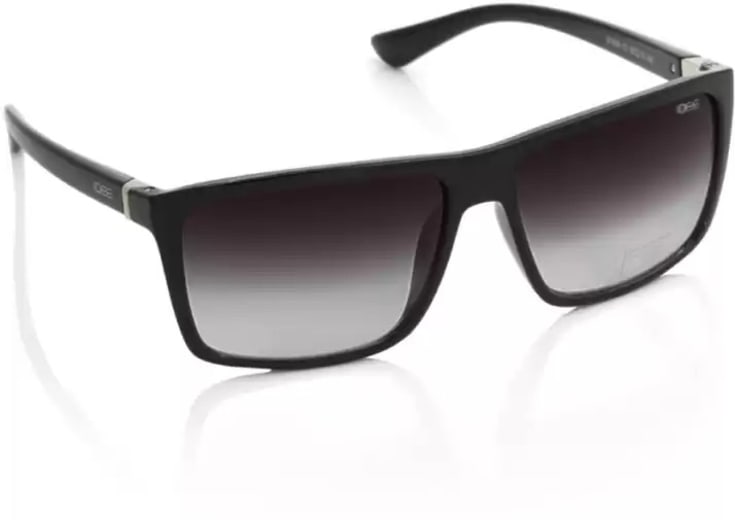 If you're someone who loves to be trendy and relevant in the fashion scenario, IDEE sunglasses are the ones you have to watch out for. Known as the trendsetters in the fashion market, IDEE sunglasses come in vivid shapes, sizes, and colors, making them apt fashion choices for the youth. Despite being one of the luxury sunglasses brands in India, they are priced relatively lesser than many competing brands.
Pros:
Fashionable and functional
Value for money
Shop from Myntra
Shop from Ajio
5. Armani Exchange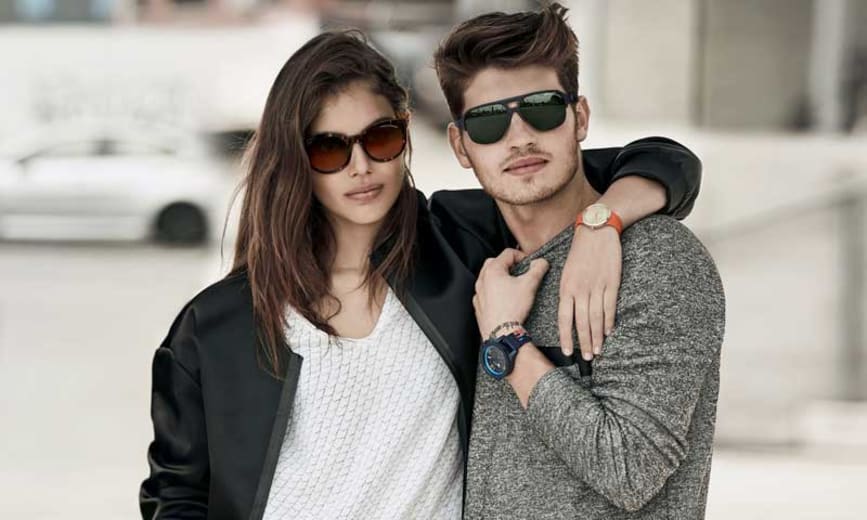 The pioneer of all luxury brands, Armani Exchange also has a much-coveted range of sunglasses that promise a rich amalgam of high fashion and functionality. If you prefer subtle glam, Armani Exchange sunglasses work the best.
Pros:
Premium
Classic and stylish design
Shop from Tata Cliq
Shop from Nykaa Fashion
6. Oakley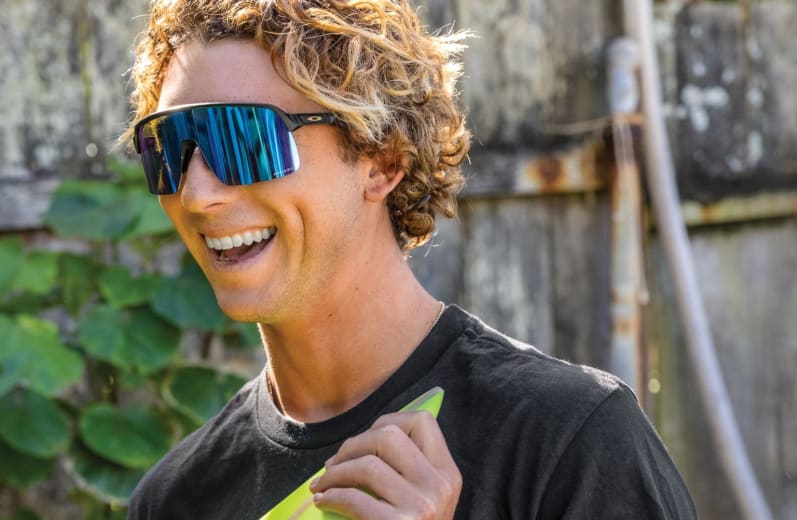 One of the foremost pioneers of polarised sunglasses, Oakley's sunglasses are edgy, sporty, and comfortable. As a brand, Oakley invests in innovative technologies to make its sunglasses strong, lightweight, and comfortable. If you're someone whose idea of fashion is sporty and fun, Oakley is the perfect luxury sunglasses brand in India for you.
Pros:
Sporty and lightweight
Edgy design
Durable
Shop from Myntra
Shop from Ajio
7. Prada
One of the most respected luxury fashion houses in the world, Prada's eyewear and sunglasses are available in India. Needless to say, Prada sunglasses are among the most expensive sunglasses on the list of luxury sunglasses brands in India. If one has to use just a few words to define Prada sunglasses, vintage-glam would be it.
Pros:
Unique and elegant designs
Trendsetters
Shop from Tata Cliq
Shop from Nykaa Fashion
8. Gucci
Gucci is synonymous with glam. Gucci is one of the foremost luxury brands in the world and has a fascinating range of sunglasses that start from Rs. 15,000 in India. The perfect ensemble of bling, glam, and elegance, Gucci sunglasses are perhaps on the list of every sunglasses lover ever.
Pros:
High fashion and stylish
Wide variety of sunglasses
Vintage
Shop from Tata Cliq
Shop from Myntra
9. Vogue
Vogue is another internationally renowned name that manufactures classic sunglasses for all age groups and styles. Their butterfly sunglasses are cult classics and flatter every face cut, something not all brand's butterfly sunglasses can do!
Pros:
Premium sunglasses for all face-types
Range of cult classic sunglasses, like the butterfly glasses
Value for money
Shop from Myntra
Shop from Nykaa Fashion
10. Tommy Hilfiger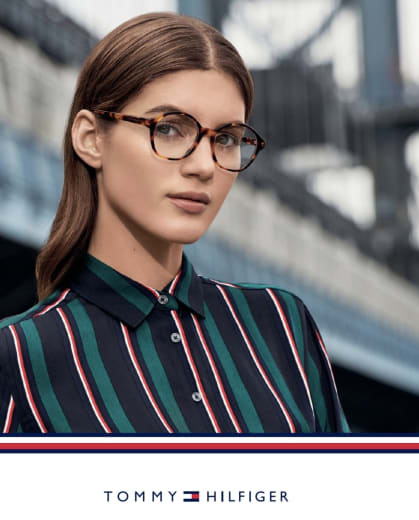 If you're looking for cool sunglasses with an eclectic combination of sporty vibe and high fashion, Tommy Hilfiger sunglasses are it. Despite being a luxury brand, Tommy Hilfiger sunglasses offer real value for money. Tommy Hilfiger provides brilliant lenses with numerous packed technologies that make these sunglasses highly functional.
Pros:
Presents an eclectic amalgam of smart casual vibes and high fashion
Great value for money
Shop from Ajio
Shop from Myntra
Wrapping Up
When it comes to sunglasses, the Indian luxury market has some of the best internationally renowned brands. From Gucci and Prada to the classic Ray-Ban and sporty Oakley, you will be spoilt for choice when it comes to picking a pair of sunglasses or two! Although there are only a couple of Indian brands on the list of top 10 luxury sunglasses brands in India, it provides a glimpse of some of the best brands available across various price ranges.
FAQs
Q. What types of sunglasses are Rayban famous for?
Ans. Rayban is famous for its wayfarers and aviators. It is a brand renowned for its smart and neat styles and immense comfort.
Q. What type of sunglasses is Vogue famous for?
Ans. Vogue is famous for its butterfly sunglasses. You can check out their latest Gigi Hadid collection for the best butterfly sunglasses.
Q. Is Fastrack an Indian brand?
Ans. Yes, Fastrack is an Indian brand that started as a subsidiary of Titan in 1998 but later became an independent brand in 2005. It is famous for being a youth-centric brand.
Q. What type of sunglasses is Oakley famous for?
Ans. Oakley is famous for its sporty and colorful sunglasses. Oakley sunglasses are lightweight and comfortable, which makes them perfect for prolonged wear.