Making a well-mixed protein drink is fast and simple if you have the best shaker bottle on hand. Furthermore, shaker bottles go beyond the typical to-go container. Whether you're mixing protein, pre-workout, or one of your other beloved vitamins, they have features that make the process easy.
With a plethora of choices available in the market ranging from inexpensive compact blenders to simple plastic shaking flasks, choosing a shaker bottle that best suits your needs may become an overwhelming task. Therefore, we've compiled a list of the top seven best shaker bottle brands in India to make your search for an ideal shaker bottle a breeze.
How to Choose the Best Shaker Bottle?
Before initiating your quest to find the best shaker bottle that suits your requirements, there are a few factors you need to keep in mind, such as:
Performance and Efficiency:
The essential thing is that it performs as intended, producing beverages that are as fluid as possible without any powder remains or particles. The bottle's combining system ought to be extremely effective at mingling the beverage, breaking up masses of powder, etc.
Easy to Clean:
If you're going to use it every day, you'll also like the one that's simple to clean. For instance, stainless steel makes for the finest material for a higher-quality shaker bottle because it is relatively easy to clean and does not retain the odour of any particular product/ingredient. However, other materials, such as plastic, are also useful. If you decide to use a plastic shaker bottle, make sure it is odourless and eco-friendly.
Durability:
To prevent spills and improve longevity, search for a shaker bottle that is both leak-proof and durable.
Top 7 Best Shaker Bottles
Now that you know what factors to keep in mind and why while looking for an ideal shaker bottle, here are our top eight picks for the best shaker bottles.
Ice Shaker 26 Oz Shaker Bottle
Classic V2 Shaker Bottle
Ice Shaker, Insulated Protein Mixing Cup
Blender Bottle, SportMixer Shaker Bottle
Promixx, Shaker Bottle
Blackube, Electric Protein Shaker Bottles
BlenderBottle, Mantra Glass Shaker Bottle
1. Ice Shaker 26 Oz Shaker Bottle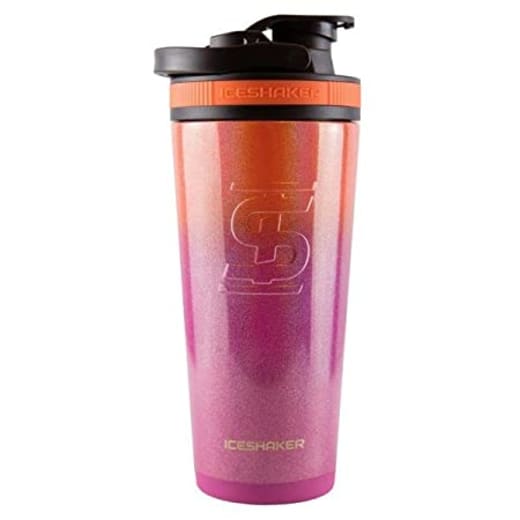 The stainless-steel makeup on this 26-ounce shaker bottle is intended to make it simple to mix protein powder. The leak-proof steel substance is a great choice for anybody who wants to use less plastic and is perfect for keeping drinks cool. It features an adaptable design that works well for all kinds of liquids and is available in various colours, making it stylish and efficient.
What's Great?
Superior quality
Simple to use
Trendy style
Shop from Amazon
2. Classic V2 Shaker Bottle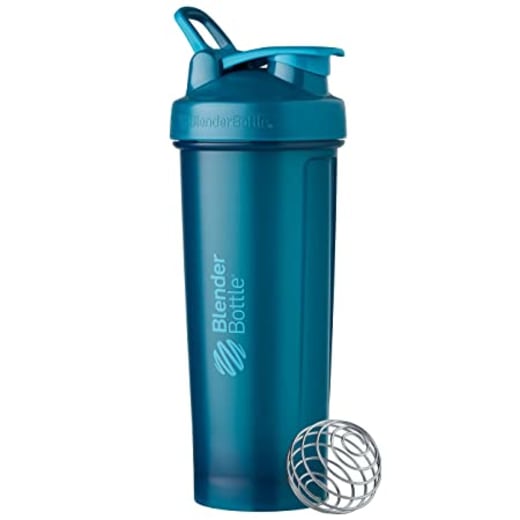 Classic V2 Shaker Bottle features a simple design and guarantees no clusters and no leakage. Thanks to its unique wired stainless-steel whisk ball and broad opening, many users concur that this is one of the best shaker bottles. This guarantees that all of the protein powder will end up in the container and not on your tabletop.
What's Great?
Ensures a smooth, clump-free mix
Easy to clean
Shop from Amazon
3. Ice Shaker, Insulated Protein Mixing Cup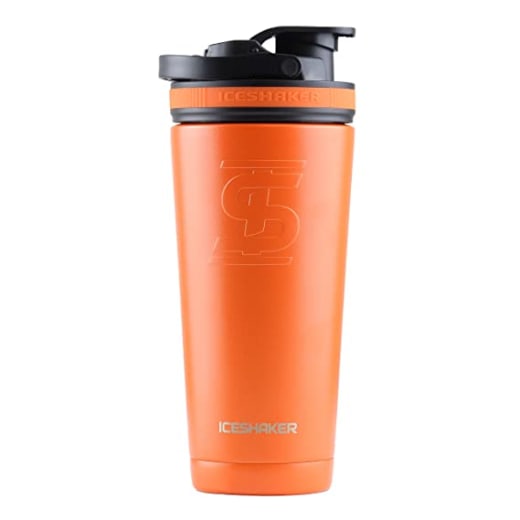 Superfans of Shark Tank might be familiar with this Shaker Bottle. The Ice Shaker has a sealed inner made of stainless steel, which repels odour and keeps drinks cool for 30 hours. It has an easy-to-open snap cap that doesn't spill and a stirrer that twists off. Although it's pricey compared to other shaker bottles, the Ice Shaker is a wise choice if you want to make a long-term investment.
What's Great?
Vacuum shielding is made of stainless steel
Compact
Dependable pop-top cover
Can be used as a drink mixer and a coffee or beverage cup.
Shop from Amazon
4. Blender Bottle, SportMixer Shaker Bottle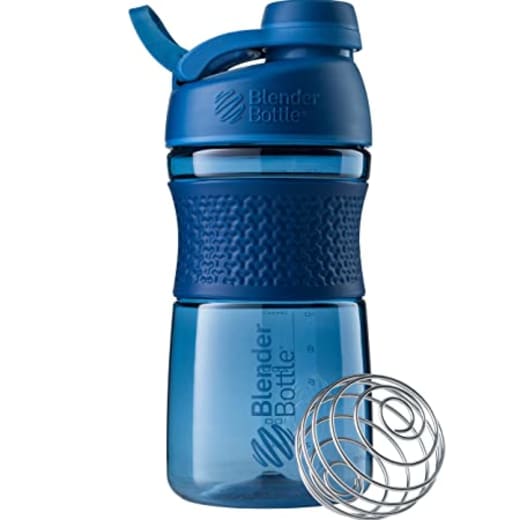 Fitness enthusiasts clearly prefer Blender Bottle's SportMixer Shaker Bottle, which has received over 12,000 5-star reviews on Amazon. The SportMixer effortlessly blends and breaks down protein and supplementary powders because it is fitted with BlenderBottle's renowned whisk mixing ball. Usually, there is no clustering and, more significantly, no leakage. It's one of the best shaker bottles available, according to some users.
What's Great?
Has a holding loop
Safe for dishwasher
Leak-proof twist-on lid
Odour resistant
Shop from Amazon
5. Promixx, Shaker Bottle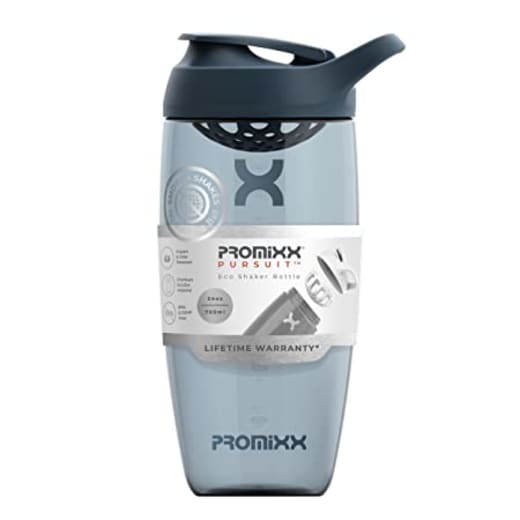 Although shaker bottles aren't the prettiest containers in your pantry, the Promixx Shaker Bottle offers consumers a run for their money in terms of style. The protein powder will blend into your base with just a few drinks. But more significantly, it functions well. Reviews gush about how sturdy and simple to clean it is, two qualities that a shaker bottle must have.
What's Great?
Microwave safe
Odour resistant
Silent operation
Has a holding loop
Shop from Amazon
6. Blackube, Electric Protein Shaker Bottles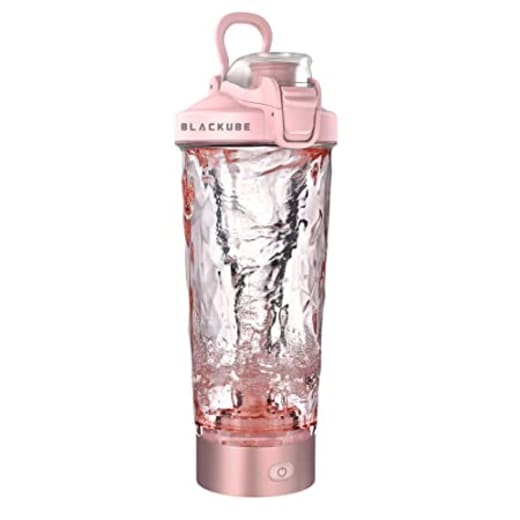 Extra fussy with lumps? The best option is an electronic shaker bottle, like this Blackube version. 30 seconds, one hit, and finished! There are no masses remaining, and the feel is incredibly smooth. Bonus: Unlike full-size blenders, it is incredibly simple to clean. Just combine detergent and water, then press the trigger. In addition to being adorable, it mixes your drinks more thoroughly and with fewer chunks than the typical shaker bottles.
What's Great?
High-speed blending to eliminate clusters
Long-lasting battery
Unambiguous measurement markers
Durable
Odour resistant
Shop from Amazon
7. BlenderBottle, Mantra Glass Shaker Bottle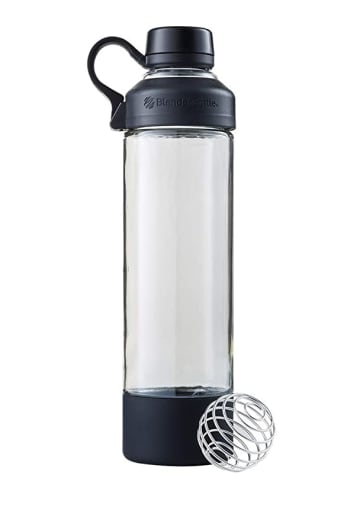 This BlenderBottle glass mixer container is one of the best shaker bottles available. It has a polyurethane cover and bottom, which is incredibly fashionable and flexible. This can adhere to any surface, including your workstation or the floor of a yoga classroom. Critics adore the removable handle loop, which enables you to connect the bottle to your exercise backpack or attach a keychain to it.
What's Great?
Microwave safe
Odour resistant glass
Resilient rubber boots
Shop from Amazon
Conclusion
Shaker bottles, which produce silky-smooth protein smoothies and a variety of pre-and post-workout beverages, are the hidden champions of fitness equipment. Shaker bottles, however, have uses outside of your exercise backpack. They are frequently used to combine protein beverages. But they can also be used to mix tea, add collagen to coffee, or even prepare the vegetable puree. But which choices are the best for your post-workout relaxation when there are so many available? These have been highlighted above.
FAQs
1. Which shaker bottle is the best?
The shaker bottles listed above are all the finest choices on the market right now. These are the highest-quality, most reliable products that can be used repeatedly over time as well.
2. Is a shaker bottle for protein required?
Actually, no. Although a protein shaker bottle is a fantastic option, it is not strictly essential. You can combine your protein drink in a large dish or a pitcher in place of the bottle. The difficult task is made simpler, though, when you have a mixer container, particularly when you're at the gym.
3. Can we consume water from a shaker bottle?
A shaker bottle's main function is to combine protein so that you can remain active. On the other hand, you can also use it for other things like consuming cold coffee, juice, or water.