Over the past few years, Green Tea has taken the world by storm with its multiple health benefits, including weight loss stimulation and boosting the immune system. Moreover, combined with natural supplements and effective cancer preventives, green tea has become the most beneficial drink for the human body.
Given these amazing health benefits and properties that lead to effective weight loss, reduced stress levels, and improved vitality, more and more people are giving up on tea and coffee and switching to green tea. However, with considerable players launching green teas in the market, you might feel perplexed about which one to choose. So to help you make a clear decision, we have compiled a list of the best green tea brands in India known for their wonderful health benefits.
How to Choose the Best Green Tea Brand in India?
Making green tea an integral part of your daily life can bring many health benefits. Nevertheless, you will only get these benefits when you choose the best and most organic green tea. Below are some factors to consider when buying the best green tea brands in India.
The finest green tea is always green in colour: Green tea leaves never undergo fermentation. Therefore, it does not turn brown during the brewing process. So whenever you boil good quality green tea leaves, you will always see that the tea in your cup will remain green.
Always purchase green tea with the whole leaf: Always choose whole-leaf green tea rather than buying tea bags that might not have full health benefits.
Purchase fresh green teas: Green tea leaves lose their flavour and other antioxidant properties with time. Thus, you must use the green tea within one year of its processing date.
Best Green Tea Brands in India
Below is a list of the best green tea brands in India that can help you lose weight and enhance your lifestyle with a more stimulating alternative.
1. Organic India Tulsi Green Tea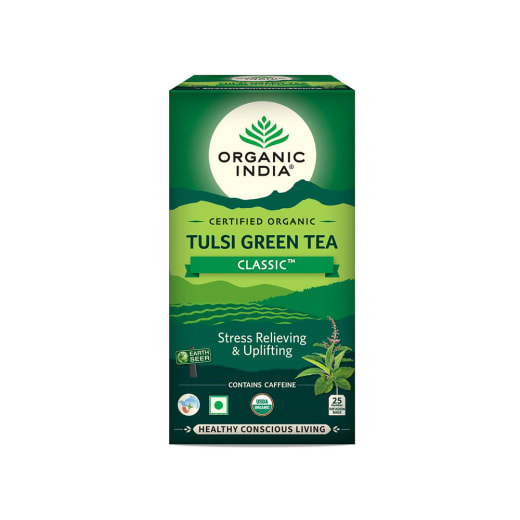 Founded in the '90s, Organic India is one of the best green tea brands in India. Moreover, loaded with the benefits of grown Tulsi leaves, this green tea brand aims to improve its products with high-quality ingredients like Ginger, Lemon Grass, Krishna Tulsi, Rama Tulsi, and excellent packaging. The Tulsi leaves infused in this green tea offers added health advantages that help you lose weight by increasing your metabolism.
Key Features
A delicious and refreshing flavour
Strengthens immunity
Boosts stamina
Improves metabolism and digestion
One of the best organic green tea for weight loss
100% Organic and FSSAI Certified
Shop from Flipkart
Shop from Amazon
Shop from BigBasket
2. Tetley Green Tea
Given its unmatched prevalence and significant health benefits, Tetley Green Tea is another one of the best green tea brands in India. The tea holds a perfect blend of Mint, Ginger, and Lemon. Furthermore, the famous Tetley Green Tea arrives in 4 varieties – Lemon and Honey, Tetley Classic, Ginger, Mint, and Lemon and Mango, giving utmost delight in every sip.
Key Features
Rich in Vitamin C that boosts immunity
No preservatives or harmful chemicals
Comes with ingredients like ginger and mint, which are highly refreshing.
Shop from Flipkart
Shop from Amazon
Shop from BigBasket
3. LaPlant Tulsi Green Tea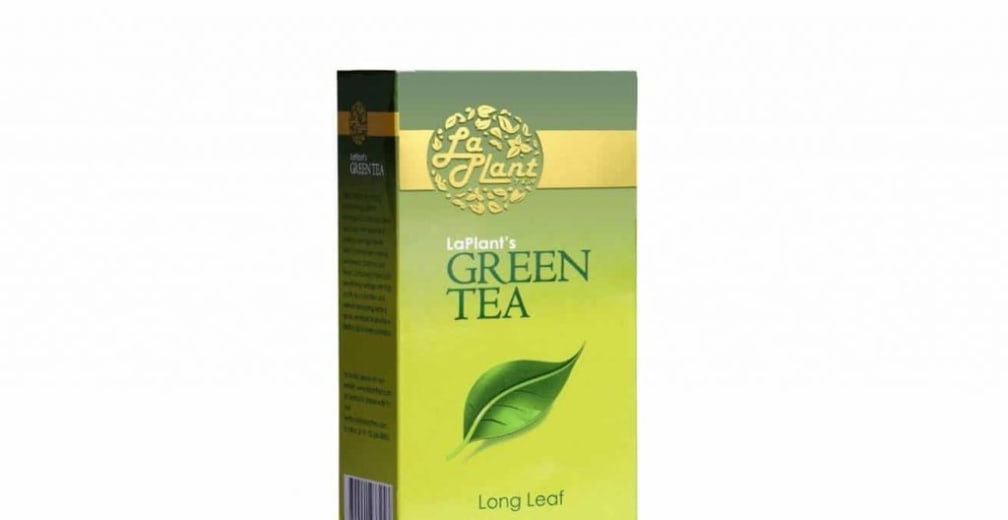 LaPlant Tulsi Green tea is a remarkable combination of Tulsi leaves and high-grown Green Tea that provides a deliciously nutritious cup with a mild aroma. In addition, rich in potent antioxidants and numerous therapeutic advantages, LaPlant Tulsi Green Tea offers that delicious taste while completely rejuvenating your senses and calming your body.
Key Features
Fresh green tea & tulsi leaves
Truly restorative & rejuvenating
High antioxidants contents
Boosts weight loss
Shop from Flipkart
Shop from Amazon
Shop from Snapdeal
4. Twinings Green Tea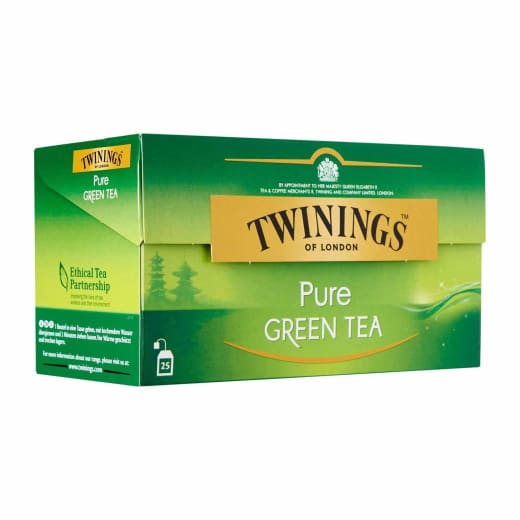 Loaded with vitamin C, Twinings, one of the best green tea brands in India, arrives in different delicious flavours. Furthermore, the best part about Twinings Green Tea is its higher proportion of phenolic and lower portion of ash. This combination makes this drink a perfect beverage to ease your mind and rejuvenate your energy with its delicate grassy flavour.
Key Features
Rich in antioxidants
Maintains metabolism
A burst of uplifting freshness
Shop from Flipkart
Shop from Amazon
Shop from BigBasket
5. Girnar Detox Green Tea – Desi Kahwa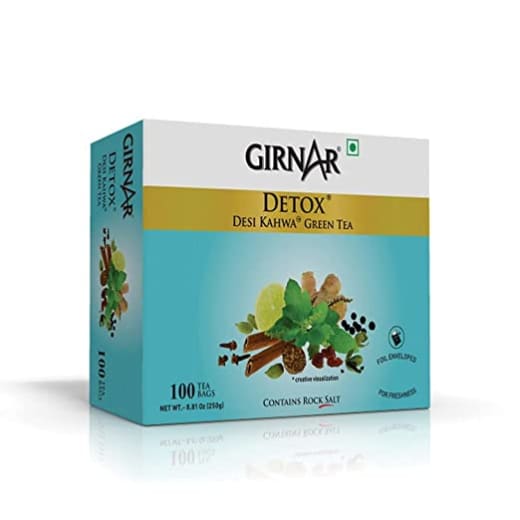 Launched to provide world-class teas to their clients, Girnar is yet another one of the best green tea brands in India. In addition, this green tea comes packed with natural ingredients like black pepper, ginger, asafoetida, tulsi, clove, cardamom, nutmeg, cinnamon, rock salt, and citric acid. Therefore, this is an excellent green tea for vegans and vegetarians for decaffeination, giving you a much healthier feeling.
Key Features
Detox green tea with spices and herbs
No artificial flavour or preservatives
Excellent for bloated stomach and cough & cold
Shop from Flipkart
Shop from Amazon
Shop from BigBasket
Final Words
Green tea is an excellent health beverage that strengthens your mind and body. In addition, a deeper knowledge of the best green tea brands in India with their features and advantages will assist you in determining the green tea that best caters to your requirements.
FAQs
Q. Does green tea aid in weight loss?
Ans. Green tea is one such beverage that holds slimming agents. The gallic acid, theine, and caffeine in green tea help boost metabolism by burning fat and reducing water retention.
Q. Should I drink green tea hot or cold?
Ans. While this depends on personal preference, consuming hot green tea is more beneficial than cold tea. However, note that you must never prepare green tea in excessively hot water.
Q. Does green tea boost metabolism?
Ans. Green tea contains antioxidants that boost metabolism and result in weight loss due to glycogen mobilisation and increased lipolysis.