A blazer is an understated but must-have fashion accessory for a man. This beautifully crafted fashion ensemble not only enhances your personality and adds to the aesthetics of your outfit but also boosts your confidence. A smart, casual blazer for men with a sauve sartorial style can completely transform your look. If you have been bored of wearing a basic tee and denim combo and want to upgrade your casual wardrobe, here are some chic casual blazers to count on.
Turn heads around by teaming up your casual outfits with a casual blazer for men. Here are some of our favorite blazers to rock your look all year around:
Product Overview
1. Mast & Harbour Men's Blue Textured Casual Blazer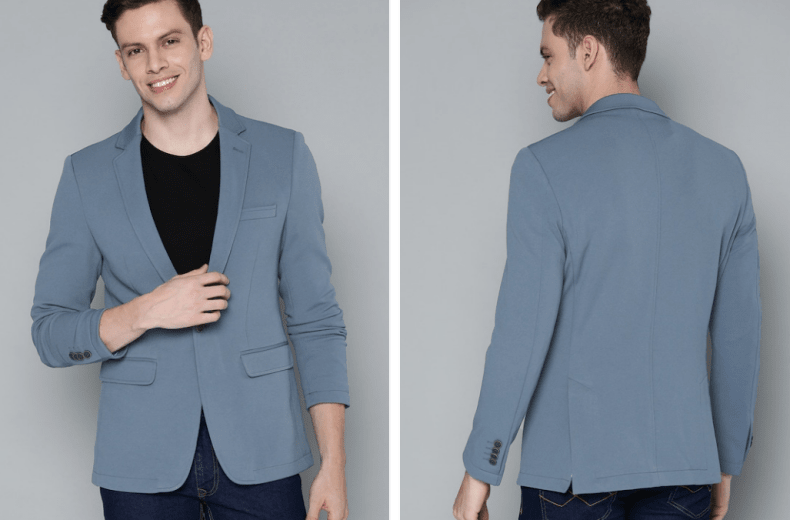 This trendy blue textured casual blazer for men from the brand Mast & Harbour has a single-breasted design and straight silhouette. The blazer has a notched lapel collar, a button closure, and a double-vented back. The regular-fit blazer is crafted from 95% polyester and is great for a summer-ready look. Style it with dark blue denim jeans and white sneakers to make a statement.
What's Great:
Attractive hues and gorgeous design.
Three built-in pockets.
A single-button closure for a trendy look.
Shop from Myntra
2. Hangup Men's Grey Self-Design Linen Blazer
Linen blazers are known for their breezy look and lightweight feel. A sleek linen casual blazer for men can smarten up any summer outfit in no time. Try this grey linen blazer from BGN Apparels, a label that brings together couture sensibilities and timeless style. It has a single-breasted design, a double-button closure, long sleeves, and a notched lapel. A perfect choice for both the summer and winter seasons!
Style it with your favorite pair of denim for a chic casual look. You can also wear it with matching pants for a more formal look.
What's Great:
Meticulous weave and stylish color and design.
Moisture absorbent and comes with UV protection.
Comfortable and breathable in summer and cozy in winter.
Shop from Myntra
3. Peter England Men's Black Solid Slim-Fit Single-Breasted Blazer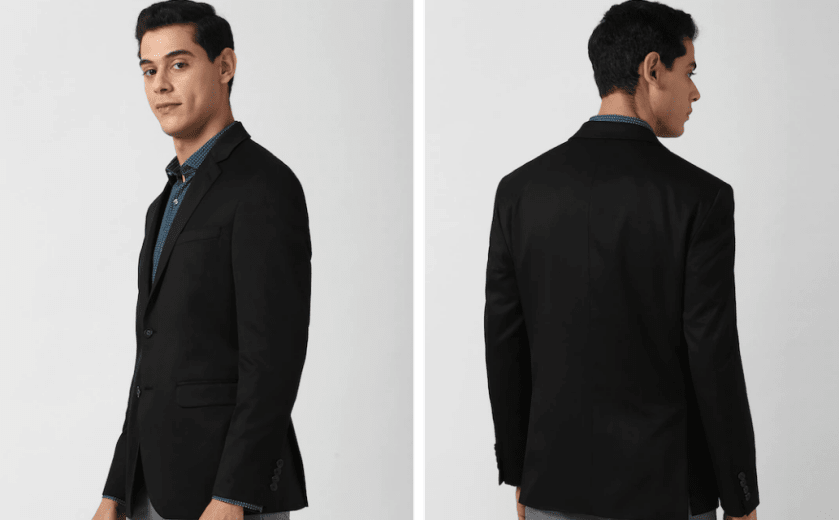 A classic black blazer is a must-have staple in every man's fashion wardrobe. This slim-fit black blazer could be a perfect addition to your closet. It is the product of Peter England, the largest menswear brand in India. The slim-fit style is a single-breasted blazer with two buttons and a notched lapel collar. It is crafted from 65% polyester and 35% viscose and comes with full sleeves for a gracious look.
Match this trendy piece with a pair of trousers and brogues for an effortless and classy statement.
What's Great:
Perfect black hues and two-button placket.
A classy slim-fit silhouette.
Versatile and can be worn with jeans, pants, and trousers.
Shop from Myntra
4. SELECTED Men's Grey and Black Checked Slim Fit Single Breasted Blazer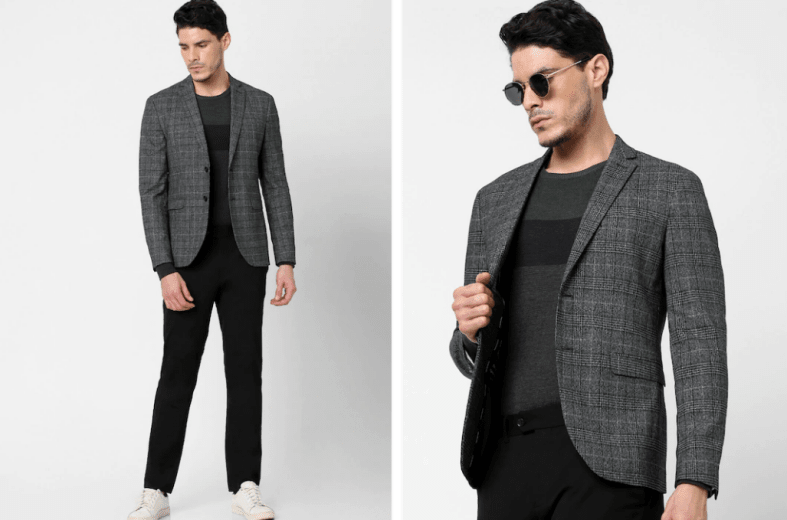 If you are looking for a patterned casual blazer for men, this smart piece from the brand SELECTED is enough to make a statement. The grey and black slim-fit single-breasted blazer has a beautiful checkered design. It is finely crafted from polyester and comes with a notched lapel collar, a welt pocket, and two flap pockets. Team it up with a tee or sweatshirt and polished pump shoes.
What's Great:
Stylish quality and a stunning checkered design to make a trendy statement.
Perfect for adding texture to a casual outfit.
Shop from Myntra
5. Arrow Men's Light Blue Zero Calorie Slim Fit Heathered Formal Blazer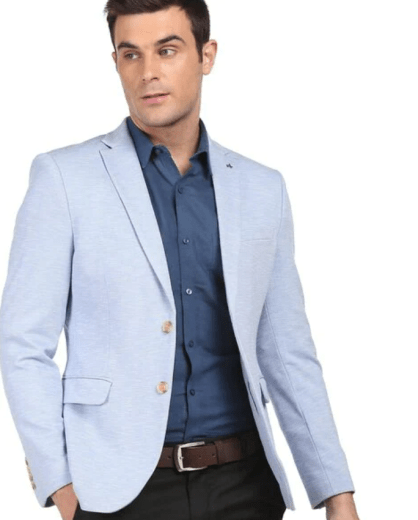 Take the look of your casual attire up a notch with this smart blazer from Arrow. This casual blazer for men is perfect for those who seek classy and sophisticated designs with a timeless appeal. The single-breasted blazer with a sharp, fitted silhouette in light blue hues and featuring a double button closure is great for evenings. Style it with black or dark blue denim and sports shoes for a head-turning sartorial look.
What's Great:
Attractive color and fit.
Great for casual outings, work, and formal parties.
Shop from Ajio
6. Men Blue & Cream Striped Slim Fit Single-Breasted Casual & Formal Blazer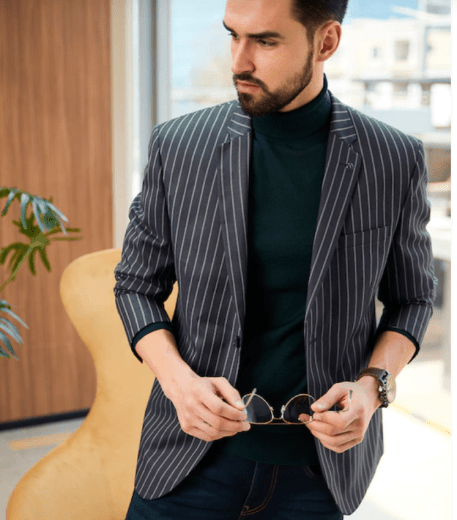 A vertical striped blazer and solid trousers or jeans are a stunning combo that every dapper man should own. How about getting this blue-striped casual blazer for men to pass the summer days in style? Crafted from Polyviscose, the lightweight yet stylish slim-fit blazer is ideal for rocking a casual dress code.
What's Great:
Comes with two mock flap pockets, one square pocket, and two inner pockets.
Best as both formal and casual wear.
Shop from Myntra
7. Invictus Men's Navy Blue Solid Slim Fit Single-Breasted Blazer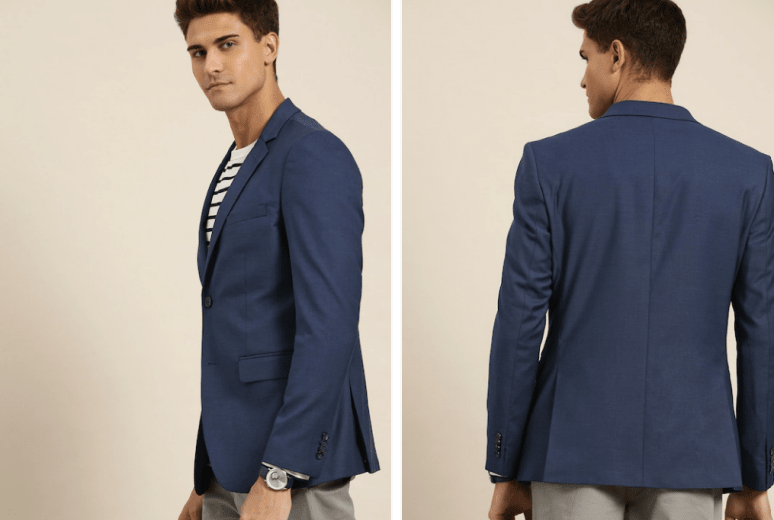 Just like black blazers, a classic navy blue blazer is something every guy should have in his fashion closet. The timeless wardrobe essential is a must-have for every season and never goes out of fashion. Get your hands on this solid navy blue slim-fit blazer from Invictus. The single-breasted casual blazer for men has long sleeves with buttons, two mock pockets with flaps, one chest pocket, and a double-vented back hem. Pair it with grey chinos and white sneakers for a look everyone will love.
What's Great:
Classic and timeless color, style, and design.
Multiple external and internal pockets.
Shop from Myntra
8. KILLER Checkered Single Breasted Casual Men's Full Sleeve Blazer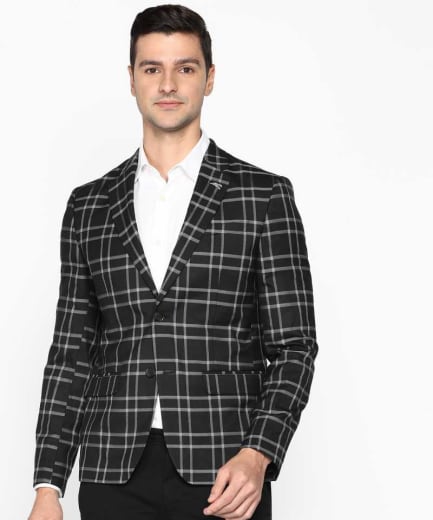 Checkered blazers are in great demand, and this black checked variant crafted from a polyester viscose blend is a rare fashion commodity. It's a product of the brand Killer, a renowned name in the premium men's wear segment. This patterned blazer has a single-breasted silhouette, a two-button closure, and front welt pockets.
What's Great:
Stylish pattern and look.
Never-ending style.
Great to create a casual and semi-formal look.
Shop from Flipkart
9. MUFTI Slim-Fit Camo Printed Notch Lapel Blazer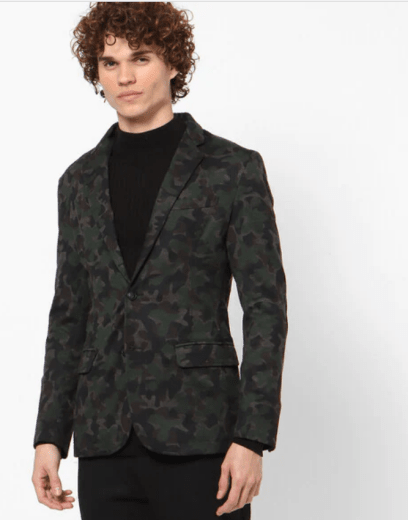 This stylish pick for smart men in olive green tones and black camouflage print is from the house of Mufti. This regular-fit casual blazer for men is made from soft and breathable fabric that's a blend of 67% cotton, 28% viscose, and 5% spandex. This single-breasted style with a sent vent back and two front pockets can be worn to both casual and semi-casual events. Pair it with black cargo or denim and matching sports shoes.
What's Great:
A classic and timeless black camouflage print.
It can be worn with both casual and semi-casual outfits.
Shop from Amazon
10. Mast & Harbour Men's Brown and Black Self-Design Single-Breasted Casual Blazer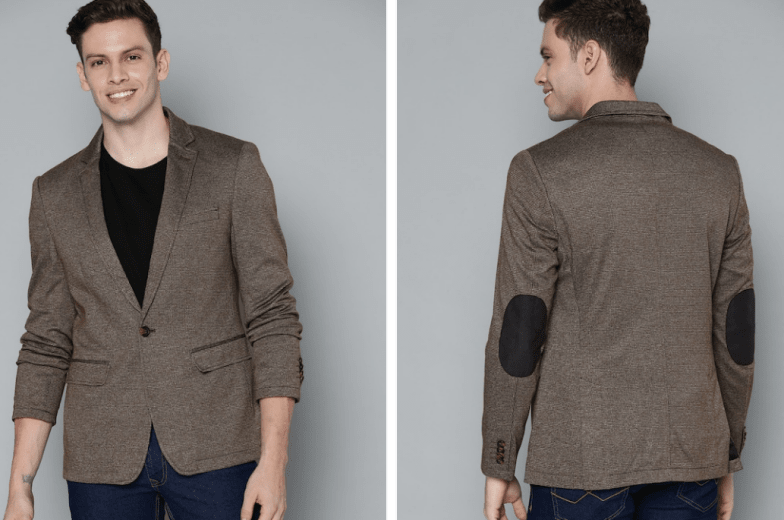 If you are looking for a laid-back style that is classy, this brown and black self-design casual blazer for men is a perfect pick for you. Featuring long sleeves with elbow patches, a notched lapel collar, and a single-button closure, this one-of-a-kind piece will give your wardrobe an instant update. Pair this regular-fit blazer with dark-colored jeans and shoes to garner tons of compliments wherever you go.
What's Great:
A stylish elbow patch design.
Three inbuilt pockets.
Polyviscose fabric to keep you cool in summer and warm in winter.
Shop from Myntra
The Bottom Line
Wearing a beautifully crafted blazer boosts confidence. A smart-fitted casual blazer for men can elevate your outfit in no time. Choose any of your favorite blazers from the above list that best reflect your personality and style, and let it do all the talking.
FAQs
Q. Which fabric is best for a casual men's blazer?
Ans. Casual blazers come in linen, wool, cotton, denim, polyester, and other fabrics. While cotton, linen, and polyester are great to wear in the summer, wool and knitted fabrics are ideal for the winter.
Q. How do you know if a blazer fits?
Ans. When trying a blazer, make sure the shoulder pads sit directly on your shoulders while lying flat. If not, you need to try a different size.
Q. How do you pick a blazer size?
Ans. Take a measuring tape and measure the fullest part of your chest. If the tape measures 42 inches, then your chest size is 42 inches, and so will be the blazer size.