Rose water has been used for centuries for its amazing skin benefits. This gentle floral water contains antioxidants and soothing properties that can help achieve glowing and youthful skin.
In this comprehensive guide, we will explore 14 rose water benefits that make it a must-have ingredient in your skincare routine.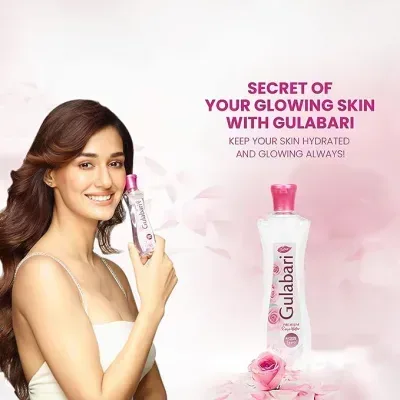 A Comparison of Top Rose Water Brands in India
| | |
| --- | --- |
| Brand | Pricing |
| Kama Ayurveda Rose Water | ₹625 for 200ml |
| Kama Ayurveda Organic Rose Water | ₹625 for 200ml |
| Forest Essentials Delicate Rose Petal Refresher | ₹975 for 200ml |
| Biotique Bio Rose Water | ₹149 for 120ml |
| Vlcc Rose Water | ₹130 for 200ml |
Benefits of Rose Water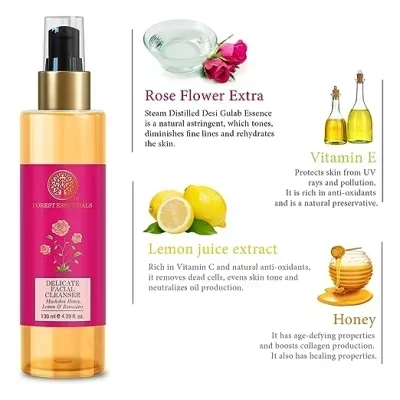 1. Controls Excess Oil and Acne (rose water benefits)
Rose water has excellent astringent properties due to its phenolic compounds. It helps tighten pores and controls excess sebum production. This makes it great for oily and acne-prone skin.
Dabbing some rose water after cleansing can help prevent acne and pimples by managing oil production. It also reduces inflammation thanks to its antioxidant content. Use a pure organic rose water like Kama Ayurveda or Forest Essentials 2-3 times a day for best results.
2. Hydrates and Moisturizes Skin
The wonderful floral scent of rose water comes from the natural oils present in rose petals. This makes rose water an excellent hydrating and moisturizing agent for the skin.
It helps maintain the skin's pH balance and retains moisture in the skin without making it feel greasy. Splashing some rose water or applying it with cotton pads helps refresh dull skin.
For intense hydration, you can also mix rose water with your moisturizer before applying it on cleansed skin. Choose rose waters like Biotique or Vlcc that contain glycerin for added hydration.
3. Soothes Irritated Skin (rose water benefits)
Rose water has excellent anti-inflammatory properties that help soothe irritated skin and reduce redness. If you have sensitive skin that is prone to inflammation, rose water can work wonders.
It helps calm down skin eruptions and rashes. Dabbing cotton soaked in chilled rose water brings down puffiness around eyes. It provides a cooling sensation that naturally relieves irritation.
This makes rose water the perfect ingredient to help calm down skin sensitivity caused by conditions like eczema or allergies. Look for organic options like Kama Ayurveda or Forest Essentials for chemical-free calming benefits.
4. Can Lighten Dark Spots
The antioxidant benefits of rose water contribute to its ability to minimize dark spots and scars. Rose water inhibits the production of melanin that causes pigmentation and dark spots.
It also contains vitamin C that corrects damage and boosts new cell growth for an even complexion. Dab cotton soaked in rose water on dark spots 2-3 times a day and leave to air dry. Practice this daily to see a reduction in spots over time.
5. Reduces Puffiness Around Eyes
The anti-inflammatory action of rose water makes it an effective natural remedy for tired eyes. Keeping rose water in the fridge and applying it around the eyes with cotton balls can help de-puff eye bags.
It helps constrict blood vessels to minimize dark circles as well. Splash your eyes with cold rose water or use rose water based creams like Biotique Bio Rose to refresh your under eye area when you're sleep deprived.
6. Antioxidant Protection from Pollution
Pollutants, UV exposure and other environmental stressors damage skin with free radicals that cause aging. Rose water is chockfull of antioxidants like vitamin E, vitamin C and flavonoids.
They neutralize these free radicals and protect skin from oxidative damage. This helps delay fine lines, wrinkles and keeps your skin looking youthful. Make it a habit to spritz your face with rose water anytime you've stepped out to counter pollution.
7. Skin Toning Benefits (rose water benefits)
The astringent action of rose water helps tighten pores for a toned look. When used regularly, it can minimize enlarged pores and firm up sagging skin that has lost elasticity.
This makes it ideal for mature skin that needs a boost in firmness. Applying rose water after steaming tightens capillaries as well for diminished appearance of thread veins on the skin surface.
Use pure rose water or add it to DIY face masks to draw benefits into the skin and tone it from within. Kama Ayurveda is a great chemical-free option for skin toning.
8. Ideal pH Balancer
Rose water has an impressive pH that matches the skin's slightly acidic natural pH. This helps maintain the acid mantle – a protective film that safeguards from bacteria and pollution.
Washing with regular water can disrupt this mantle and alter the skin's ideal pH balance. Using rose water based cleansers or toners helps restore pH for healthy skin. Kama Ayurveda makes 100% organic options ideal for this.
9. Natural Cleanser and Makeup Remover
Rose water is gentler than tap water and leaves skin feeling clean without stripping it of natural oils. This makes it ideal as a natural cleanser to remove makeup and impurities.
Soak a cotton pad in rose water and use it to gently wipe off makeup. It effectively removes grime and makes skin feel refreshed. Follow up with a rose water based toner for squeaky clean skin.
10. Helps Prevent Signs of Aging (rose water benefits)
Using rose water provides a boost of antioxidants to the skin that curb oxidative damage and stalls premature aging. Its astringent action tones and firms up skin that loses elasticity with age.
The hydrating and emollient properties also plump up mature skin that has lost volume. Overall, rose water helps minimize wrinkles, fine lines, sagging and boosts regeneration of skin cells.
11. Heals Skin Irritation from Cosmetic Procedures
Rose water is known to help soothe irritation caused by cosmetic procedures like chemical peels and laser therapy. Its anti-inflammatory and cooling properties provide relief from redness and stinging.
After your procedure, apply chilled rose water on gauze over the treated area. You can refrigerate rose water in a spray bottle and mist your skin several times a day post procedure to aid healing.
12. Natural Mood Lifter with Uplifting Fragrance
Inhaling rose water's sweet floral scent triggers the release of feel-good hormones like serotonin and dopamine in the brain. This helps bust stress and uplift mood.
Splash your face or spray it in your room for an aromatherapy mood boost. Burn rose water in a diffuser to fill your living space with a soothing fragrance that relieves anxiety as well.
13. Treats Mild Headaches
Rose essential oil is proven to help relieve headache pain. As a milder extract, rose water can also help in case of mild stress or dehydration induced headaches.
Soak a washcloth in chilled rose water and apply it on the forehead and temples. Lie down with this compress for 10-15 minutes to alleviate headache. The anti-inflammatory action helps reduce headache intensity over time.
14. Adds Shine and Volume to Hair
Rose water's emollient properties help add shine and softness to dull, dry hair. It also helps balance scalp pH which is crucial for healthy hair growth and volume. After shampooing, rinse your hair with rose water for extra shine.
You can make a hydrating hair spritz by mixing rose water with glycerin and essential oil. Spray it before heading out to refresh your locks. For chemical-free options, go for organic brands like Forest Essentials.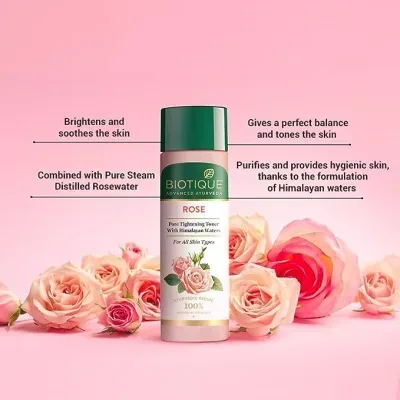 Rose Water for Skin – The Pros and Cons
How to Choose the Best Rose Water for Your Skin?
With an array of rose waters available, it can get tricky to choose one that suits your skin. Here are some tips to select the right rose water:
Check the Ingredients: Opt for pure, organic rose waters without artificial additives or fragrances which can irritate skin. Choose natural brands like Forest Essentials or Kama Ayurveda.
Consider Skin Type: Mild rose waters work for normal to dry skin. Look for ones with glycerin for extra moisture if you have very dry skin. Avoid heavy formulations with oils if you have oily/acne-prone skin.
Choose Food Grade Oils: Since some rose waters are meant to be ingested, they use food grade oils for extraction. These are safer for topical skin use as well.
Read Reviews: Opt for rose waters that have consistently good reviews for quality, purity and skin benefits. A brand like Kama Ayurveda is highly rated.
Check Expiry: Since rose water loses its benefits over time, check manufacturing and expiry date before buying. Unopened, it stays potent for 6-12 months usually if stored properly.
Buying Tips: Buy small size rose water if using for the first time to patch test. Once skin tolerates it well, opt for larger 200-250ml bottles for regular use.
How to Use Rose Water on Your Skin?
Rose water is versatile and can be used in many ways:
Toner: Apply it to cleansed skin daily using a cotton pad to tighten pores and restore pH balance.
Cleanser: Soak a cotton pad and wipe off makeup and impurities as a gentle natural cleanser.
Hydrator: Add a few drops to your moisturizer before applying it, for a boost of hydration.
Skin mist: Keep a spray bottle filled with rose water in the fridge and mist skin whenever it needs refreshing.
Compress: Soak wash cloth in chilled rose water and apply as a compress on irritated areas or eyes.
Face masks: Add it to DIY face mask recipes like for a brightening face mask using besan.
Hair rinse: Rinse your hair with rose water after shampoo for extra shine and softness.
DIY Rose Water Recipes for Skin
Here are two simple DIY recipes using rose water for glowing skin:
1. Rose Water Face Toner
Ingredients:
2 tablespoons rose water
4-5 drops tea tree essential oil
4-5 drops lavender essential oil
Method:
Take rose water in a bowl and add the essential oils
Mix well and pour the toner in a spray bottle
Shake before use and spray it on cleansed skin as a toner
2. Rose Water Face Mist
Ingredients:
1 cup rose water
1 tablespoon aloe vera gel
5-6 drops geranium essential oil
5-6 drops ylang ylang essential oil
Method:
Take rose water in a bowl and add other ingredients
Mix well and store in spray bottle
Shake before use and spray liberally on face 2-3 times a day
8 FAQs about Rose Water for Skin
Can I leave rose water on my face overnight?
It's safe to leave pure organic rose water on the skin overnight. It hydrates skin while you sleep. Use 2-3 layers patted in gently with cotton.
Does rose water suit acne prone skin?
Yes, rose water helps control excess oil and sebum production which is great for acne prone skin. Its antibacterial properties help fight acne causing bacteria as well. Use an organic one.
How long does rose water last after opening?
An opened rose water will stay fresh for 6-12 months if stored in a cool, dark place. Transfer it to the fridge to prolong shelf life after opening. Discard if smell becomes off.
Is it okay to use rose water daily?
Yes, pure and natural rose water is gentle enough for daily use. It hydrates and balances skin pH when used regularly after cleansing morning and night.
Can I use rose water if I have sensitive skin?
Rose water suits most skin types, but do a patch test first if you have very sensitive skin. Start with a mild organic variant and monitor for any reactions.
How do I make rose water at home?
Boil fresh rose petals in water, strain the liquid and cool completely, then transfer to a spray bottle. Add glycerin for more hydration. Store in the refrigerator up to 6 months.
Is rose water good for hair?
Yes, rose water's emollient properties help condition hair. Its antiseptic action also helps soothe an itchy, irritated scalp. Use as a rinse after shampoo or in a leave-in conditioner.
Does rose water suit oily skin?
Yes, rose water helps control excess oil production thanks to its astringent properties. It cleanses impurities without drying out skin. Use a non-greasy, pure rose water suitable for oily skin.
Conclusion
Rose water is undoubtedly a skincare hero with its many benefits for skin. With its soothing, anti-inflammatory, hydrating and toning effects, it can help you achieve soft, glowing and youthful skin with regular use.
Choose pure, organic options and incorporate it into your daily skincare routine. From tackling acne to combating signs of aging, this floral water can do wonders for your skin naturally.
So head to your favorite beauty store, get yourself a bottle of rose water and unlock its incredible benefits today!