Raisin water, a simple yet potent concoction, is garnering attention from nutritionists and health enthusiasts across the globe. This drink, which combines the goodness of raisins and water, offers a plethora of health benefits. From detoxification to glowing skin and weight management, this article will explore the wonders of raisin water, backed by expert insights and scientific evidence.
The Magic Potion: Raisin Water
Raisins, or dried grapes, are a popular snack worldwide and are often used in cooking and baking. When you soak these tiny fruits in water, the nutrients seep out, creating a potent drink brimming with antioxidants, vitamins, and minerals. This magical potion, known as raisin water, can be a game-changer for your health and wellness journey.
1. The Detox Dynamo
Detoxification is essential to keep our body functioning optimally. Our lifestyle, diet, and environmental factors contribute to toxin accumulation in our bodies. Raisin water acts as a powerful natural detoxifier, helping to cleanse the body and get rid of harmful substances.
The antioxidants present in raisins, such as polyphenols, wage a war against free radicals, facilitating the expulsion of toxins. This cleansing effect promotes overall well-being, making raisin water an excellent detox choice.
2. The Iron-Fort Fortress
Anaemia, predominantly caused by iron deficiency, is a widespread health issue. Raisins are an abundant source of iron, necessary for producing red blood cells. Regular consumption of raisin water can help maintain healthy iron levels, potentially preventing anaemia.
This benefit gains significance, particularly during summer when we tend to lose more iron through sweat. By replenishing your iron stores, raisin water can help you stay healthy and energetic even in the heat.
3. The Electrolyte Equilibrator
Raisins are rich in essential electrolytes such as potassium and magnesium, which are crucial for maintaining proper fluid balance in the body. These electrolytes regulate nerve function, muscle contractions, and hydration levels. Thus, raisin water can be an excellent source to replenish the electrolytes lost through sweating, especially during physical activities or hot weather.
4. The Energy Elixir
In the scorching heat, it's common to feel drained and fatigued. Raisins are packed with natural sugars, including glucose and fructose, offering a quick and sustainable energy boost. Drinking raisin water can rejuvenate your body, keeping you active and energised throughout the day. It's an ideal alternative to commercial energy drinks, free from artificial additives and excessive sugars.
5. The Gut Guardian
A healthy gut is integral to overall well-being. The dietary fibre in raisin water aids digestion and supports a robust gut microbiome. It helps regulate bowel movements and prevent constipation, which can get worse in hot weather. Incorporating raisin water into your daily routine can help maintain a balanced digestive system.
6. The Acidity Alleviator
Excessive acidity in the stomach can lead to discomfort, heartburn, and acid reflux. Raisin water possesses alkaline properties that help neutralise stomach acid, providing relief from acidity-related issues. So, by sipping this revitalising drink, you can keep acidity at bay and enjoy a comfortable summer.
7. The Weight Warrior
If you're on a weight-loss journey, raisin water can be your trusted ally. The natural sugars in raisins curb your sweet tooth, reducing cravings for unhealthy snacks. Additionally, the dietary fibre in raisins promotes feelings of fullness and aids in weight management. Incorporating raisin water into your daily routine can support your weight loss goals while keeping you hydrated.
8. The Skin Saviour
Healthy and radiant skin is a summer essential. Raisin water, rich in antioxidants, vitamins, and minerals, nourishes your skin from within. The vitamins A and E in raisins combat free radicals, reducing signs of ageing and promoting a youthful glow. Regular consumption of raisin water can enhance your complexion and leave your skin looking refreshed and revitalised.
9. The Fever Fighter
The benefits of raisins extend to combating high fever too! Phenolic Phytonutrients, known for their Germicidal, Antioxidant, and Antibiotic properties, are abundant in raisins. Raisin water can fight off viral and bacterial infections, adding a layer of protection to your health.
10. The Cancer Combatant
Raisin water contains Catechins, a polyphenolic antioxidant that may help prevent colon cancer. Furthermore, raisins have Resveratrol and Anthocyanin, both anti-cancer components that can inhibit colon, melanoma, and prostate cancer growth.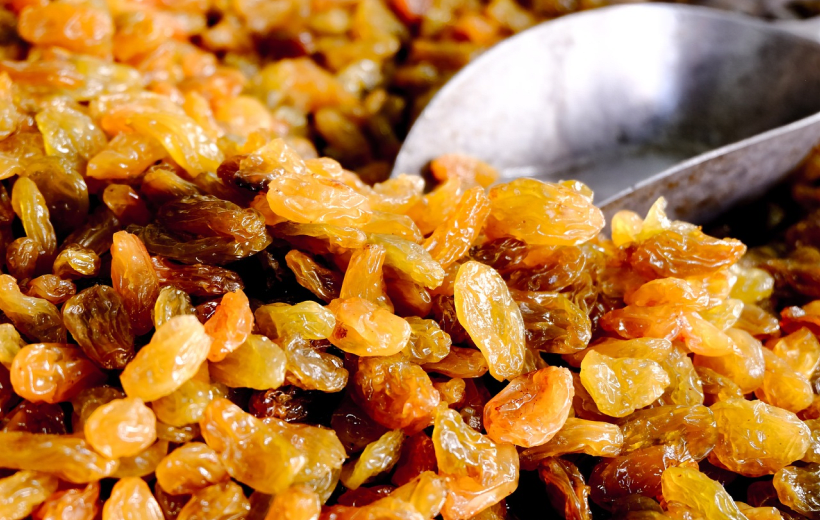 DIY: How to Make Raisin Water?
Creating your batch of raisin water is a straightforward process. Here's a quick recipe to help you get started:
Ingredients:
1 cup of raisins
4 cups of water
Instructions:
Rinse the raisins thoroughly to remove any impurities.
Soak the cleaned raisins in water overnight or for a minimum of 8 hours.
After soaking, transfer both the raisins and water into a blender.
Blend the mixture until it reaches a smooth consistency.
Strain the liquid to remove any residual solids or seeds.
Your refreshing raisin water is ready. Serve it chilled or at room temperature.
FAQs
1. Can I drink raisin water every day?
Yes, you can include raisin water in your daily routine. However, it's advisable to start with small quantities and observe how your body reacts.
2. Is raisin water safe for pregnant women?
While raisin water is generally safe, pregnant women should consult a healthcare provider before adding it to their diet.
3. Can children drink raisin water?
Yes, children can benefit from raisin water. However, moderation is key, and it's recommended to consult a paediatrician first.
4. Can diabetics drink raisin water?
While raisins contain natural sugars, they have a low glycemic index. Therefore, they do not cause a drastic spike in blood sugar levels. However, individuals with diabetes should consult their healthcare provider before consuming raisin water.
5. Can I drink raisin water for weight loss?
Yes, raisin water can support weight loss. It aids in digestion, keeps you hydrated, and helps control cravings. However, weight loss involves balanced nutrition and regular physical activity, and raisin water should be part of a holistic approach.
Wrapping Up
Raisin water is a potent drink that can offer numerous health benefits. It's a natural detoxifier, energy booster, skin saviour, and much more. Incorporating this magical potion into your daily routine can help you unlock its incredible benefits. Stay hydrated, nourished, and revitalised with the power of raisin water!