A stylish top with a suitable pair of pants can never go wrong! If you are bored of wearing dresses to a party, well, it is understandable. That's why we are here to help you pick and style some of the best party wear tops.
These tops and the tips that follow will help you look stunning with minimal effort. Plus, they will help you look casual and stylish at once!
Without further ado, let's dive into the list.
Quick Overview of the Brands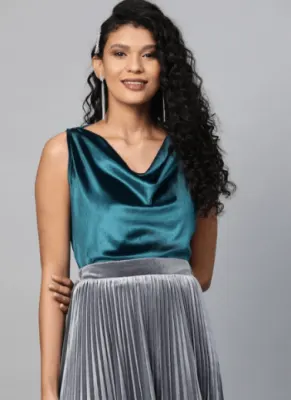 Want to look classy, cute, and peppy this party season? Then, go velvet! This teal blue velvet top with an impeccable cowl neck is among the best evening party tops.
The sleeveless top will help you outshine the party owing to its velvet finish. The fit is also excellent since it is made of polyester velvet and spandex. The top is also available in an alluring burgundy colour.
What's Great?
Bright and eye-catching colours (Both teal and burgundy)
Soft and comfortable material
Reasonable pricing
Product Review
Perfect fit. Loved the fabric, appropriate for any occasion. Swarnima.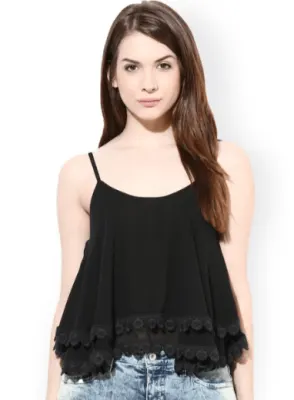 Next up, we have a set of three party wear tops that are suitable for daytime as well as evening parties. This simple spaghetti top has two beautifully cut layers that give a bouncy look to your outfit.
It is available in three elegant colours. You can pick black for a graceful and simple look. Or, you can pick the pink one for a cute and classy look. If you want either that is not for you, you can go with the grey one for a chic and casual look.
What's Great?
Comfortable fit and material
Suitable for all body types
Simple and elegant look
Product Review
The quality is really good and the size is as expected (Medium Transparent). The frill border makes a really nice party wear top, would surely recommend to buy. Lovely.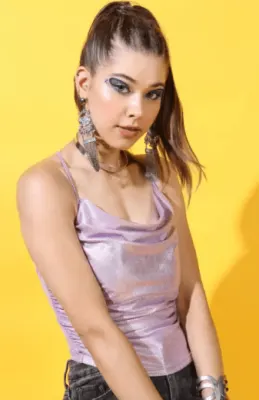 Bring that Y2K energy full on! If you are keeping with the fashion trends, you must have surely heard that Y2K party wear tops are all the rage now. This Sleeveless purple top embodies every aspect of this trend.
The shimmery look, the silky bodycon fit and the spaghetti sleeves make it all the more fashionable. The backless design also adds to the overall peppy look of the top. You can style it with a micro skirt or black jeans. To complete the party look, you can add some chunky metal jewelry or heavy eye make up.
What's Great?
The trendy style and material
Excellent fit
Affordable pricing
Product Review
Best in class. Dakshita Kothari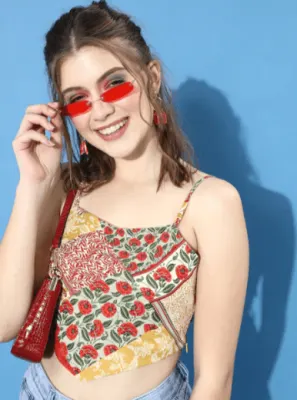 Looking for some chic women's party tops that you can wear for a wine and dine with the girls in the sun? This is the perfect choice for you!
This Berrylush floral top is an excellent choice for any daytime party. The sleeves, the sweetheart neckline and the combination of colours are vibrant and beautiful. They are also available in two more prints and colours – a black animal print and a pink abstract print.
What's Great?
Best choice for daytime events
Comfortable fit and material
Available in three different prints
Product Review
Looks really pretty. The straps are adjustable too. Kaamisha Sharma.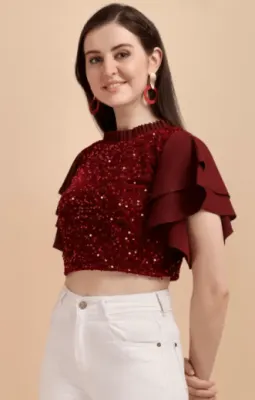 Are you ready to stand out? This embellished party top by Adokedo is one of the best party wear tops for women out there. The sequin embellishments make sure you outshine the crowd the moment you enter the party.
The cropped cut and the ruffled sleeves add an extra dimension to the top. It is also available in colours such as green, maroon, pink, red, white and yellow. You can pair it with a mini skirt or skinny jeans.
What's Great?
Sequin details for extra shimmer
Available in colours suitable for evening and daytime
Good fitting
Product Review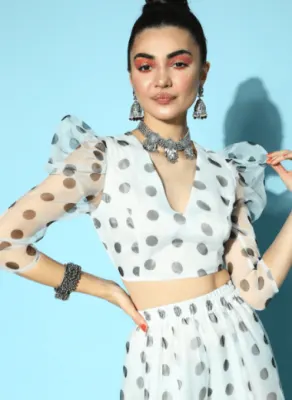 Polka dots have always been iconic. It gets more adorable in this white Shae by SASSAFRAS top. The black polka dot on the thin white fitted top looks stunning. You can style it with skinny jeans to create a timeless look or with wide-leg jeans for a trendy look.
The puff sleeves add dimension and enhance the overall look. If you do not prefer polka dots, an alternative in pink colour without the dots is available.
What's Great?
Trendy design and cut
Zipper makes it easy to wear
Interesting V neck
Product Review
Nice product felt great. Can pair it with pants, skirts, and trousers. Sakshi Agarwal.
If you do not want to limit yourself to evening tops or daytime party wear, you can try out our last pick in this list. This beautiful, purple solid cropped top is simple, elegant, and attractive.
It has full sleeves and a deep neck. The neck comes with a bow detail that makes the outfit more interesting. It is also available in three more colours – Green, Pink, and Peach.
What's Great?
Simple and attractive design
Beautiful bow detail
Comfortable crepe material manufacturing
Product Review
Can definitely buy this top! Shruthi Anjan.
Closing Lines
The options for party tops are endless! So, it is important to have a clear picture of what you want before diving into the sea of choices.
Here's a small tip to ensure you do not get lost in the current – pick tops based on the bottoms you have. This way, you can narrow down your choices and not have to spend extra money on the bottoms.
Hopefully, you made a shortlist of party wear tops for this season even if you could not finalize. If you have any more questions, we have covered them in the below FAQ section.
FAQs
Q. What Kind of Top Do You Wear for a Roof Top Party?
A. You can wear a simple crop top for a rooftop party. If you want to make it more interesting, you can pick tops with ruffled or puffed sleeves. For evening parties, you can go for shimmery or sequined tops.
Here are some best tops for a rooftop parties –
Q. Where Can I Buy Affordable and Stylish Tops for Parties?
A. You can buy affordable tops for parties on e-commerce websites like Flipkart, Myntra, Snapdeal, and Tata CLiQ among others.
Q. What Is the Best Way to Style Party Wear Tops?
A. You can style it with mini skirts, denim pants, or even trousers. Pairing them with high heels will surely elevate the look. Nonetheless, the best way to style party tops is simply by staying true to your personal style!