Hoodies or hooded sweatshirts are an integral component of our wardrobes. Its growing popularity is due to its multipurpose and convenient nature. You can pull off a right during a sporty day out hoodie to relax at home. Sweatshirts are the "easy fashion" statement; you don't need to spend much time planning the outfit. Just pair up a hoodie with jeans or denim shorts, and you are good to go. Originally a men's lifestyle product, sweatshirts are now being styled equally on people from different walks of life. There is no bad day to wear a hoodie. You can spend your entire day in your hoodie outdoors and indoors.
But do all hoodies available in the market bring the same contemporary style? Of course not.
Then how would you identify a good quality sweatshirt? Here are some factors you should keep in mind before buying one of the best hoodie brands for you.
1. The label
A company becomes a brand not by scaling its revenue share but when it is backed by customer support. Leading brands in the lifestyle and activewear fashion industry, like Allen Solly, Levi's, Red Tape, GAP, Alan Jones, Nike, Veirdo, Roadster, campus sutra etc., have proved themselves throughout the test of time. Make sure you choose something you trust.
2. The material
Hoodies are perfect for winter wear when made of fleece with a cotton blend. If you want casual hoodies, not especially for winter, go for a lighter material like rayon and polyester.
3. Weight
Being a part of activewear, one expects mobility and stretchability in the sweatshirts; choose one which gives you the same.
4. Size
Though sweatshirts are made on the principle of "one size fits all", you don't want your hoodie to be extra baggy or two-fitted, don't you? Choosing the right size is essential. Usually available in sizes S, M, L, XL, XXL, and XXL, choose one size bigger for a chic and comfortable contemporary look.
Top 7 hoodie brands
With growing popularity comes a greater probability of quality threats in the market. To escape those, we have prepared a list of the best hoodie brands in the industry to help you declutter your hoodie search.
Product Overview
1. GAP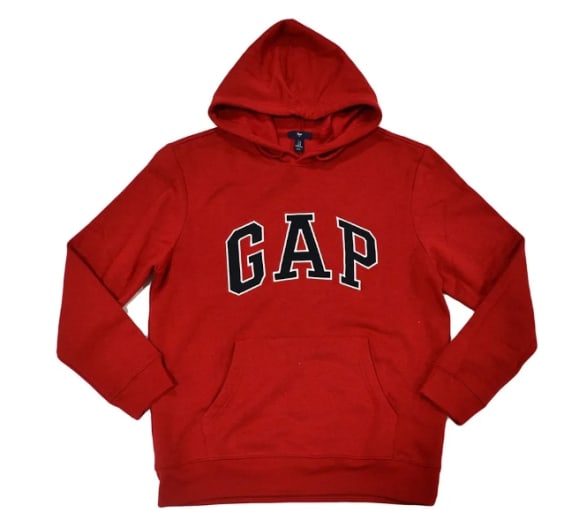 With keeping comfort and style the key components, GAP started its first retail outlet in 1969. GAP's commitment to uncompromising quality products makes the brand relevant after seven decades of its inception. The fabulous fit and easy comfort GAP hoodies give an edgy and laid-back look. GAP sweatshirts are ideally suited for a casual day out and sports events.
What's great
Great variety: The sweatshirts come in great variety in style and colours so that no one has left.
A thick layer of the fabric maintains optimum body temperature during winters.
Shop at Myntra
Shop at Ajio
Shop at Marks&Spencer
2. Nike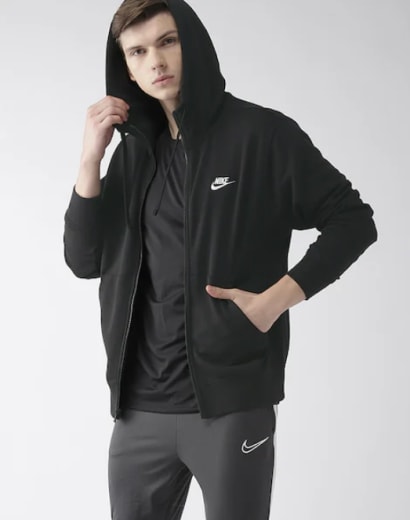 Nike has been a proactive supporter of activewear since 1964. Famous for youthful appeal among contemporary consumers, Nike covers you from head to toe in their cool products. The essence of Nike lies in providing durable products with a sharp eye for detail and distinctive design.
What's great:
Moisture wicking abilities: Keeps you dry during hard-core workout sessions.
The products last for years without losing their charm after even multiple washes.
Shop at Myntra
Shop at Nike's official
Shop from Amazon
3. Roadster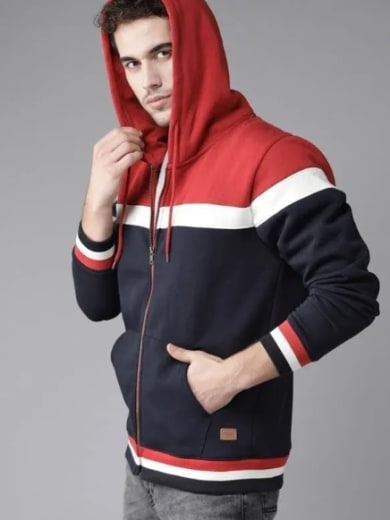 Roadster is an in-house brand established by e-commerce giant Myntra in 2007. The brand imbibes the character of the urban working class. The sweatshirt collection by them is an ideal choice. The alluring clothing and comfortable sweatshirts add a modern touch with their impeccable fit, making it one of the best hoodie brands.
What's great
Affordable price: the sweatshirts are less expensive than other brands on the list, making them accessible to a larger section of society.
The brand's ability to change with trends has kept them ahead since its inception.
Shop at Flipkart
Shop at Myntra
Shop at ketch
4. Campus Sutra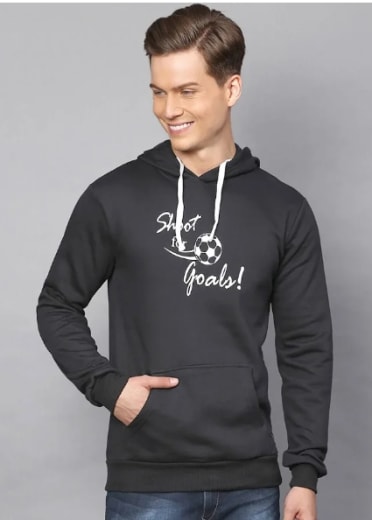 Campus Sutra is a modern millennial lifestyle and apparel brand based in Bangalore, India. The target audience is millennials and Gen-Z; Campus sutra has products for both men and women. Keeping the younger generation in mind, they have everything which defines your unique personality differently. Its unique design sets it apart from other brands in the market.
What's great
Perfect winter wear: Along with keeping up with fashion standards, campus sutra sweatshirts are also thick enough to keep you warm during winter.
They design quirky, unique, pop-up, opinion-based designs on their sweatshirts.
Shop at Myntra
Shop at Ajio
Shop from Amazon
Shop at Flipkart
5. Levi's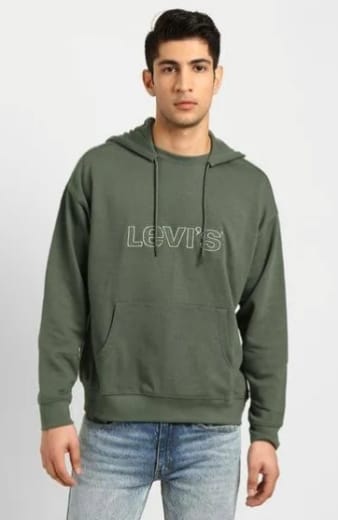 One of the oldest players in the lifestyle game, Levi's makes men's sweatshirts an iconic essential in your wardrobes. With a focus on picking the finest fabrics Levi's ensures full functionality of the garment.
What's great
A durable garment and easy-to-maintain garment extracts less effort from you.
Comfortable material: Levi's sweatshirts are exclusively made of 100% cotton, which you can pull off every day, every season, without experiencing discomfort.
Shop at Myntra
Shop at Flipkart
Shop from Amazon
Shop at Levi's
6. H&M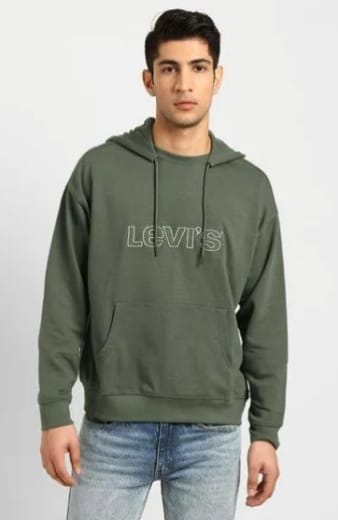 H&M aims to make fashion affordable to everyone. With hundreds of outlets in more than 25 countries throughout the world, H&M is a household name. They provide bright, funky sweatshirts but also have products to give you a classic radiance. H&M is backed by the trust of a generation. Their sweatshirts reflect energy, vibrance and youthfulness in their very being. Relaxed yet refined defines H&M sweatshirts the best. Their hoodies are neither too fitted nor too baggy, being one of the best hoodie brands giving a beautiful shape to your body.
What's great
Body-hugging hoodies give an attractive shape to your body.
High-quality fabric with an affordable price tag.
Shop at H&M official website
Shop at Myntra
Shop at Urbanic
7. Red tape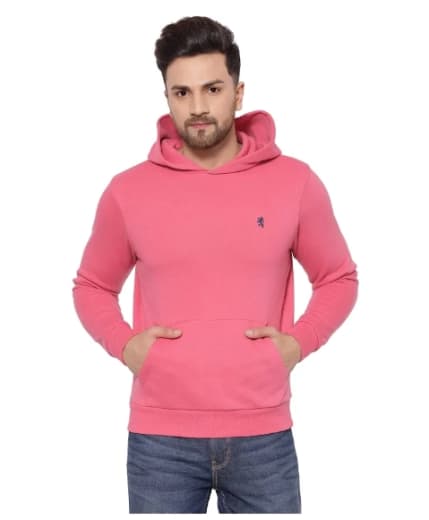 Serving the activewear needs of consumers since 1996 by providing premium quality products, Red tape has a global presence in the lifestyle and apparel industry. Durable and long-lasting garments are a fashion staple for people from every walk of life. In addition, Red Tape hoodies give an edgy and sophisticated appeal to every occasion.
What's great
Rigorous testing of products: Each product must pass thorough testing directly reflected in its timeless craftsmanship.
Keeping innovation at heart, Red tape ensures quality and unique clothing.
Shop at Myntra
Shop at Ajio
Shop from Amazon
Shop at Flipkart
The Final Word
Hoodies are a fashion staple that works in every season for everyone. We have prepared this list of some of the best hoodie brands to help you start your quest to find the right hoodies for you, but treat it like a starting point and not an end in itself. Hover on multiple platforms and experiment a lot till you find the which suits your unique personality uniquely.
Frequently asked questions
Q. What size should I buy if I want a baggy hoodie?
Ans. Go for two sizes up than your usual size for an oversized hoodie.
Q. Which fabrics are best for summer hoodies?
Ans. Breathable fabrics like cotton and Linen are best for summer.
Q. What are the different types of hoodies?
Ans. Zipper Jackets, front pockets, pullovers, raglan, and cropped and sleeveless hoodies are some common types.
Q. What is the average price range of hoodies?
Ans. Depending on the brand, style, and quality, hoodies are available for around Rs. 799- 3500.